Office Max and Office Depot Black Friday Deals for 2015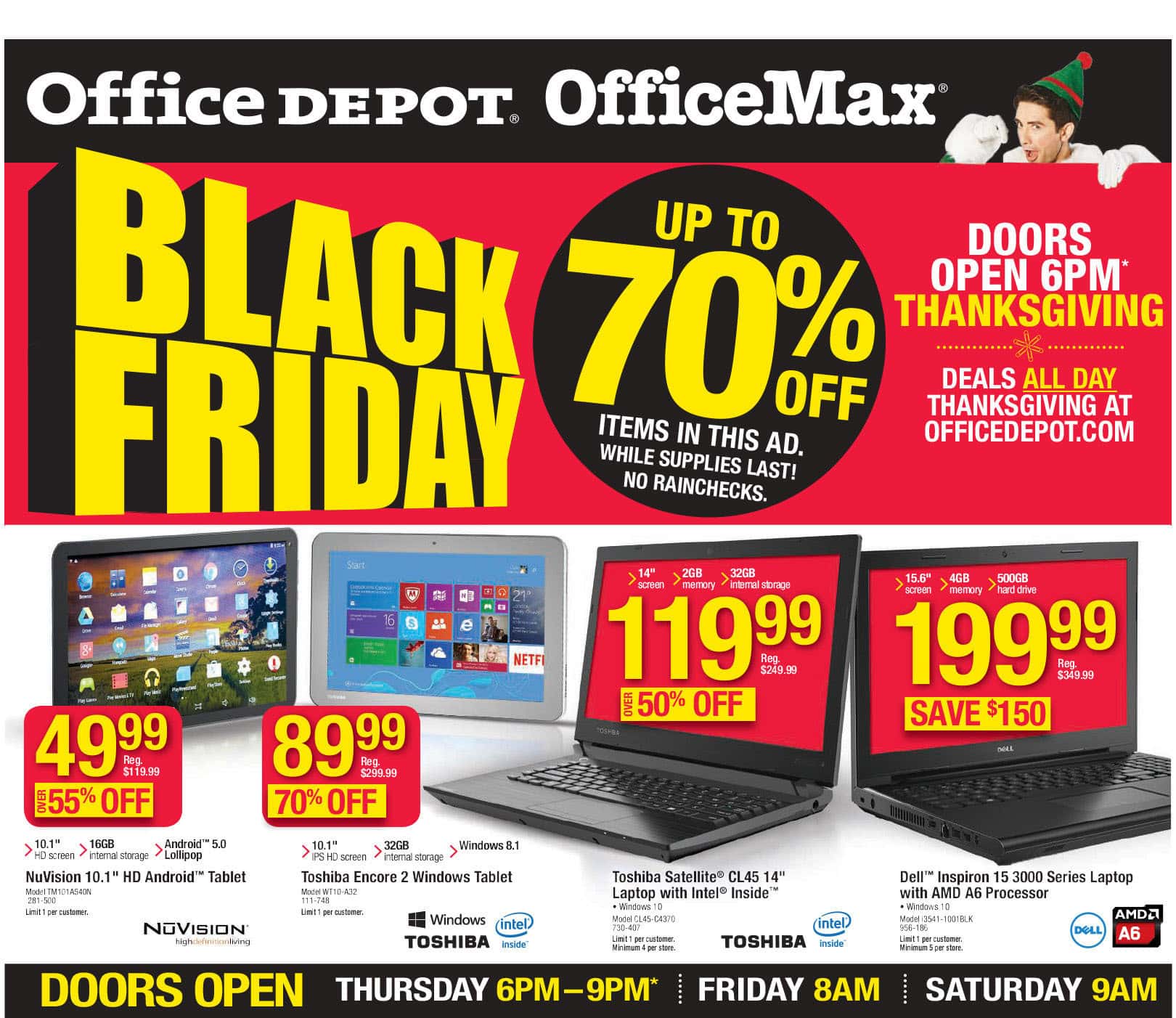 Office Max and Office Depot Black Friday Deals 2015
Doors open at 6 pm on Thursday (Thanksgiving) Nov. 26, 2015 until 9 pm.  Doors will reopen at 8 am on Friday (Black Friday) Nov. 27, 2015.   In case you are not aware, these stores have actually merged together.  So you can get all the deals listed in the ad at either location.  All items are while supplies last.
Don't forget to check out our Black Friday deals page where we'll keep you up to date on all the latest Black Friday deals as they become available.
Shop online at Office Max/Office Depot:
Make sure to check out the deals online at Office Max/Office Depot, too on Thanksgiving/Black Friday, as many deals are often found online as well and that will save you a trip to the store in the rush on Black Friday.
Thanks to Kosher on a Budget for bringing us the Office Max and Office Depot Black Friday Ad 2015. 
Doorbuster Deals (From 6pm Thursday thru Saturday, November 28th)
Stores will be open from 6­-9 p.m. on Thanksgiving Day and again at 8 a.m. on Black Friday.  The best selection of Black Friday deals will also be available online, starting at 12:00 am EST on Thursday, November 26th.
Toshiba 10" Encore 2 Windows tablet – $89.99 (Reg. $299.99)
Toshiba Satellite CL45 14" laptop with Intel Inside with 2GB memory and 32GB hard drive – $119.99 (Reg. $249.99)
NuVision 10.1″ HD Android tablet – $49.99 (Reg. $119.99)
Dell Inspiron 3000 series 15.6" laptop with AMD A6 processor with 4GB memory and 500GB hard drive – $199.99 (Reg. $349.99)
HP 15.6″ touchscreen laptop with AMD A6 processor with 4GB memory and 750GB hard drive – $279.99 (Reg. $399.99)
Toshiba Satellite 15.6" C550 laptop with AMD A8 processor with 8GB memory and 1TB hard drive – $299.99 (Reg. $499.99)
HP 15.6″ laptop with Intel Core i5 Processor with 6GB memory and 500GB hard drive – $329.99 (Reg. $599.99)
Microsoft Office home and student with any PC purchase – $79.99 (Reg. $149.99)
Brenton Studio Mid-back fabric task chair – $39.97 (Reg. $99.99)
Realspace Breckland High-back executive chair – $59.99 (Reg. $149.99)
Printers starting at $19.99
Selfie stick – $3.99
Black Friday Doorbuster Deals (From 8 am Friday thru Saturday, November 28th)
HP 14" laptop with Intel Inside with 2GB memory and 32GB hard drive – $124.99 (Reg. $249.99)
Lenovo H30 Slimline desktop with AMD E1 processor with 4GB memory and 500GB hard drive – $169.99 (Reg. $299.99)
Epson® Expression® XP-420 – $49.99 (50% off)
Acer® Chromebook with Intel® Inside – $94.99 (Reg. $199.99)
Realspace® Folding Chairs – $16.49 (50% off)
Realspace® 6ft Bi-Fold Easy Carry Table – $43.89 (50% off)
Dell™ 24″ LED Monitor – $99.99 (50% off)
Samsung Galaxy Tab 3 Lite Tablet plus FREE 16GB Sandisk® Memory Card with purchase – $79.99 (reg. $139.99)
Craig Bluetooth Headphones – $10 (50% off)
Bluetooth speakers, headphones and earbuds from $10.00
50% of Logitech Wireless Keyboards
Up to 65% off all printers
NeatDesk® Desktop Scanner And Digital Filing Systems – $279.99 (Reg. $399.99)
60% off select office furniture including desks and hutches
Office Home & Student 2016 – $99.99 (save $50) + additional discounts on other Office software suites