Disney Frozen on Ice – Live in Seattle Now & Review of the Show!
This post may contain affiliate links and I may be compensated for this post. Please read our disclosure policy here.

Disney Frozen on Ice is now playing in Seattle!
The Disney on Ice Frozen show is here! This is not the most affordable Disney on Ice show, but it is one of the most popular, so we wanted to share with you about the event so you can decide if its right for your family! It is currently playing at the Showare Center (for the Seattle area) and we took my two youngest to opening night last night to get the low down for you.
Here's some more information about the show:
In Disney On Ice presents Frozen Presented by YoKids, Mickey Mouse and Minnie Mouse take the audience through the magical story based in Arendelle, with special appearances by beloved Disney Princesses and favorite characters from Disney/Pixar's Toy Story and Finding Nemo and Disney's The Lion King, who come together to prove that true love is the greatest power of all.  Director Patty Vincent says, "Our goal is to showcase these heartwarming characters in a way that allows the audience to cheer and sing along throughout this emotional journey."
To create a completely immersive experience for the audience, the set design will encompass the space from the ice surface up through the air, drawing everyone into the story and closer to the characters. Families will feel that they are trekking up to the North Mountains with Anna, Kristoff and Sven, and they will tangibly experience the storm inside Elsa.  Elsa's magic will be enhanced by state-of-the art special effects while her emotions will be conveyed through powerful skating. 
Here are the dates that the show will be in the Northwest::
Kent Showare Center – November 11th – 16th, 2015
Everett Xfinity Arena – November 18th – 22nd, 2015
Vancouver British Columbia Pacific National Exhibition – November 25th – 29, 2015
Review of the Show:
Of all the Disney on Ice shows I have been to over the years, this one was more of a story, then a song and dance show like others. By this I mean, it followed more of the movie, and although there was plenty of singing and great skating, it also was a great story telling show. Surprisingly, my husband said it was his favorite Disney on Ice so far for this reason. He had not seen the Frozen movie, but was able to follow the story line in this show easily. Not surprisingly, my girls said it was their favorite Disney on Ice show yet too.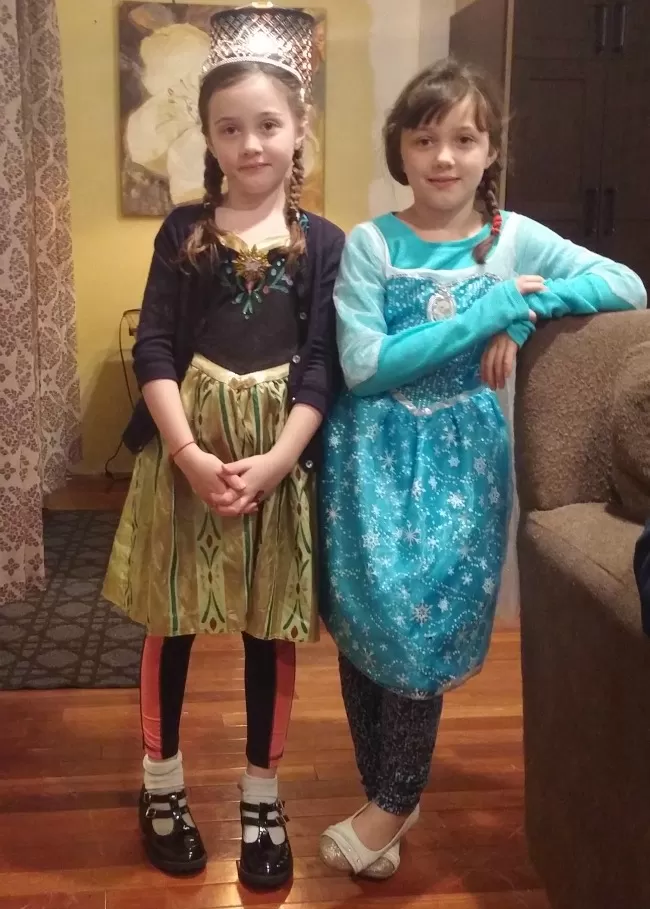 To start off with, the event center was full of lots of "little Elsa and Annas" so feel free to bring you kids in costume if they want to dress up. We let our girls dress up and they loved it. I made them pile on the clothes, afraid it would be cold inside, but it was not bad.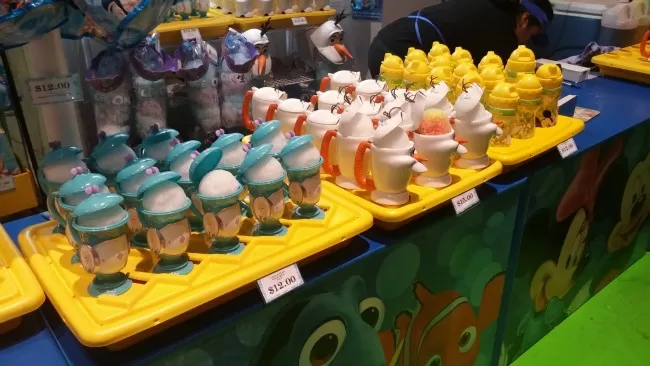 As soon as you walk in there is lots of merchandise for sale, and it is not cheap. It can be a bit overwhelming for the kids, so I suggest that you either have a set spending amount for them (and it will need to be around $15 – $20 per kid to get anything) or prepare them ahead of time that you are not stopping for these items and bee line it to your seats.

The show opens with most of the classic princesses and their princes coming out, as well as other Disney Character favorites (including Mickey, Minnie and Donald). This is all you see of the non-Frozen characters for the rest of the show until the very ending scene, where they all come out once more.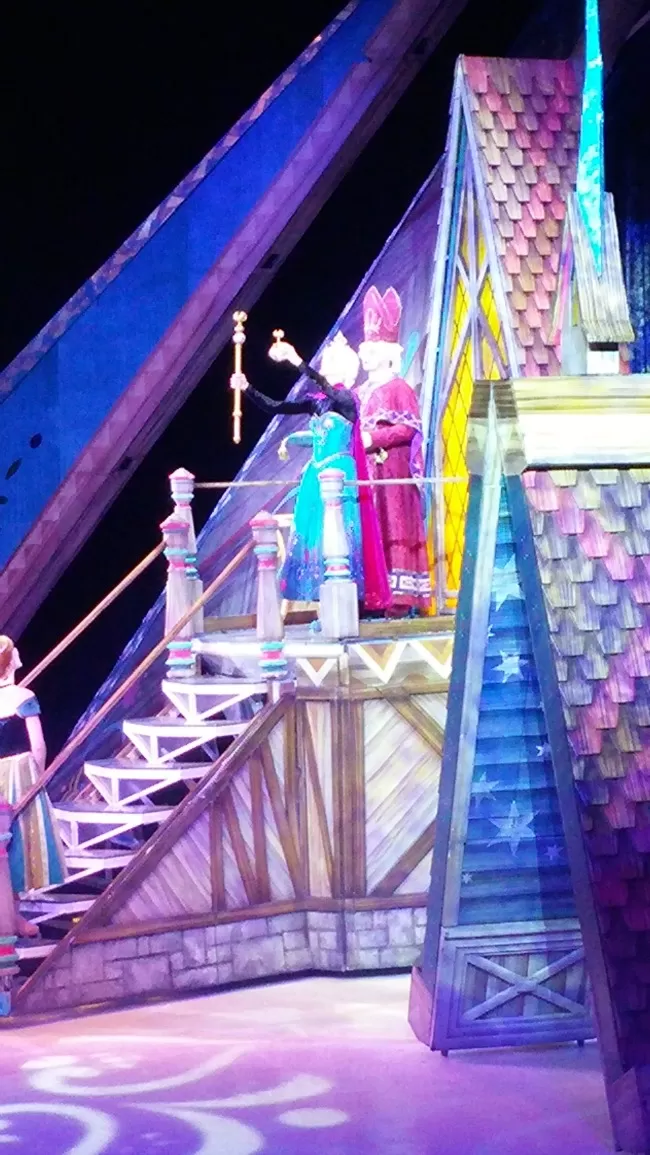 The show then tells the Frozen story from the opening bedroom scene through the closing celebration. This is the well known Coronation scene above, where Elsa becomes queen.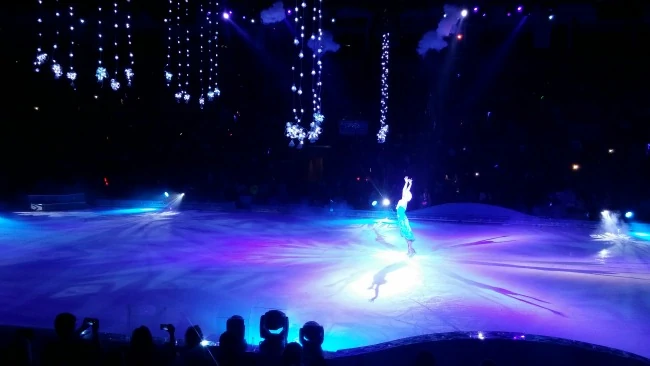 The classic "Let it Go" song and skate dance, was a favorite scene for us. They had snow flurries coming down for much of the show, including this scene, to make it feel like you were in a snowy environment. A favorite part of the show for me, was to listen to my kids sing along with the show. It was not just my kids either, children around the event center where belting out Let It Go as Elsa sang. It was adorable (even if the song can make me crazy at home at times)!
For that reason, it is a nice relaxed environment to take your kids to a show. The place is full of little ones, so if they move around a bit, or like to sing along with the songs nobody really notices too much.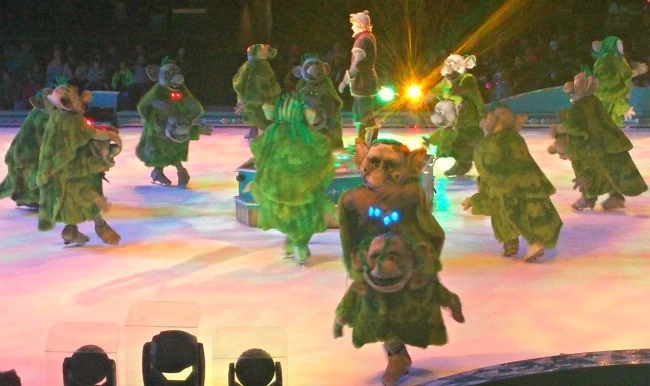 Here is Kristoffs Troll family! This was one of my favorite scenes, and Olaf is really funny at the beginning of this scene. Olaf continues to stand out as a favorite in this Disney on Ice show, just like the movie – but he does not make an appearance until the second half of the show if your kids are getting antsy to see him!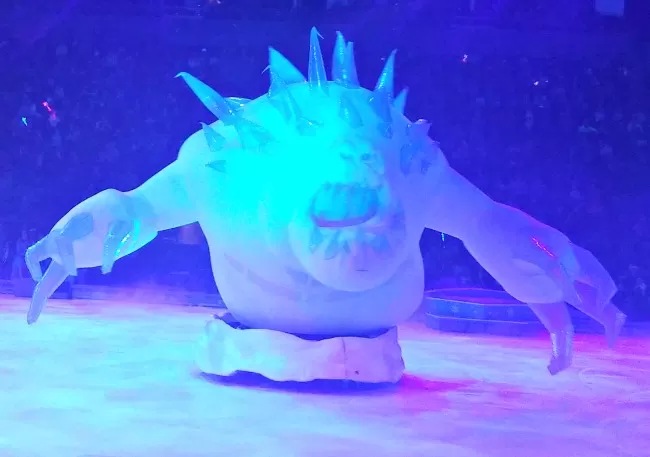 The big snow monster comes to scare Anna and Kristoff from the ice castle. Lots of bright lights made it tough to catch his image, but he puffed smoke and roared at the other characters!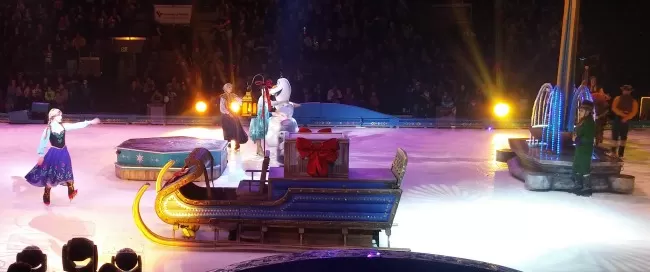 The ending of the Frozen show happens with a celebration (and Kristoff gets his new sled)! There is one scene left after this where the princesses and Mickey and Minnie all come back out for one last skate!
This was one of the most popular Disney on Ice shows I have been to for awhile, so you will want to check on tickets right away if your interested in going while they are in Seattle. We did see some frustrated folks trying to find seats together at the last minute at the windows, so best to do that ahead of time if you are able to.
All in all, we really liked this show. If you have a Frozen fan they are sure to find it fun. It lasts almost 2 hours, and I would plan to get there at least 30 minutes early to deal with parking and lines to get in and seated.
Discount Tickets for Disney on Ice Frozen Show – 50% off (if you can still find specially marked packages):
Prices range from $30 – $35 for upper & lower seats as well as VIP/rinkside seats up to $85/ea. If you're looking for a discount on those prices, we found a great discount from Stonyfield Farms thanks to a tip from my friend Cheryl. All you need to do is buy the Stonyfield Farms YoKids Squeezers, 8 count product. They are offering a discount code for 50% off tickets for the $30 seats. That would make the tickets just $15/ea. Cheryl tried the code on the $35 seats & it didn't work, so looks like it just works for the upper level seats.
You can find these YoKids Squeezers at Target, Fred Meyer, and Safeway to name a few locations, but my friend Cheryl said she just today spotted them for $3 for the pack at Safeway which had the best price she has found on them.
Once you buy them, the information about how to get your discount code will be on the inside of your box. You'll need to follow the directions and it will give you a discount code to use on the Disney on Ice website when you purchase your tickets.
Kristen found them at the Bonney Lake Target store, as recently as a few days ago – so hopefully there are still more packages around!
Disclosure: We were provided complimentary tickets to provide this review for you. All opinions are 100% my own. See our Disclosure Policy for more details.