Flavorful Seafood Ready in Under 20 Minutes + a Veggie Quinoa Medley to Pair with Your Seafood!
This post may contain affiliate links and I may be compensated for this post. Please read our disclosure policy here.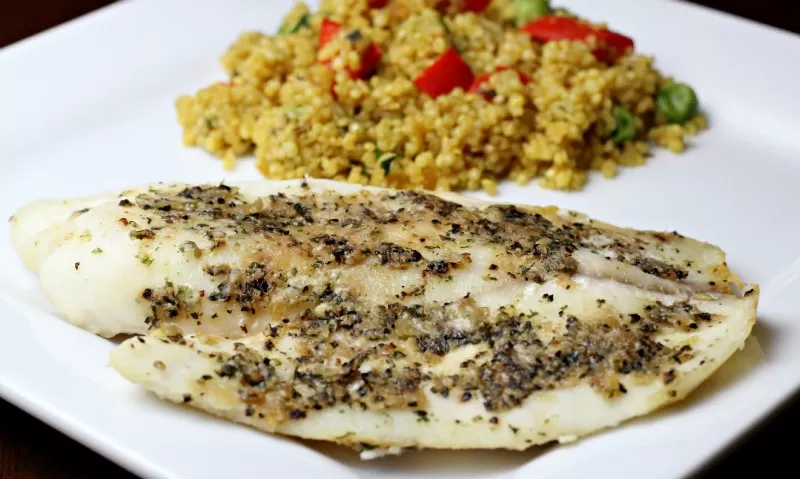 The fall season is probably the busiest season for us now that we're fully in that period of life filled with after-school activities with elementary kids (and I know it will only get worse as the kids get older, as I'm sure you parents with older kids will attest to, for sure). With being on the go so much and less time at home to cook meals, it gets harder & takes a lot more creativity to find meals that the whole family will love & that are healthy yet flavorful. I am all about finding shortcuts in the kitchen so that you don't sacrifice on taste and quality, but you can find ways to speed up the process to get dinner on the table faster.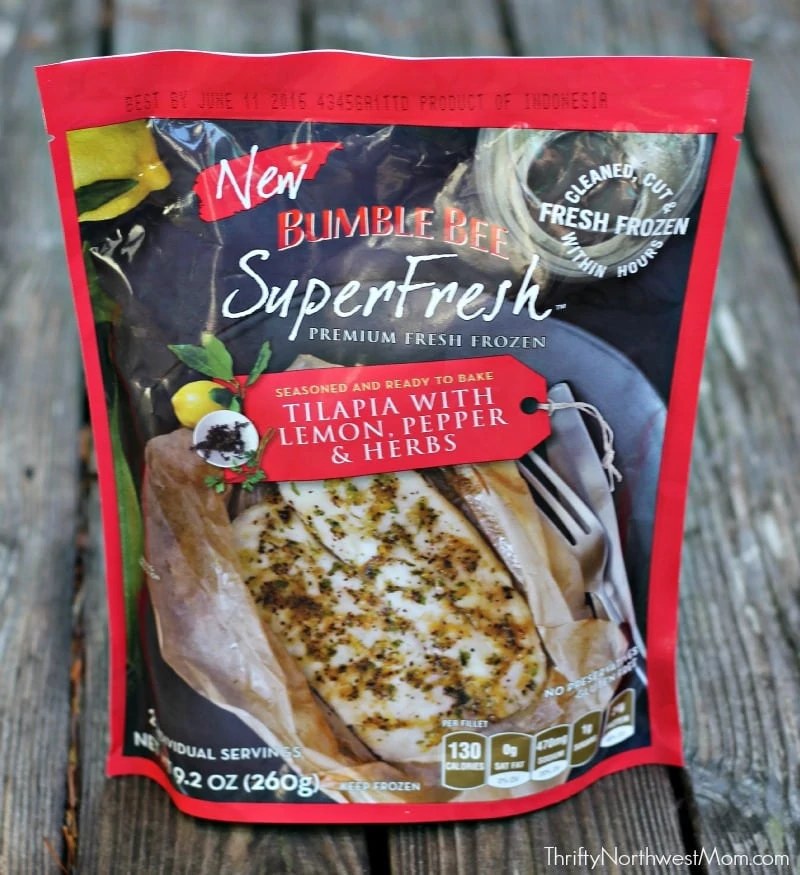 So, I was excited to learn about Bumble Bee SuperFresh® Seafood which is a line of naturally seasoned, restaurant quality seafood you can cook in your home for a gourmet meal with great flavor & quick preparation. What I love is that it takes all of the guesswork out of cooking a great seafood meal. As someone who does not love to cook, I am all about finding options to help me provide tasty meals and the simpler the better.
We had the opportunity to try out the Bumble Bee SuperFresh® Tilapia with Lemon, Pepper & Herbs.  Tilapia is one of my favorite kinds of seafood as I love the light flavor & flakiness of the fish. This tilapia was flavored with lemon, extra olive oil, shallots, black pepper, & other natural ingredients, which really brought out the fresh, clean flavor of the tilapia. I liked that they used pure & natural ingredients with no preservatives for flavor, just as I would if I had used my own seasonings, so it really complemented our cooking style.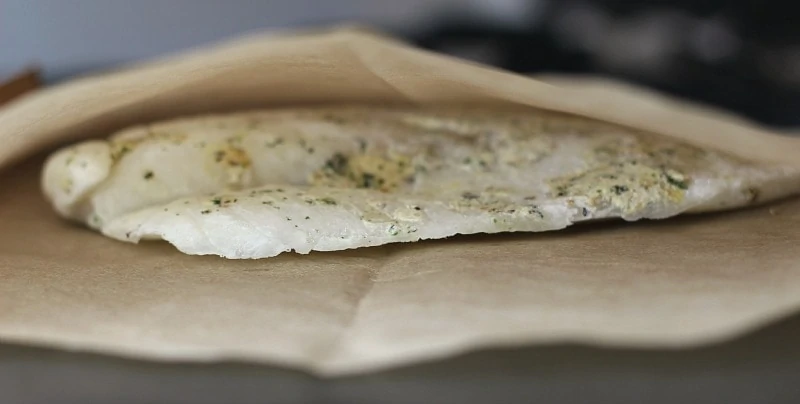 The Bumble Bee SuperFresh seafood is frozen, but my favorite part is that you don't have to remember to take it out to thaw ahead of time, you can cook straight from the freezer, which has an added bonus that you don't have to have a fishy smell in your fridge as it thaws either (big bonus for me as I hate that fishy smell). The Bumble Bee SuperFresh salmon & tilapia goes straight from the freezer to the table in 25 minutes or less.  The tilapia comes with its own parchment paper packets, too, so preparation of the fish is a breeze.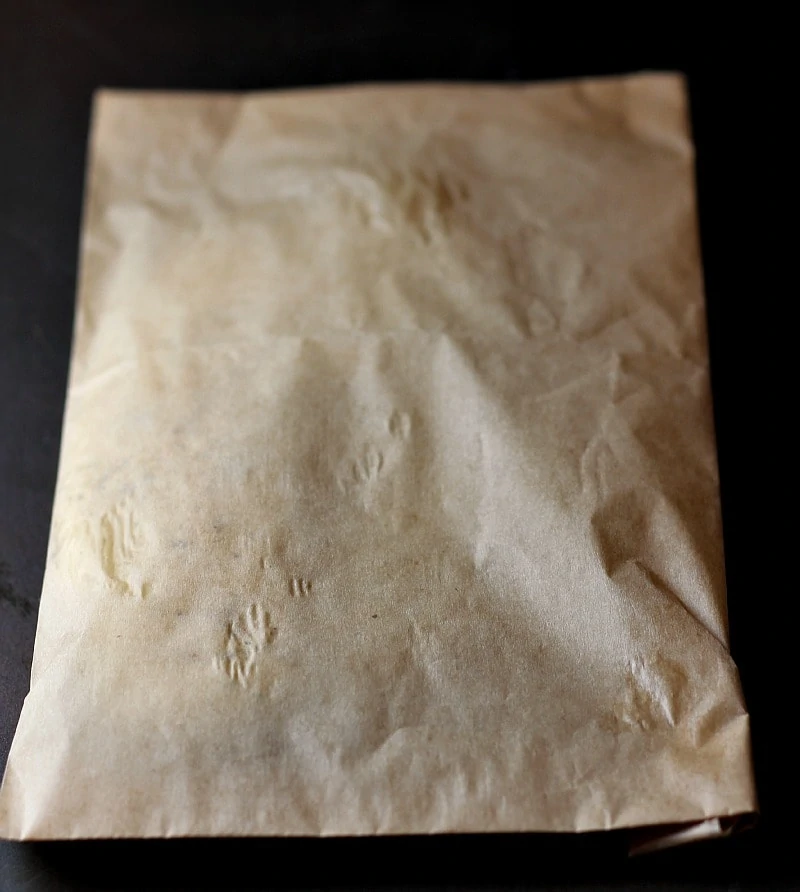 After we opened up our package, we took the tilapia out of the plastic packaging. It contained 2 servings of tilapia, but I thought the filets were quite large that you could even serve 2 adults & 2 kids which is what we did, by having other side dishes with the tilapia. They also include 2 parchment packets, so it's so simple as you just wrap up the tilapia into the parchment paper (they have it pre-folded for you & everything) & then place it on a cooking sheet. At 400 degrees, it took under 20 minutes to cook & then our main dish was done with no preparation needed (my kind of dish!).
While the tilapia was cooking, I made a Veggie Quinoa Medley to go with the fish as a hearty side dish, full of even more protein & whatever veggies you want to add & it made for a delicious gourmet meal for my family, all ready in less than 30 minutes!
Side Dish:  Veggie Quinoa Medley: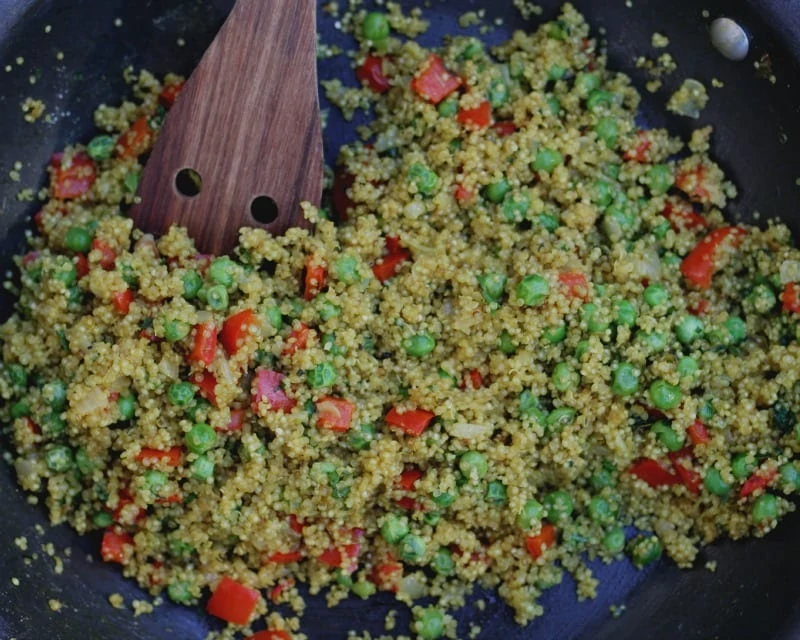 With a light & flaky gourmet-seasoned tilapia as the main dish, I decided to add a favorite recipe of ours,  this hearty Veggie Quinoa Medley.  This recipe takes about 25-30 minutes to make right on the stovetop as the tilapia is cooking. We used frozen peas & red pepper, but it's the type of dish you can throw in any veggies that you love to give it even more flavor with all the other seasonings. I liked the flavor & texture of the peas & the peppers (plus the peppers have that little extra crunch to it).  The quinoa is packed with protein – over 8 grams of protein in 1 cup of cooked quinoa and it can really showcase the seasonings in a dish so well.  It's definitely a nice side dish to add to many menus, but especially seafood.
Print
Flavorful Seafood Ready in Under 20 Minutes + a Colorful Quinoa Medley to Pair with Your Seafood!
---
2 Tbsp

Butter

½

small onion, finely chopped

3

garlic cloves, minced

1 cup

, uncooked quinoa

1 tsp

dried thyme

1/2

red bell pepper, chopped

2 cups

chicken stock (or vegetable stock)

¾ tsp

sea salt

½ tsp

ground black pepper

1 tbsp

dried chives

½ tsp

ground turmeric root (optional)

1 cup

thawed peas

¼ cup

fresh parsley, chopped

¼ cup

grated parmesan
---
Instructions
Melt butter in large skillet over medium heat.
Add chopped onion. Cook 5 minutes
Add garlic, cook additional 3 minutes, stirring occasionally
Add quinoa, thyme & chopped pepper to skillet. Stir to coat. Cook for 3-4 minutes or until slightly golden.
Stir in chicken stock, salt, pepper, chives & turmeric root (optional). Bring to a boil
Reduce heat to medium low. Cover & simmer 10 minutes.
Add peas, replace cover and continue to cook for 3-5 minutes.
Stir in parsley & parmesan (reserve a teaspoon of parmesan for topping)
Serve
If you'd like to try the Bumble Bee SuperFresh® Seafood for yourself, I found it in my local Albertsons store in the frozen food section of the store. It ranges from $7.99 – $9.99 for a packet with 2 servings. However, there is a $2 off coupon on the Bumble Bee SuperFresh® website.
Visit the Bumble Bee SuperFresh® website for a coupon so you can try these delicous SuperFresh® products for yourself!  There is quite a variety in the seafood that they offer.
I was selected for this opportunity as a member of Clever Girls and the content and opinions expressed here are all my own.