Legoland California Deal on Tickets –
2nd Day Free, $85 Tickets or $96 for Unlimited Admission!
If you're headed to southern California and are interested in visiting Legoland with your family, we've compiled a few of the best deals you will find on ticket admission.
And don't forget if you're also headed to Disneyland while you're visiting southern California – you'll want to check out our Disneyland Page where we have tips & ways to save on everything from Disneyland tickets, hotels, restaurants & dining, mementos & more!
Ticket Deals for Legoland California::
aRes Travel: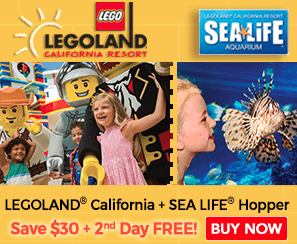 We found great discounts for Legoland California Tickets from aRes Travel! Sia has purchased her family's tickets through aRes Travels discount ticket deals in the past for Disneyland and she can assure you they are the real deal. They just printed our tickets off and redeemed them at that gate, with great savings for the parks.
New Legoland California Promo:
Legoland Discount Tickets – Purchase by 10/01/17 & valid through 10/01/17

 General Admission for adults – $86 (Regularly $98)
That's basically like paying $42.50 a day for admission if you go for 2 days to Legoland, which is a fantastic deal if you will be there for that amount of time.
General Admission for Kids ages 3-12 – $80 (regularly $92)
Legoland / Sea Life Hopper Pass:
Legoland + Sea Life Hopper Pass  – Purchase by 10/1/17 & valid until 10/01/17
Purchase a Legoland + Sea Life Hopper Pass for $101 (regularly $116 at the gate)
You will save $15 off the ticket price + you'll get the 2nd day FREE
Family Pack Offer – Legoland + SeaLife Hopper Pass – Purchase by 10/1/17 & valid until 10/1/17
Purchase 3 or more Legoland + Sea Life Hopper Passes for $90 (reg $116 at gate) – Save $26
Buy 1 Day Get 4 Days FREE Resort Hopper Ticket (5 Days for the price of 1) – Purchase by 10/1/17 & valid until 10/1/17
Purchase a Legoland + Sea Life Hopper Pass – $112 (Reg $119) for 12 & up; children are $106 ($113)
*This is definitely the best deal to get 5 days for the price of 1 day for Legoland & SeaLife
Costco::
 If you are a Costco member, they have a great offer available online at Costco.com right now. You can get a Legoland California, Waterpark & SeaLife Aquarium ticket for just $95.99. This ticket offers unlimited admission to Legoland California, Legoland Waterpark and SeaLife Aquarium for just $95.99 from now through the end of 2017.
 However, you must make your first visit by April 30, 2017. This is very important to make sure you can make that date or it will not be valid. There are also water park blackout dates on Saturday and Sundays from July 1st – August 13, 2017.
When you purchase these tickets on Costco.com, they will arrive by email.  If you are planning to head to Legoland for more than 2 days, then this is definitely a deal to take advantage of if you can visit by April 30, 2017. If you will only be there for 2 days, then the aRes Travel deal is a better deal for you.
If you are not a Costco member, you can still purchase this deal, but you will pay a non-member surcharge of $4.80, so your total will be $100.79 or the unlimited admission pass.
Free Child Ticket with Park Hopper Ticket Purchased!
 On the Legoland website, there is a special coupon for a free child's ticket.  If you purchase a full-price One Day Adult Hopper Ticket to Legoland California and Legoland Water Park or Sea Life Aquarium, you will get a FREE One Day Child Hopper Ticket.  The Adult Hopper ticket is $113 – $116 ($113 for the Sea Life Aquarium & $116 for the Water Park option) at this time.
This is not valid with any other discounts and only one free ticket per coupon. This cannot be applied to pre-purchased discounted tickets.
You can either purchase your tickets online at Legoland.com using this coupon code: 169907 until 6/30/2017 or you can print off this coupon and bring to the Legoland ticket booth through 12/31/2017. If purchasing your tickets online, make sure to add both the adult and child ticket to your order and use the coupon code: 169907 at checkout. The discount will be applied at checkout to take off the child ticket price.
If you are only planning on visiting Legoland for one day, this is definitely a fantastic deal. However, if you are going to visit for 2 days or more, then the aRes Travel deal or Costco.com deal are your better options, depending on how long you stay.
More Options for your visit to southern California:
Ways to Save at Disneyland – check out this page for ALL the ways to save and tips on visiting Disneyland with your family
Save
Save
Save
Save
Save