Halloween Squishmallows – Where to Find the Best Deals!
This post may contain affiliate links and I may be compensated for this post. Please read our disclosure policy here.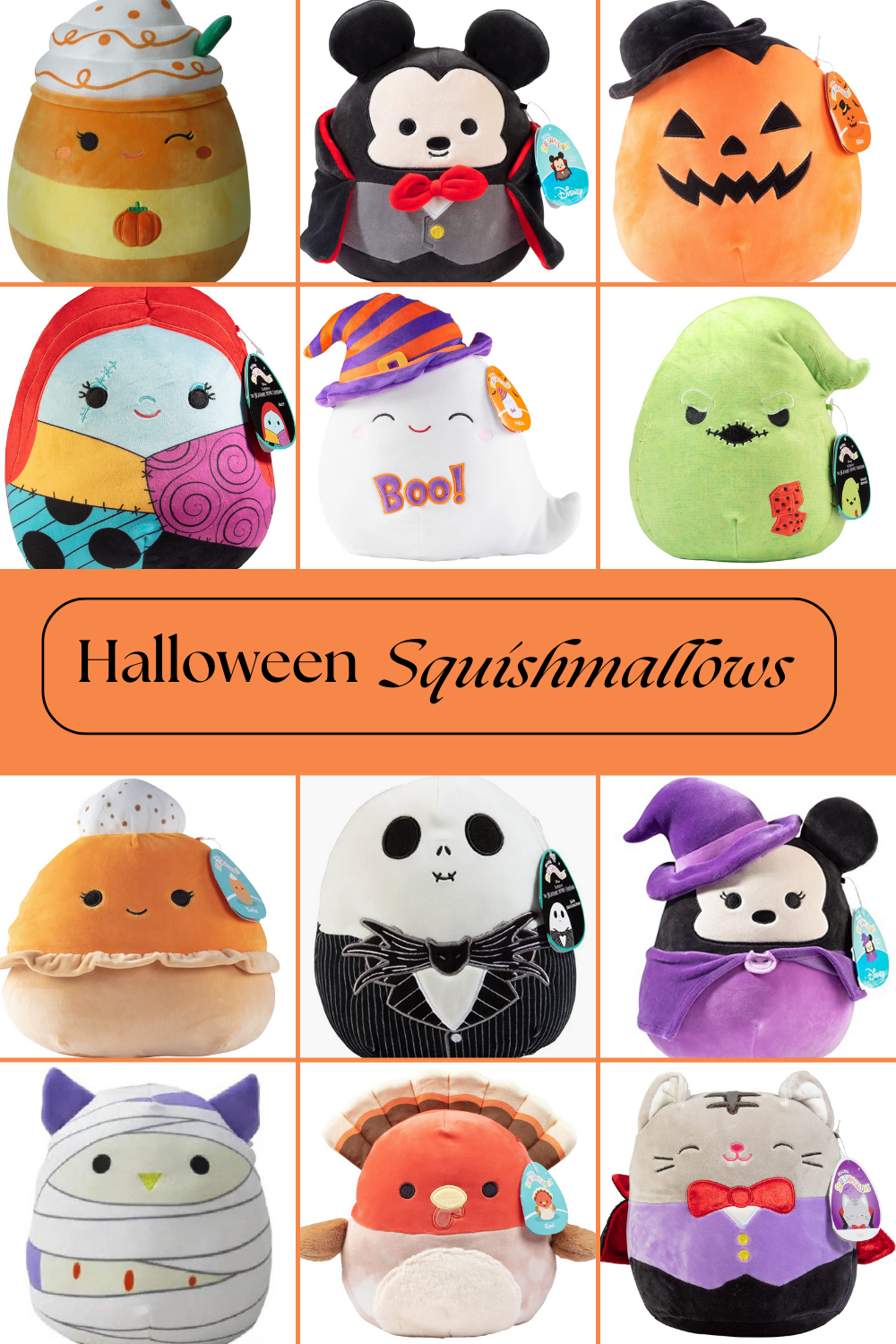 Halloween Squishmallows – Where to Find the Best Deals
Squishmallows are still all the rage with kids & tweens/teens and the seasonal Squishmallows are so popular. This year, some of the most popular Halloween squishmallows are based on movies such as the Hocus Pocus and Nightmare before Christmas squishmallows. But they can be a bit tricky to find, especially without the high price tag (once they become more popular / more rare, the price can go WAY up!
We have been on the hunt for the best places to find Halloween Squishmallows as well as ways to save on these popular squishmallows, too. You'll find everything from Halloween Disney squishmallows, fall themed Squishmallows, Flipmallows (where it's 2 different squishmallows – one on each side) & so much more!
Where to Find Halloween Squishmallows
Ebay – Ebay is the place to look if you are looking for unique & more rare Squishmallows, they have such a wide variety of those options and definitely the newest popular items, too. Just make sure you are always searching for new items, so use the words "brand new" in your search criteria.  I found  the very popular Hocus Pocus Squishmallows, Day of the Dead squishmallows, Paislynn the Pumpkin Spice Latte Squishmallow & much more.
Walmart – Walmart has been one of the best resources we have found for Squishmallows as they have frequent markdowns, Squishmallow slippers and more at such great prices.
Costco –Costco has a larger than normal toy selection in the fall as they are bringing out items early for Christmas gifts. You most likely won't find as many specific Halloween squishmallows, but you can typically find the sets of mini Squishmallows as well as the extra large squishmallows like the 24″ ones. The fox squishmallow would be a cute Halloween / Fall themed squishmallow.  You can find them both online & in-stores.
Amazon – Amazon has quite a wide variety of popular Squishmallows, including some cute fall themed & Halloween squishmallows. You can definitely find sales on Amazon for them, typically on last year's squishmallows.
Walgreens – make sure to check in-store & online for fall & Halloween Squishmallows at Walgreens as they often have some different varieties you might not find elsewhere and the prices will be decent, too.
Target– there are a variety from 7″ to 24″ in all different options for Target  Halloween squishmallows
Kroger Stores – I found some Squishmallows at both our local QFC & Fred Meyer stores, so check your local Kroger store to see if you find any. They had Hocus Pocus, Day of the Dead Squishmallows & more popular Squishmallows without the high price you'll find on some other online retailers for these popular squishmallows. You could even use InstaCart to have it delivered to you if it's available for you locally
Claire's – Claire's had some of the more popular Squishmallows in stock for Halloween, so this is definitely a great place to check either online or in-store.
Popular Halloween Squishmallows
Nightmare Before Christmas Squishmallows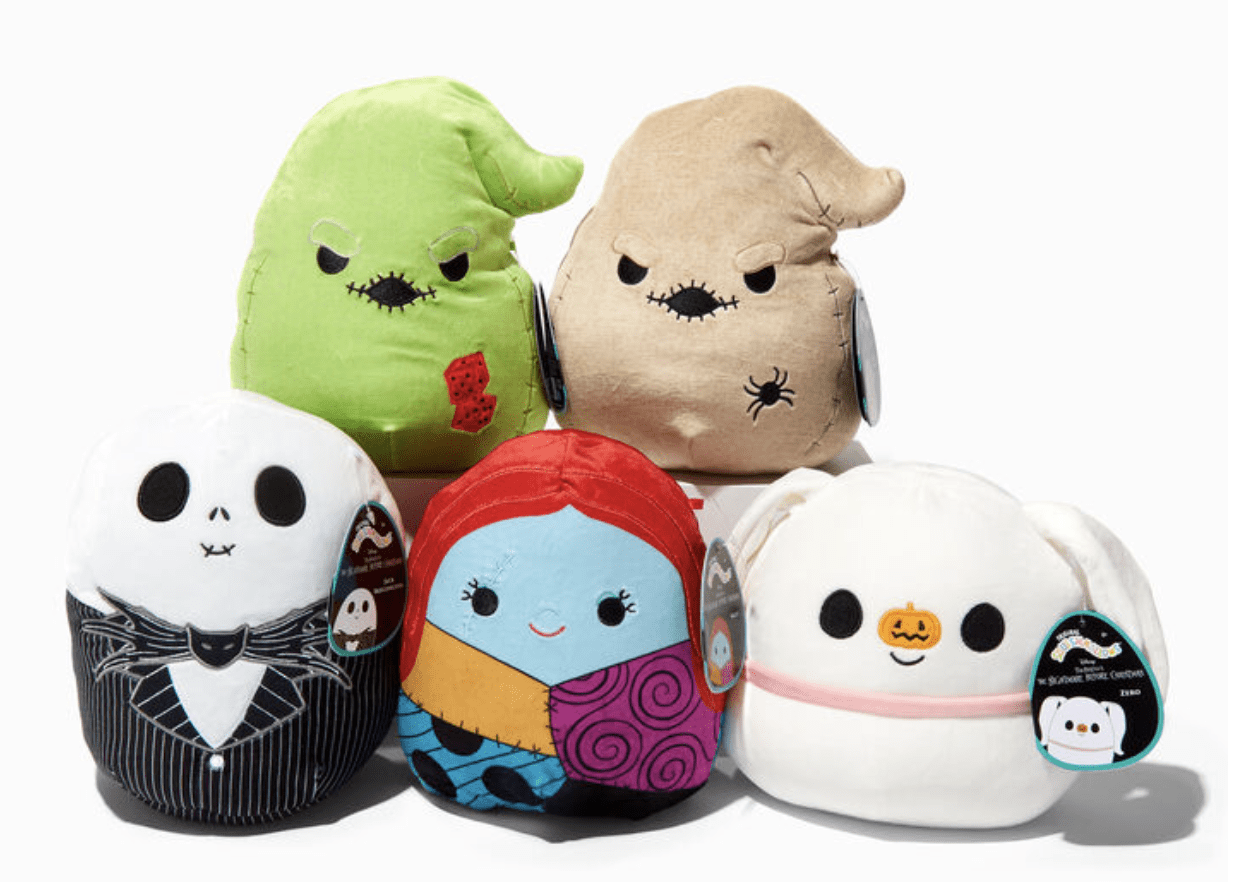 The best price we found for Nightmare before Christmas squishmallows currently is at Claires – just $19.99 for an 8″ plush. However, it is a surprise what you will receive if you order online – you don't get to choose which one you want. So if you want a specific one, we have those listed below for online  (or go shop in store at Claire's to see what they have in stock)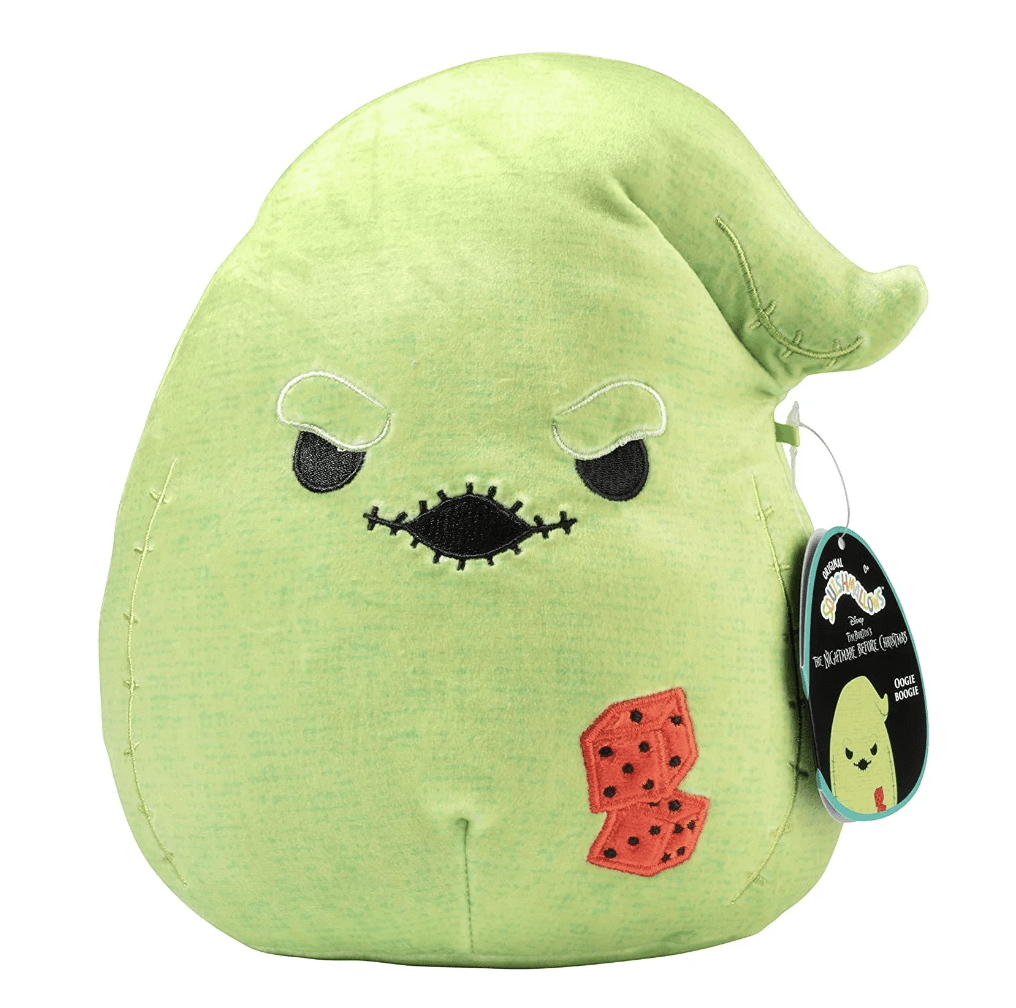 8″ Nightmare Before Christmas Green Oogie Boogie Squishmallow – the best price currently is on Walmart for $39.99. You can also find it on Ebay although the shipping prices might be higher. Amazon currently has it for $49.99 (although keep an eye on that price as it could drop)
8″ Nightmare Before Christmas Sally Squishmallow – find it on Amazon (currently $26.99) or Target for $27.95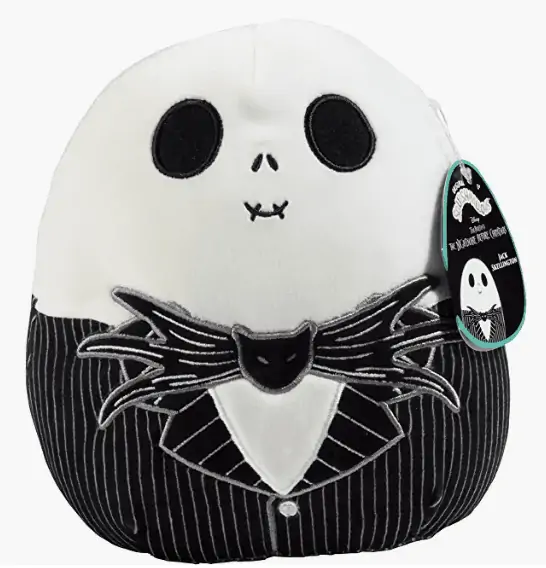 8″ Nightmare Before Christmas Jack Squishmallow – find it on Amazon (currently $26.99) or Target (currently $27.95)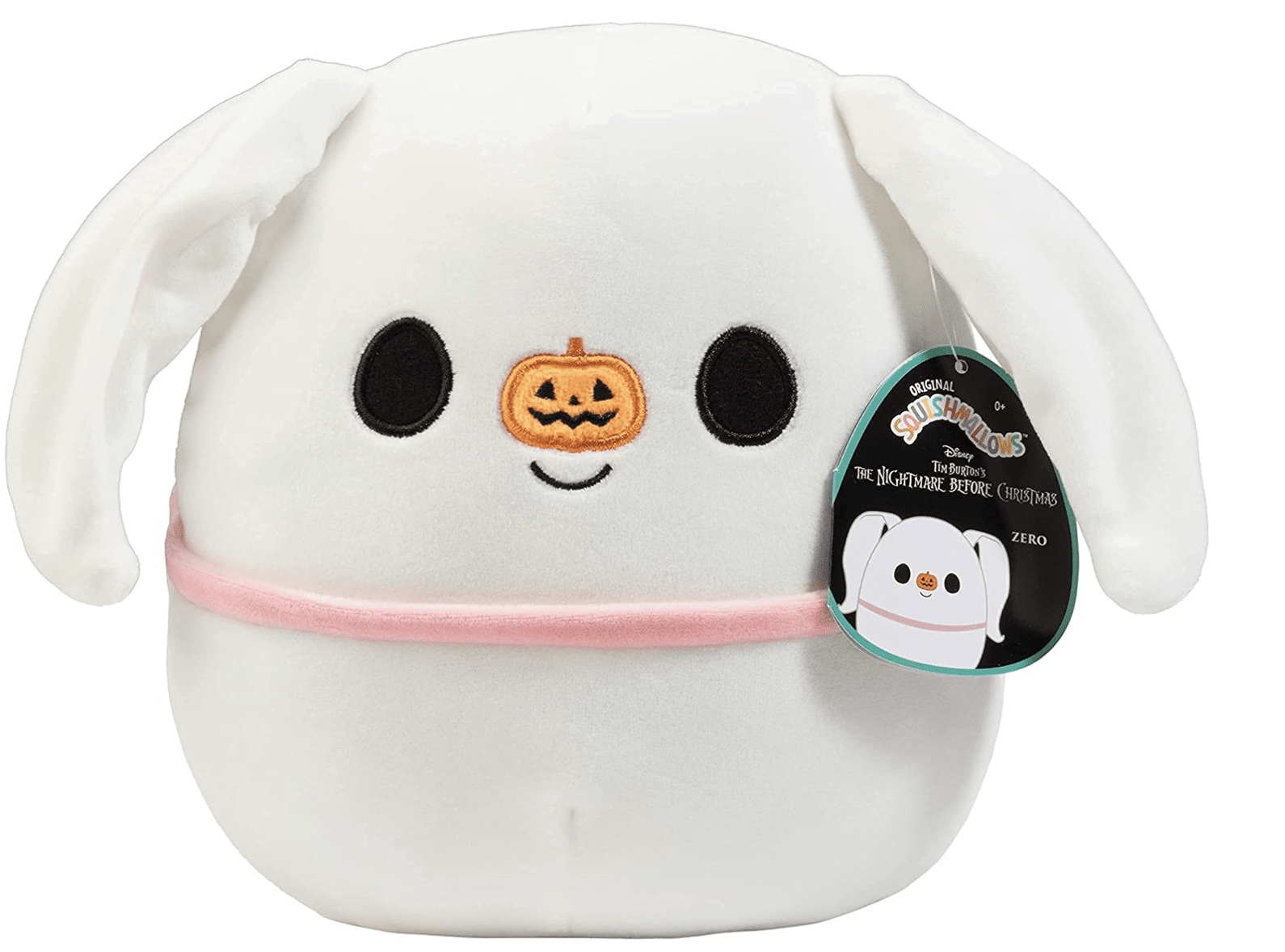 8″ Nightmare Before Christmas Zero Dog Squishmallow – $26.79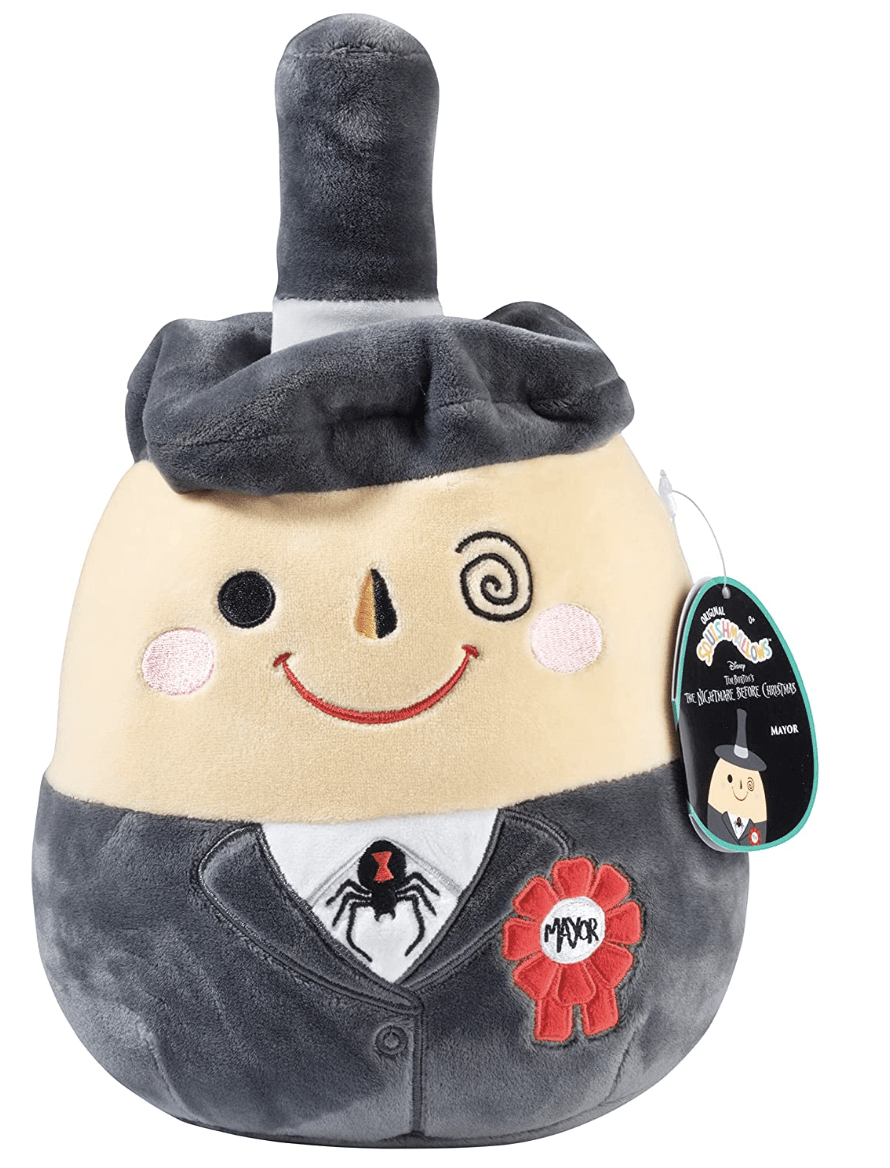 8″ Nightmare Before Christmas Mayor – $29.99
Disney Squishmallows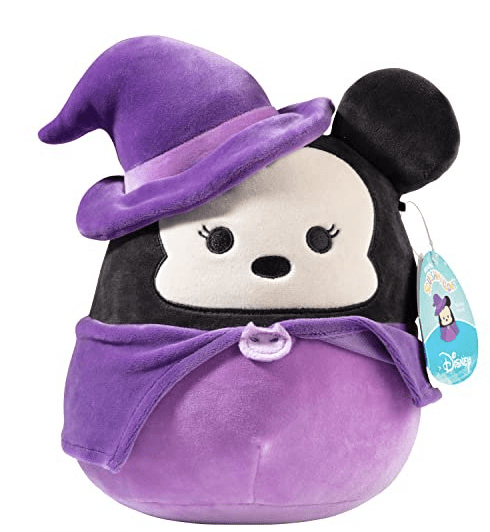 8″ Minnie Mouse Witch – $18.99
8″ Vampire Mickey Mouse – $30.99 on Amazon  (or $36.96 on Walmart if that goes out of stock)
More  Fall / Halloween Squishmallows
Hocus Pocus Set of 3 8″ Witches –  keep an eye out for these on Amazon (they are out of stock right now, but were in stock a day or two ago, so they seem to be coming in / out of stock, but they might come back in higher in price since they are so popular right now. So, also check out Ebay as I have seen lower prices on Ebay for this set, but they do go fast!
If you want the 5″ Hocus Pocus squishmallows, we found them at Claire's for just $12.99! Order online for a surprise design or head to Claire's in person to pick out the one you want.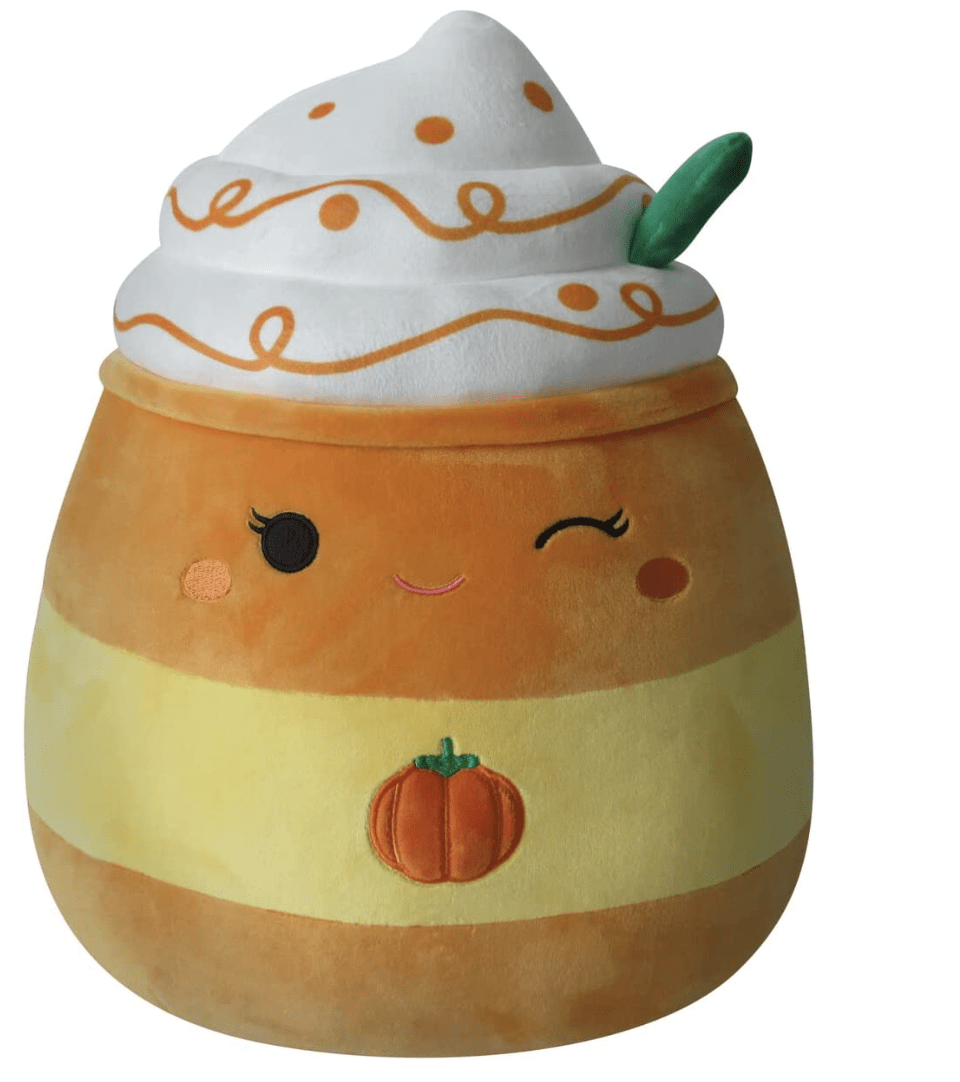 14″ Pumpkin Spice Latte Squishmallow with Green Straw – $19.99
*Keep your eye out at Target for this 14″ Pumpkin Spice Squishmallow for $14.99 – it's sold out right now, but hopefully they will bring more back in stock
Hello Kitty Squishmallow Franken Kitty – $32.92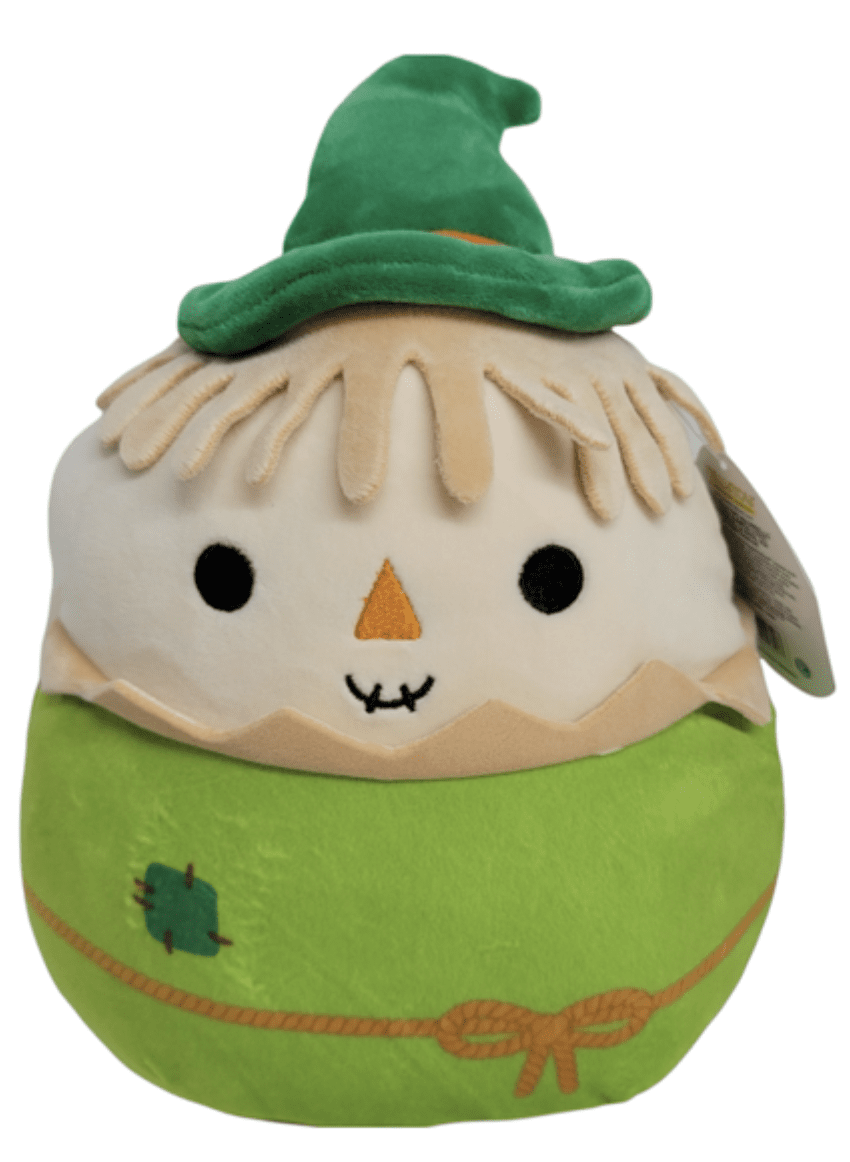 8″ Samuel the Scarecrow Squishmallow – $23.99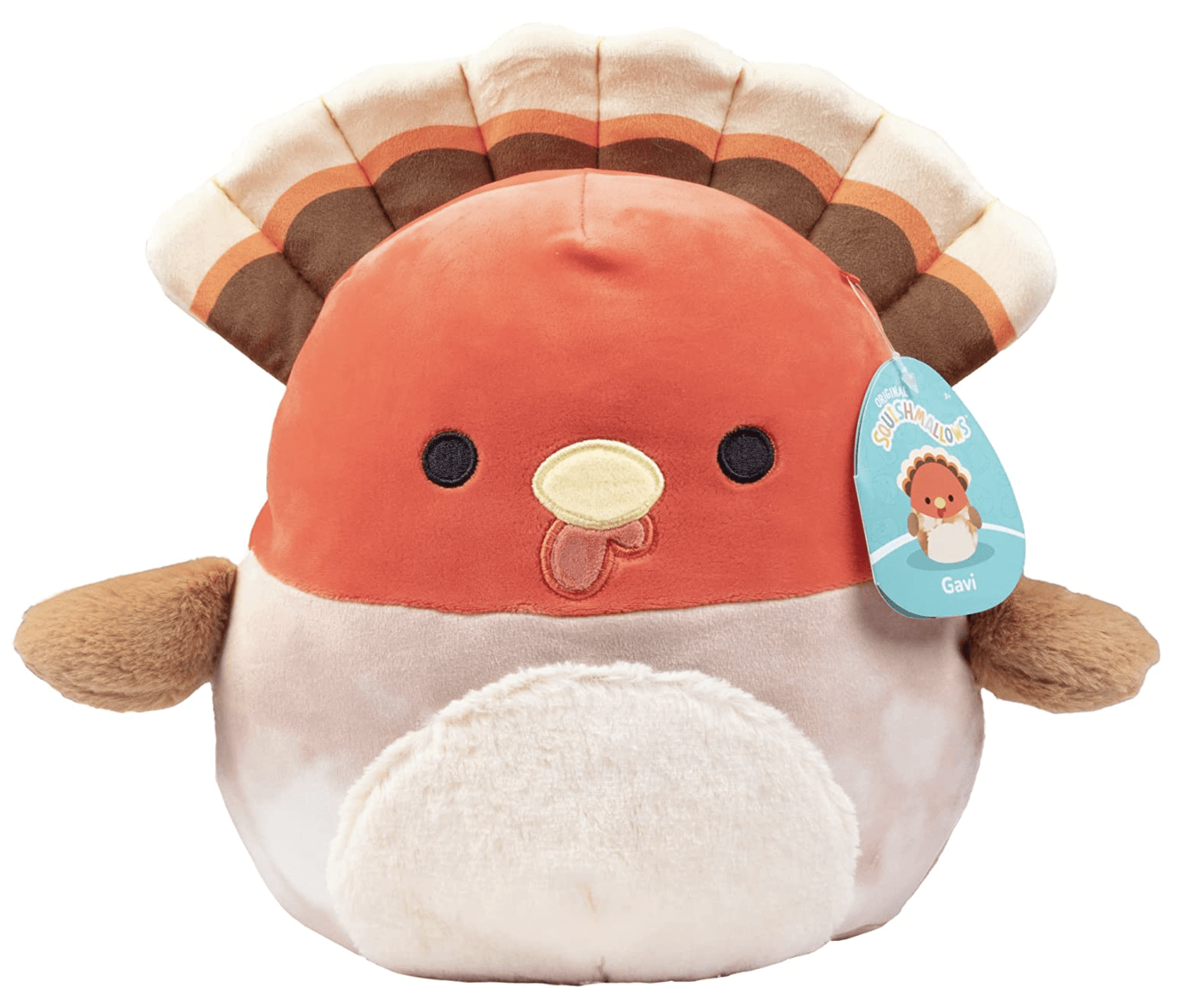 10″ Gavi the Turkey Squishmallow – $24.99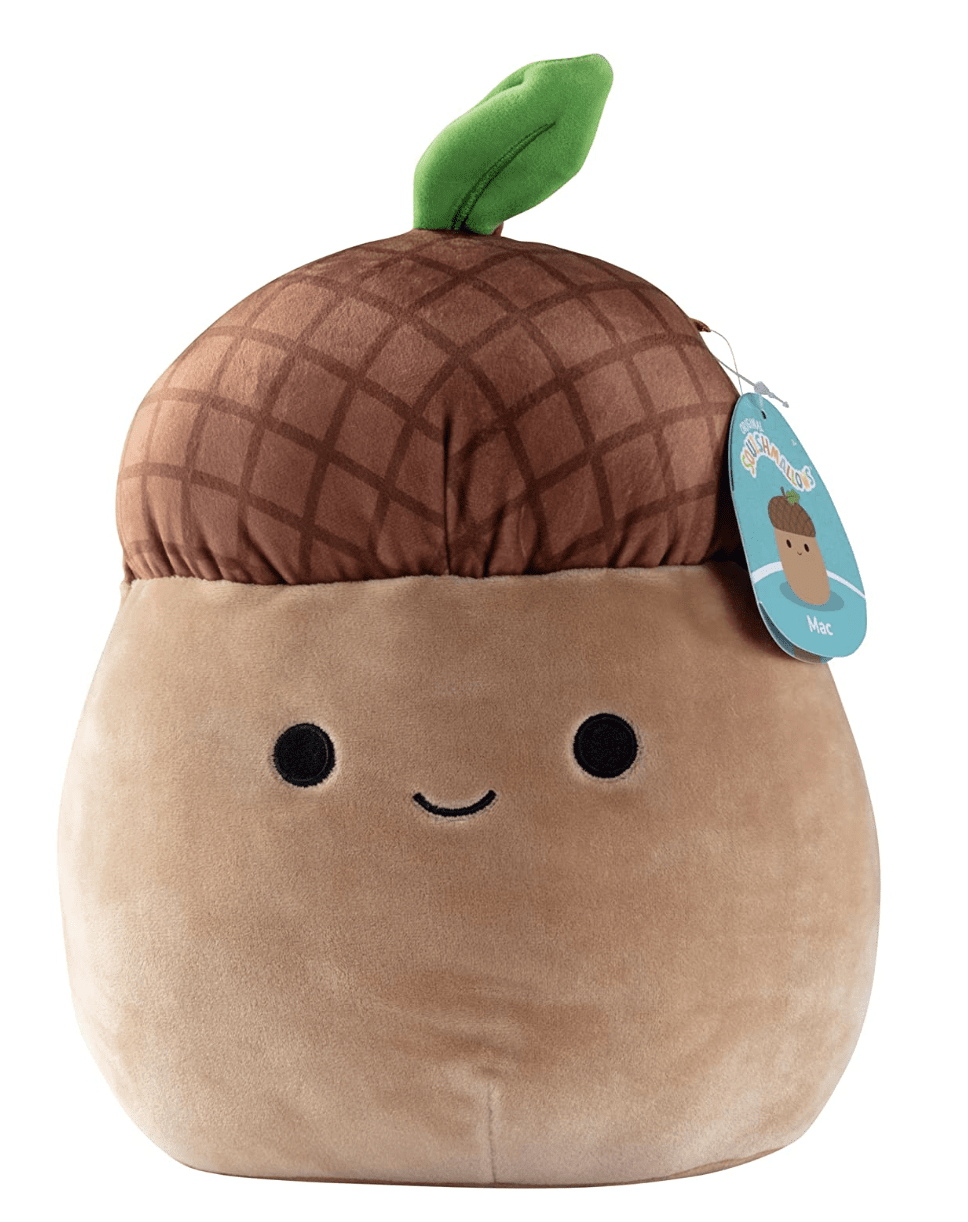 10″ Mac the Acorn Squishmallow – $24.99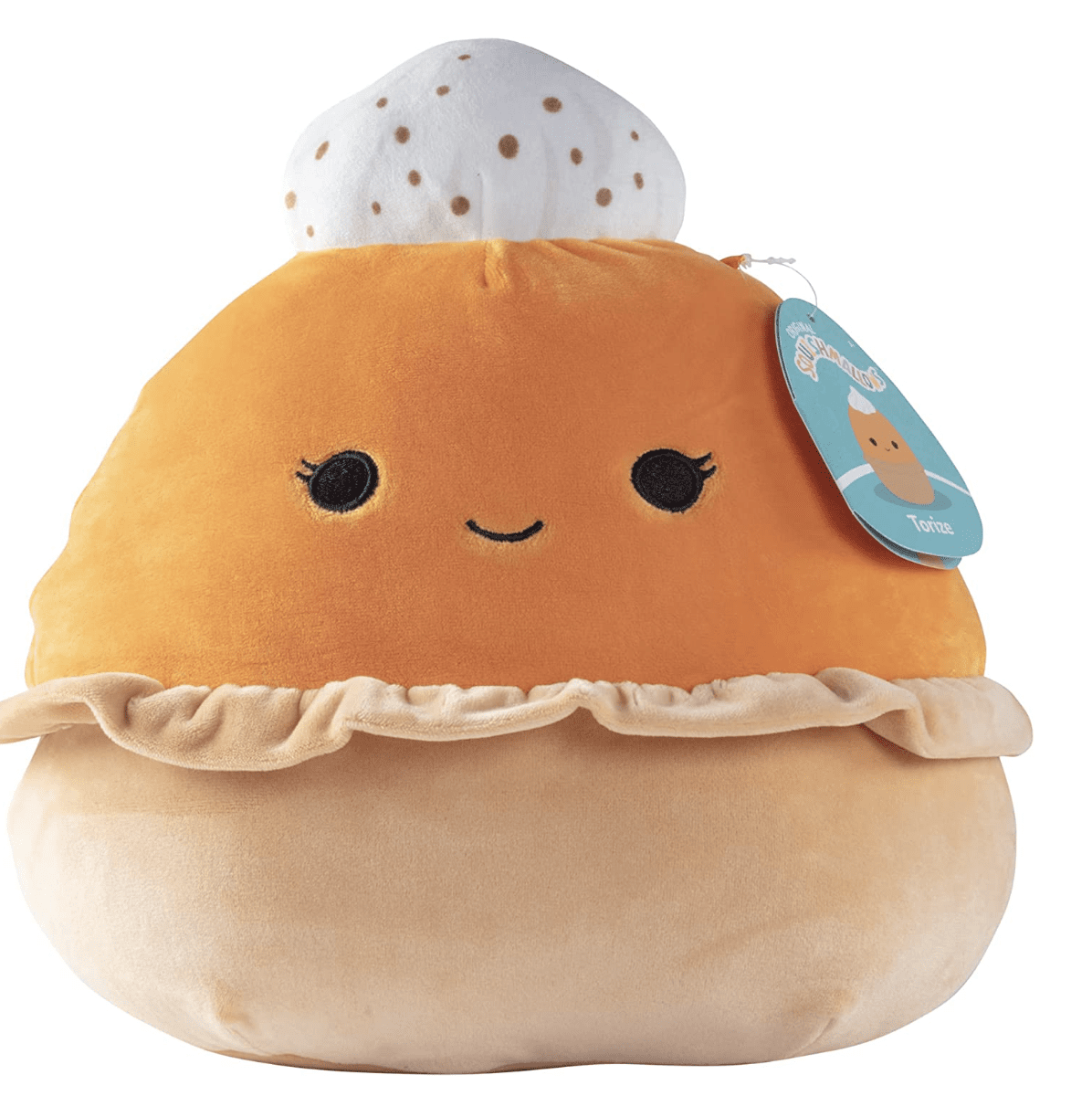 10″ Torize Pumpkin Pie Squishmallow – $24.99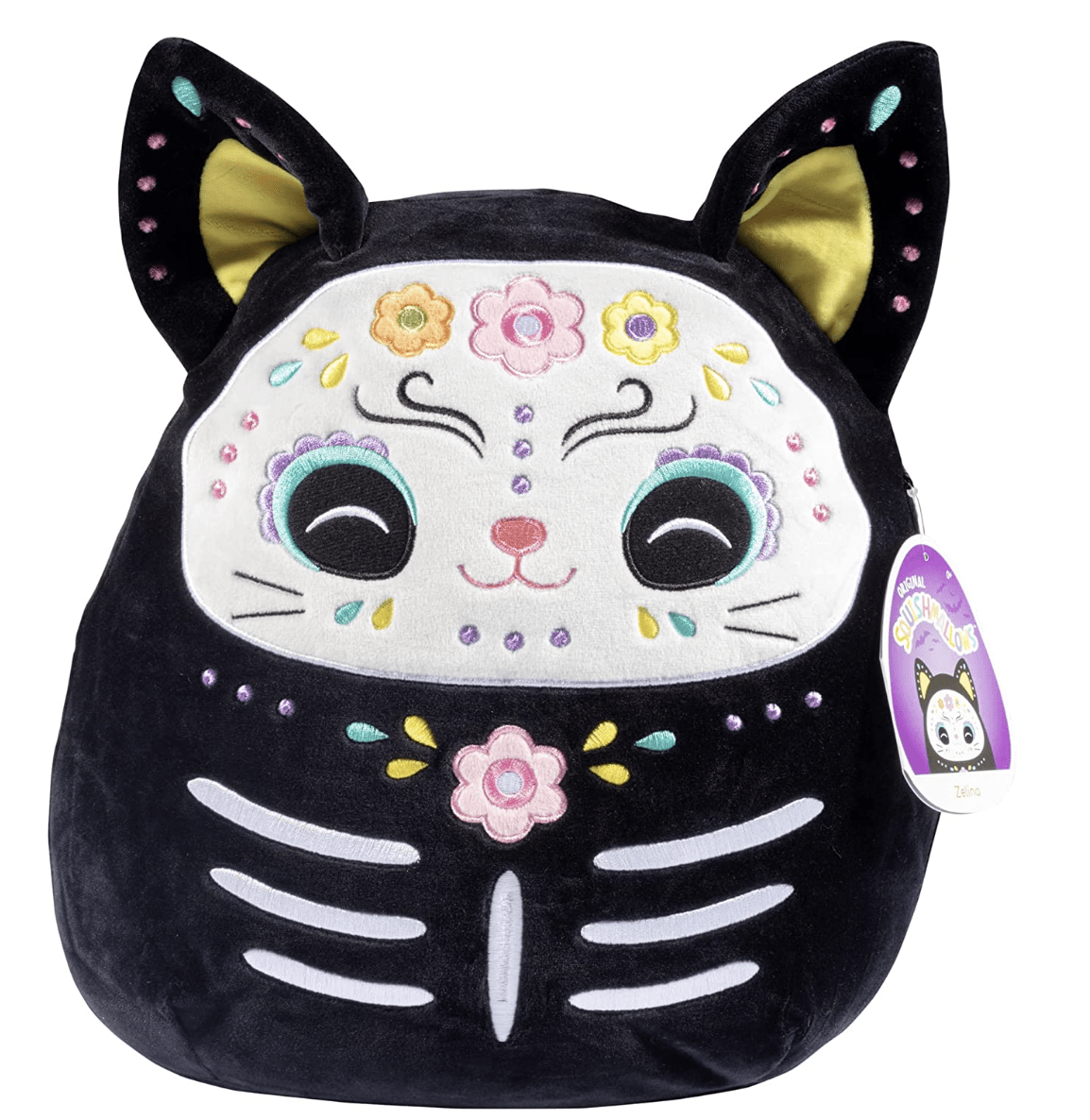 The Day of the Dead (Dia de los Muertos) squishmallows are also popular – especially this 12″ Zelina Black Cat – keep checking back to see if you see this drop back in price (it doubled in price in just the last few days)
Flipmallows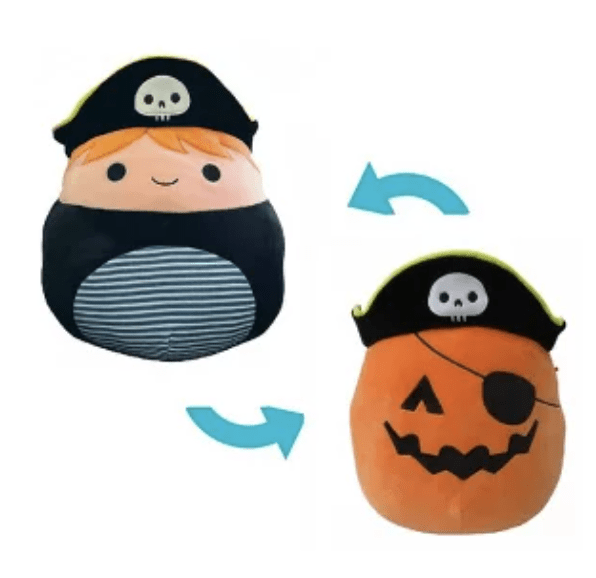 Squishmallow Flipmallows 9″ Halloween Pirate Plush –  $18.99 (this is $22.99 on Target)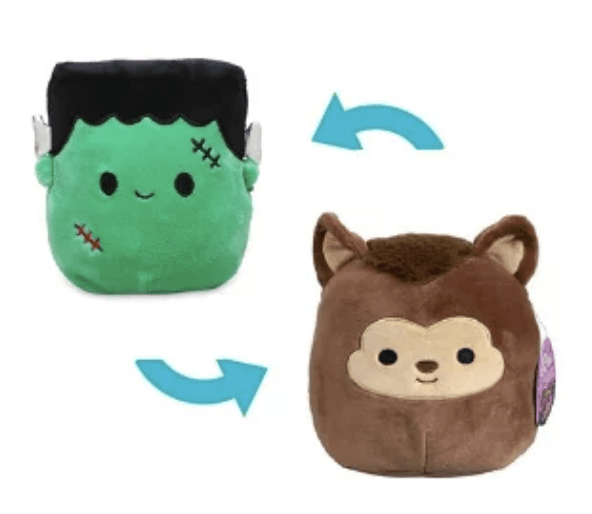 Squishmallow Flipmallows 9″ Halloween Frankenstein – $24.99 (or $30.99 on Target.com)
Small Squishmallows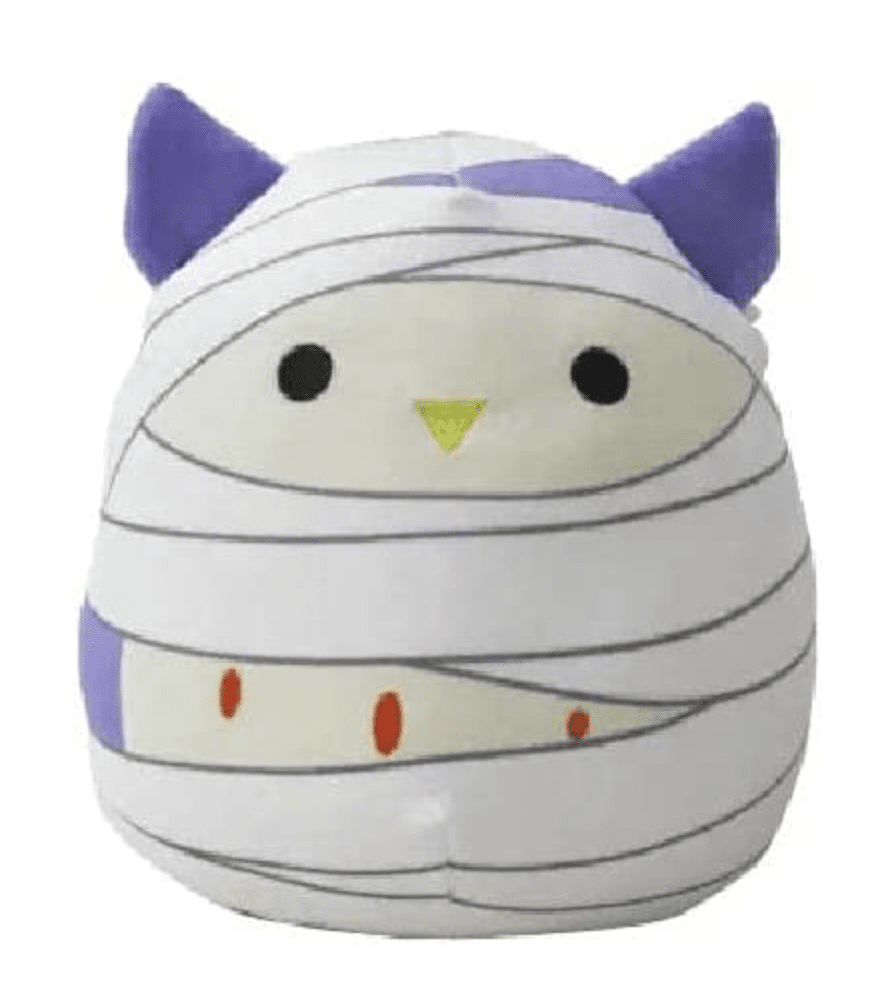 5″ Holly the Mummy Squishmallow – $14.99.  (or the 8″ Winston the Mummy Owl here )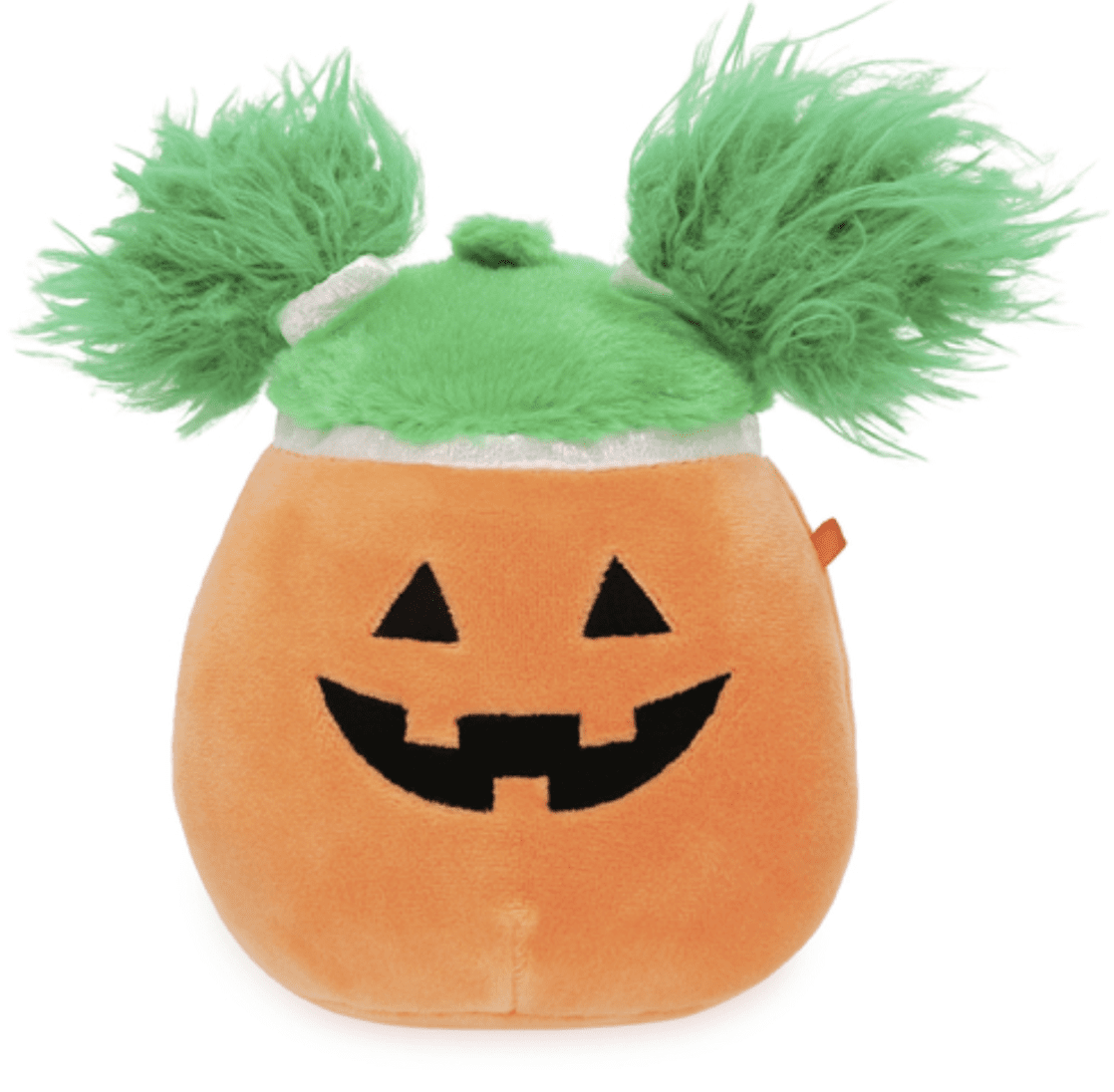 Paige the Pumpkin Mini Pumpkin 4.5″ Squishmallow – $17.95
16 Inch & Under Squishmallows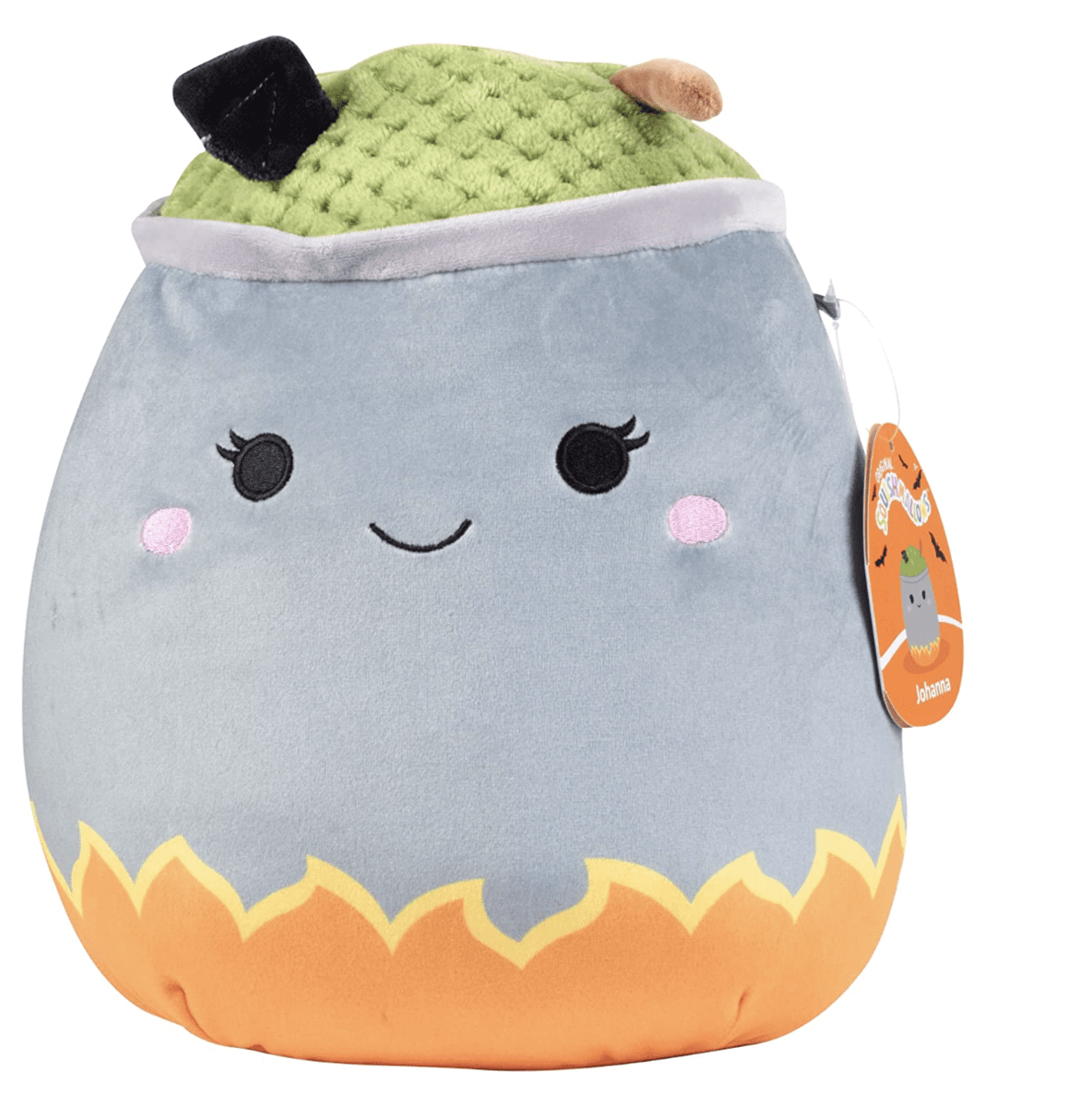 10″ Johanna the Witches Brew Squishmallow – $24.99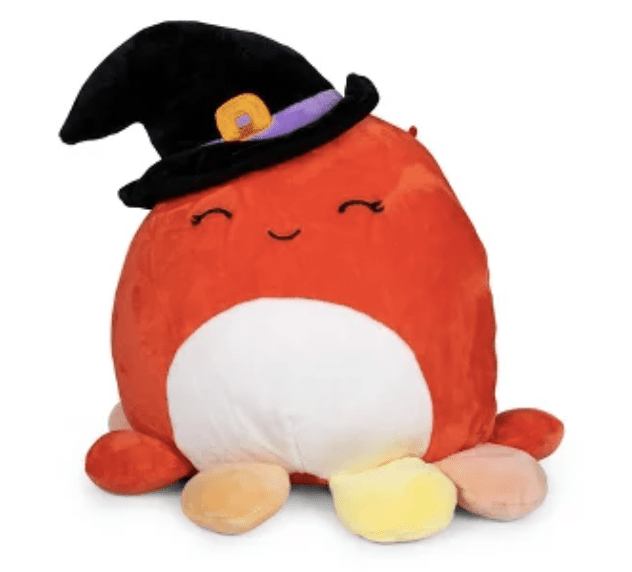 Detra the Octopus Witch Halloween Squishmallow – $25.99 for the 8″ or $42.99 for the 16″ size
12″ Drake the Vampire Squishmallow – $24.99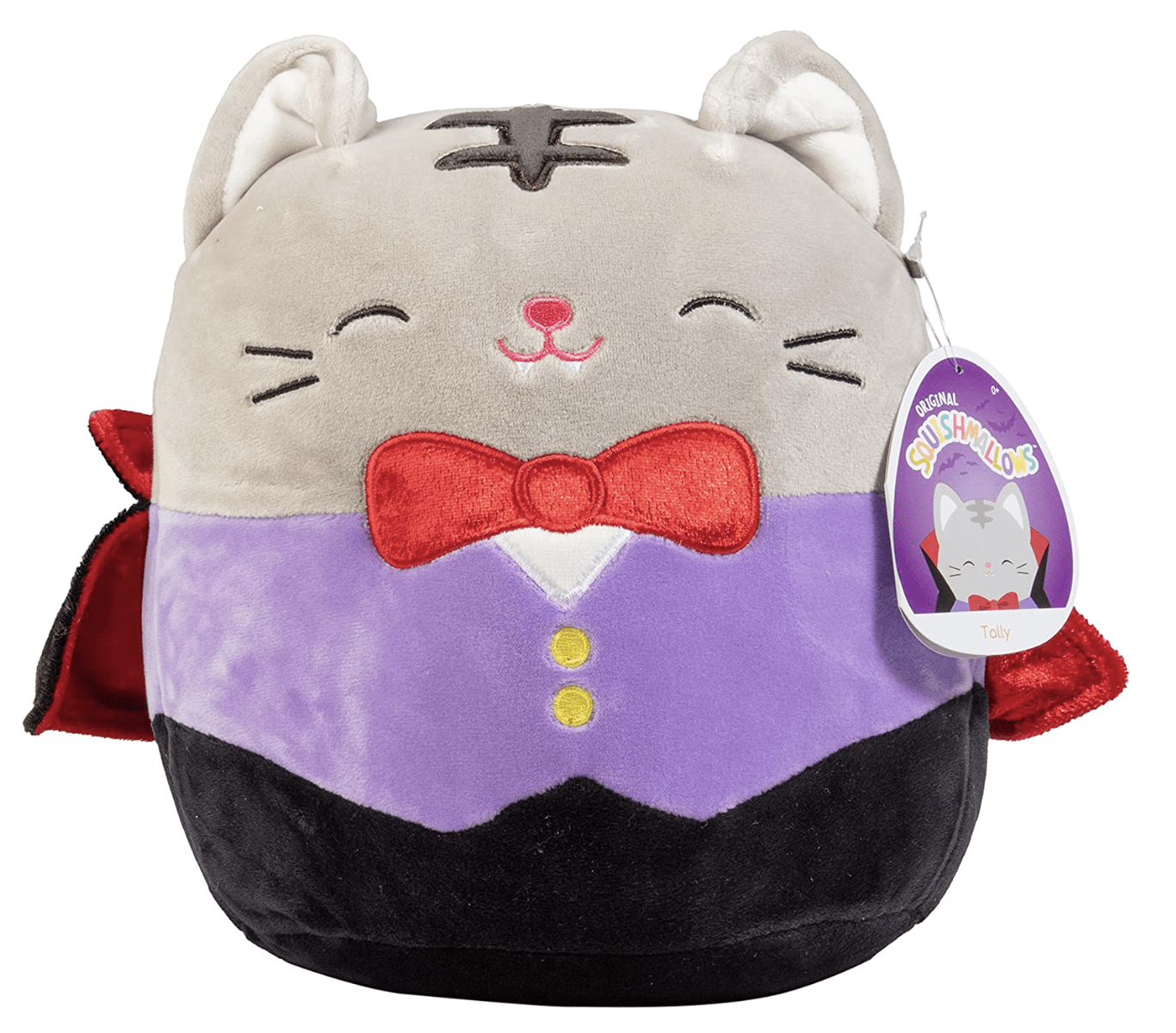 8″ Tally the Cat Vampire Squishmallow – $21.99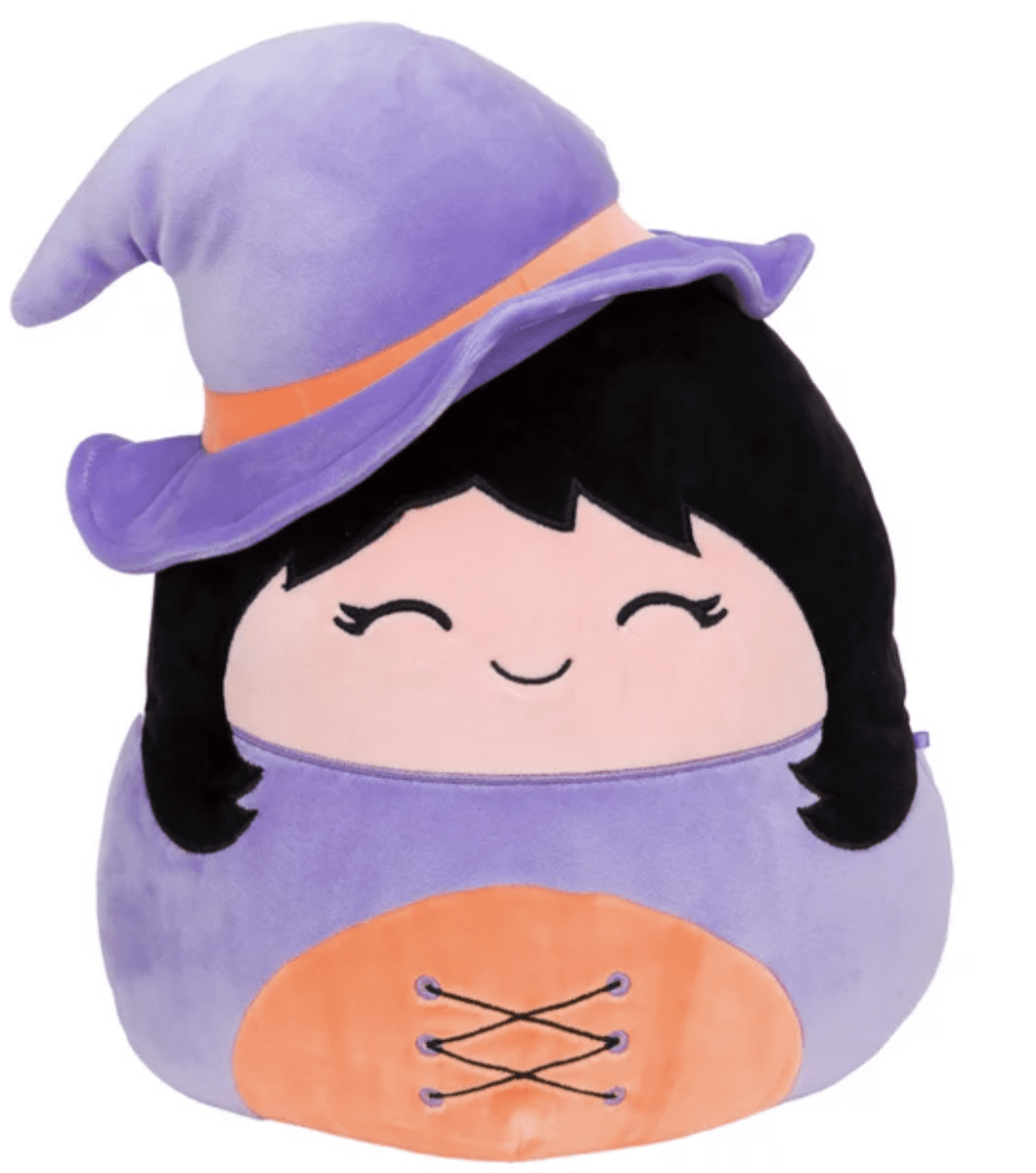 8″ Winnie the Witch Squishmallow – $22.99
8″ Paige the Pumpkin Squishmallow – $24.99
10″ Riba the Pumpkin with hat Squishmallow – $24.99 (but there is a $2 off e-coupon right now making it $22.99)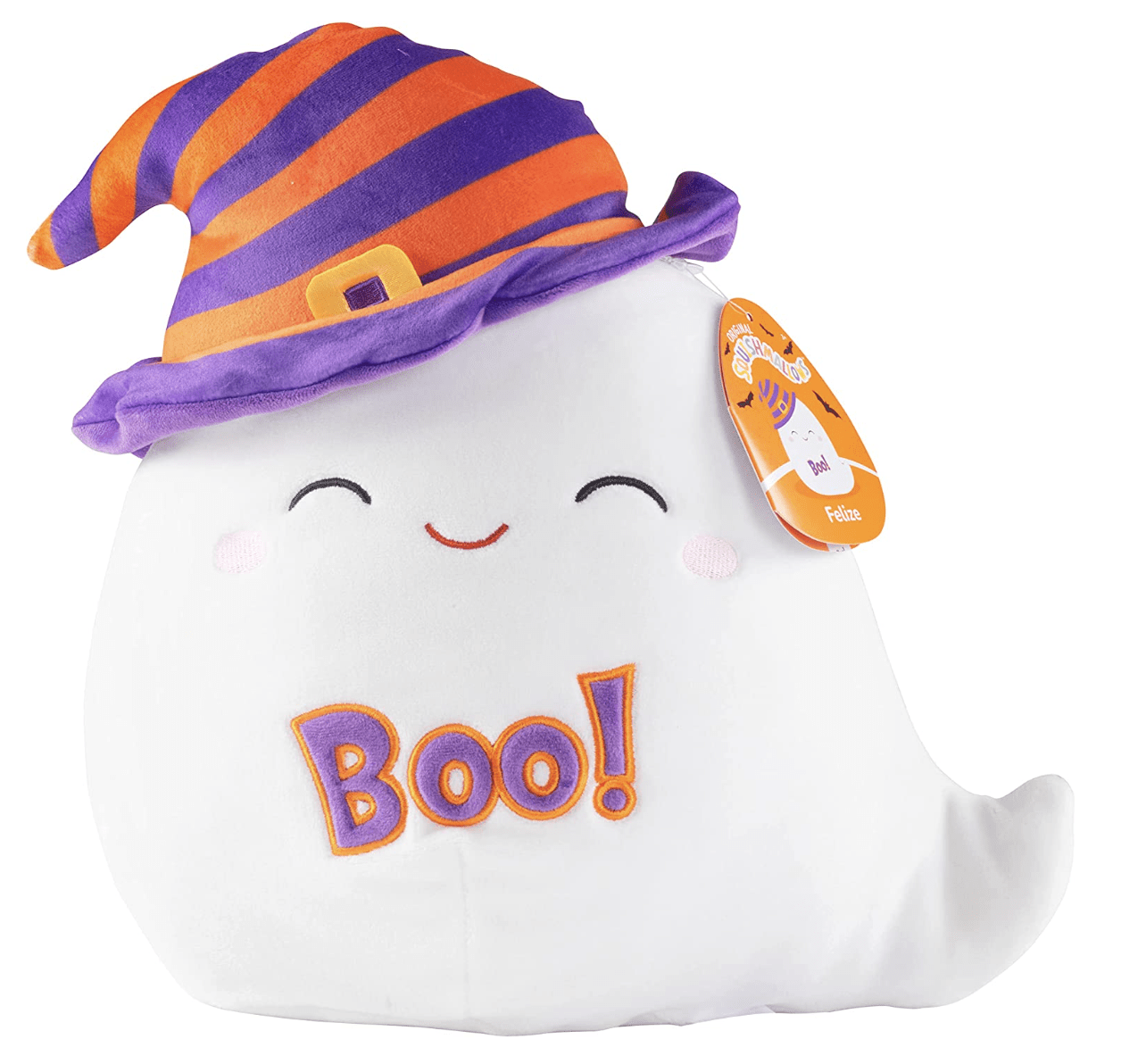 10″ Felize the Ghost Squishmallow – $24.99 (But there is a $2 off e-coupon making it $22.99 right now)
Claire's also has a selection of Halloween squishmallows for $29.99 – you can order online for a surprise design to be sent to you OR head to your local Claire's store to pick out one.
Where to Save on Squishmallows for Halloween?
The highest priced Squishmallows are the newer releases or the more popular & rare Squishmallows, so looking for older Halloween themed squishmallows are your best bet (2021 or older)
Walmart has consistently had some of the best price cuts we see on Squishmallows & their price cuts are totally random, so you just need to keep checking back to see if there are any for sale
Keep an eye out for Claire's Buy 3 Get 3 FREE promo which  they often feature to save more. They also have a 10% off coupon when you sign up for emails.
Target Red Card holders will get an additional 5% off your order. Plus, Target will often have select Squishmallows available when they feature their 20% off one toy coupon.
Walgreens can have some great deals when you pair their coupon codes with the sale prices for Squishmallows.
Looking for more Squishmallows – check out these other seasonal Squishmallows here: