5 Simple Tips For Your Garage – Organize It On A Budget!
This post may contain affiliate links and I may be compensated for this post. Please read our disclosure policy here.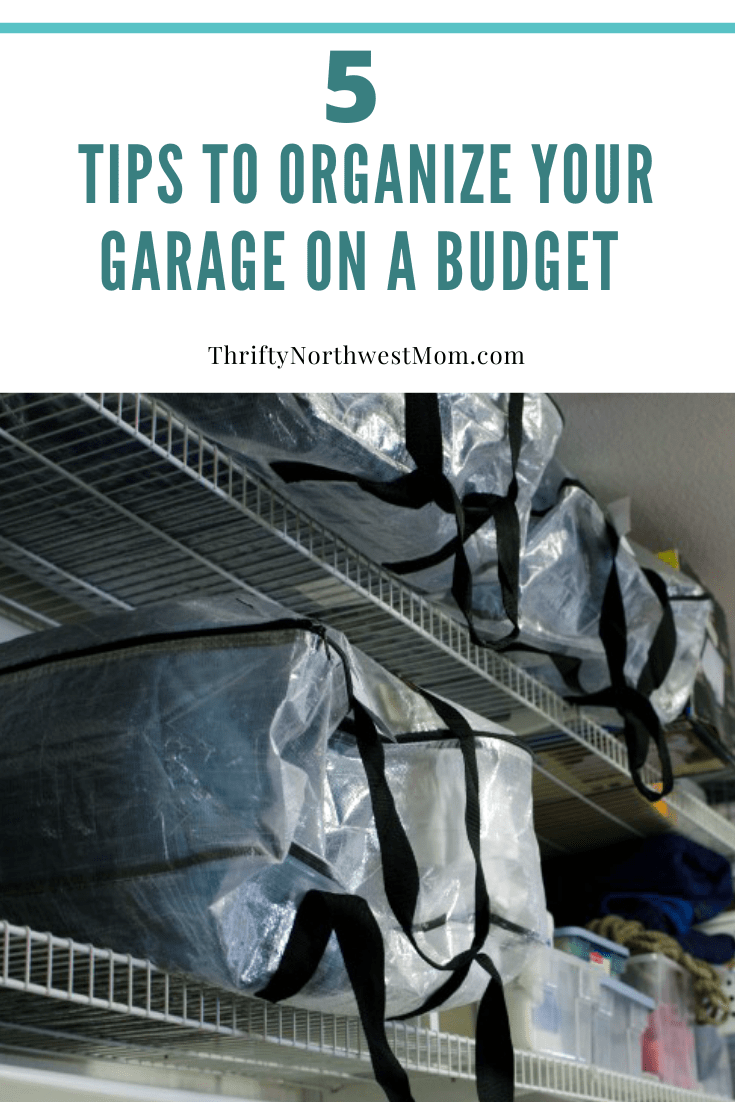 5 Simple Tips For Your Garage – Organize It On A Budget!
Garages are a blessing and a curse. A blessing because they provide additional space and storage options for your home, and a curse because they're 'inside' yet are exposed to the elements and because they can so easily turn into dumping grounds.
Especially this time of the year (after the holidays), I like to get in and do some organizing. Things will often get "dumped" in the garage to hide, or store etc. and I find things get a little out of control this time of they year. I like to get a handle on the mess before the Spring, when we use the garage more.
So what is the answer? How can you make the best use of your garage, maximize its storage capacity and keep it functional? Here are a few ideas to get you started.
1. Plan a Transition Zone
The number one request I receive from families when I am helping them design their space is to find space that will function as a mud room. Mud rooms have become a sort of Holy Grail of organization in today's family home. Something you desire, but that the average home is not likely to have.
Even an inexpensive shelf next to the garage door for shoes and the current season's sports gear can be a big help. Kids know exactly where to find what they need in that mad rush out the door and shoes don't even have to come in the door to be tripped over. Win, win!
I have often placed a bench in this area so younger children have a place to sit down and tie their shoes. And you can even get fancy with some built in hooks, for coats or hats depending on the climate where you live. I have found that winter coats are best kept inside here in the Pacific Northwest or my kids won't grab them because the temperature of the coat is so uncomfortable when they put them on. I do move the coats out to some wire basket/drawers during the warmer months for storage though.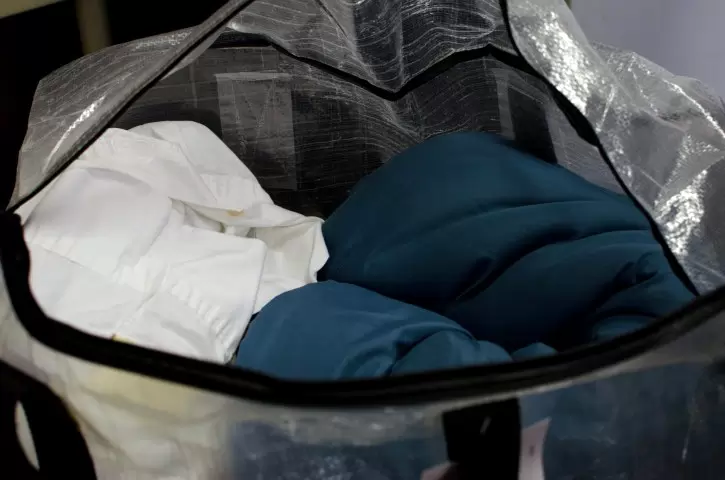 2. Put it in a Bag
One of my favorite ideas is to use IKEA's large bedding storage bags to keep bulky items clean and visible in the garage. I used to just keep things in large garbage bags, but often I couldn't remember what I put into them – problem number 1 – and the kids ripped into them instead of untying them so I always had to get a new bag to put things away – problem number 2.
The IKEA bags are not only see-through so you can find what you have stored away, they also have a heavy duty zipper and handles that make transporting your items so much easier.
I keep sleeping bags, already packed with pillows and an extra blanket in mine. I wash everything when the kids return with them and put them back on the shelf so the next time someone is headed out to a sleepover they just grab a bag and they are set to go.
3. Lift It Up
Garage lofts have become popular for adding storage space but I find they are expensive to build and difficult to access. I love these simple wire shelves running along the entire garage wall up near the ceiling. My shoe shelves and even extra refrigerator (5 kids equals a lot of milk) fit underneath them; they are 7 and 8 feet off the ground. These shelves run the entire length of the wall which means you can access them at every point and are 18" deep, enough to hold larger items but not deep enough that you will push items to the back and forget they are there. I keep lighter weight bulky items up high, like IKEA sleeping bags cases and the blow up mattresses; I have a whole guest bedroom on that top shelf! You can also put items up out of reach that you don't want kids or dogs to be able to reach.
This is a much simpler and less expensive alternative to garage lofts and I think it is also much more practical.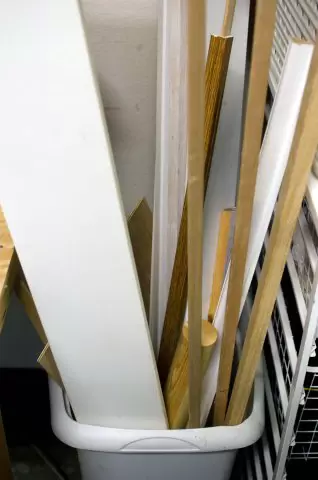 4. Repurpose Your Hampers
One of my favorite ways to contain bulky or ungainly items in the garage is to use tall laundry hampers to hold them. Clean garbage cans work too despite being round and taking up more floor space. However if you have a lot of balls or folding chairs for sports, etc., garbage cans are a great solution.
I often use hampers for things like wood pieces, umbrellas, garden tools, etc. They are rectangular so you can fit several of them in a row. This bin fits perfectly between the tool bench and the wire drawers where I store bulky winter jackets and other outdoor gear. This way, I know exactly where to go when I need a little piece of something to finish a DIY project or make a repair.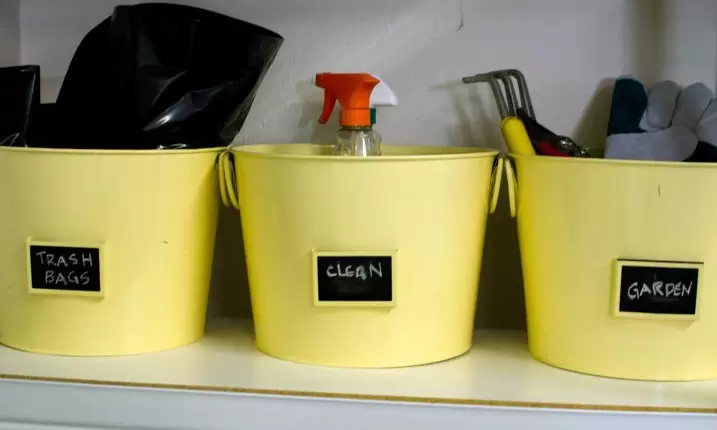 5. Use Transportable Buckets
I keep smaller items that often have to be transported for use in buckets. They add function and a lot of charm. Cleaning items with rags, garden gloves and small utensils are perfect for this kind of storage. They are also a great way to sort out your tools. A drill and all of its bits and extension cords, etc. can be kept in one bucket so you are not hunting for what you need each time.
I have also used these types of buckets for gloves and hats for the kids. Baseballs, leashes and clean up bags with small bags of treats. They are a very versatile piece to help tailor your garage to your exact needs.
With the weather beginning to turn, open those garage doors one sunny day, sweep out the cobwebs and tackle the clutter. Purge what you don't need and rethink how you can make the storage that you do have work best for your family. Happy Spring cleaning!
More Articles You Might Be Interested In:
This article was contributed by Barbara Miller from Yes Spaces. Be sure to follow Barbara on Facebook and Pinterest, or connect with her on Twitter at @Barbara_Miller. You will also want to check out her website for more great organizing tips!