DIY Table Centerpieces (Re-Use Items You Have Around The House / Yard)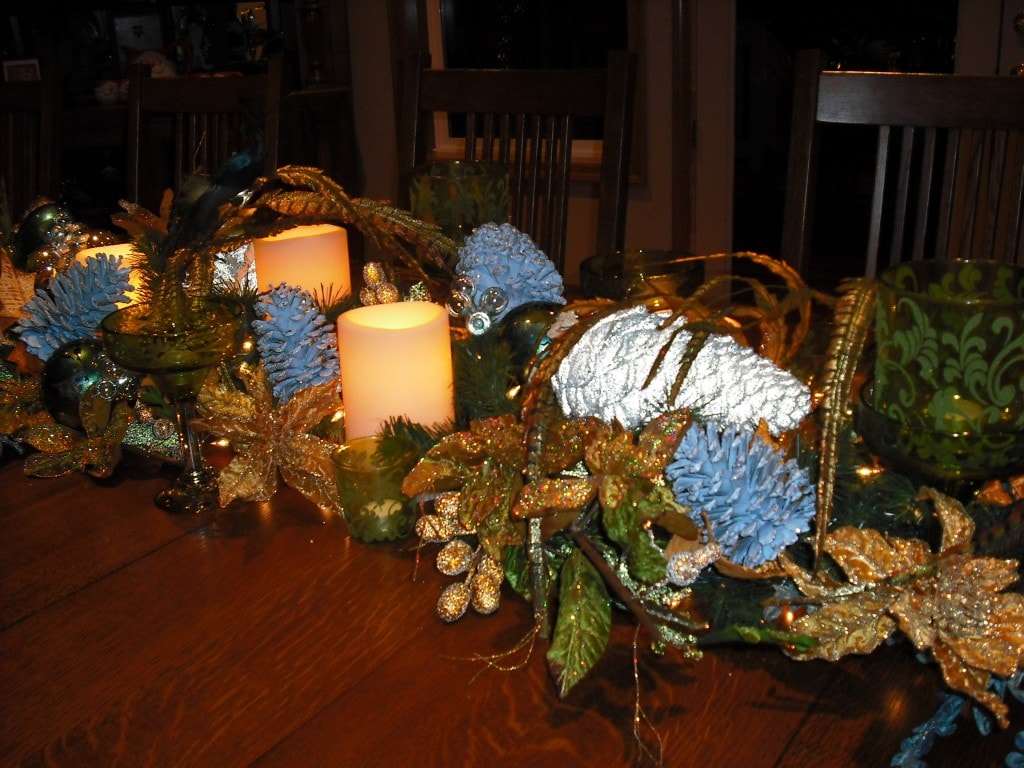 Hosting Thanksgiving at your house, and still need a table centerpiece? Here is a frugal way that my (Sia) mom, Debi from Misty Meadows Gardens, uses to decorate her table in a pinch. The pictures are from her table centerpiece, but could be modified to match any homes decor. The three key components include: Spray Paint (as low as $.97 at Walmart and Home Depot), Glitter and Found Items from your yard and around the house.
Frugal tips for creating a show stopping DIY table centerpiece on a budget:
Use what you have and modify (this includes hunting through your yard for sticks,  pine cones, leaves and even rocks – try using a metalic spray on those – pretty!)
Layer, layer and layer – then take away what you don't like
Have fun! Its just a centerpiece after all. The real fun about the holidays is enjoying family and friends.
For the centerpiece pictured above she grabbed some pine cones out of her yard (yes they have huge pine cones – you can purchase these items pretty affordably at craft stores if needed), glasses from her cupboards and some old Christmas decorations and updated them all for a fresh centerpiece. Here is how you can replicate what she did:
You will need candles
Some leaves or floral decorations (she even has some fake fruit in there).  You can use real or fake leaves and pine items, etc. depending on what you have available to you
Spray Paint (your choice of color) – golds and silvers with one solid color work great for holiday arrangements
Glitter (if you want to add some sparkle) plus glue to apply (spray adhesive works great!)
…and any other items that will help you add height (she used martini glasses from her cupboards, you could use wine glasses, candle sticks, water glasses and more)
First she sprayed her pine cones blue and leaves gold (use what colors go with your holiday decor).
Next she added some glitter for sparkle (you can buy this in spray paint cans or add glue dabs to your items and sprinkle glue over them and allow to dry).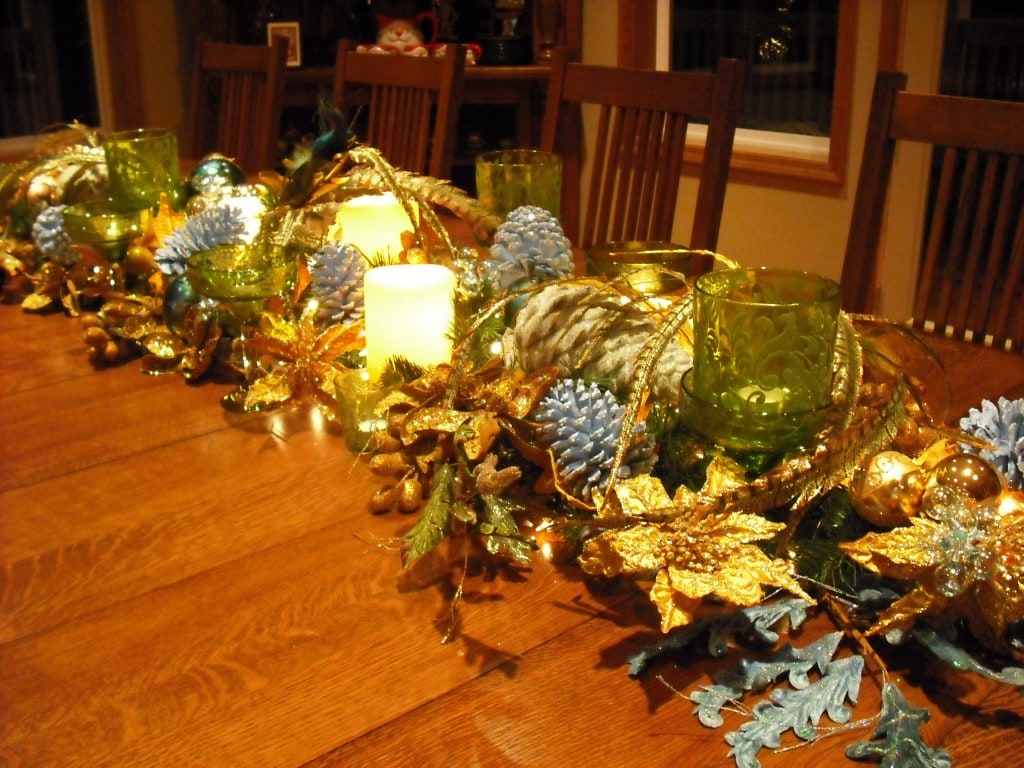 In the close up photo above you can see how she layered her floral items, martini glasses from her cupboards (she even placed water glasses in the martini glasses periodically for height and layering).
Lastly she added a string of Christmas lights and some candles (she used the battery operated ones for safety).
Layering, Lighting and Lift  = LOVE IT!
Let us know what found items you have around the house, that you were able to re-purpose for frugal holiday decor!