DIY Carpet Deodorizer – Natural Alternative for Fresh Smelling Home!
This post may contain affiliate links and I may be compensated for this post. Please read our disclosure policy here.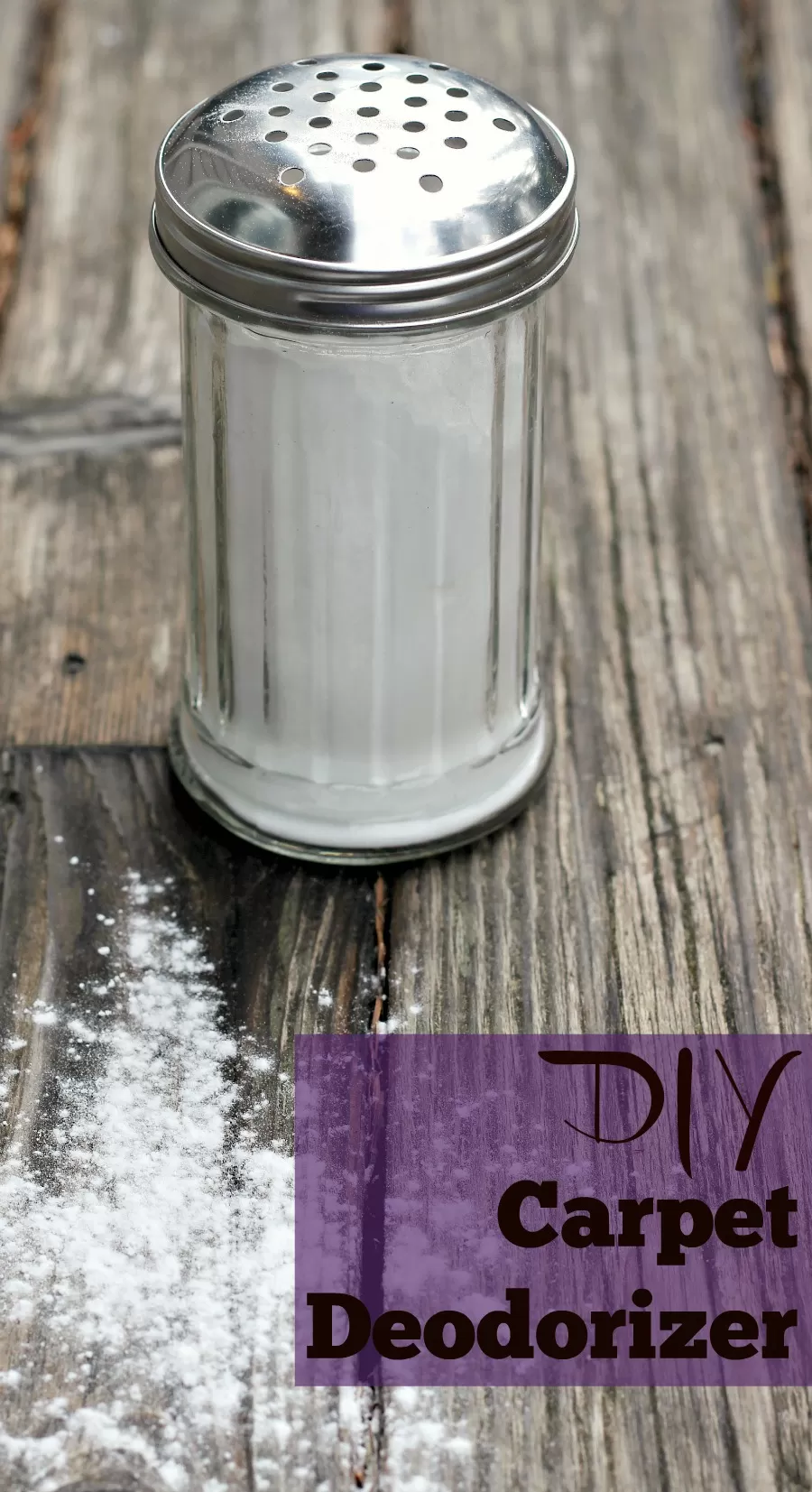 DIY Carpet Deodorizer
We have been working hard to try to replace as many chemicals in our household as we can for a healthier household. Both my husband and I have allergies – his are more seasonal allergies and mine are pretty much all day, every day allergies. Plus, I have asthma that crops up several times during the year. Therefore, I am quite sensitive to smells and cleaning products, so we have been working on finding more natural cleaners.
I want to feel good about the cleaners we're using in our home, especially as we have our kids actively take part in helping out with chores around the house, too.  So, whenever possible, we have been trying to switch to natural or DIY cleaners so that we know exactly what is going into the cleaners that we are using and can feel good about our girls using these cleaners and breathing the air as we use them.  Plus, when you make cleaners yourself, it is so much affordable as well!
With spring here, it just makes me want to air out our house & get it smelling fresh & clean! Our houses just get smelling musty in the winter and I love having it smell that fresh smell of spring. One of the best ways to do that (besides opening the windows & letting all that fresh air in, which it's still a bit too cold to do) is to use a carpet deodorizer to freshen things up in your house!  Using some spring scents in your deodorizer will help you feel the spring vibe even more!
DIY Carpet Deodorizer::
I'm sure many of you use baking soda to deodorize in your refrigerator & keep it from smelling stinky – it's something I've done as long as I can remember.  That's because baking soda not only covers odors, but it actually gets rid of odor-causing bacteria for good. It absorbs & neutralizes the odors. Most chemical deodorizers only cover odors temporarily & then those chemical particles are put into the air that we breathe in our homes. However, baking soda is completely non-toxic & safe to use around children and pets.
Plus, it costs a fraction of what you'd pay for other carpet deodorizers, so it's such an affordable option to consider.  I feel so much better about using baking soda to cover the odors, paired with pure grade essential oils to infuse some fresh, clean scents into our home.  You don't need to add the essential oils, but baking soda will cover & eliminate the odors, but it will not add another scent and I love to have my home have that fresh smell, so I add essential oils to give it a nice scent. Depending on the season, you could vary your essential oils.
Ingredients: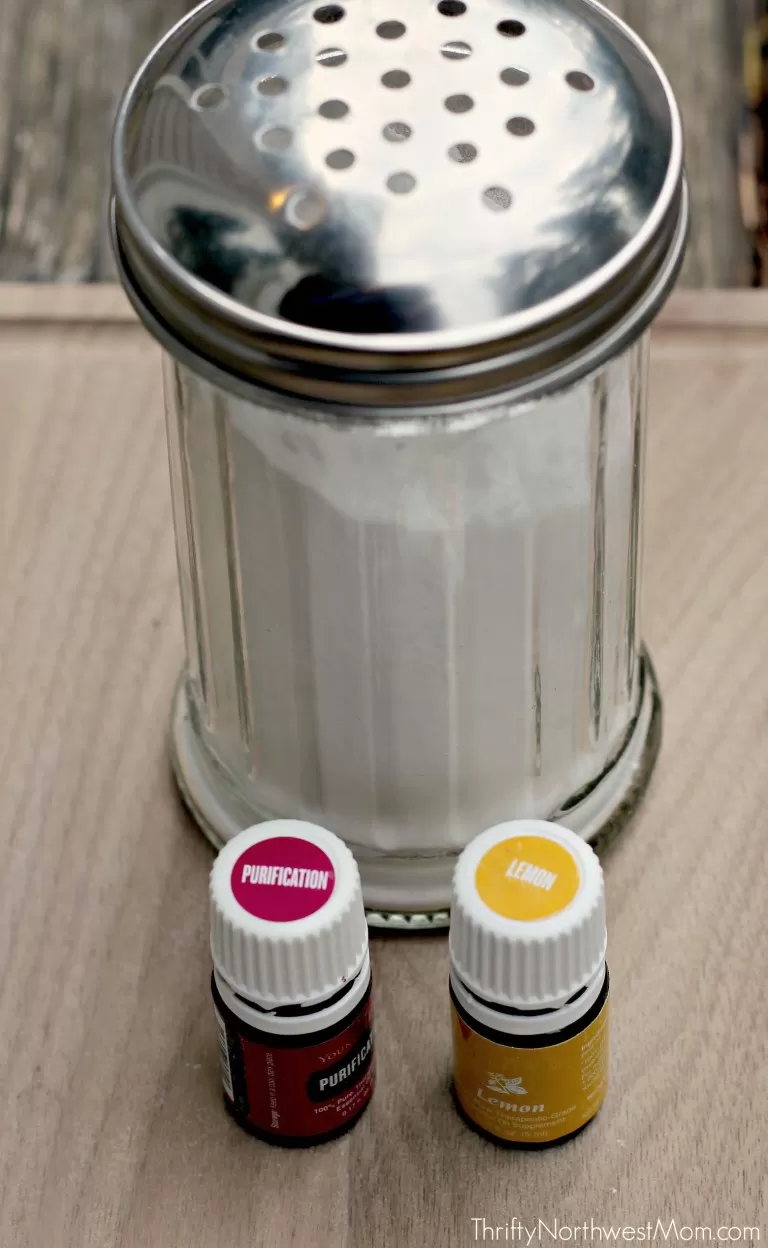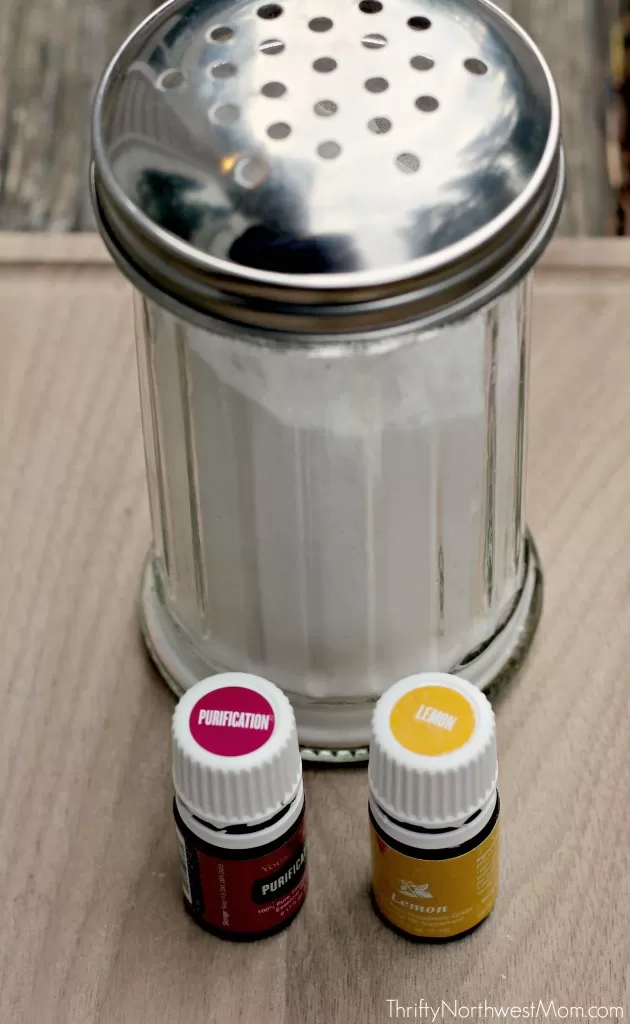 Baking Soda – the best option is to use an unopened box of baking soda so that it will be fresh & absorb the most odors
Essential Oils 
Purification Essential Oil – this acts as an odor neutralizer as well. When you pair Purification essential oil with baking soda, it will really work to eliminate those odors from your carpet & give it a fresh scent
Essential Oil for Fresh Scent – For spring or summer, I like to use Lemon oil because I love the fresh, citrusy scent, but Lavender, Citrus Fresh, Lime, Orange or Joy essential oils are also great options as well. For fall or winter, cinnamon, clove, Thieves, or Christmas spirit are nice options.
Find out more about the pure, therapeutic grade essential oils that we use, with a special offer for Thrifty NW Mom readers. 
Instructions::
-First vacuum your carpet up to get the dirt out of the carpet
-Then pour 2 cups of baking soda in a bowl (the amount you use will depend on your container – you may want more or less)
-Add in 10 drops of Purification Essential Oil
-Add in 20 drops of Lemon Essential Oil (this is an estimate – you will want to decide how strong you want it – just experiment to see what you like)
-Mix it all together well.  The essential oils will clump up at first, but just keep stirring and mixing with a spoon or a whisk is even better to break it up. As you have it all stored together with the lid on, the entire mixture will take on that scent.
– Find a container/jar to put your carpet deodorizer mixture in. I used this shaker jar from Amazon (it's a 2 piece set).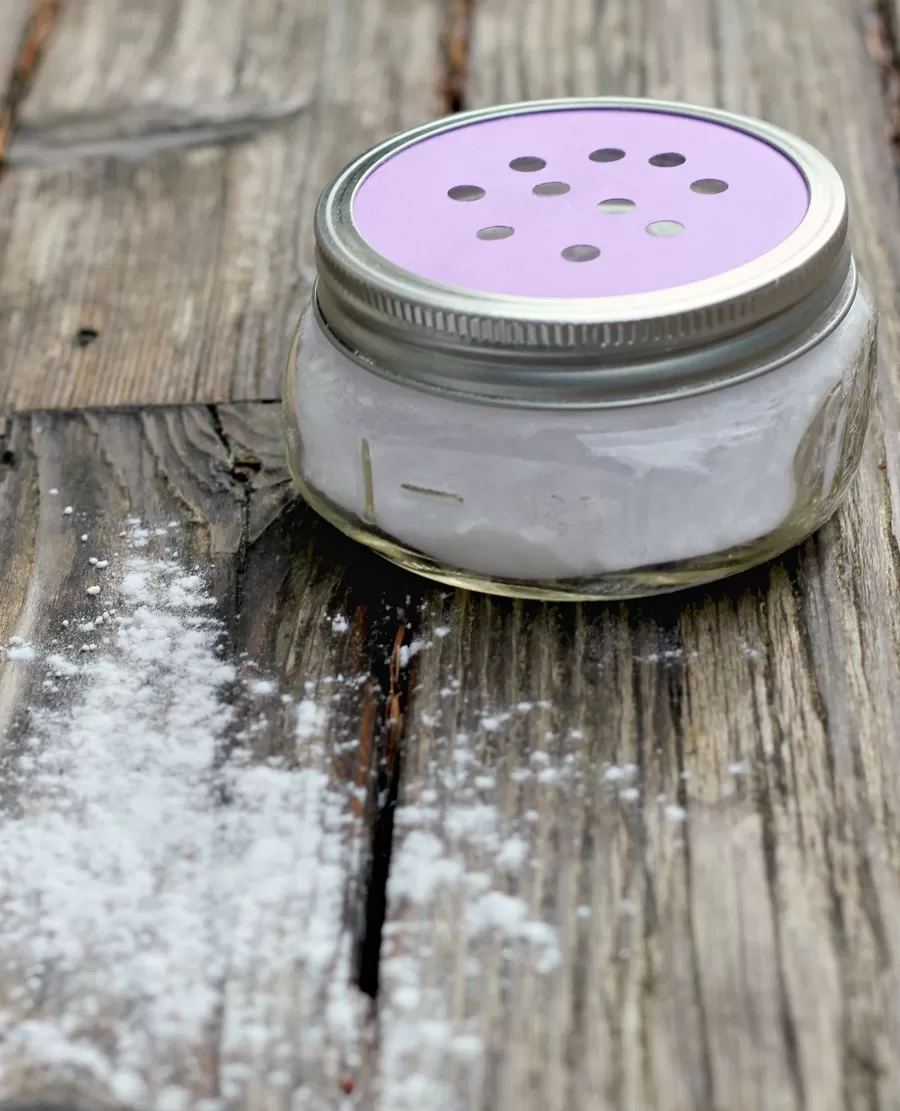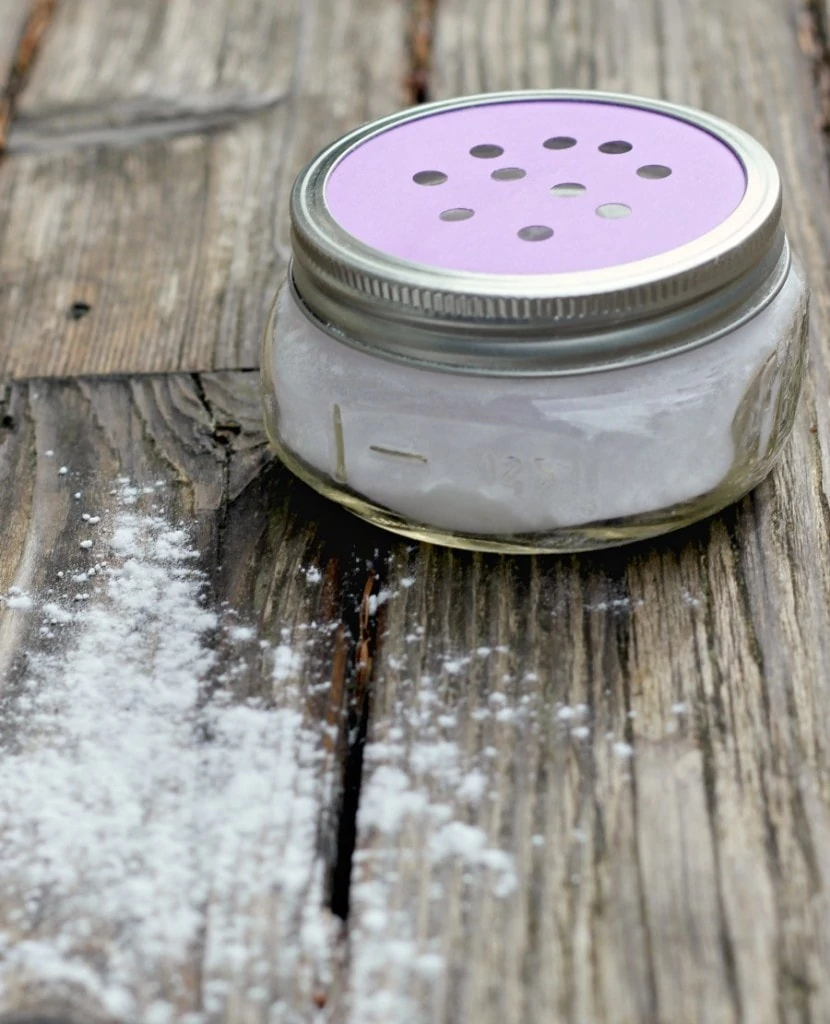 I also have another jar which is a small pint size jar with a DIY shaker lid (see below) that I keep upstairs.  If you want to use a mason jar to store your DIY Carpet Deodorizer and turn it into a shaker bottle, I just took my mason jar lid and traced it onto cardstock. I cut out the cardstock circle for the shaker top & then used a hole punch to punch some holes for the deodorizer so you can shake it out easily. This will not last for a long time, but it could last for awhile and then when it gets too flimsy, then just cut a new top out of cardstock.
If you're interested in finding out more about Essential Oils::
Find out which Essential Oils we use and how to save on buying them