Disclosure:: This post is sponsored by Cubcoats. All opinions are 100% our own.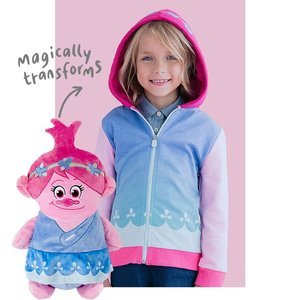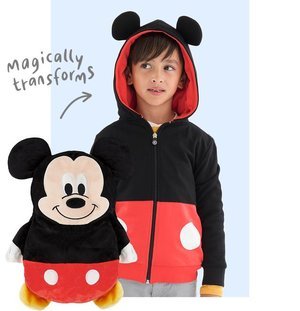 Cubcoats Promo Code for Cutest Hoodies for Kids that are also Stuffed Animals!
Have you heard of Cubcoats?  They are adorable hoodies for kids, that are also plush toys! If you are looking for a great gift for a kiddo, this might be the perfect one. Cubcoats are 2-in-1 cute stuffed animal that also transforms into a comfy hoodie. They simply fold up from the hoodie into the stuffed animal (and zip in the back) so they really are a fun plush toy for kids to play with.
You can check out the full selection of Cubcoats here. Grab your favorite now, as the demand for them is high this Christmas season.
Plus, use coupon code THRIFTY10 to save 10% off your order. And every purchase contributes to Baby2Baby, a non-profit charity that provides essential needs to children from low income families.
The way that Cubcoats work is that they fold up into these super cute stuffed animals, but when the kids want to wear them they are soft, cozy hoodies. They come in many popular styles, from favorite animals (like puppies and bears)  to favorite characters (like Mickey or Spider Man).
It looks like they are super popular this holiday season, and some styles will not ship until January (but you could pre-order them for to ship then), so be sure to pay attention to their availability if you are buying as a Christmas gift. I think they make such cool Christmas gifts because you can gift your child a toy, but you are also buying them something practical to add to their closet. Plus, did I already mention how adorable these are. I have been seeing them all over social media, and they always catch my eye. There are so many cute styles to pick from for kids.
They are machine washable, so easy to care for. They even come with a little surprise and stickers with each order. Reviews look great on these cubcoats too.
Shipping is free for all orders in the U.S. over $65. All other Standard Domestic Shipping orders (U.S. only) are $4.99.
I love the idea that kids can wear them, but also use them as stuffed animals. The two in one concept is not only great for getting kids excited about the hoodies, but also to help them carry their coats when they don't want to wear them. I know the kids are always handing me coats to carry when they get warm, but if they fold into a fun stuffed animal, they will be more likely to carry them as well.