Costco Kids Pajama Deals – Warm Footie Pajamas less than $5
This post may contain affiliate links and I may be compensated for this post. Please read our disclosure policy here.

Costco Kids Pajama Deals 
Costco can be a great place to find deals on kids clothes. We spotted a few deals this week at Costco on kids pajamas, so we thought we'd share them with you in case you're looking for some more warm pajamas (even in springtime, it stays cool at nighttime, at least here in the NW). Remember that all Costco stores have a different selection, so you may not find it at your store, but it's something to keep your eye out for.
Check out these hoodie PJ's for kids (with removable footies) in sizes 5/6 – up to 12/14 sizes (pictured above). These are just $4.97/ea right now. Nice, cozy pj's for your kids as it can be harder to find warm pj's for your older kids.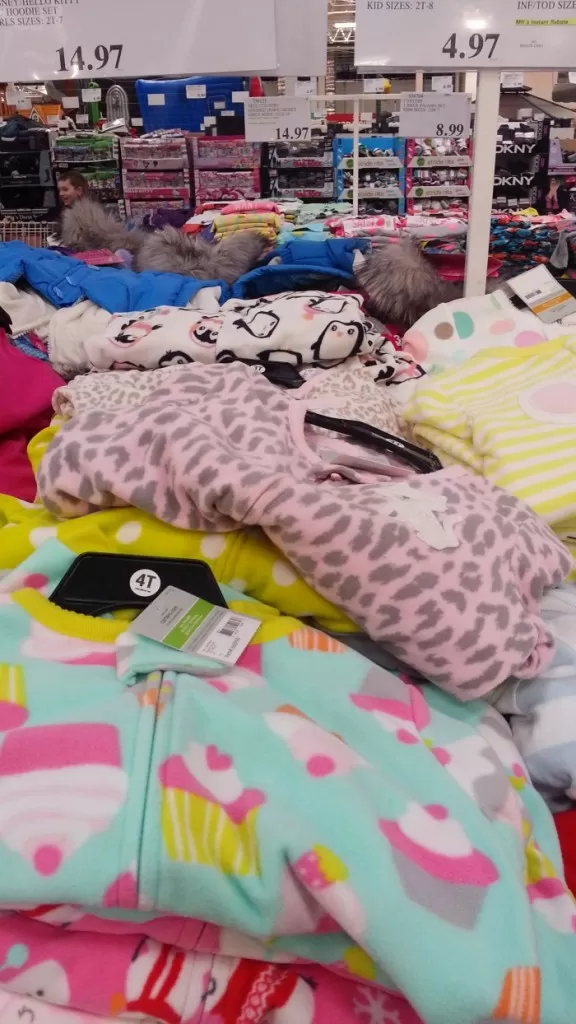 These Carter Footie Pajamas are on sale for $4.95 in sizes 12 M to size 8.
I also saw beautiful dresses for girls in sizes Infant up to 12/14, which would be great for Easter or just for a pretty, new spring dress for $16.99, which was a great price for the types of dresses they were offering (forgot to get pictures, though!)
Don't forget that  the Costco Organic coupons are expiring this weekend on Sunday March 2nd and don't forget to look for the Ecos all natural laundry detergent on price cut to just $8.99 for 210 loads that Sia & a number of readers found at their stores.
You can check out all the prices at Costco for grocery items by checking out our Costco Products Price List with over 1,000 products listed & broken down into their unit price for easier comparison between stores.