#BeBookSmart – Give Books to Kids (Donate & Get Macy's Coupons) + Giveaway for 5 $25 Macy's Gift Cards!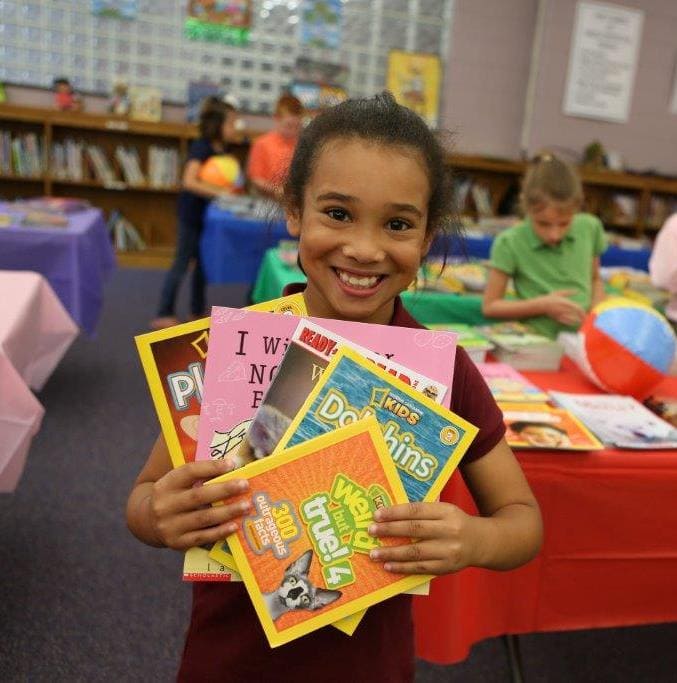 Reading is Fundamental Program (RIF) #BeBookSmart
I'm excited to tell you about an awesome campaign that Macy's has launched to help support the Reading is Fundamental (RIF) program. RIF is the nation's largest children's nonprofit organization dedicated to motivating children to read and providing access for all kids to have access to high-quality children's books, especially underserved children from birth to age 1 . They have programs in place to not only provide books for kids to read but also to work with kids, parents and community members to show them how to make reading fun & an important part of their life.
I first learned about RIF when I worked in the public schools for years in low income schools as a Speech Therapist & the RIF programs were such a great resource to provide books for kids in my schools. What I love about RIF is that they not only bring in books for kids to read, but they also give them the choice to pick out the books that interest them.  They would have big tables filled with books for every age & reading level and kids could scour those tables to find books that appealed to them – whether it be a book about super heroes, dinosaurs, princesses, or animals. The key to fostering reading with kids is to find subjects that will interest them & hold their attention.
I then got to see RIF in action when I had kids of my own, as my daughter's school had an event in the evening where they had the tables set up with lots of books for kids to choose from to take home & keep. My younger daughter was able to take home a book as well that she got to choose even though she wasn't part of the school yet.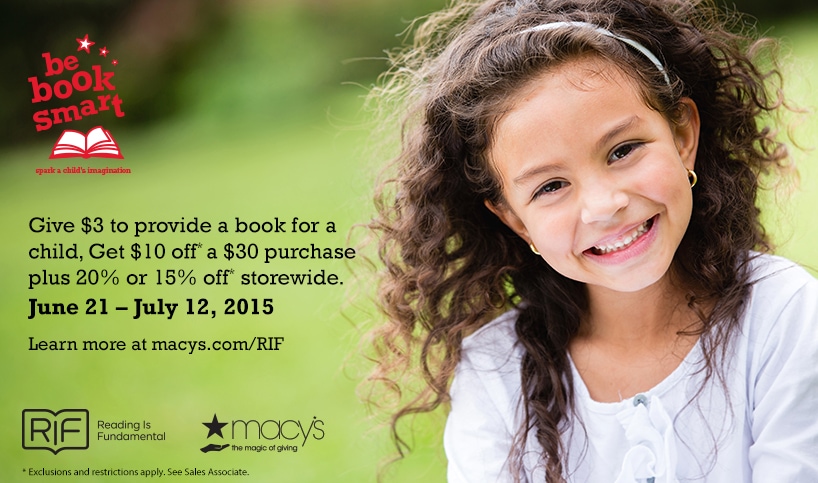 Donate to RIF, Receive Macy's Coupons::
This summer, the Reading is Fundamental (RIF) program has teamed up with Macy's for their summer book campaign called Be Book Smart.
If you head to Macy's and donate $3 to help provide a book for a child in need through the RIF program, Macy's will have some great coupons to give you as a thank-you. You can find out more details on the Macy's website. 
Macy's Coupons as a Thank-You for Donating:
$10 off purchase of $30 or more
Additional 15 – 20 % storewide savings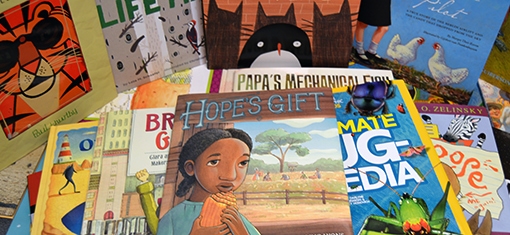 This Be Book Smart campaign will start on Father's Day, June 21st and will run through July 12th. So head into any participating Macy's store & you can donate $3 (or more) to provide more books for kids & also take advantage of some great coupons at the same time! Macy's has some great sales and combined with these coupons, it can make for some nice savings!
The goal of the campaign is to raise money to provide more books & learning resources that RIF can use in the schools with kids, but also to encourage summer reading with kids. Children learn those valuable reading skills throughout the year and then summer hits & they can lose those skills if they don't keep up with reading. So, you can also head to the RIF website to fun & engaging summer activities for parents & caregivers as well as children to use to make summer reading fun. And don't forget to check out our list of Summer Reading Programs around the Northwest as another way to encourage kids to keep reading all summer long.
Share Pictures of your Family Reading with #BeBookSmart Hashtag:
They'd love to see pictures of your family & your kids reading this summer, so snap some pictures of your kiddos & share them on Facebook & Twitter using the hashtag: #BeBookSmart and tag @Macys and @RIFWEBon Facebook or Twitter. You can also follow RIF on their Facebook page to stay up to date on the program!
If you want to get more involved in helping your kids stay active reading during the summer here are some resources to help with that too.
Summer Fun Activities & Tips for Parents:
Download the Be Book Smart word search that you can share with your readers, followers and friends.
Check out the RIF.org website for free fun activities, tips and resources to laugh and learn this summer
As a parent, you can help increase your child's reading ability. Whether it's playing games, singing songs or taking a trip to the local library – use this time to create new experiences together!
Have a "book-nic." Grab a blanket, snacks and books to celebrate a beautiful summer day.
Use sidewalk chalk to make a mural with your family. Don't forget to title your masterpiece.
Play easy work or rhyming games with your child.
Visit the library and check out books for the entire week – pick one about birds or insects and go on an adventure walk to see if any live in your neighborhood.
Reading is contagious – let your kids see you reading books, magazines and even cereal boxes!
Play the alphabet game by finding letters starting from A to Z while in the car or on a walk.
Why Reading During the Summer is Important
Summer is an important time when students can either get ahead or fall behind academically, depending in large part on their resources and opportunities.
All students have the potential to lose some of the learning from the previous school year – this is especially true however, for students from economically disadvantaged communities who don't have access to books and enrichment experiences.
Students who lose reading ability over the summer rarely catch up – existing research shows that 75% of students who read poorly in 3rd grade, a benchmark year for literacy skill building, remain poor readers in high school.
The key to helping children maintain or improve their literacy skills over the summer is providing access to quality books they can choose based on personal interests.
When children have lots of interesting books readily available to them, they are motivated, empowered and inspire to read.
That's why Macy's is committed to providing as many books as possible to children who need them most.  To learn more about the summer learning slide and opportunities for parents, teachers and community organizations to minimize summer learning loss, RIF has developed and tested a program model, Read for Success, proven to help children read, grow and learn.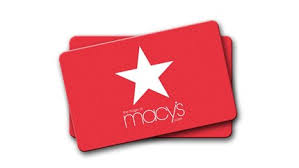 Giveaway – $25 Macy's Gift Card for 5 Winners!!!
We have teamed up with RIF & Macy's to give away $25 Macy's gift cards to 5 Thrifty NW Mom winners! Wow! Be sure to get in to donate to the RIF program and get your Macy's coupon to make your winning cards go even further too. These gift cards will be emailed to you if you win.
This giveaway will end on Monday, 6/29, at 9pm pst.  
The winners will be drawn using "And the Winner Is" plugin and announced on the blog.  I will also email the winners. The winners will have 48 hours to contact me, otherwise a new winner will be drawn. US residents only & you must be 18 yrs or older to enter the giveaway. This giveaway is not affiliated with Facebook in any way.
Here's how to enter this giveaway::
1st Entry (required entry): Tell us what books your kids are reading this summer or check out the RIF resources page and let us know your favorite tip/activity for encouraging summer reading!
Extra Entries : (make sure these are all separate comments, with a comment for each entry)
2) Share this giveaway using one of the share buttons at the bottom of the post. Leave a comment to let us know how you shared – Facebook, Twitter,  email, word of mouth, in a Facebook group, Pinterest,  you name it! Make sure to use the hashtag: #BeBookSmart when you share & "tag" Macy's on Facebook or Twitter.
3) Subscribe to the Thrifty NW Mom email newsletter – we have several different options of email newsletters – you can get all the daily deals every day in the late afternoon or you can get the deals as they come throughout the day if you don't want to miss a deal. We also have a special Northwest newsletter.
4) Follow us on Instagram – you can follow Sia HERE and Jen HERE
Disclosure: This is a sponsored giveaway.  Macy's is providing $25 Macy's gift cards to be given to 5 winners randomly chosen.  All opinions are 100% ours. See our disclosure statement for more details.