Affordable & Quality Photo Gift Ideas – Canvas Prints & More with Sales & Discounts!
This post may contain affiliate links and I may be compensated for this post. Please read our disclosure policy here.
Disclosure: This post is sponsored by CanvasDiscount.com; however all thoughts & opinions are our own.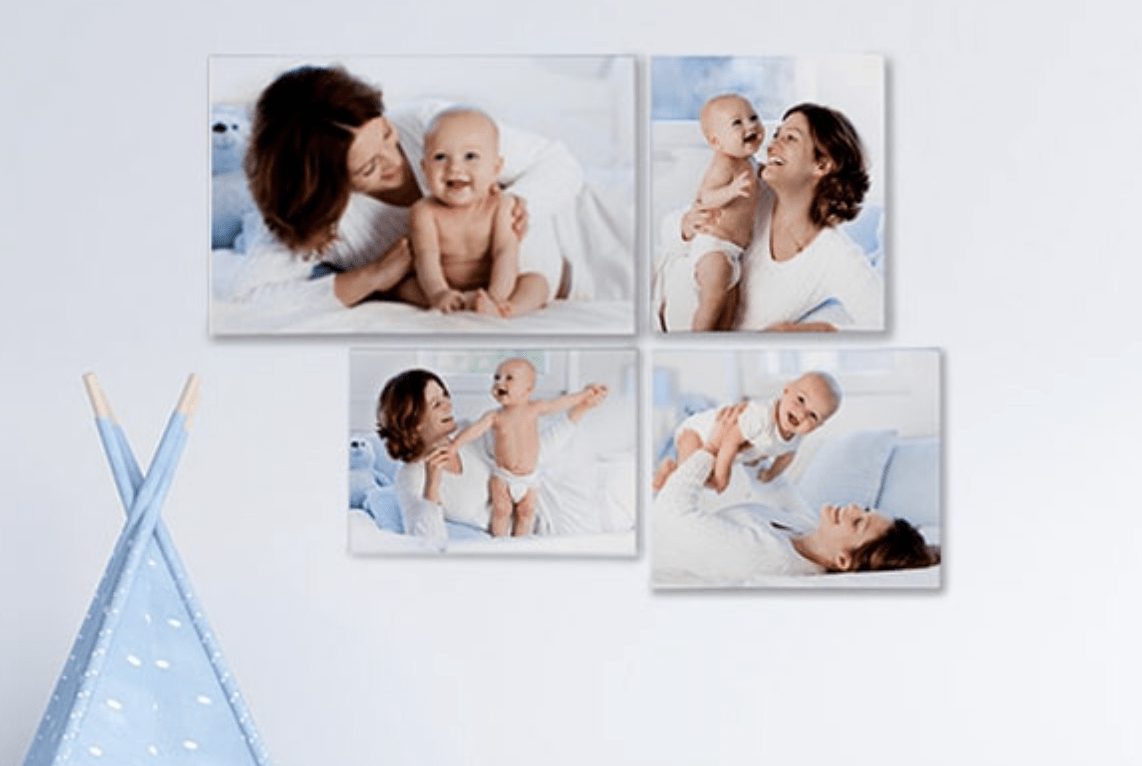 Canvas Prints from Canvas Champ
One of the best pieces of decor to add to your home is family pictures and they make such great gifts, too, for special people in your life. With Mother's Day, Father's Day & Graduation coming up, this is such a great time to be thinking about getting those pictures off your phone & printing those special memories to be made into unique gift ideas or decor for your home.
I have to say, this has definitely been a struggle for me in the past, but in the last year or two, I have been trying to get more of my photos turned into decor for our home & walls & it is so nice to be able to look at those memories on a daily basis, rather than hiding away on the computer. I want to be more intentional about regularly printing off our favorites from our travels, especially, & place them around our home where we can enjoy them & reminisce.
And many of us have not seen family nearly as often the past year, so photos are a wonderful way for family such as grandparents, aunts, uncles & cousins, etc to feel more connected to us, remembering those special memories together with photos together or special photos of our kids for the grandparents & more.  Photos of my kids are always the most requested item from our family for gifts, so I love finding reputable sites that provide great quality photo products to give as gifts!
One of the sites that we have recently discovered is Canvas Champ, an online photo printing site that offers a variety of photo gifts & photo items for your home. They feature everything from low prices on canvas prints to metal & acrylic prints, wood prints & so many other unique photo gifts.  The prices are excellent as they frequently have sales & discounts, too, to further drop the prices to make these very affordable gifts to give others or to use in your own home.
I like that Canvas Champ has such high ratings with more than 4.7 out of 5 star ratings out of over 150,000 reviews. You can check out all the reviews on the Shopper Approved website to see what customers have to say about Canvas Champ.
Why to Shop Canvas Champ:
Over 4 million canvases shipped
100% satisfaction guarantee – if you are not satisfied with your product, they will either refund the entire amount or reproduce the item again for free. They also process refunds within 7 days of receiving your returned product or 7 days after your initial complaint (if a return isn't required).
Price Matching – if you find another company offering a lesser price on the exact same product, they will match the price & offer an additional 10% discount.
Canvas Champ Products:
Canvas Champ has a variety of different products, but their most popular product is by far their  cheap canvas prints. And the prices are very affordable making this a great option for many families.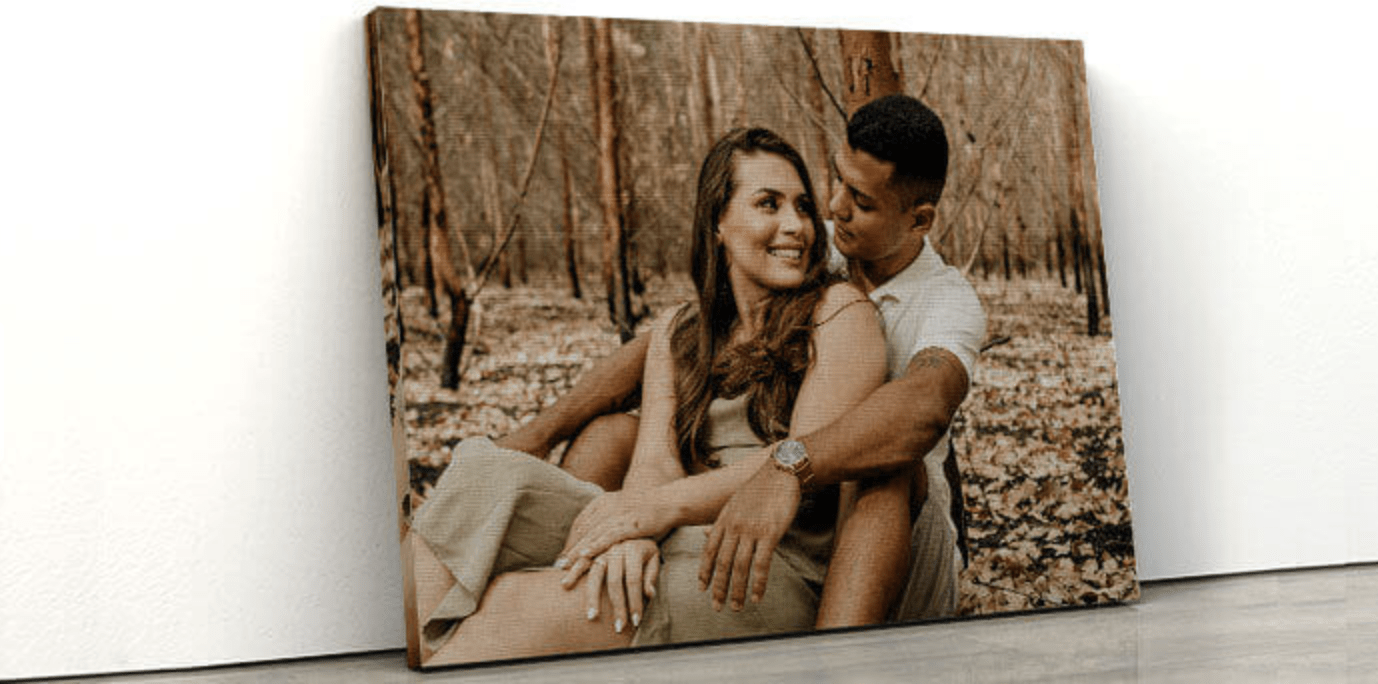 Canvas prints are one of the best options for home decor with photos of your family, adventures you have taken together or beautiful photos of your vacations, sports activities for your kids & more! These make such great quality gifts for family, too, to display on their walls without the need of a frame. Canvas prints really can go with any decor, too, which is what I love about it – no need to figure out frames & matting with a canvas print!
Here are some of the prices you will find on the site right now:
5″ x 7″ – $4.20
8″ x 8″ – $4.20
12″ x 12″ – $11.20
11″ x 14″ – $11.59
16″ x 20″ – 16.13
18″ x 24″ – $20.28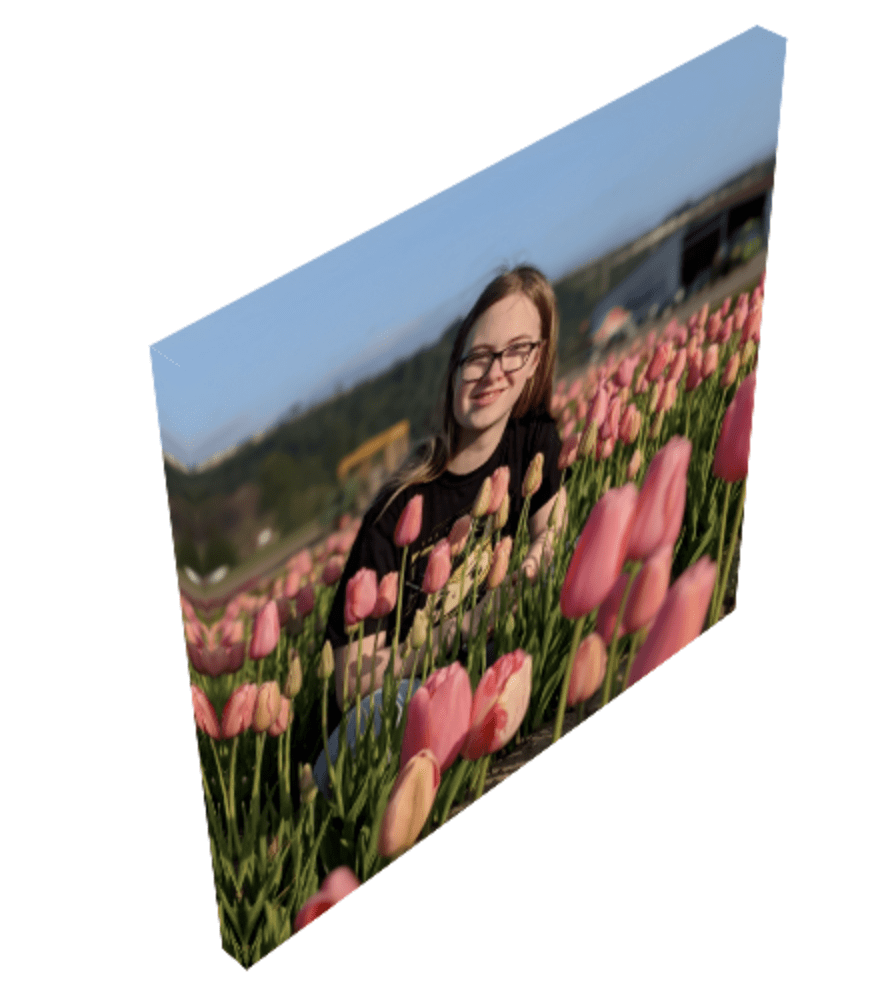 Wow, all of those prices are $20 or less for a fantastic gift! I just went thru the process to create one for a gift idea for the grandparents of my daughter in the tulips & the 8×8 size is $4.20 + $9.99 shipping so the total price shipped for me is $14.19 – less than $15 shipped for a beautiful grandparent gift to hang on their wall!
I took a screenshot of the 3D version to show you how it is wrapped on the sides – I am so glad that Canvas Champ offers this feature, so you can preview it not just flat, but in 3D. Always make sure you look at the 3D version before ordering to make sure that it's positioned correctly and that you are not cutting off anyone's head/legs, etc. Unfortunately we had that happen with a canvas print gift a few years ago where it was a family picture & the tips of our heads are wrapped so it looks a bit odd. So, I love that I can check it out with the 3D look to make sure the person is spaced just right in the canvas print.
Wall Display Canvas Prints:
Another option that I love for the Canvas Prints is that if you had a family photoshoot done or a set of photos from a vacation or special memory, you could create a wall display of your canvas prints. They have some set designs that are created to be displayed together. You can see how it looks together with the prints with their formatting on their website.  They also show you the measurements of all of the pieces together to see how much space it would take up on your wall so you can measure at home easily without having to add it all up yourself.
Here are just a few of the many options that I found: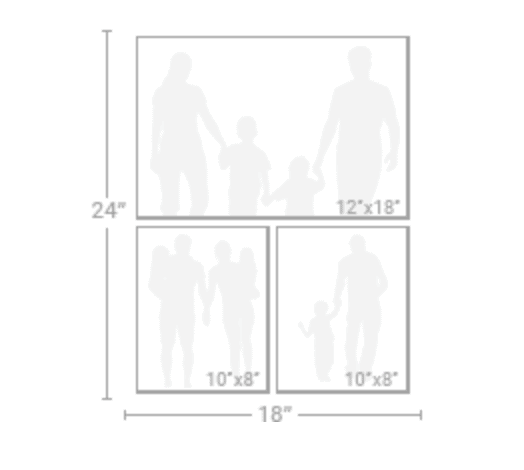 3 pieces – one 12″ x 18″ & two 10″ x 8″ = $29.77
4 pieces – two 8″ x 10″ , one 18″ x 24″ & one 18″ x 12″  = $49.04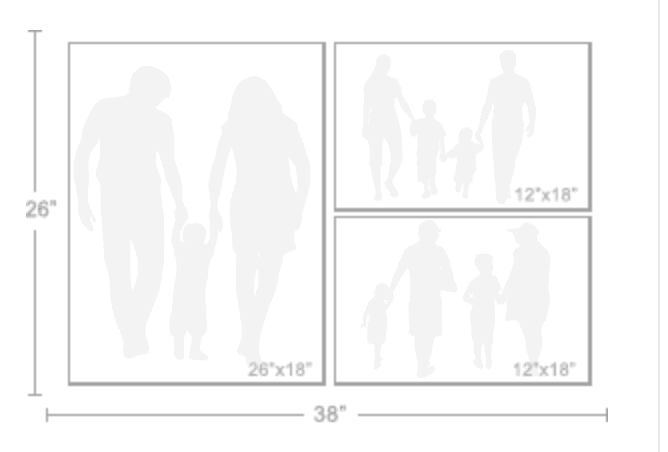 3 pieces – one 26″ x 18″ and two 12″ x 18″ = $47.94
Canvas Champ Sales & Discounts:
You can always find the current coupon codes, sales & discounts at Canvas Champ on this page. Right now, Canvas Champ is having a big Mother's Day sale! Here are some of the promo codes available now (you can try the different promo codes to see which one saves you the most money – you can only use one promo code per order, though).
Up to 93% off canvas prints + free shipping on any order over $49 sitewide. Just use the promo code: LUCKYFS49. Your canvas print will ship in 48 hours, too, so this is a great option for last-minute gifts,  too.
Buy 2 Get 1 Free Canvas – use promo code: B2G1CANVAS
Buy 2 Get 1 Free Mug – use promo code: B2G1MUG
Buy 2 Get 1 Free Metal Prints – use promo code: B2G1METAL
Buy 1 Get 1 Free Sitewide (on orders over $49) – use promo code: ECM49
Find more discounts here!
Let us know if you have ordered from Canvas Champ before & what your experience was like!