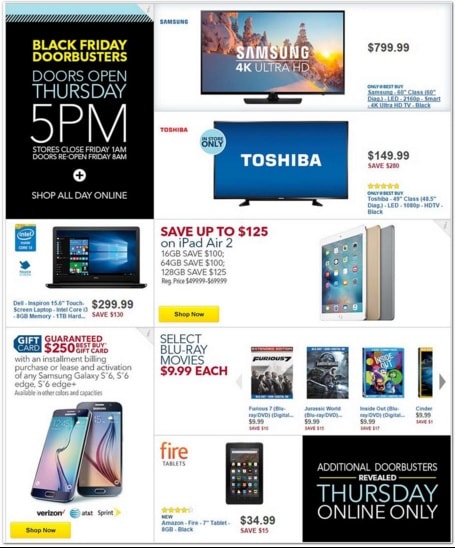 Update: Best Buy Black Friday deals have gone live now!! Head on over to Best Buy.com  to find their best Black Friday deals!!
*************************
Best Buy has released their Black Friday Ad for 2015. Here you will find the best Black Friday deals at Best Buy.
Doors open at 5 pm on Nov. 26, 2015 (Thanksgiving Day) and close at 1 am on Nov. 28, 2014 (Black Friday).  Doors will reopen at 8 am on Nov. 27, 2015 (Black Friday) and will remain open until 10 pm.  You can also shop online all day on Thursday with free shipping. There are a couple in-store only deals that you won't be able to get online. The ad also statess that there a few doorbusters that will be revealed on Thanksgiving Day only online, so be ready to shop early!
If you'd prefer to do your shopping at home on Thanksgiving or Black Friday, make sure to check out Best Buy.com and often they will have similar deals online as well as in the stores.  Best Buy is also offering FREE Shipping on all orders on Thursday.
Don't forget to check out our Black Friday deals page where we'll keep you up to date on all the latest Black Friday deals as they become available.
Thanks to Simplie Shellie for bringing us the Best Buy Black Friday Ad 2015. 
Best Buy Thanksgiving Day Only Deals
Doorbusters will be available in-store and online from Thursday, November 27 from 5 pm until Friday, November 28th at 1 am.  Quantities are limited.
Televisions
Tablets
Amazon Fire 7″ Tablet with 8GB Storage – $34.99 (Compare to Amazon)
Microsoft Surface 3 10.8″ Intel Atom 64GB Tablet – $399.99 (Compare to Amazon)
Apple iPad Mini 4 64GB Tablet – $399.99
Apple iPad Air 2 16GB Tablet – $399.99 (Compare to Amazon)
Apple iPad Air 2 64GB Tablet – $499.99 (Compare to Amazon)
Samsung Galaxy Tab E 9.6″ Android Tablet w/ 16GB Storage – $199.99 (Compare to Amazon)
Samsung Kids 7″ 8GB Tablet – $99.99 (Compare to Amazon)
Digital Cameras & Camcorders
Computers & Accessories
Acer 11.6″ Chromebook w/ 2GB, 16GB – $99.00 (Compare to Amazon)
Asus 15.6″ Celeron Laptop w/ 4GB, 500GB – $139.99 (Compare to Amazon)
Apple MacBook 12″ Core M Laptop w/ 8GB, 256GB – $1,149.99 (Compare to Amazon)
Apple MacBook Pro 13.3″ Core i5 w/ 4GB, 500GB – $899.99 (Compare to Amazon)
Dell Inspiron 15.6″ Touch Core i3 Laptop w/ 8GB, 1TB – $299.99 (Compare to Amazon)
Lenovo Yoga 3 Pro 13.3″ Touch Core M Laptop w/ 8GB, 256GB – $749.99 (Compare to Amazon)
Apple 22″ iMac with Core i5, 8GB, 1TB – $899.99
Apple 27″ iMac w/ Retina 5K Display, Core i5, 8GB, 1TB – $1,649.99 (Compare to Amazon)
Dell Inspiron 20″ Touch All-in-One w/ Celron, 4GB, 500GB – $329.99 (Compare to Amazon)
Dell Inspiron Core i7 Desktop w/ 8GB, 1TB, 24″ LED Monitor – $579.98
Lenovo IdeaCentre 300s Core i5 Desktop w/ 8GB, 1TB, 23″ Monitor – $429.98 (Compare to Amazon)
SanDisk Cruzer 64GB USB 2.0 Flash Drive – $14.99 (Compare to Amazon)
Dell 24″ HD LED Monitor – $99.99 (Compare to Amazon)
HP OfficeJet Pro 8610 All-in-One Wireless Printer w/ Free $20 Gift Card – $96.99 (Compare to Amazon)
Smartphones
Free $250 Best Buy Gift Card with Activation of Samsung Galaxy S6 (Compare to Amazon)
Verizon Prepaid Moto E 4G Smartphone – $9.99 (Compare to Amazon)
Samsung Galaxy Note 5 32GB w/ 2-Year Contract – $49.99 (Compare to Amazon)
Other Electronics
Ario Wire-Free HD Security 4-Camera Kit – $399.99
Insignia 2.1 Soundbar with Wireless Subwoofer – $99.99
Panasonic Blu-ray Player with Built-in WiFi – $39.99 (Compare to Amazon)
Samsung BD-H6500 4K Upscaling 3D Blu-ray Player – $87.99 (Compare to Amazon)
Beats by Dre Powerbeats2 Wireless Headphones – $99.99 (Compare to Amazon)
Bose SoundTrue On-Ear Headphones – $59.99 (Compare to Amazon)
Roku SE Streaming Media Player – $24.99
Apple Watches – Up to $100 off (Compare to Amazon)
Select Apple Watch Accessories – Up to 50% off
Samsung Gear S2 42mm Stainless Steel Smartwatch – $249.99 (Compare to Amazon)
Misfit Flash Activity Tracker, Choice of Colors – $14.99 (Compare to Amazon)
Fitbit Charge HR Activity Tracker – $119.99 (Compare to Amazon)
Fitbit Charge Wireless Activity Tracker – $89.99 (Compare to Amazon)
Fitbit Surge Fitness Watch – $199.99 (Compare to Amazon)
Fitbit Zip Wireless Activity Tracker – $39.99 (Compare to Amazon)
Movies
Cinderella Blu-ray Movie – $9.99
Furious 7 Blu-ray Movie – $9.99 (Compare to Amazon)
Inside Out Blu-ray Movie – $9.99 (Compare to Amazon)
Jurassic World Blu-ray Movie – $9.99 (Compare to Amazon)
Select Blu-rays (Ghostbusters, Princess Bride, 80 Titles) – $3.99
Select Blu-rays (The Hobbit, Ice Age, 80 Titles) – $5.99
Select Blu-rays (Paper Towns, San Andreas, 85 Titles) – $7.99
Select DVDs (Step Brothers, Horton Hears a Who, 75 Titles) – $1.99
Video Games & Systems
Nintendo New 3DS XL Video Game System – $179.99 (Compare to Amazon)
PlayStation 4 500GB Uncharted Collection Bundle – $299.99 (Compare to Amazon)
Xbox One 500GB Gears of War Bundle – $299.99 (Compare to Amazon)
Sony Gold Wireless Stereo Headset for PlayStation 4 – $59.99 (Compare to Amazon)
Turtle Beach Ear Force XO One Headset for Xbox One – $39.99 (Compare to Amazon)
Xbox One Wireless Controller – $39.99 (Compare to Amazon)
Xbox One Rise of the Tomb Raider Bundle w/ Free Extra Controller – $349.99 (Compare to Amazon)
Call of Duty: Black Ops & Black Ops II Combo for Xbox 360 – $19.99
FIFA 16 Video Game for Xbox One – $29.99 (Compare to Amazon)
Gears of War Ultimate Edition for Xbox One – $19.99 (Compare to Amazon)
Grand Theft Auto V for Xbox 360 – $19.99 (Compare to Amazon)
Madden NFL 16 Video Game for Xbox One – $29.99 (Compare to Amazon)
MLB 15 The Show for PlayStation 4 – $19.99 (Compare to Amazon)
NBA 2K16 Video Game for PlayStation 4 – $29.99 (Compare to Amazon)
Project Cars for PlayStation 4 – $19.99
Rare Replay for Xbox One – $19.99
WWE 2K16 Video Game for PlayStation 4 – $29.99
Just Dance 2016 for Nintendo Wii U – $24.99 (Compare to Amazon)
Disney Infinity 3.0 Edition Starter Packs – $39.99 (Compare to Amazon)
Best Buy Black Friday Only Deals
DigiLand 10.1″ Android Tablet with 16GB Storage – $59.99
Dynex Portable Chargers, Choice of Colors – $3.99 (Compare to Amazon)
Entire Stock of Apple iPods – Up to $50 off (Compare to Amazon)
Apple MacBook Air 11.6″ Core i5 w/ 4GB, 128GB – $779.99 (Compare to Amazon)
Samsung 40″ 1080p LED HDTV & Xbox One LEGO Movie Bundle – $499.98 (In-Store Only) (Compare to Amazon)
HP DeskJet 2545 Wireless All-in-One Printer – $19.99
SanDisk Cruzer Glide 128GB USB 2.0 Flash Drive – $19.99 (Compare to Amazon)