Win a Backyard Summer Refresh & Let The Kids Play More Outdoors!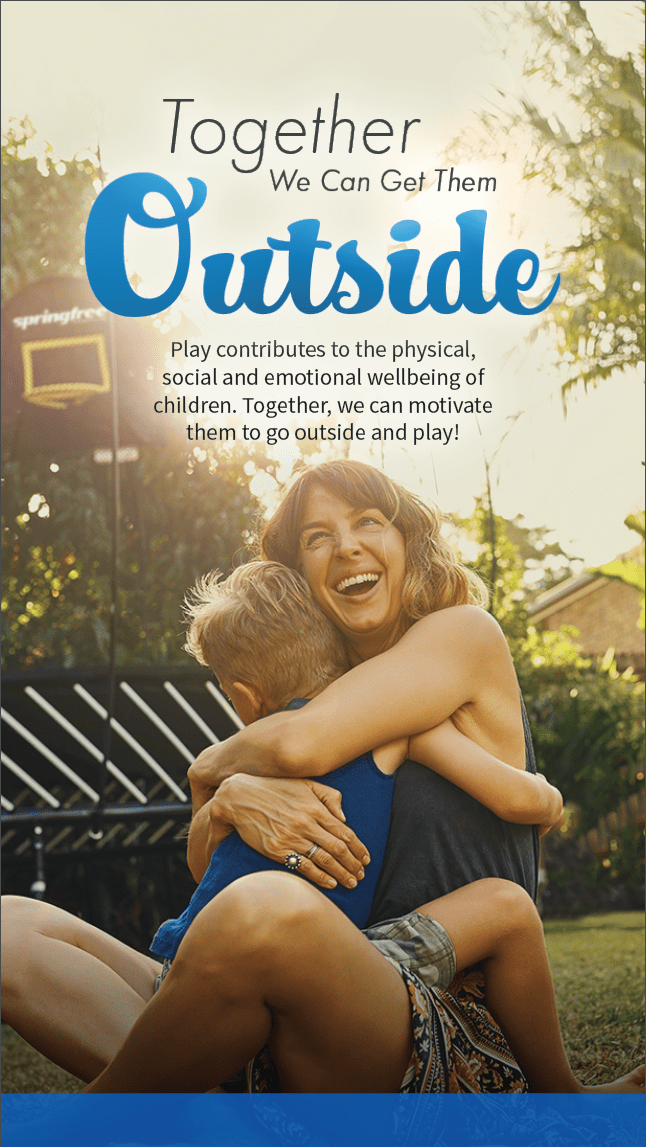 How A Springfree Trampoline Can Change Your Backyard + Enter To Win One & More!
Springfree Trampoline is working to bring families together through safe, outdoor play and has partnered with KaBOOM! to motivate families to go outside and be active. They are giving away a $13,000 Backyard Summer Refresh to one lucky winner, as well as more prizes (like a Springfree Trampoline)!
I am excited to share this giveaway with you, as my family won one of the Springfree Trampolines, in a different giveaway they were running a couple of years ago, and it has changed the way we use our backyard in big ways.
Have you tried out a Springfree Trampoline before? We have one, and I have to tell you it has been a lifestyle changer for my family. As backyards seem to be getting smaller and smaller these days, it can be challenging to find ways to keep your kids active outside. One way that we have been able to do this is with a Springfree Trampoline.
If you have never tried one before, you can head into their showroom and try them for free. The kids will love it, and they even run free events on site from time to time. I highly recommend stopping by their store and checking them out, you will feel the difference in their trampolines immediately. Springfree Trampoline is the world's safest, highest quality and longest lasting trampoline, and their patented design is supported by a full 10-year warranty. Safety was really important to me, and between their sizing options (that work especially well in smaller urban yards), as well as their safety netting (that holds me and my husband) and no springs for the kids to get fingers and limbs caught in – I was sold! We have had our trampoline for around 2 years now, and it is used regularly by kids throughout our neighborhood. We have not had any negative experiences yet, and I love seeing the kids out jumping on it daily and getting all of that exercise. Sometimes my kids run out before school for a quick jump, to get their blood flowing, and most days they jump after school to get some of the wiggles out after a long day in school.
My girls are having an afterschool wrestling match on our Springfree Trampoline. We have since added ground cover to keep the trampoline clean (it cleans up really easy), but you can see here how there are no springs in the area that they jump and play – which is awesome! 
The other thing that I love about our Springfree Trampoline, is that it is multi-functional if you have a smaller yard like we do. Before setting the trampoline up back there, it was just a small area that the kids could sit out and hang out in. Now they can jump and get plenty of physical exercise, plus we use it for water play in the summer (put a sprinkler underneath it), they play with chalk on the trampoline itself (make hop scotches, and art), turn it into a fort (adding blankets around the netting, and pillows inside), or even a movie theater (play a movie on a sheet put up over the netting). The trampoline alone has made our backyard the spot that all kids want to play. Imagine if you won the full blown $13,000 Backyard Summer Refresh!
Play contributes to the physical, social and emotional well-being of children, and kids these days are not getting enough unstructured play time. I was surprised to learn that my kids only get 2 recesses at school (and one is really lunch time – they have to scarf down food if they want more play time). Their school day is long, and I like to see more time for unstructured play for my kids. Especially getting them outside, after long Winter days, and letting them enjoy fresh air. It also helps with homework time at my house. When my kids struggle with homework, I motivate them by giving them trampoline breaks. They will work on homework for 15 minutes, and then take a 5 minute jump break. It helps them to burn some energy and then come back more focused for their homework.
Here are a few additional benefits of outdoor play:
It offers an opportunity for learning and creative play.
It helps kids interact with nature and living things.
It gives kids courage and confidence when learning a new skill.
It helps kids to learn through senses and aid in aesthetic development.
It encourages social interaction with friends and peers.
Backyard Summer Refresh Giveaway Details
If you are looking for ways to build more outdoor play opportunities into your backyard, check out this fun giveaway, designed to help you do that!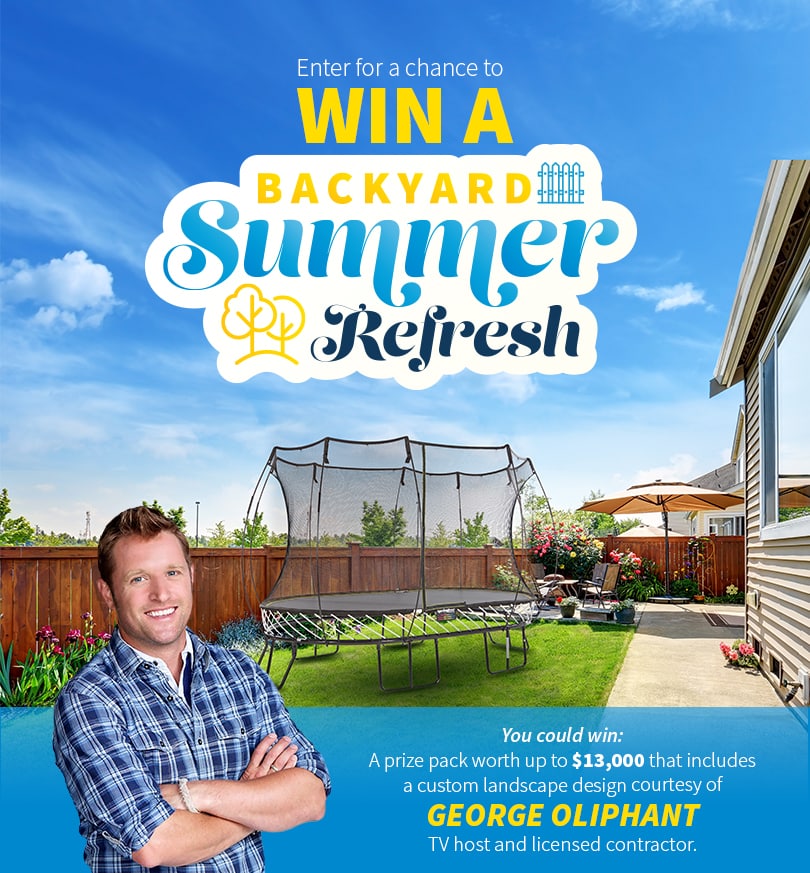 (courtesy of Springfree Trampoline and George Oliphant, television host and licensed contractor)
The grand prize is worth up to $13,000 and includes:
A custom landscape courtesy of George
A Springfree Trampoline
Strider Bikes and Strider Race Course
Vegetable Garden Makeover by Burpee
Plae Shoes for the entire family
Plus materials and labor for the refresh
Nine secondary Springfree Trampoline and Strider 12 Sport Bike prize packs will also be given away (approximately a $2,300 retail value)
Enter to win here!
You can also enter a deserving family that you know, for a chance for them to win. Head here for the chance to win.
More about the sponsors of this giveaway:
Springfree Trampoline is the world's safest, highest quality and longest lasting trampoline, creating exceptional value for getting kids outside and active while giving parents peace of mind. Springfree Trampoline's innovative and patented design is supported by a full 10-year warranty.
KaBOOM! is the national non-profit dedicated to bringing balanced and active play into the daily lives of all kids, particularly those growing up in poverty in the United States.
George Oliphant is a licensed contractor and host of television show "George to the Rescue", where he helps to rescue the homes of deserving local families.
Disclosure: This post is sponsored by Springfree Trampolines. All opinions are 100% my own. Please see our Disclosure Policy for more details.