Vitacost – 63 Organic Lollipops for $.09 Cents For New Customers (Pay $4.99 Shipping)
This post may contain affiliate links and I may be compensated for this post. Please read our disclosure policy here.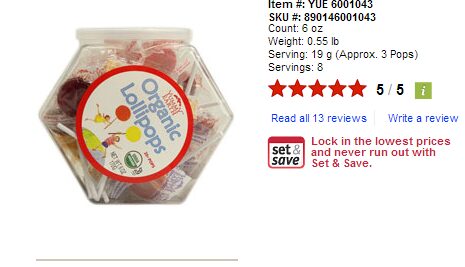 New to Vitacost, or have yet to spend your FREE $10 promo code, you can get approx. 63 Yummy Earth Organic Lollipops for just $.09 cents (you will have to pay $4.99 shipping). You can use your FREE $10 promo code on whatever items you want, but this is just one idea.
Once you have signed up to get your FREE $10 promo code here you can then do this scenario (be sure to grab the free credit before you start shopping).
Here is a fun scenario for Earth organic suckers:
Buy two bins of Yummy Earth Organic Lollipops (item number 890146001043 – approx. 24) – $4.02 ea
and one bag of Yummy Earth Organic Standup Lollipops (item number 810165011687 – approx. 15) – $2.09
Total:  $10.09
Apply free $10 credit
Final Price: $.09cents + $4.99 shipping = $5.08 shipped (Thanks She Saved!)