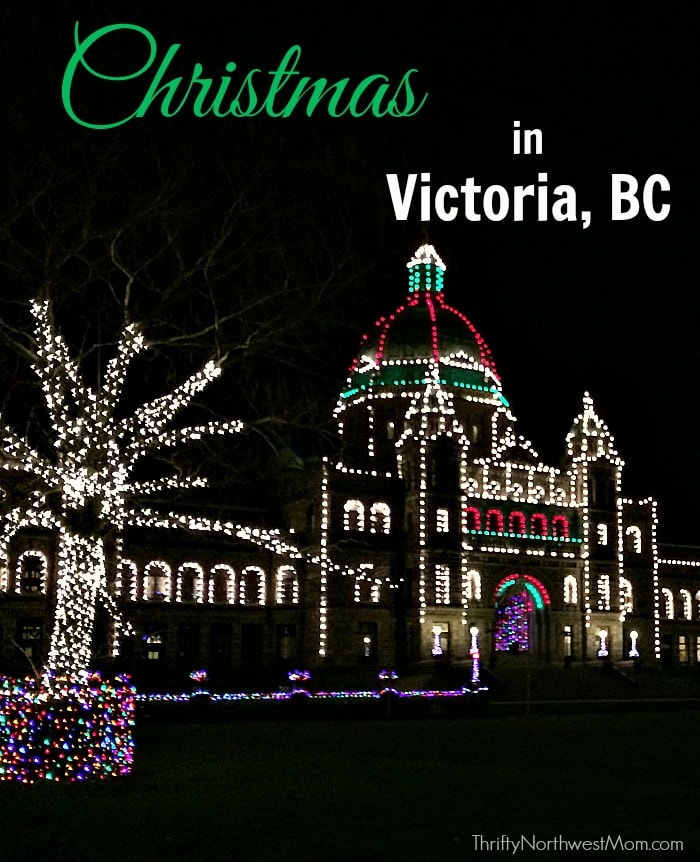 Pin this to your Travel board
{Originally published in December 2014, so prices & dates will have changed. Check the websites linked for current info.}
Victoria BC Christmas in the City
My husband and I recently had the opportunity to spend a night away as a couple, so we decided to head up to one of our all-time favorite cities – Victoria, BC. It's been over 12 years since we've been there, so we thought it was the perfect spot to check out again & an all new experience to visit at Christmas time. Now that I've been once, I can't wait to go back to Victoria during the Christmas season & bring our girls as there was so much festive, holiday fun for the whole family.
Victoria is one of my all-time favorite places to visit as it feels like you are transported to a city in England by the sea, not somewhere just a few short hours away from the Northwest! If you've never been, this city should be on your Bucket list – it's just that awesome! I love that it is a city that you can navigate without a car & just walk everywhere (with the exception of figuring out a way to Butchart Gardens, a must-see place to visit, especially at Christmas).
I've only been to Victoria in the summertime, which is just breathtaking with their big, gorgeous flower baskets everywhere, but I didn't realize how magical Victoria would be during the Christmas season. Victoria really goes all out for the Christmas season, with all the lights all around the downtown buildings, the Legislative Buildings, the Empress hotel ….but also with all the fun activities they have planned around downtown, making it so festive everywhere you go! This is a must-see spot at least once at Christmas (although I have a feeling once you go one time, you'll want to go again…and again).
Here are a few great resources for  activities around downtown Victoria, BC at Christmas time: 
Make sure to check out all of our Victoria posts for information on how to get there, where to stay, where to eat, things to do with kids in Victoria, and much more! 
Things To Do in Victoria at Christmas Time:
Free Activities:
View the lights of the city at night – Parliament Building, Empress Hotel, up & down – Free.  This is  one of the best parts about Victoria at Christmas time – just viewing all the beautiful lights on all the buildings, trees, street lamps, etc. The Parliament building is all lit up for Christmas, as is the Empress hotel and a number of other hotels as well. We just had a lot of fun walking around downtown & the harbor at night checking out all the beautiful lights.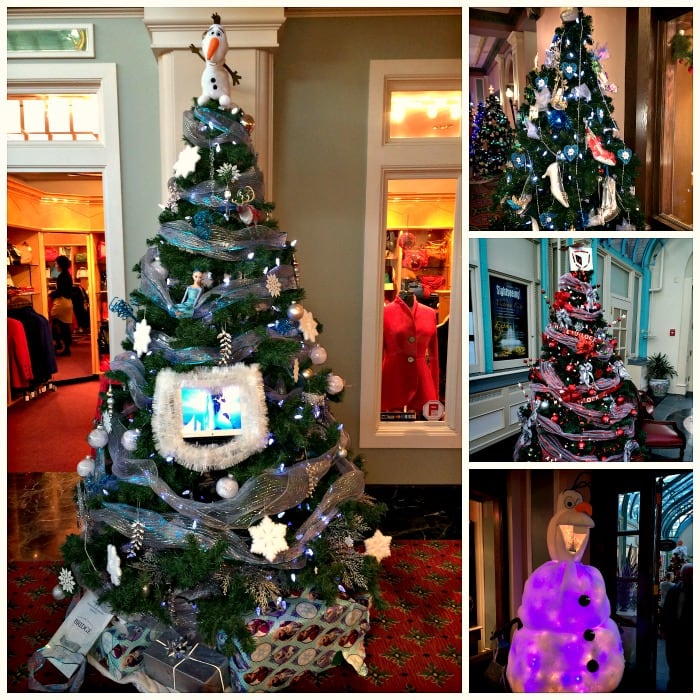 Festival of the Trees at the Fairmont Empress Hotel  – Free. The Festival of Trees  in support of the BC Children's Hospital happens every year at the Fairmont Empress hotel & it runs from mid November to early January (this year it will be going on through January 6th, 2015). It is free although they suggest a minimum $2 donation to vote for your favorite decorated Christmas tree. We were amazed at the number of Christmas trees decorated in the Empress – it filled several big areas & hallways & it was a great way to explore the Empress & see all their Christmas decorations while also checking out the amazing trees. This year, there were several Frozen trees & even an Olaf "tree" you could get pictures with. If you'd like to check it out, you can view the trees online, too.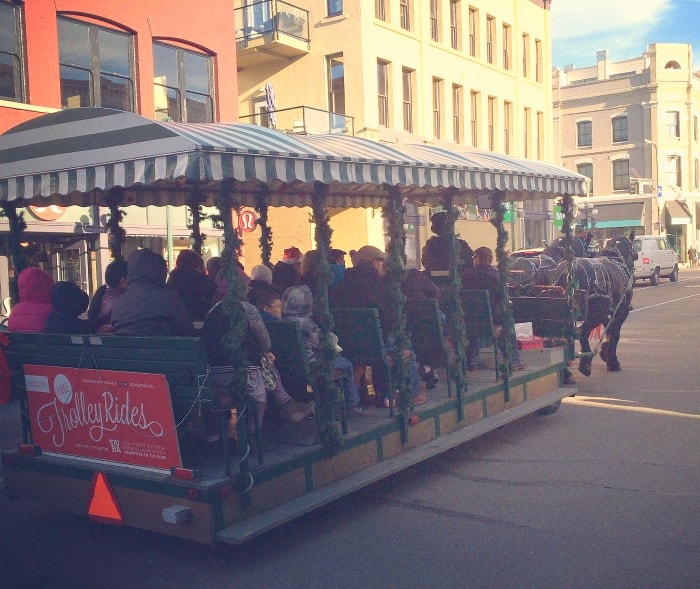 Horse-Drawn Trolley Rides through downtown Victoria – Free. These were offered on select Saturdays and Sundays in November & December. It was such a fun way to explore the downtown area, totally free! They did ask that if it was busy, that you only ride 2 stops (there were a total of 4) but then you could get out & get back in line. We were there on a busy December Saturday before Christmas & waited about 20 minutes for a ride.
Gingerbread Showcase at the Inn at Laurel Point – Free Admission. This is open through January 4, 2015. They have a fun Gingerbread showcase at the Inn at Laurel Point, which is the hotel we stayed at, right on the harbor & just a few blocks from the Empress and just a block away from where the Victoria Clipper docks. It's smaller scale than the Sheraton in downtown Seattle, but the skill & creativity in these gingerbread creations is always fun to see.
Bear Wear – Free admission. Located at Hotel Grand Pacific in downtown Victoria. This is one that we didn't check out, but I found when researching ideas & it looks like a lot of fun. Local businesses & sponsors dress up big teddy bears in all sorts of holiday wear as a fundraiser for special needs kids on Vancouver Island. There is a suggested donation of $2 or more and you can also enter to win the bear you voted on.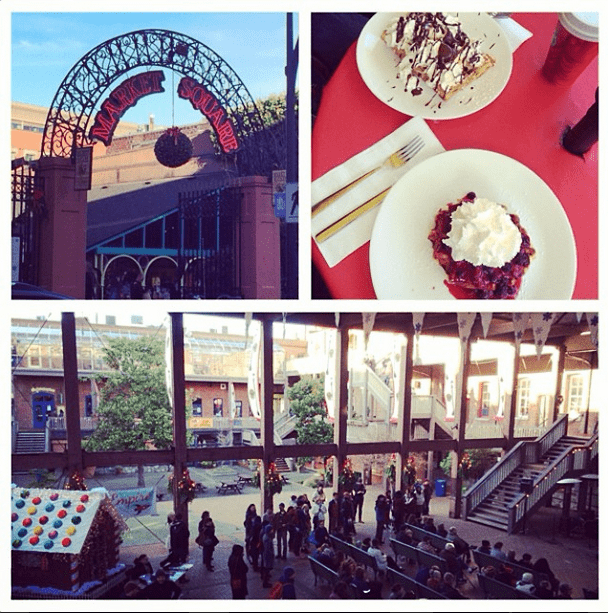 Outdoor Christmas Concerts at Market Square – We found this cool outdoor market which reminded my husband of European outdoor markets &  they had a number of dates with free outdoor Christmas concerts. They had great shops, a yummy Waffle place and this great open-air market area. And just down the street was one of the stops for the Horse-Drawn Trolley Rides.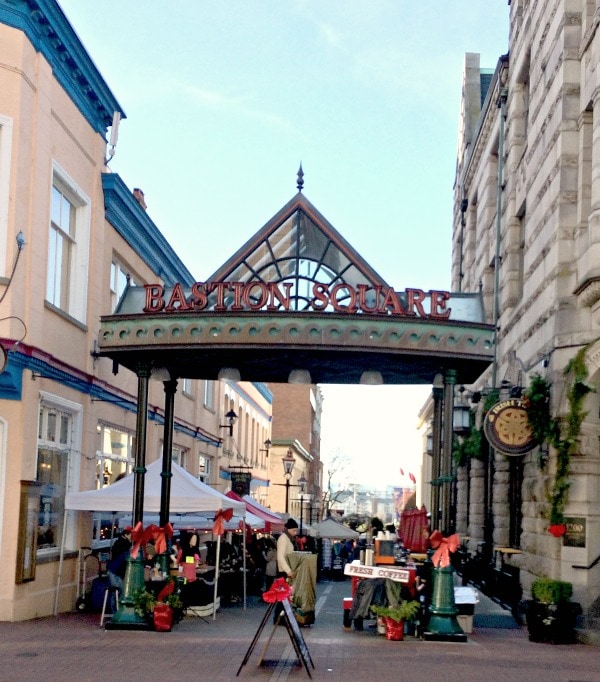 Pop Up Holiday Outdoor Markets at Bastion Square – During the summer, Bastion Square offers a public market (open-air artisan & craft market) on Thursdays, Fridays & Saturdays. However, they also offer occasional pop-up holiday markets too during the holiday season. Watch their website or Facebook page for more details.
More Events: 
Ferris Wheel in downtown Victoria – $2/ride . The Ferris Wheel was located in Centennial Square in downtown & is available for 4 weekends in November & December each year. This would be a fun way to get a different view of downtown Victoria, especially at night.
Ice Skating in front of the Fairmont Empress Hotel – Right in front of the Empress they have ice skating outdoors. It is more covered than Butchart Gardens, though, with a tent & even sides to keep it a bit warmer/out of the elements. They also offer Sunday Skates with Santa & even Christmas Eve skating with the Elves, for a higher cost. This is available through mid-January & you can skate in the evenings on weekdays or all day on the weekends.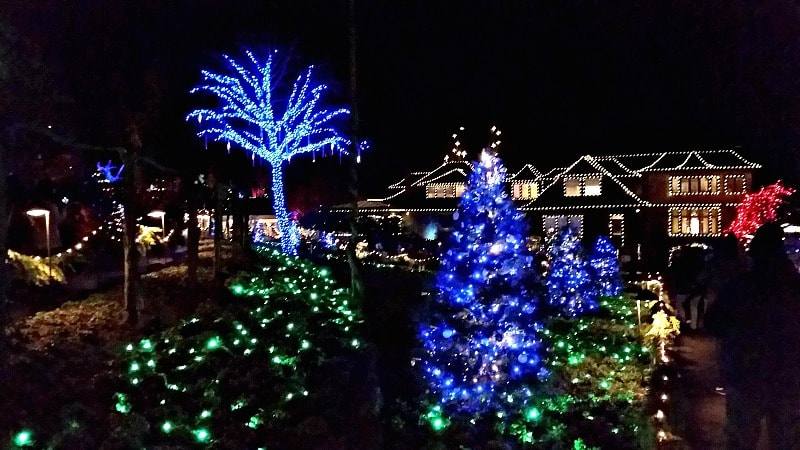 Butchart Gardens Magic of Christmas Lights – this is not a frugal option and can be pretty spendy when you factor in admission & costs of getting there if you don't have a car, but is a must-see at least once – this was my favorite Christmas light display I've ever seen! They also offer Ice Skating at Butchart Gardens as well. It was definitely the highlight of my trip along with just viewing all the beautiful lights in Victoria as well. Make sure to read my review all about the Magic of Christmas at Butchart Gardens.
I'll be sharing more basics about traveling to Victoria & things to do in the city at any time of year as well as how to get to Victoria and places to stay & eat! Look for that in the next few days!
We'd love to hear any tips you have for visiting Victoria at Christmas time or other favorite places you like to visit during the holidays in Victoria! 
Check out more posts about Victoria, BC & other popular Northwest Travel destinations::