Things to Do In Cabo San Lucas – A Travel Guide for Families
This post may contain affiliate links and I may be compensated for this post. Please read our disclosure policy here.

Things to Do In Cabo San Lucas & Family Travel Guide
If you are wondering if Cabo San Lucas is family friendly, the answer is YES! Well, at least my family had a blast visiting for Spring Break. I had been to Cabo many years earlier for my honeymoon, and was initially concerned that it might not be someplace where there was a ton to do for kids, but after a 10 day trip there we had more than enough to do. My kids are young teens now, and absolutely loved it – so I would say there is definitely plenty to do for tweens and teens. I personally would not hesitate to take younger kids either, and will share some family fun things to do in the area so you can decide if it makes sense for you.
When I mention our Spring Break trip, I am often asked if Cabo San Lucas is safe for families. I did a bit of research before taking my kids, and I was very comfortable making the trip personally. We did not experience anything concerning during our visit, and felt very comfortable (of course taking all of the pre-cautions I would when traveling with my children anywhere I am not familiar with).
If you are looking for ideas on what to do in Cabo San Lucas, we have lots of them here! Here are some of the things we found, and loved to do as a family in Cabo.

One of the pools at the Hacienda Del Mar Resort in Cabo San Lucas
Cabo San Lucas Resorts For Families – Pick the Right Resort!
Cabo San Lucas and surrounding areas are packed full of beautiful resorts to stay at. Picking the right resort for your family makes our Things To Do In Cabo San Lucas list, as you will likely be spending lots of time there, and some of the activities will take place right on site at your resort. Since pool time, and beach activities are two primary things to do in Cabo, you will want to pick a resort that fits your families style in terms of how you want to enjoy those things.

Here are some things you will want to consider in a resort option, when traveling with a family:
Cabo San Lucas is spread out into a number of areas, so if you are booking a resort online, it could be in one of the areas away from downtown. There are gorgeous resorts in many locations, so that is not an issue, it will just mean you will need a car or take a taxi or uber to get places. Many of the resorts only allow taxis on property to pick people up, so you will need to find out where to grab an uber if you choose to do that (generally it is just right out front of the area). And in our experience they can drop you off at your property right up front.
If you want to learn more about some of the specific neighborhoods in the Cabo area, when deciding where to stay, here is a good article on that.
Cabo All Inclusive Resorts
Cabo offers many All Inclusive Options, that includes meals and beverages, and some include activities too. We opted not to do an all inclusive stay, due to the price. Additionally, initially I was not interested in considering an all inclusive as we like to eat where we want to. However, after realizing how much money we spent on food and drinks this past trip, I would say that it might be worth considering for future trips for us. I was surprised at both the cost of food in Cabo (much more expensive than it had been on previous trips) as well as the quality of food (much better than I remember, we had some fantastic meals). We did eat at nicer restaurants this time around, so that might be part of it too – but I was very surprised at how much of our budget went to dining this last trip.
If you are looking for a super deal on an All Inclusive in Cabo, this one on Travelzoo right now is a crazy good offer for just $615 per person:
Roundtrip flights to Los Cabos from Seattle
3 nights at the 4-star Krystal Grand Los Cabos
Free upgraded accommodations in an Oceanview Junior Suite
All meals and drinks
All taxes and fees
Up to two kids ages 12 and younger stay, play and eat for free with two paying adults

Amenities to Consider When Looking at Resorts for Families
Pools – When considering where we would stay with our kids, the pool area was one of the most important part for us. We knew we would be spending lots of time here, and wanted to love it. Many of the resorts in this area have gorgeous pool areas, so it is not hard to find one you will love. 
Kitchen in unit – It is nice to look at units with kitchens when traveling with kids. Food in Cabo was a much bigger expense on our recent trip then it used to be, so it was nice to have a spot to store water, breakfast items and snacks so we did not have to eat everything out. That would have been very pricey feeding a family.

Beach Access – 
It is important to pay attention to safety notices on the beaches here. Many of the beaches in Cabo are not safe to swim in due to currents, etc. There is usually good signage, but is important to know ahead of time where it is safe to swim, and where it is not.
Find more details on what are the swimmable areas here. We booked one resort on a beautiful beach that was not a swimming beach, but offered gorgeous sunsets and whale watching. We then booked a second stay on a swimmable beach (as my kids love to swim in the ocean).
I actually preferred the non-swimmable beaches though (which was a surprise to me), as they were not so packed with all the motorized activities and vendors, so I could relax and enjoy them more. We did very little swimming on the second beach, as it was just too busy. If you like to be in the hustle and bustle of things, you will probably like that area.

Outdoor Space
You are likely headed to Cabo to enjoy the beautiful sunshine and outdoors (and beaches) so a nice outdoor space that you can relax at is important. Especially if you have kids you are chasing around. I loved having balconies that provided water views during our stay. You might pay a little more for these, but I think they are so worth it. One thing I love about Cabo is that many of the resorts offer pretty sizable outdoor patio or balcony areas to relax in. We used ours quite a bit, and personally I found it worth the extra spend. We usually began and ended our day in this space, and used it multiple times during the day. We used it much more than the indoor living spaces of our units.
Where to Stay in Cabo San Lucas For Families:
Note that Cabo does have some adults only hotels, so make sure you pay attention to that when looking at resort options.
Where to stay is going to depend on many of your families personal preferences. Here are some of our favorite spots for families, as well as some info on why we like them. Find lots of options available here.

We chose to split our vacation between two resorts (we went for 10 nights).
The first spot we stayed at was the Hacienda Del Mar Cabo. This is a personal favorite of mine, with its colonial architecture, 5 pools, amazing restaurant options, gorgeous beach to walk, and whale watching right out front (seasonal). I am never disappointed with this location, and it remains a personal favorite. It is outside of town, so does require transportation to get into town – but the resort is packed with so much you do not have to go anywhere if you do not want to.
Hacienda Del Mar is a beautiful colonial style hotel, with great balconies, 5 pool areas, lots of activities for the family, and amazing restaurants. This spot is a personal favorite of mine, as I love the style of the resort, the amenities (pools and restaurants in particular) and the beach front beauty of it all. Of course, many of these preferences are based on personal opinion, but I wanted to share some of the reasons why this is a personal favorite for my family.
It sits on a gorgeous beach, but it is not a swimmable beach. It sits in the Tourist Corridor, so you will need transportation into the downtown area (the do have a shuttle on site that you can pay per person, or grab a taxi if you do not have a rental car). Personally, it is a family favorite for us. I was traveling with young teens, and they enjoyed relaxing in the chairs in the pools, doing crafts onsite, poolside chair massages, great restaurants and just an all around great mix of a beautiful resort plus plenty of things to do.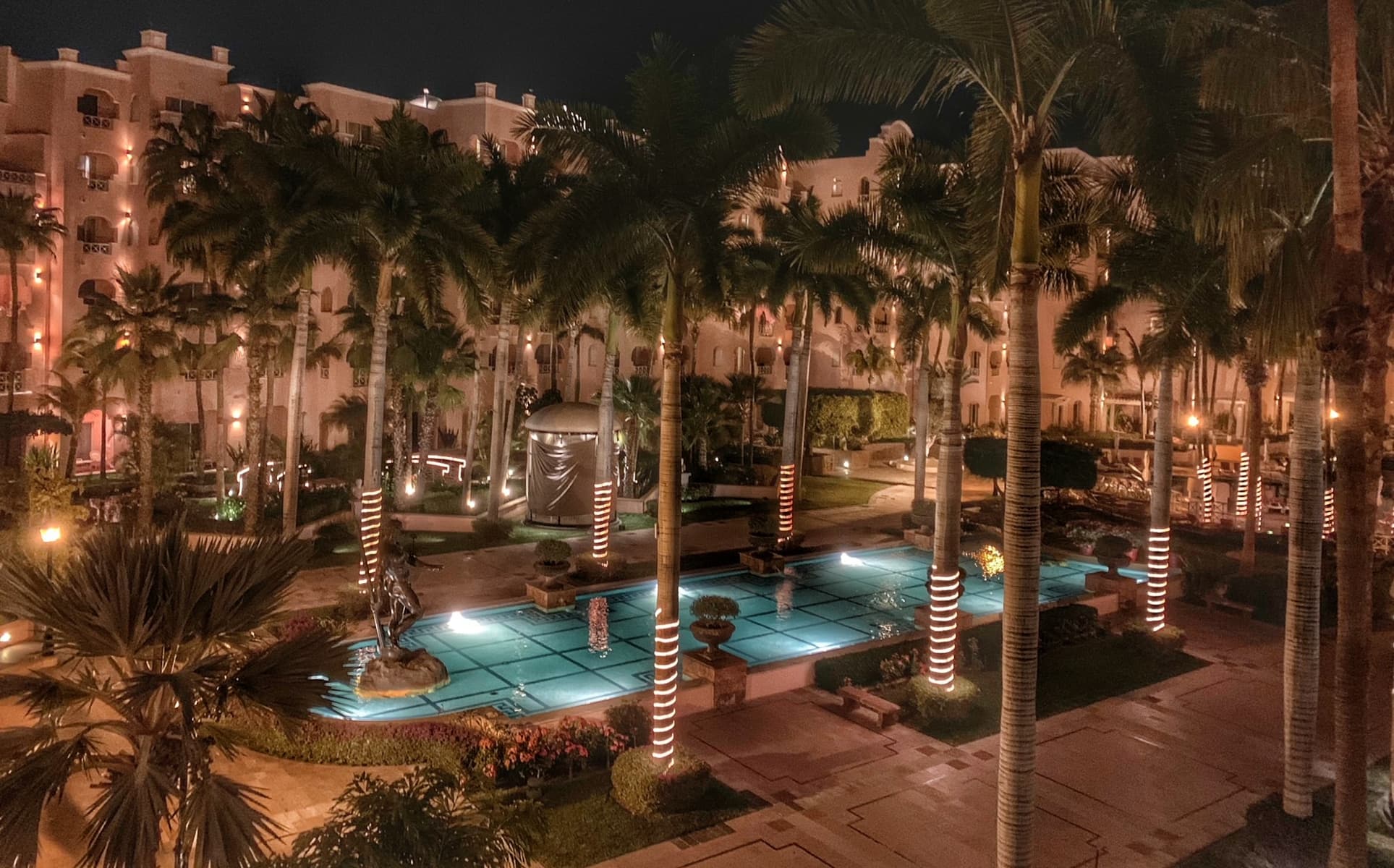 We moved from there to the Pueblo Bonito Rose on Medano Beach and in walking distance to Downtown Cabo. You can book as an All Inclusive, or just the room (we booked just the room).
The appeal here for me was:
This was also a beach front resort, that sits on a swimmable beach (which ended up being so crowded we did not use it as much as I thought we would. If you like to be where the action is, this is a great option for that). We wanted to be on a swimmable beach though, so it was one of the reasons we selected it.
You can move between resorts with their free bus service to the beautiful Pueblo Bonito Sunset Resort, or walk right next door to Pueblo Bonito Los Cabos Beach Resort. You are able to use the amenities of the other resorts, which I thought was nice. There is a beach front restaurant at the hotel next door we could eat at, use both pools or beach chairs, access their shops (like the ice cream shop) and more.
It is in walking distance to downtown Cabo San Lucas, or the street with Edith's, Tres Serenas and the Argentinian Steakhouse is just a couple of blocks over (get there on the beach, or by a short walk on the streets) making great dining options easily accessible.
A highlight is that we saw whales from our pool deck area. It was pretty spectacular, and we did not have to pay alot of money for a boat tour. This is a seasonal event though (we were there in March), so it is not something that happens year round.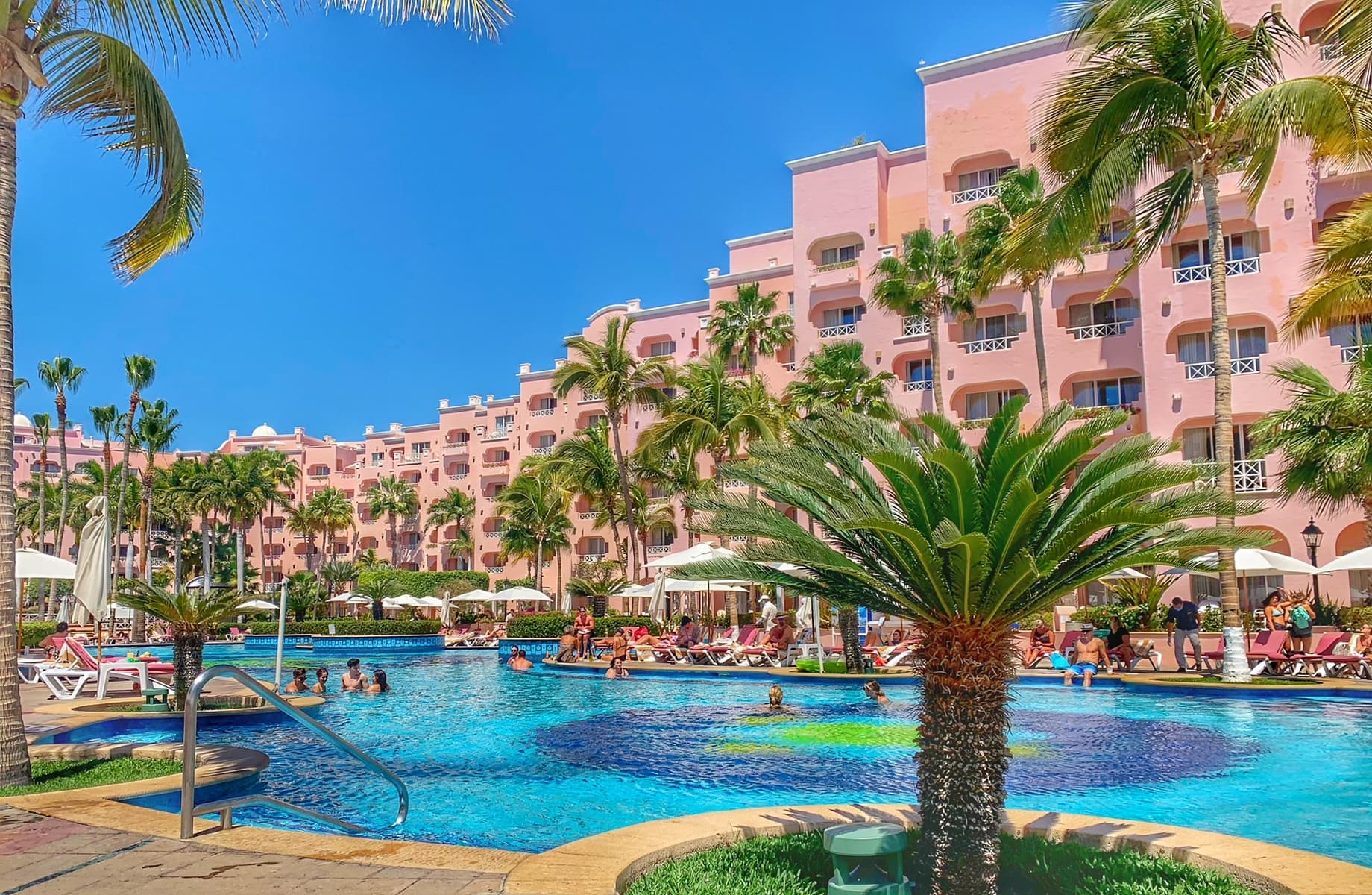 Pueblo Bonita Rose – What we liked about this spot is that you have access to their other resorts in addition to the one you are staying in. It sits on the El Médano Beach, which is a swimmable beach with lots of beach activities. You can grab a spot to relax on the beach for the day with service, shop on the beach from the many vendors, or book various water activities (like jet skiing, banana boats or taxi trips out to the arch). Note that while it is a swimming safe beach, it is a busy beach. There is lots to do in this area, but if you are looking for something more tranquil, this is not the beach for that. We also where able to easily walk into the downtown Cabo area, and to many of our favorite restaurants. You will also find that the popular Lover's Beach at El Arco (and divorce beach) are all easily accessible via water taxi from here.
We were also able to walk right next door to the Pueblo Bonito Los Cabos Mediterranean Style Resort, and enjoy their restaurant, ice cream shop, pool and amenities as well. One of their restaurants is a beach front spot, and I loved sitting there in the evenings, listening to the waves crash against the shores while dining. In addition their is a free shuttle that runs daily to the Sunset Beach Resort – which is beautiful, and offers a food court if you want some affordable dining options for the day. They have a game room kids can enjoy here, as well as you are able to take advantage of their amenities too (like pools and restaurants) if you wanted to make a day of it.
(Image Credit: Hyatt Ziva Cabo)
Hyatt Ziva Cabo (has a waterpark) – This spot is great for families for many reasons. It does have a waterpark, which kids will love, but also offers some great all inclusive options (food and activities) – if you just want to get there and not worry about anything else. It sits on the  Sea of Cortez so you will also need to figure out transportation here too if you want to visit downtown etc. but there is lots for families to do onsite. There are 7 restaurants onsite, multiple pool options (including the waterpark with waterslides), daily activity schedules and more to keep families with all ages busy and happy! You will even find a kids club onsite, if mom and dad want to get out for a bit and keep the kids happy!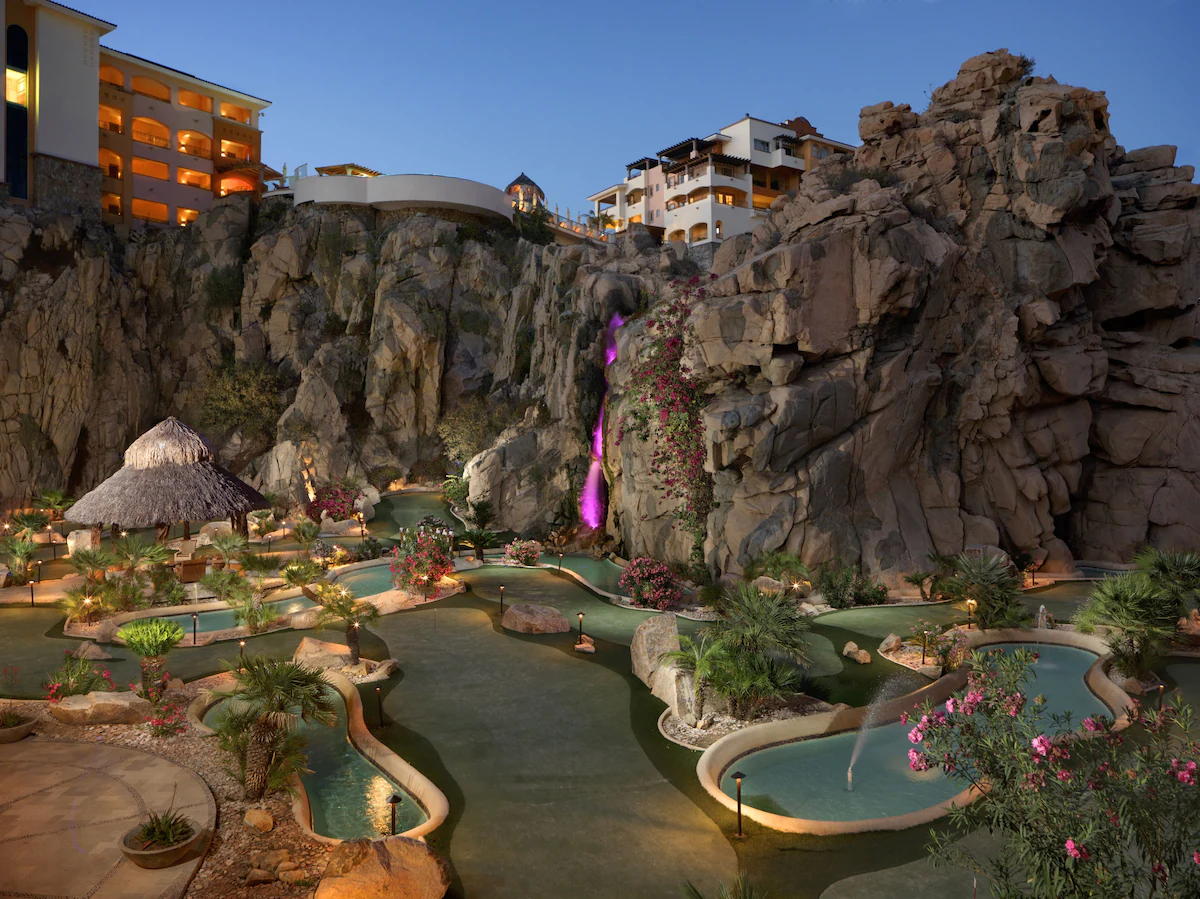 (Image Credit: Playa Grande Resort & Grand Spa)
Playa Grande Resort & Grand Spa is also a beach front resort (like the others we have shared) with some fun amenities. They have a spa, with fish pedicures (which we love!). There are multiple pool options, and even an airport shuttle (convenient if you do not have transportation options). Also, you can travel to sister resorts here too, for example you can travel between: Grand Solmar Land's End, Solmar All Inclusive, Playa Grande and The Ridge Resorts.
This resort also boasts other kid friendly amenities, beyond 5 outdoor pools, expansive grounds, family suites, and kids clubs you will find sport courts, putt putt gulf course, and much more. It really is a beautiful property for families to enjoy!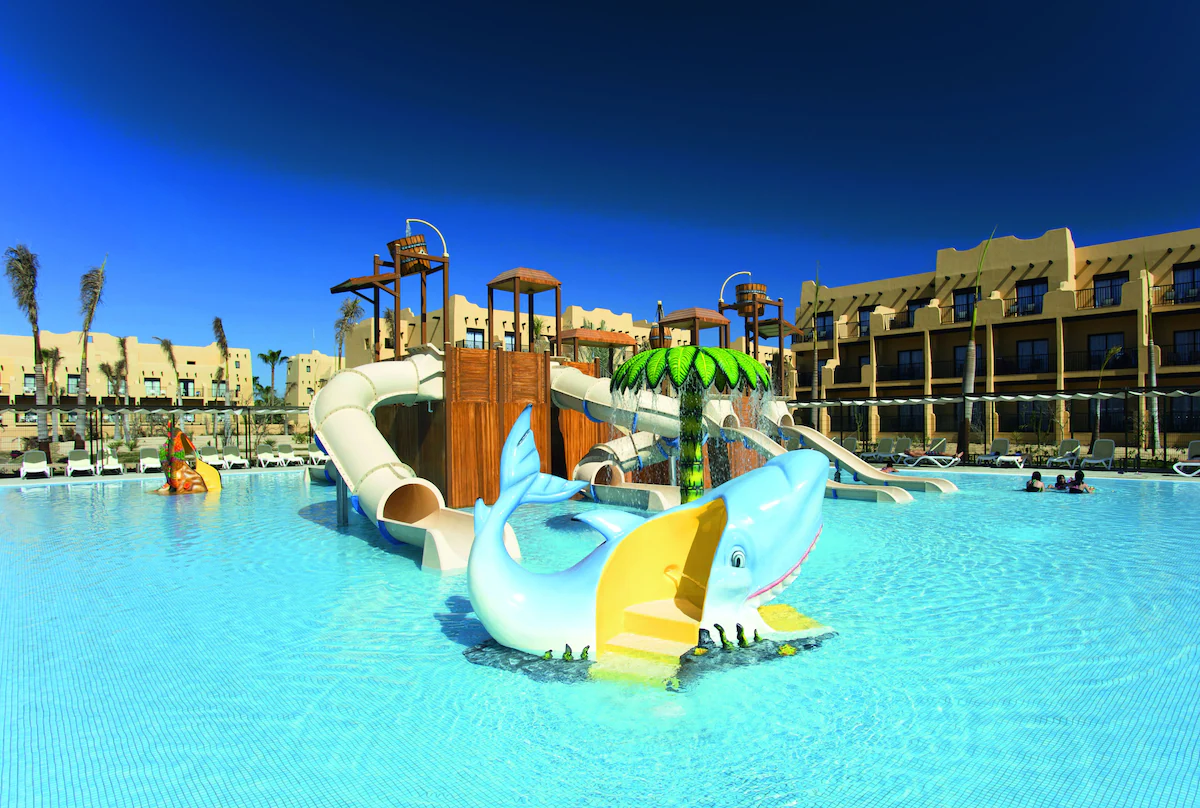 (Image Credit: Riu Santa Fe All Inclusive)
You might note that I have included a few resorts that allow you free transportation between resorts. I see this as a big perk, as many people will not be renting a car on a vacation like this, so it gives you access to multiple resorts and amenities, without the pricey cost of transportation for families!
These are just a few ideas from our trips there, but Cabo is full of many wonderful resorts families will love. Find more ideas here too.

Cabo Adventures for Families (Cabo San Lucas Excursion Options for All Ages)!
The resort pools, and beach activities are a main attraction in Cabo. You will also find shopping on the beaches, as well as an open air market in the downtown area. Outside of that here are some fun things for families to do as well.

My teens did a day of surf lessons with the Surf School Line Up in Cabo, and it was one of our favorite days! They had the kids up surfing on their first try, and they provide transportation out to the beach from their shop and back. The surf lesson days where definitely a highlight for us, and a special memory from our Cabo trip. I highly recommend this, if your kids are at all interested in learning how to surf!
They took us out to Playa El Tule Beach, which seemed more like a local area, and so much nicer then the tourist flanked beaches for sure. We really loved everything about this day.

Spend a day at the National Park with zip lining, bungy jumps, UTV or ATV ride, a camel ride, horseback riding, a waterpark and so much more! Wild Canyon Adventures sells these adventures either ala carte or you can buy a day or half day pass. You will have to pay additional fees to access the National Park, so be sure to do your research on all the fees involved, but there is quite a bit do do for the entire family here.

Other ATV Excursions / Horseback Riding (or ride Camels too)! 
In addition to Wild Canyon Adventures, you can also purchase things like ATV tours, horseback riding on the beach, camel rides and more – that go out of different locations. We found some more affordable options doing this, but you will want to pay attention to where you are booking these activities through (in case it is important to you to either go through Wild Canyons Adventures or not). It can be confusing if you are not aware that they do go out of different areas, so be sure to clarify according to what you want to do.
Water Taxis, and Glass Bottom Boat trips out to the Arch
If you want to head out to see the famous Arch, and even hang out on Lovers beach, a water taxi will likely be the most affordable option to do that. You can find them all over the El Médano Beach or the Marina. You can also ask them to drop you off at the beach, and come back to get you later, so you can enjoy the area some.
You can also get a glass bottom boat to head out there, so look for those, as you can view the fish and the make the journey part of the fun.
This beach is beautiful, but it is small and a popular tourist attraction, so expect crowds. You will also want to pack some water, and if you want any snacks out there, depending on how long you plan to stay.
On the opposite side of Lovers beach, is Divorce beach. This side faces the Pacific and was quite windy when we where there (with sand flying in our face, so a bit of a different experience than Lovers beach (rock protects you from the winds on this side).
More ideas to do with Kids in this area:
Snorkeling
Horseback riding on the beach
Cabo Submarine Tours – 60′ yellow semi-submersible will offer a 75-minute tour of Cabo San Lucas Bay
Dolphin Swims
Cabo Restaurants & Recommendations
Cabo San Lucas is filled with many great restaurants to enjoy. I was blown away by how many delicious meals we had on our recent trip here (it was definitely not like the options available when we visited for our honeymoon many years ago). It ended up being one of my favorite food trips, which I was not expecting. However it does come at a cost – food was much more expensive than I recall it being in the past. In fact I think we spent more on food here than we did in Las Vegas or Disneyland recently, which is saying something. We did eat in quite a few of the resort restaurants, and some of our favorite nice local spots, so there were options to save more if you are looking for that (we just did not do a great job of finding those).
If you are looking for a couple of splurge restaurants check out the Waldorf Astoria Los Cabos Pedregal and the Sunset Monalisa. Although I would have loved to have a meal at both these spots, we did not make it to either. They are pricey, and we had kids with us. If we wanted to celebrate an anniversary or special adult night, these would have been on my list though!
Here are just a couple that we loved, if you are looking for recommendations.
I mentioned above that the first resort we stayed in was the Hacienda Del Mar, which was packed with some of our favorite dining spots too. If you are staying outside of the Corridor area, you would need to taxi in for these, but there are a few that are worth the trip for in my opinion. A couple of our favorites included:
Tomatoes – surprisingly this was one of our favorites. It sits up on a veranda that overlooks the Sea of Cortez, with lights that string around in the evening. The food was fresh and delicious!
De Cortez Grillhouse – This spot offers some wonderful ocean front spots on the Sea of Cortez, as well as covered dining options. We ate here twice, and find it to be a pretty special spot with the ambiance. It is a Five Star Diamond Award–winning restaurant, so great place to celebrate a special occasion too.
PITAHAYAS – this spot gets great reviews (and offers oceanfront dining), but in my two trips to this resort I have never been able to try it, as it has always been reserved for private events on the nights we have tried to visit. So make sure you call ahead to make sure it is open to the public before making a trip out here. I include it, even though we have never tried it, as the reviews are great and we did experience the ambiance first hand and would love to enjoy a meal here. Let us know what you think if you get to go!
Chamayo Argentinian Steakhouse – this spot was recommended to us by some locals, and we loved it! It is just up the block from Edits and was delicious food, affordable, and laid back as well as having a beautiful outdoor dining ambiance. I wish we would have tried this spot sooner, and could have made a couple of trips here.

Ediths Cabo 
Ediths in Cabo San Lucas has long been a favorite of our entire families. The prices have increased quite a bit over the years, but it did not disappoint. The food is delicious, the atmosphere perfect, and it has just become a "must visit" for us when in Cabo. You will need reservations to get in here, so be sure to make those ahead of time.

Tres Hermanas
Tres Hermanas is directly across the street from Ediths Cabo restaurant, and is owned by the same family that owns Ediths. What we found though, was that it was much more affordable and easier to get into! The food was amazing (even had some of the same dishes we ordered at Ediths the night before but for less). This has become our new "must visit" restaurant, and I highly recommend. There was even live entertainment the night we visited, and the food was just as delicious as we had at Ediths!
Los Tres Gallos is the place to go for mainstay Mexican cuisine.
A couple of splurge restaurants that would be fun for a couples evening out (not sure how kid friendly they are) that were recommended to us, but we did not make it out to include:
Flora Farms Cabo San Lucas – this spot was on my to do list, but we did not make it out here this trip. Reviews look great and I do have some friends who have done the cooking classes out there and loved it. In addition to a farm to table menu from the farm onsite, they also have a wood fired oven and ice cream cart that kids might find exciting. You can also take a farm tour, art classes and more onsite to make it an entire adventure.

Cabo San Lucas beaches that are good for families
Cabo San Lucas beaches are beautiful, but many of them are not safe to swim in, so it is important you pay attention to that. There are however a handful that are safe for swimming, snorkeling and surfing if you want to do any of those things. The more popular spots that are closer to town (like Medano Beach) are crowded, full of vendors and share the beach fronts with watercraft sports too generally. If you want a quieter beach, you will likely need to book a resort around that, or travel for the day.
Medano beach will be the one that most often pops up in searches as the most popular swimming beach, and you will hear reviews of the turquoise waters and golden sand. We booked a resort stay on this beach for this reason. However, what we found is that it was so busy that we really did not swim in it much at all. It just did not feel peaceful and relaxing to me. We did spend time out there booking fun activities and shopping with some of the beach vendors, but did not get much swimming done. This was our personal preference, but just wanted to point that out in case you are having visions of some tropical oasis that will be quiet. I preferred Chileno beach for swimming and relaxing on the beach, as it was not full of vendors selling things and so many of the other activities. Both beaches are fun, but in my opinion for different reasons.
You can find a good resource on beaches you can swim at in the area here too.