Teatro ZinZanni Big Top Rock Family Show – Review of "Rock This Way" Show
This post may contain affiliate links and I may be compensated for this post. Please read our disclosure policy here.
Teatro ZinZanni Big Top Rock Family Friendly Show
If you've been to the Seattle Center or Key Arena area, chances are that you've seen the Teatro ZinZanni building right across Mercer Street from McCaw Hall.  It's a one story building with a dome on top of it and a fun, snazzy entrance, so it usually catches your attention if you're driving or parking nearby.  Many folks know of Teatro ZinZanni as the popular dinner theater, comedy, cabaret & circus show that adults love, but if you've been following our blog for some time, you'll know that we have also shared about their family-friendly Big Top Rock show that kids of all ages will enjoy as well.
My family recently had the opportunity to check out the show so I could share with you more about what this show entails. We knew our girls would enjoy it, but I don't think either my husband or I realized how much we would enjoy it as well! The band, The Parkway Boys with Jen Ayers as the lead singer, kept us entertained & singing along throughout the whole show to favorite rock & roll classics such as Queen, Blondie, Journey, Led Zeppelin & more. Our kids loved the comedic acts, dancing, acrobatics & music that kept them entertained, engaged & amazed at what the performers could do!
Teatro ZinZanni started the Big Top Rock performances five years ago for families as a way to bring all the fun & excitement of the dinner theater shows to a new audience, introducing kids to classic rock favorites to listen to while they enjoy several of the circus artists' performances. The cool part of the Big Top Rock: Rock this Way show is that it not only features 3 professional circus artists from the main performances, but they also feature 6 kid performers as well.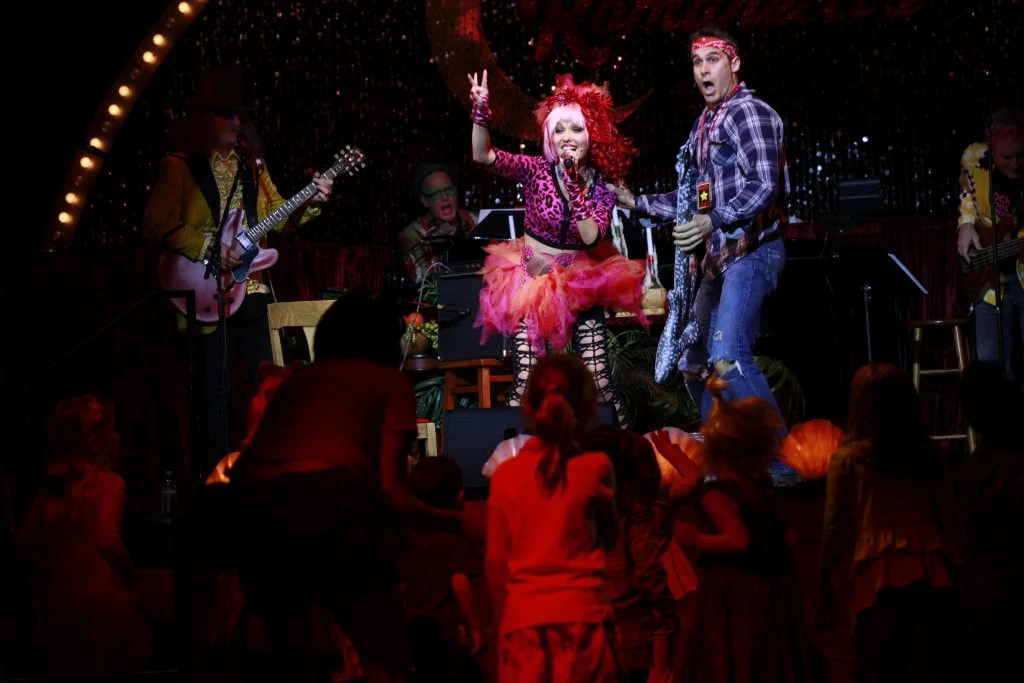 The show is an hour long, without an intermission, but even if you have little ones and aren't sure how they would last, this is not your typical performance. There is a special area just for the little ones – a special dance floor right in front of the stage. This is just perfect for the preschool crowd as a chance to get their wiggles out & have an up close & personal view of the band and the performers from every angle. So, if you have wiggly kids who may not normally sit down for an hour long performance, this will be right up their alley! Plus, they have several staff members who stay right there with the kids to make sure they stay in the dance area & don't go wandering around, which I found to be really helpful as a mom (even though I don't have kids that age anymore, it was nice to know that they were watching out for the kiddos).
The Big Top Rock show is unique in that there are multiple areas to watch the performance as  it's not just all happening right on the front stage. It is a circular building and it is set up is with booths all around both sides & tables & chairs in the middle.  The performers take full advantage of this. They do have the main stage up front with the band, but then they also have a stage that rises up in the center of the room where they perform as well. There's always a lot of action going on all around you.  The ZinZanni performers did several acrobatic routines above the center stage as well with aerial straps & a trapeze swing. They also move through the aisles and perform at times, so it really is very interactive & anywhere you sit, you feel a part of the show. There really isn't a bad seat in the building – although if you want to be close to the action, you'll want to sit at the tables & chairs as you'll be up close to all the performers.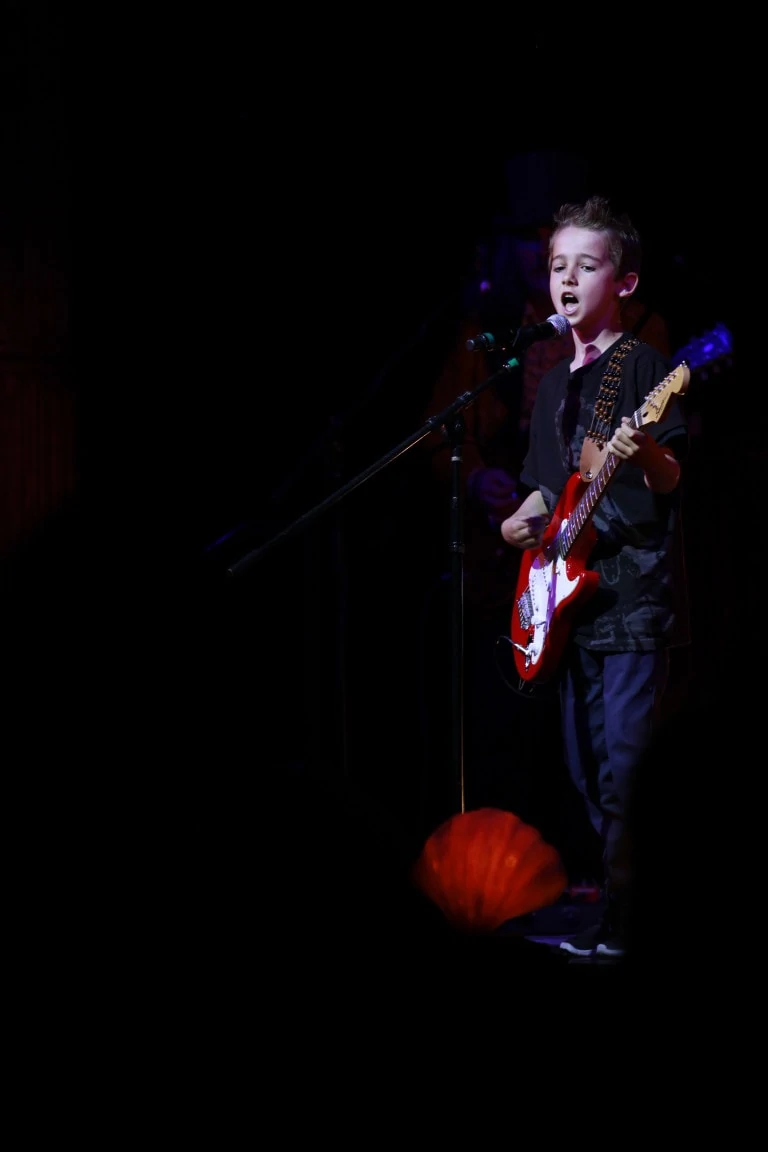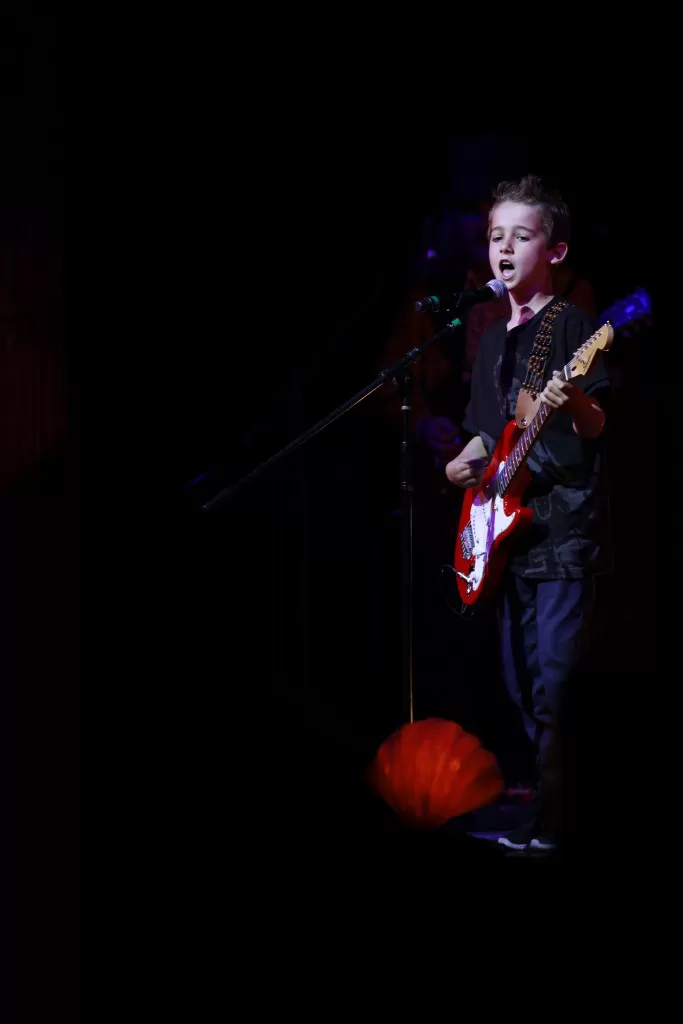 We also were excited to see that it wasn't just adults performing in the show but as I mentioned, there were 6 kid performers, including a tween boy who rocked it on his electric guitar! It definitely was inspiring for my girls to see other kids close to their age, performing on stage with the adults. The kids sang, danced & performed in the show as well as doing some magic tricks before the show started (good reason to get there early & be entertained by some of the performers coming around as you wait).  All in all, the show is very entertaining with great music the adults will appreciate & love and a great way to introduce your kids to some classic rock in a fun setting.
What to Know::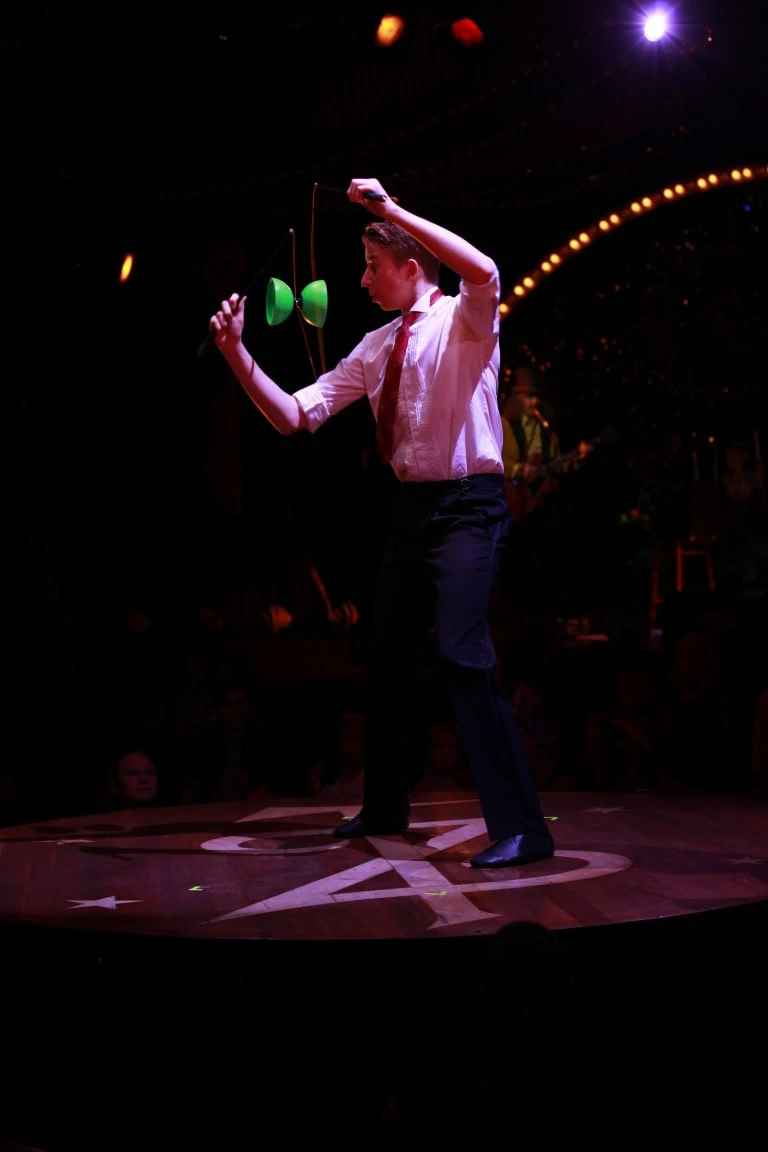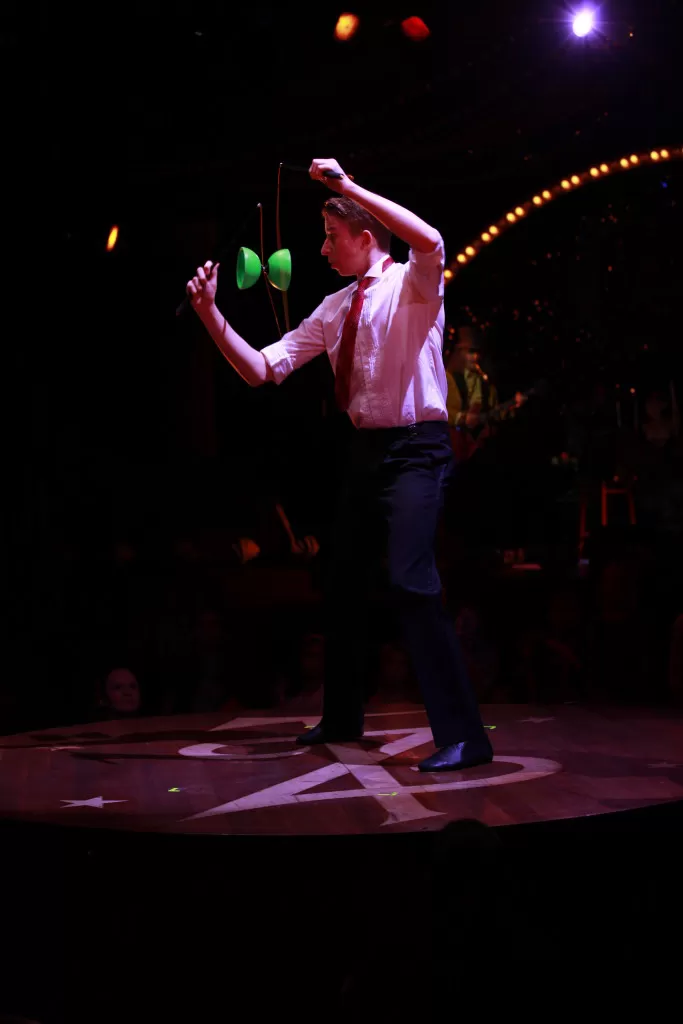 Details:
Teatro ZinZanni
222 Mercer St.
Seattle, Wa 98109
(206) 802-0015
Dates: Select weekends from now through May 22, 2016
Time: Showtime is at 11am & doors open at 10am. The show lasts 60 minutes with no intermission.
*I suggest you get there early – the seats are open so the earlier you get there, the more choice you have with seats (although like I said, there aren't any bad seats, but in case you want to be up close)
Cost: $20 for booth seating & $25 for chair/table seating
If you'd like discount tickets to see the show, check out Goldstar.com – right now they are offering tickets as low as $11.75 – $14.25 for the May 7th, 2016 show (+ fees). The other show sold out, though, so those discount tickets may not last long.
Check out their website to see all the details about the show.
Food/Drinks:
The most popular food item were the Top Pot Doughnuts, on sale before the show for just $1/doughnut. They also offered some healthier kid-friendly snacks as well as some juices for the kids. The full bar was open for the adults as well.
Where to Sit::
Sitting in the chairs as close to the center of the stage is probably the best seating, although it will depend on your kids & how close they want to be to the action. If they prefer to watch things from a little bit of a distance, then they may prefer sitting at a booth, where they can enjoy their snacks & have a little distance from the performers.
Let us know if you have ever been to the Teatro ZinZanni's Big Top Rock performance & what you thought! 
Disclosure: I was provided with tickets for my family to enjoy this performance so that we could share a review for our readers.