Teacher Gift Ideas: Paper Crafting
This post may contain affiliate links and I may be compensated for this post. Please read our disclosure policy here.
Last week we  featured some frugal & fun teacher gift ideas for back-to-school.  I have to confess, though, that I didn't realize that our last 2 posts did not post while I was on vacation – I just realized it last night. Oops! (That's what I get for going on vacation without a laptop & having to rely on borrowing one when I could) So, today & tomorrow, I'll feature 2 more days of Sarah's teacher gift ideas.
Make sure to check out the other fun teacher gift ideas in our series from last week:
I love paper and when Joann's Craft Store  has their 6 for $.96  sale, I can go a little crazy buying "cute" paper.  That is what I did last year buying a lot of "school" prints, thinking I would make a scrapbook.  Well, I never got around to the scrapbook, but I did use some of the paper to make some Post-It note covers for the school office staff.
Post-it Note Covers:
Supplies: Scrapbook Paper, Post-its, Small Brads & Twine/Embroidery Floss to tie it together
I used a template from Chica & Jo to create this cute, post-it note holder.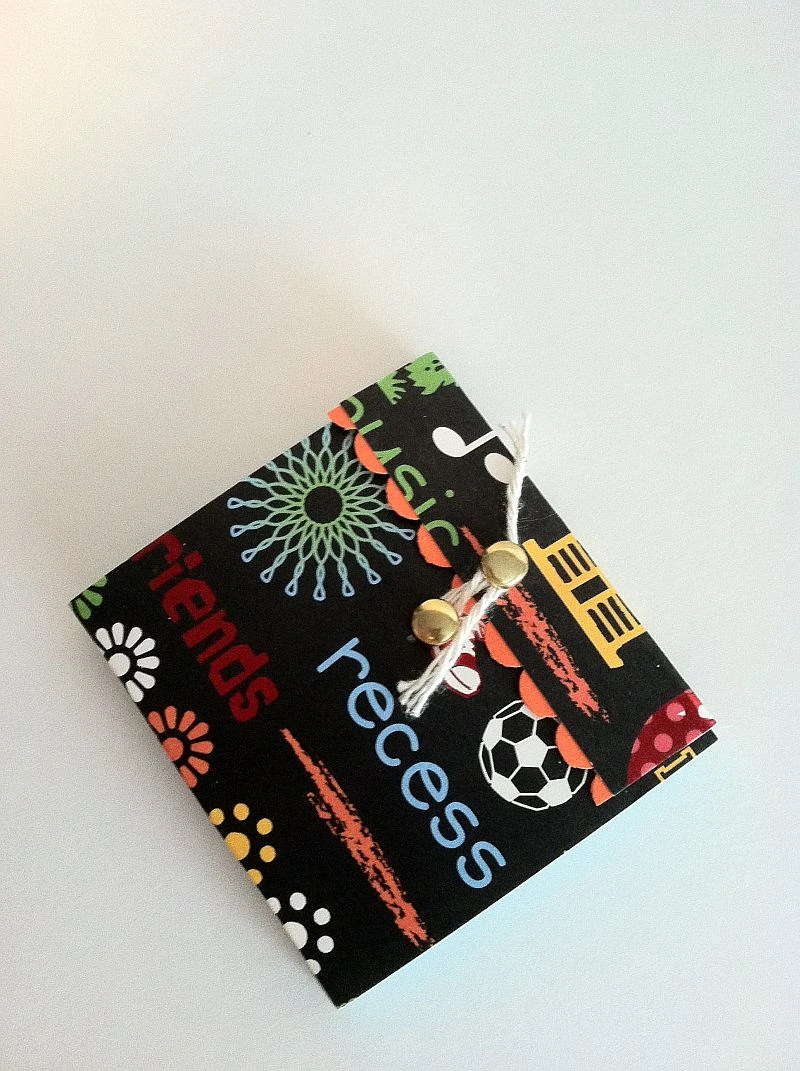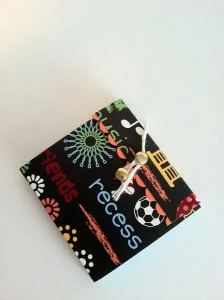 Outside of Post-It Note Holder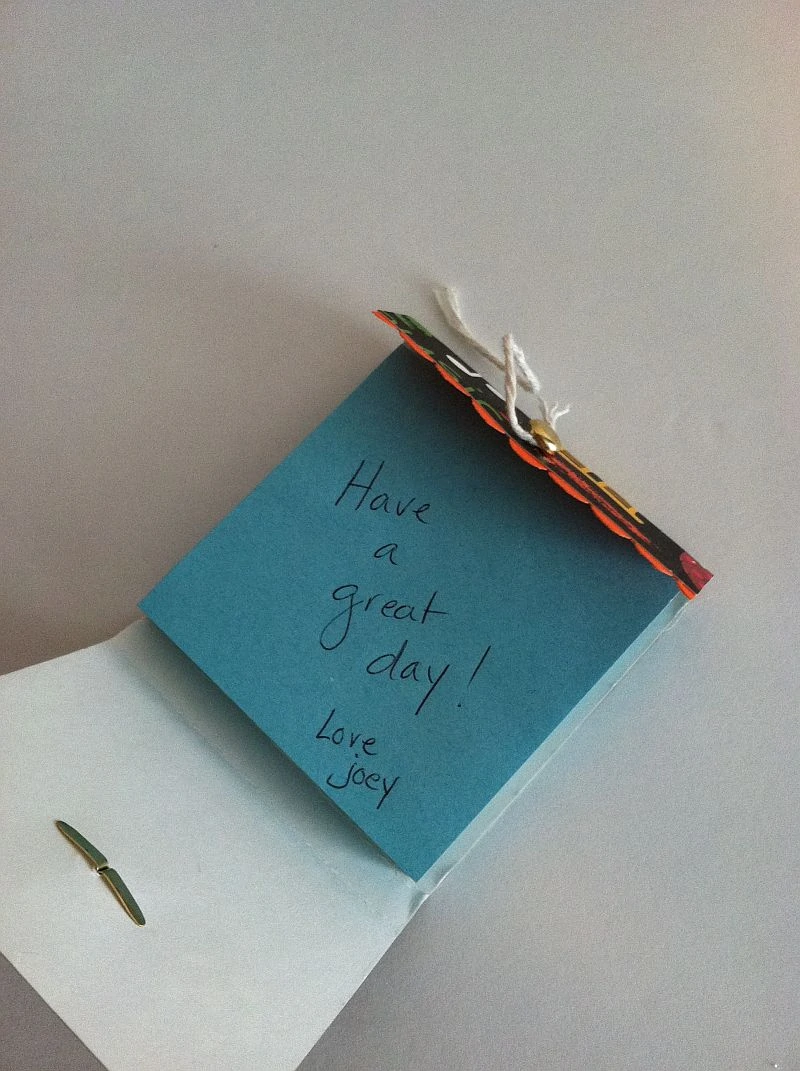 Inside of Post-It Note Holder
Candy Bags:
We made little candy bags for the office staff at our preschool last year.  These are so simple but very cute!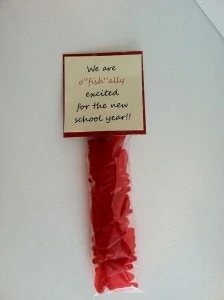 Here's how it worked:
Buy pretzel bags (available at a craft store, such as Michaels or Joanns)
Fill with Swedish fish (or use goldfish crackers)
Type up & print off off a little card on cardstock that said "We are o "fish"ally excited for the new year!"
Mat with a coordinating piece of cardstock paper & attach to the bag
This might also be a fun gift to make for the whole class, too, for the first week of school.
Printable Bookmark:
Modern Parents, Messy Kids has a free printable for a bookmark all about teaching. This is a great idea to give the teacher or even to make for the whole class.  Just print it out on cardstock, cut them out & you've got a super simple but meaningful little gift.
Keep Calm, Teach On:
One of my favorite sayings is "Keep Calm and Carry On!"  Now that this saying has become popular they have made it into so many different things:  "Keep calm and eat cupcakes, Keep calm and Pray on", and more.   So,  of course they have a teacher one: "Keep Calm and Teach On!"
The Hands-On Housewife created a FREE printable with the "Keep Calm, Teach On" saying for teachers.   There are so many possibilities of cute  crafty items you can make with this free printable.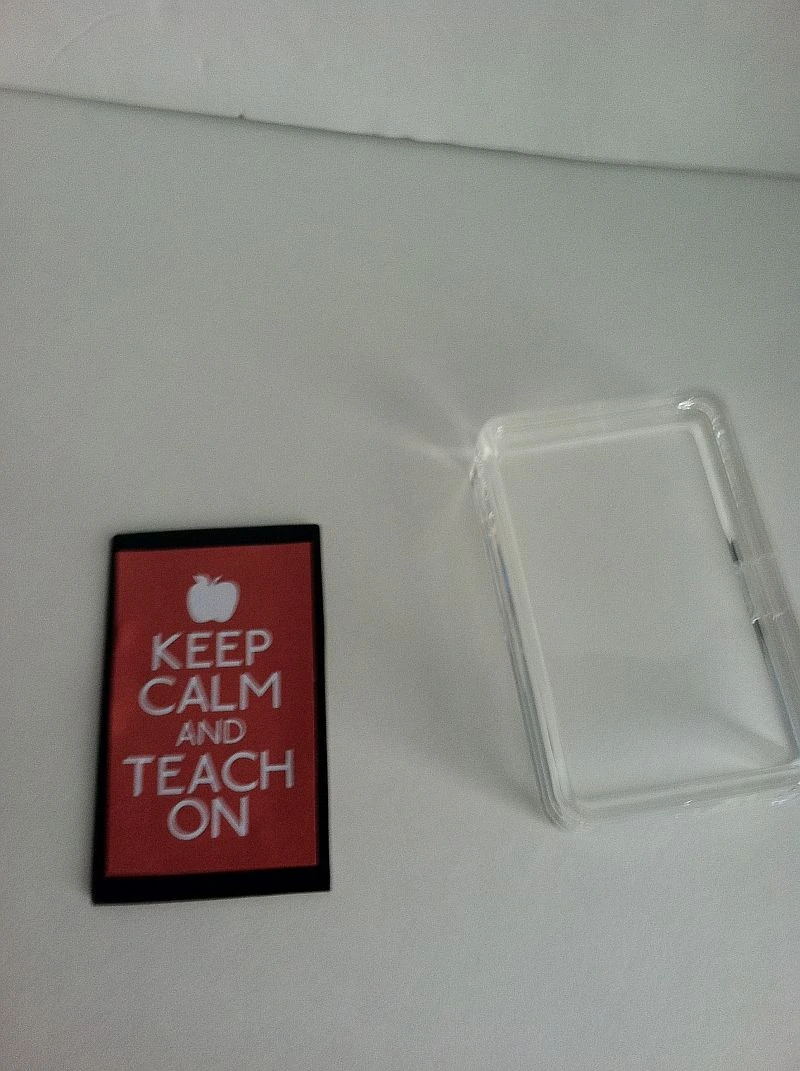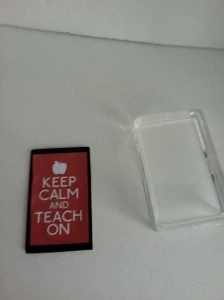 Print off the Keep Calm, Teach On printable & mat on black paper. Then place inside the blank paper weight.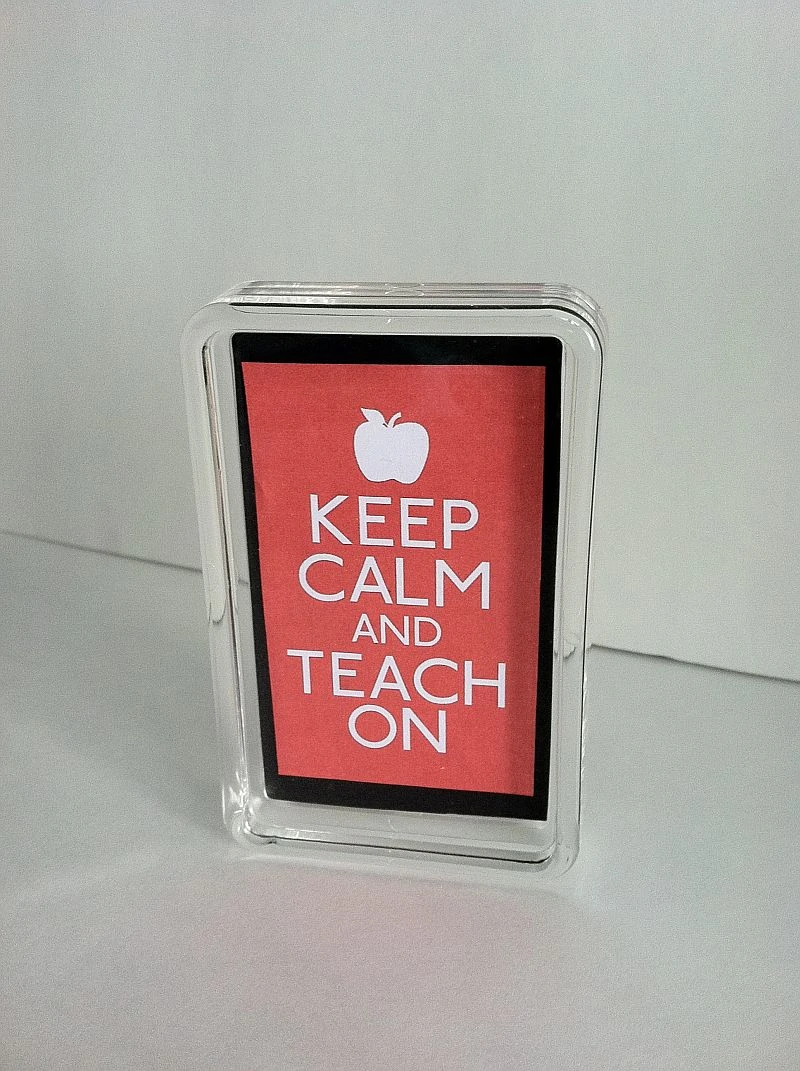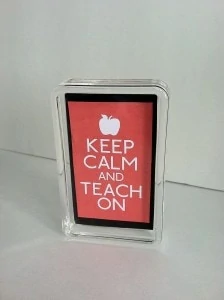 Finished Paperweight
Paperweight – We found an acrylic blank paper weight at Michaels to turn this into a fun paperweight for teachers.
Framed print – You could print off the saying & put it in a cute frame or even scrapbook the frame.
Set of Notecards
Notebook cover – Use modge podge to make  a pretty cover for a spiral notebook.
For more ideas, check out Thrifty & Thriving for another fun paper craft idea for back-to-school – Candy Pencils! Super cute!
What are your favorite teacher gifts to give?