Teacher Gift Ideas – Crayon Monogram & Crayon Wreath
This post may contain affiliate links and I may be compensated for this post. Please read our disclosure policy here.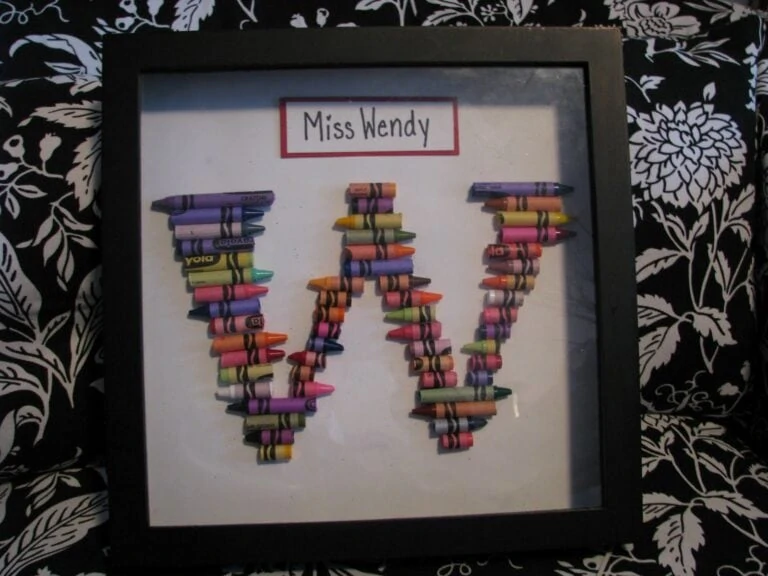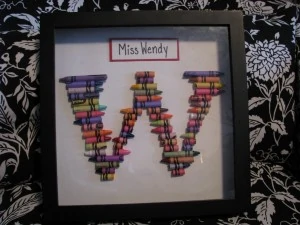 Teacher Gift Idea: Crayon Monogram
Before having my boys, I taught 5th and 6th grade.  So I get kind of giddy as soon as the school supply sales start!  I love new pencils, the smell of new crayons, notebooks, paper, glue and erasers!!!  I can't help but get new supplies each year, whether we need them or not.  I was sooo excited last year when my oldest got his first school supply list!!
I love this time of year when kids are going school shopping, and we are getting ready to gear up for a new year of activities, schedules and fall.  I think from all my years of being in school and teaching, September seems more like the New Year than January for me.
That being said, I will always have a special place in my heart for teachers.  They balance so much and I know first-hand how hard they work.  Most teachers spend the last month of their summer in class, prepping their rooms, planning lessons and getting ready to love on our kiddos!  I think most people would be shocked to know just how much teachers spend of their own money on school supplies and items for their kiddos.  I love every opportunity to bless my kid's teachers and show them how thankful we are for them and their dedication.
In honor of teachers and this time of year, we will be featuring a different teacher gift idea each day this week! I have put together some links I've found of great back-to-school gift ideas for you, as well as a few ideas I have done in the past to show you.  There are so many ideas for every budget and craft skill out there!
We'll start with a school supply item that you'll find very cheap right now with all the August back-to-school sales: crayons! (Check out Office Depot this week for 25 cent crayons).  There are so many fun uses for crayons with crafty projects & I've shared two of my favorite ideas.
Crayon Monogram:
Last year for Christmas I found a shadow box frame at Goodwill and we made a crayon monogram for Joey's preschool teacher. (see the picture at the top of the post)
Instructions:
I printed out the Letter "W" in the font we wanted to use.  I printed it on cardstock in watermark so it would be durable and using the watermark so you wouldn't be able to see it through the crayons.
My then-4 year old helped me lay out the crayons on the letter.
We used an exacto knife to  "trim" the crayons so it would make the proper shape.
Finally, we fitted it in the frame and made sure to adhere it with a strong glue since the crayons make it kind of heavy.

Crayon Wreath:
I love wreaths – I pretty much have one for every month.   This one would make a cute teacher gift or you could use this for your own house for the month of September as we get back into the swing of school.
Instructions:
I used a piece of foam core poster board (available at the dollar tree).
I cut the foam core into a large circle about 16" in diameter, then cut out a center circle to give it a doughnut shape.  (You want to make sure the circle is no more than 2.5 inches wide because you want the crayons to completely cover the wreath).
Cover the wreath with some scrapbook paper-just in case the crayons don't cover the wreath completely.
Glue the crayons on with hot glue
Add other "school" embellishments or some pretty fabric flowers or a ribbon.
Glue a hook on the back (a pop can tab works great for this) and it's ready to hang!
So, what are your favorite crafty ideas using crayons?