Tarte Build Your Own Kit Promotion – 7 Full Size Items for $65 or $9.29 An Item ($200+ Value)!
This post may contain affiliate links and I may be compensated for this post. Please read our disclosure policy here.

Tarte Build Your Own Kit Promotion – 7 Full Size Items for $65 or $9.29 An Item ($200+ Value)!
Tarte Cosmetics is having their popular Tarte Build Your Own Kit sale right now, while supplies last! It only happens a few times a year – and is such a great value. You get to choose 7 full sized items for $65 and free shipping. This works out to around $9.29 per items (and is a $200+ retail value). This is one of the best deals you will find for Tarte Cosmetics, and just in time for Christmas.
This includes the popular Tarte Shape Tape foundation, sugar rush line, Tarte Mascaras and more. We have provided some recommendations if you are shopping for someone else, and not sure which items to add (in terms of some of their more popular items).  Some of the more popular selections may sell out, so I would shop early for this sale if you are interested, for best selection of products.
A couple of notes about this Tarte sale: 
All sales are final (you cannot return any of the items)
Shipping is FREE
This is a very popular sale, so shipping times could take longer than usual
Find all the details on the sale here.
Here is how this Tarte Cosmetics Sale works:
(Note – our recommendations are the one that were available at time of this posting. Selections may sell out, so shop soon for best selection!)
Head to the Tarte Create Your Own Kit page here.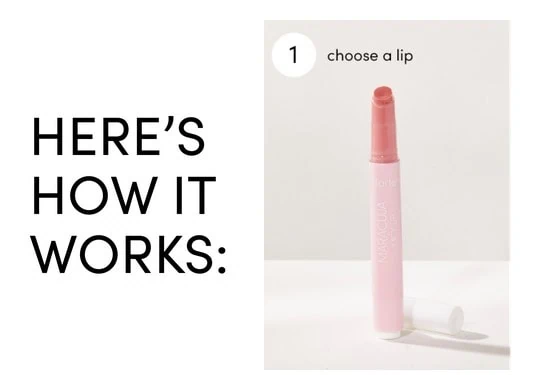 First choose a Tarte Lipgloss. Again, it includes 4 of their best sellers!

The Maracuja line is popular, and they have a Maracuja juicy lip option in this section. The matte lip paint is a true matte (a bit dry for me, but perfect with a little gloss over it – and great for the matte fans). Personally, I would choose the H20 gloss in my favorite color.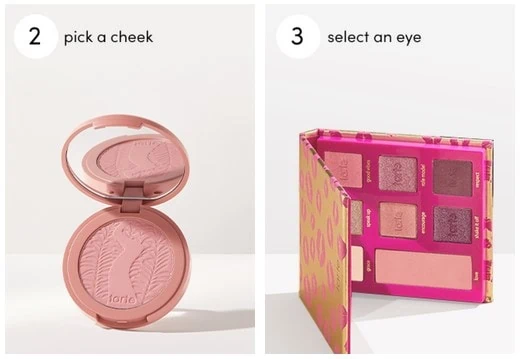 Make your Face Selection Next, including Tarte Concealer, blush, primer and more.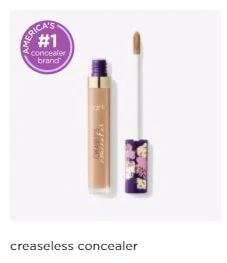 I like the highlighting powder in this section, but the Tarte Creaseless Concealer is a popular option in this section. They do also have the Amazonian Clay Blush, currently too.
Next is the eye makeup selection. You can choose from Tarte eyeshadow pallets, eyeliners, brow kits and more.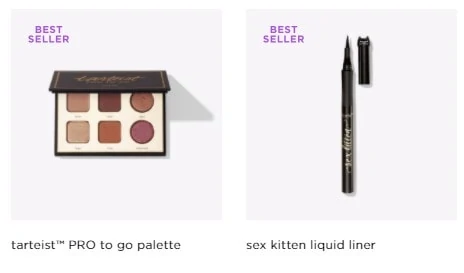 My daughter loves the lashes in this section, but the eyeshadow pallets are probably some of the most popular here, and the Maneater liners.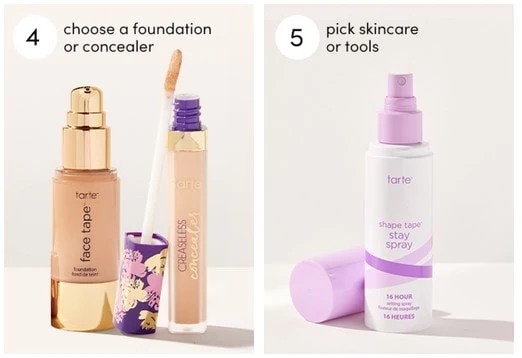 Choose a Foundation – First select your foundation (and YES, Tarte Shape Tape Foundation is an option).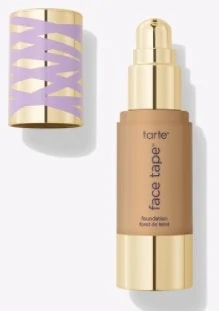 I would say that their most popular foundation is the Tarte Shape Tape foundation, but other selections include a couple of tinted moisturizer options, or the Tarte Amazonian clay foundation is a popular option too.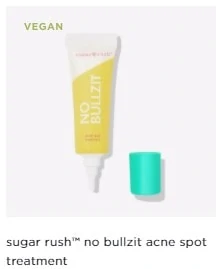 And then select a skin care or brush choice – find face scrubs, make up brushes, lotions and more in this section.
The Shape Tape Body make-up is included in this section. If you are shopping for a teen, I might grab the spot acne treatment, or the makeup remover and cleanser is a good choice. If you need any brushes for products you purchased (like a shadow pallet) then grabbing a make-up brush here would be a perfect fit.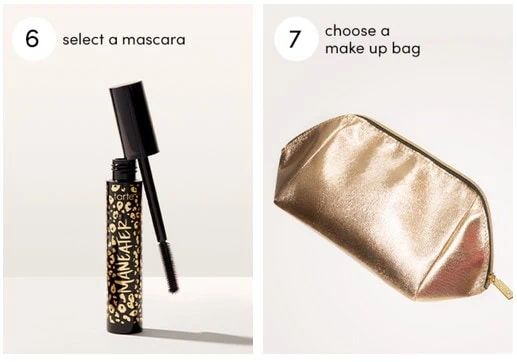 Choose a Tarte Mascara first, it includes the Allure pick of the year, as well as three of their best sellers.
The Tarte Maneater Mascara is one of their most popular options. The Lights Camera Action is also a popular mascara, and they have a set with that mascara that includes the lash curler (so you would end up with 8 items!).
And finally, pick your make-up bag to put it all in!
You can scroll through each section, and once you choose your item, you will select the shade you want for each item, if that is required. So it really is a custom make-up bag fit for your product preferences as well as your color preferences.
Find more online deals available right now here too.