Soup In A Jar Recipes + Tips On How To Assemble, Store & Decorate Them!
Soup in a Jar Recipes are great recipes to use for many purposes. I love them because you can keep them in the pantry to have on hand for those days that you need an easy meal. They also make great gift items for not only gift giving occasions, but also for when someone may be ill, or recently had a baby, or any other reason that they could use help with a meal.
If you took advantage of the free mason jars deal we shared recently (no longer available), this could be a great way to use those too!
Here are some tips on how to make the best of these Soup In A Jar Recipes:
Tips for making Soup in a Jar:
In order to get that pretty layered look, you will need to know what size jar to use. Star with some pre-made recipes (we have some below) and then you can get a feel for how the ingredients work n a jar, and adapt your family recipes later.
Wide mouth canning jars will often be the easiest to work with, and most affordable (and seal tight) but there are other air tight options too.
Use a canning funnel to get a nice layered look (this will help you to get the items to settle on each layer easier).
Gently pound the jar on the counter to help settle the layers after each layer.
It works best if you add the more powdery or smaller ingredients to the bottom generally, and work your way up to the top with the larger ingredients.
Tips for Storing Soup in a Jar Recipes: 
Items with a longer shelf life work best. Things like beans and noodles, seasonings and freeze dried foods.
You can figure out a shelf life for you soup, but knowing the expiration dates of the items you put in the jar. The item with the shortest expiration date should determine your shelf life (for example, if you have added noodles with a shelf life of 6 months, and the other ingredients have a shelf life of 9 months, 6 months is the shelf life for that recipe).
Be sure to use air tight containers. If you use food sealer jars to remove the air you will get the best shelf life out of that recipe.
Store in a cool place
Tips for Displaying your Soup Recipes (especially if they are gifts):
You can cut a circle about a inch larger in circumference then your lid, and use that as a decorative cover (you can attach it with a rubber band or twine).
Make a label to note what is in the jar, the shelf life and any instructions on how to make it. You can use a sticker label and attach directly to jar, or use a card stock label and attach with string
If you are using canning jars, you can add stickers to the inside metal piece before screwing on the final metal outer ring for the top.
You can tie on a utensil like a small scoop) to get the ingredients out of the jar when its opened.
Here are a couple of our favorite Soup in a Jar Recipes to start with: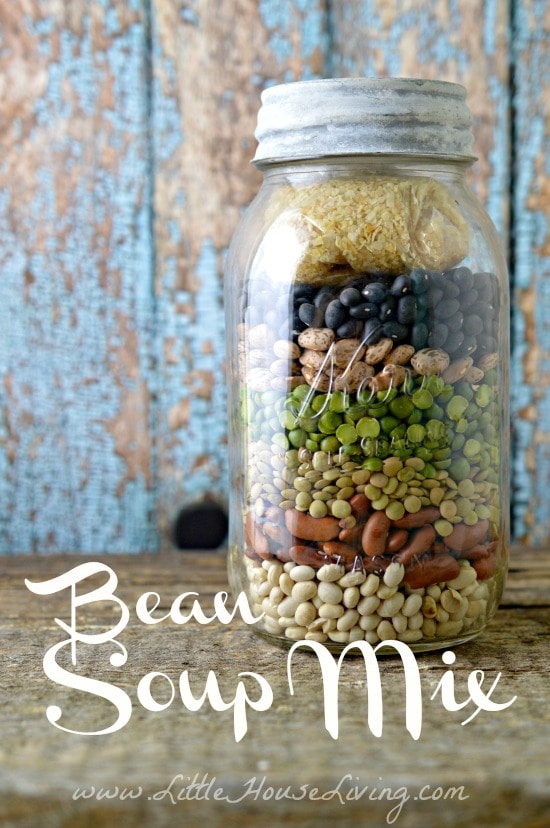 Frugal Dried Bean Soup from Little House Living
This is such a great one to keep stocked in your pantry, and makes a wonderful gift for other, especially in the Fall and Winter. Beans are not only filling, but a good source of protein, so wonderful to keep on your shelves. It only needs three wet ingredients (can of tomatoes, water and stock) so that is a nice plus. It does require that you soak the beans, so it will take more time to prepare, but it is a simple and tasty soup recipe.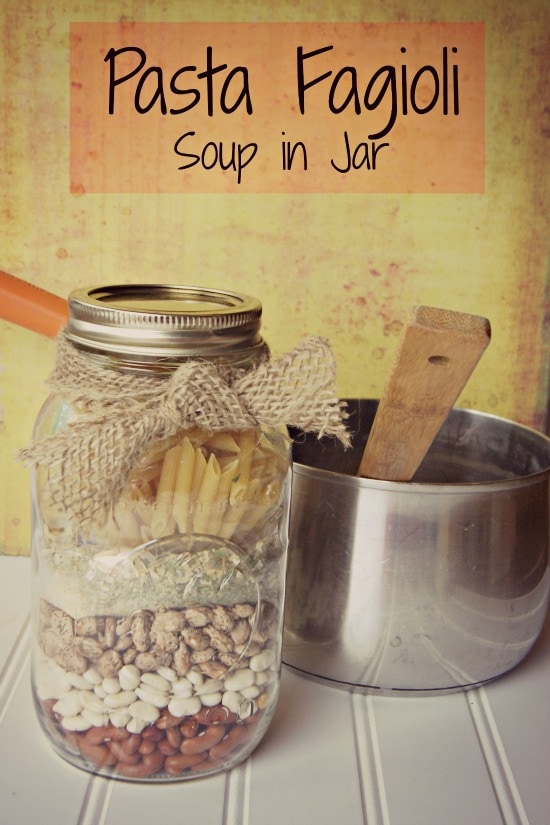 Pasta Fagioli Soup in a Jar from Little House Living
Olive Garden has made Pasta Fagioli soup famous, and many love it, making this soup in a jar recipe a great one to share as a gift, or meal for someone. This one will need a few veggie ingredients to be added, but it is sure to be popular and perfect for gifting.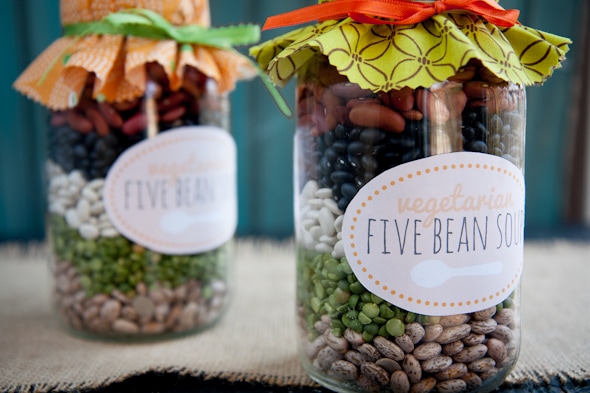 Vegetarian Five Bean Soup from Back To Her Roots
This recipe is the perfect one to use in gifting, as she provides you the lables (both the soup type and the cooking instructions) as a printable – so even making the jar pretty will be easy!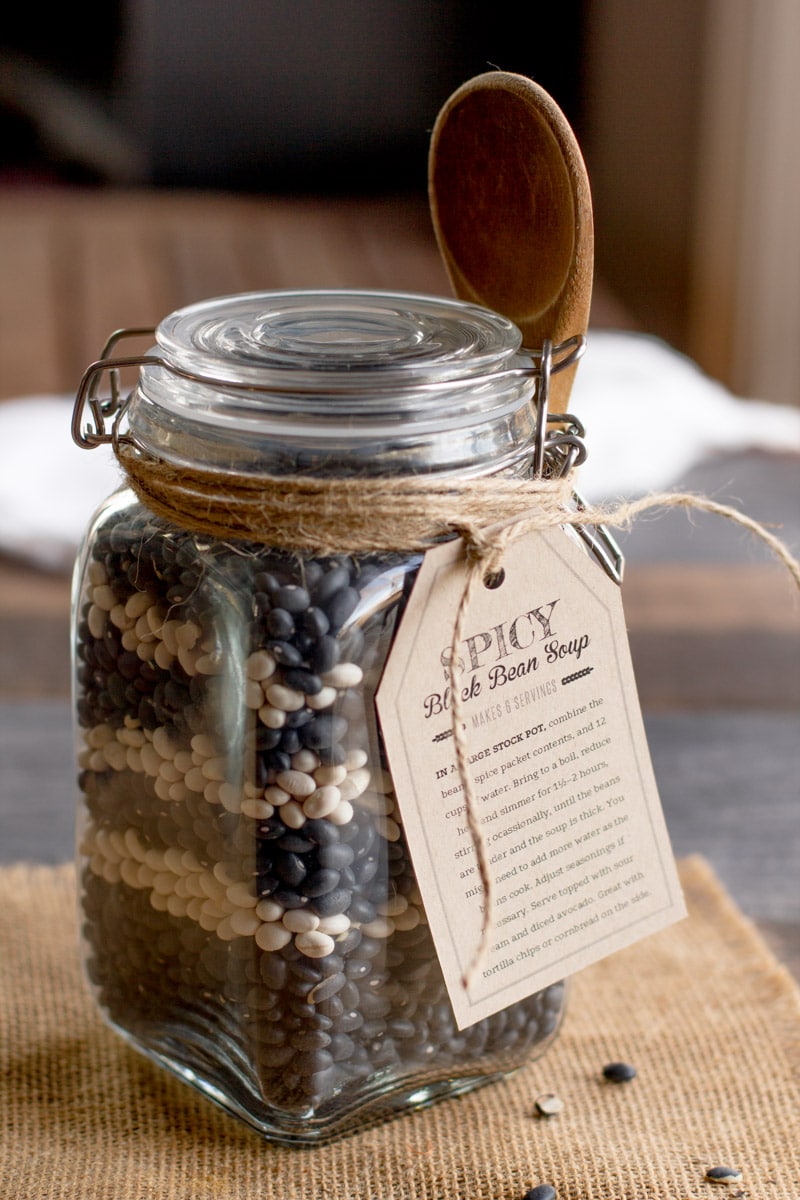 Spicy Black Bean Soup in a jar from Back To Her Roots
Here is another bean soup, but the Spicy Black Bean element adds a new twist to more common bean soups you will find in a jar. A couple of things I love about this one, are the cute little wooden spoon she recommends adding to it. It really makes it look like you bought it from a specialty store. Also, by adding the fresh cilantro or herbs in the final product, it gives it a really fresh taste, even though the majority of ingredients came from a jar.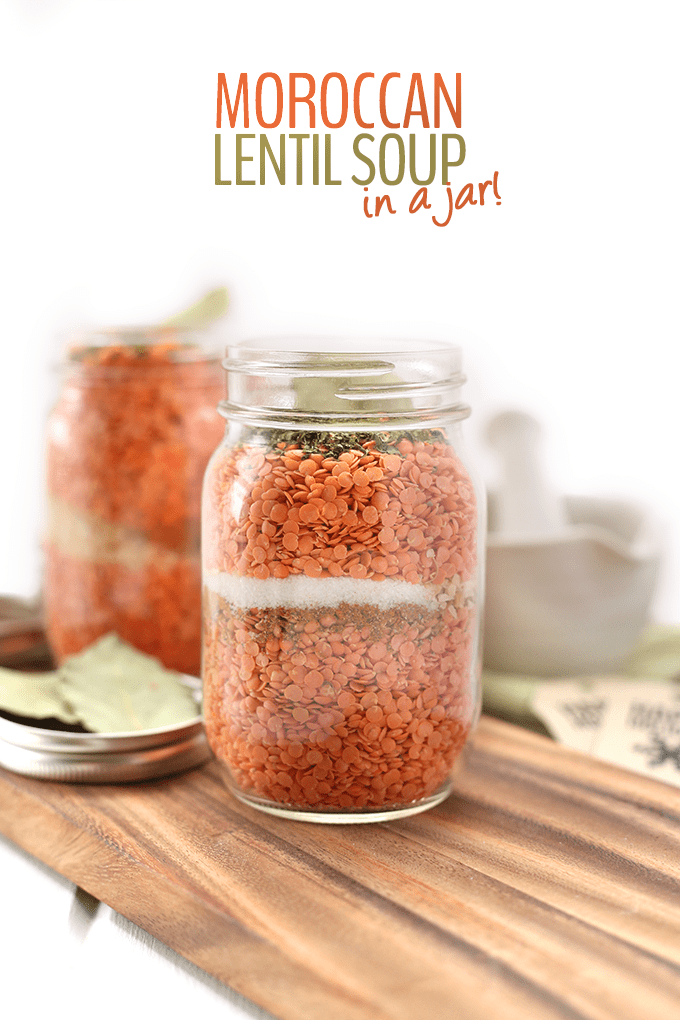 Morrocan Lentil Soup in a Jar Recipe from The Healthy Maven
This soup packages up beautifully, and all you need to complete it is water! It makes a beautiful gift, and is perfect for those that maybe dont like to do too much cooking, but like to eat well – or keep it in your own pantry for those nights that you want a delicious meal without a lot of hard work!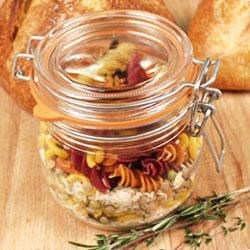 Photo Credit: Allrecipes
Love Soup Mix in a Jar – Recipe from Allrecipes
This one is more like a soup starter recipe (as you will need to brown up some meat and other ingredients to add), but is a great gift for someone interested in making homemade soups, but could use a starter pack to help them down that path.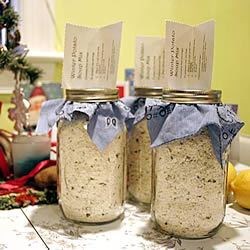 Photo Credit: Allrecipes
Potato Soup Mix in a Jar – Recipe from Allrecipes
This one truly is a soup in a jar, as the only extra ingredient neccessary to put together this hearty soup is water!
Other Recipes you might like too:
Homemade Gift Idea: Mason Jar Pies
S'mores Cheesecake in a Jar Recipe + How-To Video
Taco Salad in a Jar Recipe – Healthy, Low Calorie Grab & Go Meals
Chinese Chicken Salad Recipe: Easy & in a Jar Recipe!