Simply Fun Games Stock Up Sale – 3 Days Only – July 19th – 21st!
This post may contain affiliate links and I may be compensated for this post. Please read our disclosure policy here.

Simply Fun Games Stock Up Sale – July 19th – 21st
Simply Fun is an online retailer offering over 100 educational board games for ages 3 – 103. They are having a big Stock Up Sale from today, Tuesday July 19th – Thursday July 21, 2016!  This sale is taking place online & you can head on over there right now to check it out!  Playing educational games together as a family over the summer is a great way to help prevent that "summer slide" with academics – it will keep your kids engaged & learning throughout the summertime.
Prices are up to 60% off with prices on games starting as low as $5! Plus, if you spend $50 or more, you can buy the Pavement Pals game for just $1.  Head on over to check out the sale!
Simply Fun's mission is to build smarter kids & stronger families through the power of play. What I really like is all the information you are provided about each of the games & products. They provide a description of the game, which includes how long it typically takes to play the game. Plus, they also provide some great information for teachers or homeschool parents, sharing which core curriculum it addresses, as well as the skills that will be worked on. I also like the fact that they have information about how the game will work for special needs students, so parents & educators can determine if it's the best option for their child.
The best part – many of their games have a video tutorial, to show you how the game is played. This is awesome as you can see if this is something your child will be entertained by or if it looks too complicated/simple for their age. What a great idea to showcase it through video to see the game in action!
They also have a line of games geared towards play for kids with Autism. You can find more information on that here.
Here are a few of the games on sale thru Thursday July 21st:
Drive – $9 (reg $22 – save $13)
Step on the gas and make the right maneuvers to capture the ultimate vintage automobile collection. Draw and discard cards to make valuable sets of cars. But keep an eye on the road because if someone plays a larger set of the same cars, your cars are discarded. The player with the most points is the winner.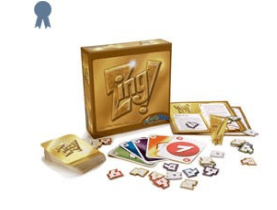 Zing – $8 (reg $19 – save $11)  –
Outwit your opponents in this wily trick-taking game! Take a trick that another player wanted – Zing! Make someone take a trick they don't need? Zing! Accurately predict how many tokens to take and you'll be the greatest Zinger!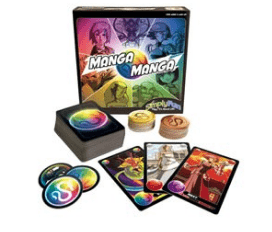 Manga Manga – $8 (reg $17 – save $9)
Brave heroes have been called together in a fierce competition of speed and lightning-fast reflexes. In this action-packed game featuring Japanese Anime art, be the first to get rid of your cards to win each round. Gain strength, speed and special abilities as you go!
Check the sale out right away as their best deals & most popular games may  sell out if you wait till the final hours of the sale.
Make sure to follow Simply Fun on their Facebook page, Twitter & Pinterest, too, for more updates on their sale, discounts & more.
Let us know what games are your favorite if you have tried out any of these games before.