Simple DIY Cake Stands You Can Make Yourself
This post may contain affiliate links and I may be compensated for this post. Please read our disclosure policy here.

Simple DIY Cake Stands You Can Make Yourself
Need a cake stand for entertaining, or just to put cake on for yourself? No need to spend lots of money on one. You can make them so quick, and usually with just a few supplies. Your imagination is the limit in how you design it, but here are a few DIY Cake Stand ideas to inspire you to make your own cake stand. I have thrown a number of parties, baby showers and even a few weddings over the years, and this is one of my favorite tricks to use, to make a beautiful diy cake stand on a budget to display food and decor.
A few that I made myself, have been borrowed by friends and family many times, and nobody every suspects that I made these for just a few dollars each.
The trick to a great DIY cake stand is to find a great base and then a top plate. Look for shapes, as you can always paint them. One of the things that I love most, is you can make these in minutes (use a plate and base that do not need to be painted), or you can make them for just a few dollars (get your items at the Dollar Store or thrift store). There are so many options, it all depends on what your goals are.
Here are 5 ideas that I love, to inspire you to go out and find items to make your own and then I provide some more tips below in terms of what you should look for when you are on the hunt for supplies to make your own.
Plus, check out lots more year round DIY Dollar Tree Craft Ideas too!
White Cake Stand – Made From Dollar Store Pizza Pan & Candle Stick
This one can be as simple as painting the pizza pan, and candle stick, and gluing them together. I like to embellish mine with these half wooden beads on Amazon, to take them to that next level. I used the
If you are using the pizza pan from the dollar store you will want to paint it white first. I have a couple of preferred ways to do this. The first is to use spray paint as this is the simplest method. I like to look for chalk spray paint as that texture works nice for these projects. The second is to paint on an acrylic paint with a paint brush (I find it usually takes 3 coats when doing it this way).
I used this 12″ pizza pan at the Dollar store, for $1.25, but they also sell 9″ versions for $2.75 on Amazon here or this set of three 12″ pizza pans here, as a couple more options.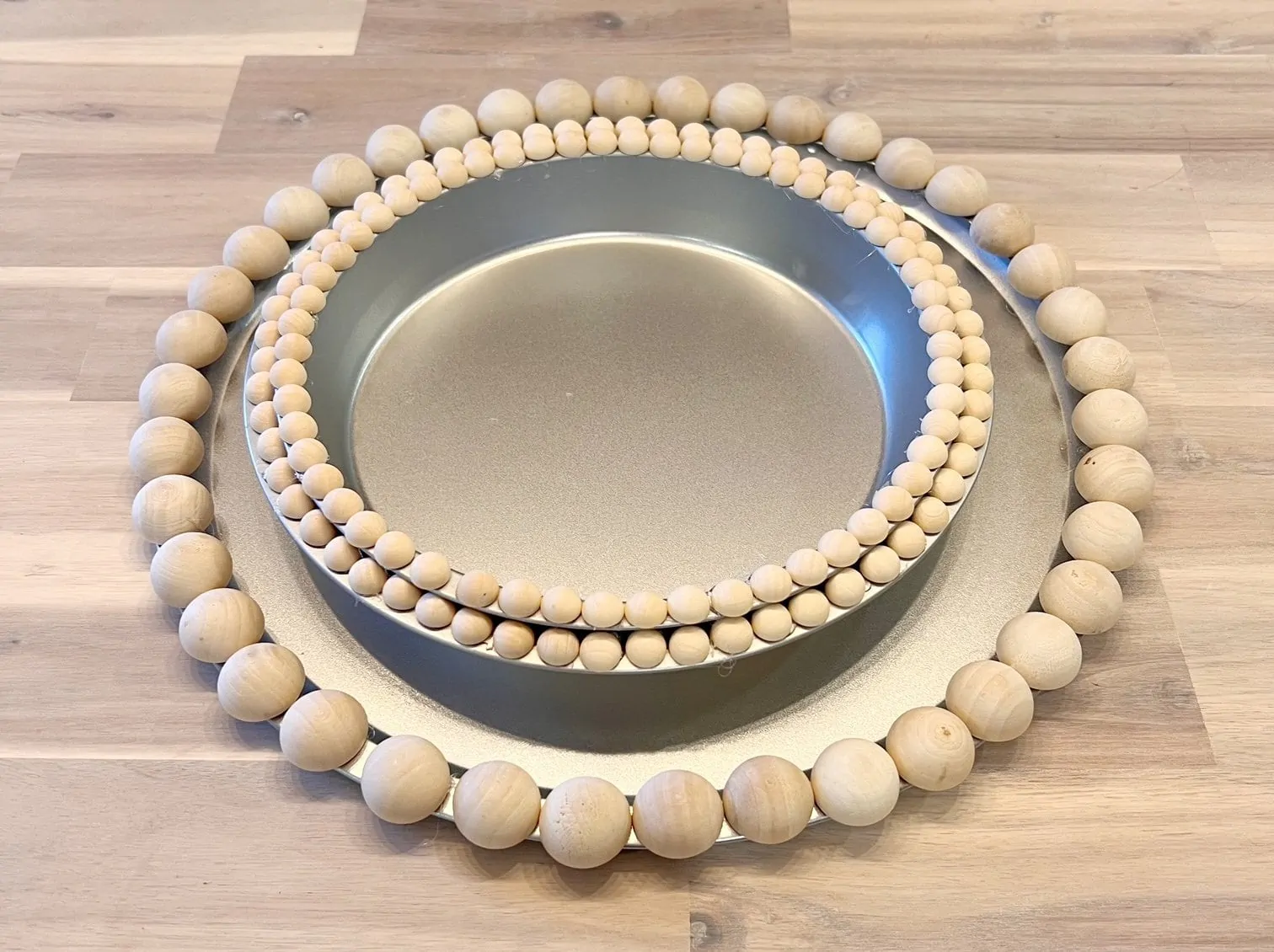 I also used these wood half beads I got off of Amazon here, to embellish my pizza pan from the dollar store. I bought the 12mm size for the small pans (cake pan and pie pan) and the 25 mm size for the pizza pan.
Glue these on first (I used a dot of e6000 glue and a dot of hot glue) and let them dry overnight. Then paint the pan your desired color. You can finish with a clear coat to protect it and then let it cure for at least 48 hours before using.
See below how we used this same idea to make a three tiered cupcake stand too.
Since you will be painting this one, you will not want to put food directly on it. I like to use this idea for cupcakes where a nice sturdy wrapper will sit in between the cupcake and the plate for example. You could also use a paper doily or wax paper to lay on top to act as a barrier between the food and the painted surface. I like to grab these cardboard cake rounds that are super affordable and lay those down before putting food on there. Or you could keep the cake or pie on a plate, and then just display it on your cake stand if you painted it. This works especially great for pies, since you generally keep them in the pie pan anyway.
If you find a tray already painted white, and white candle sticks then you simply need to attach them with glue.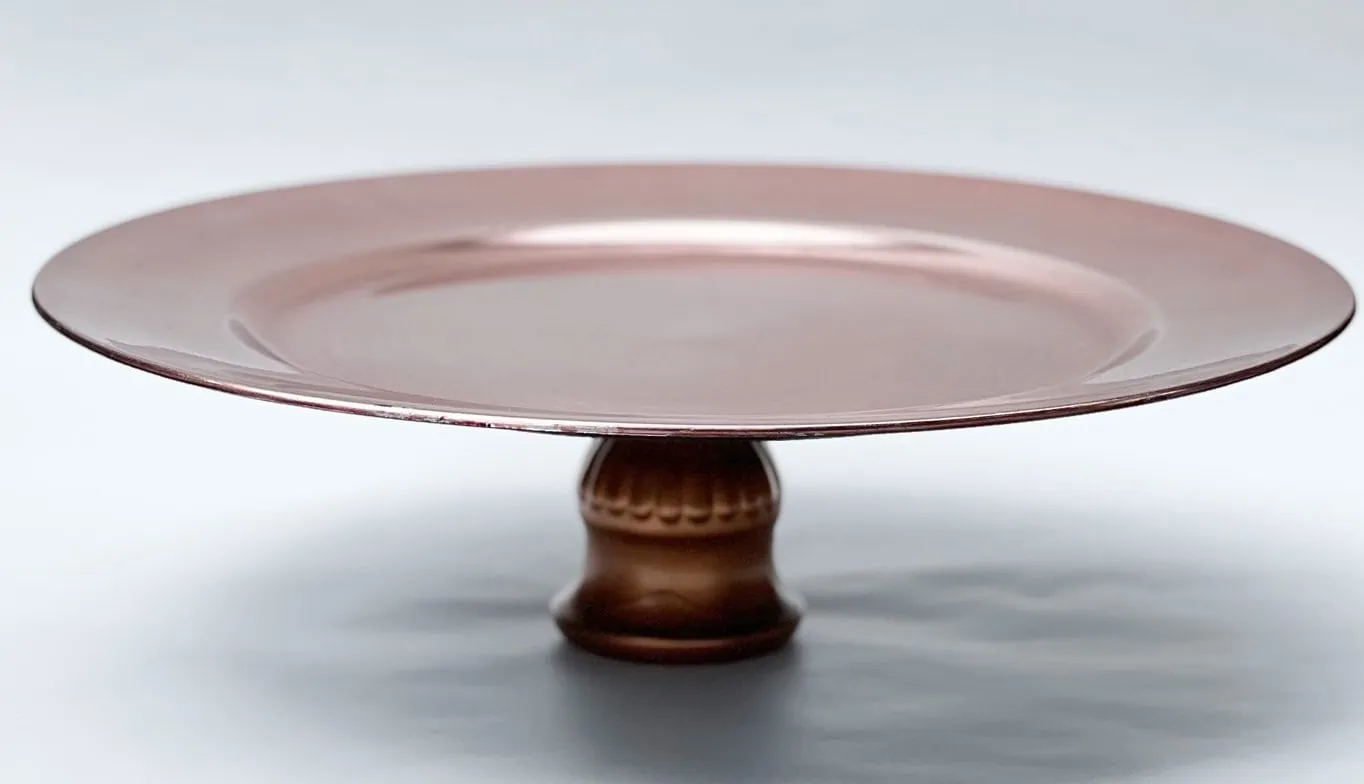 Here is an idea for a cake stand you can make from the Dollar store that you do not have to paint. This one is so simple and so affordable! Grab a charger (I found this one in rose gold, but they had various colors) and I used an small candle holder (just flipped it upside down). I liked the glass with the rose gold, but I painting it rose gold too – mostly because I had rose gold paint on hand and thought that it was a nicer look. You could make this one for as little as $2.70 and the cost of glue (that is what it cost me before painting the base)!
3 Tier Cake Stand Made From Thrift Store Glass Plates & Candle Stands
3 Tiered Glass Cupcake Stand
I made this 3 tiered glass cake stand years ago, and have gotten tons of use out of it. I went to my local thrift store and found a set of 3 glass candle sticks, as well as three glass plates of different sizes, and simply attach this one with hot glue (as I like to store it away not assembled). It has been used at more parties than I can count, and was under $10 to make. I love this one, as it goes with just about any decor, making it really versatile.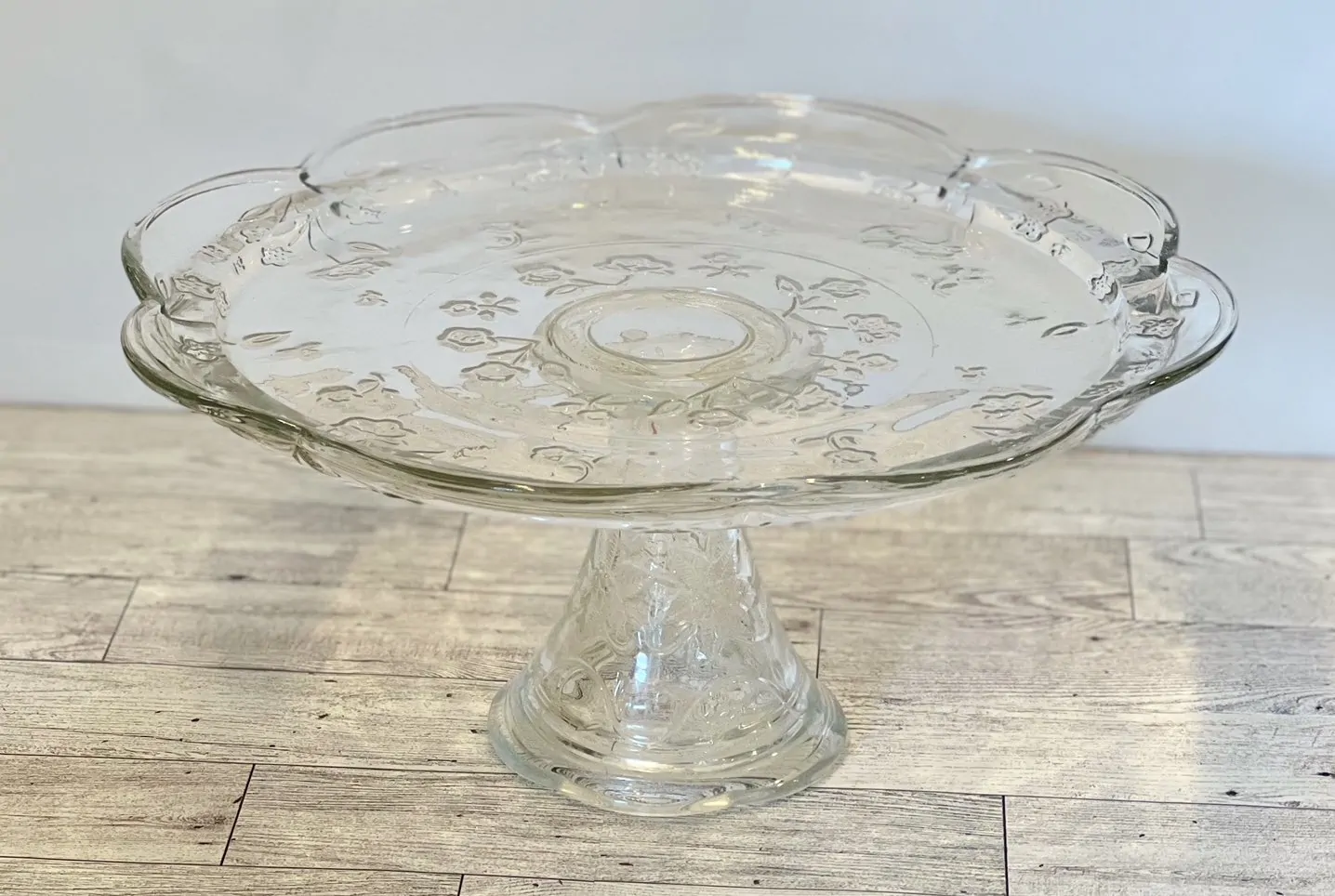 You could use this same idea to make a simple DIY cake stand (just use one of the candle sticks for the base, and one plate for the top) instead too.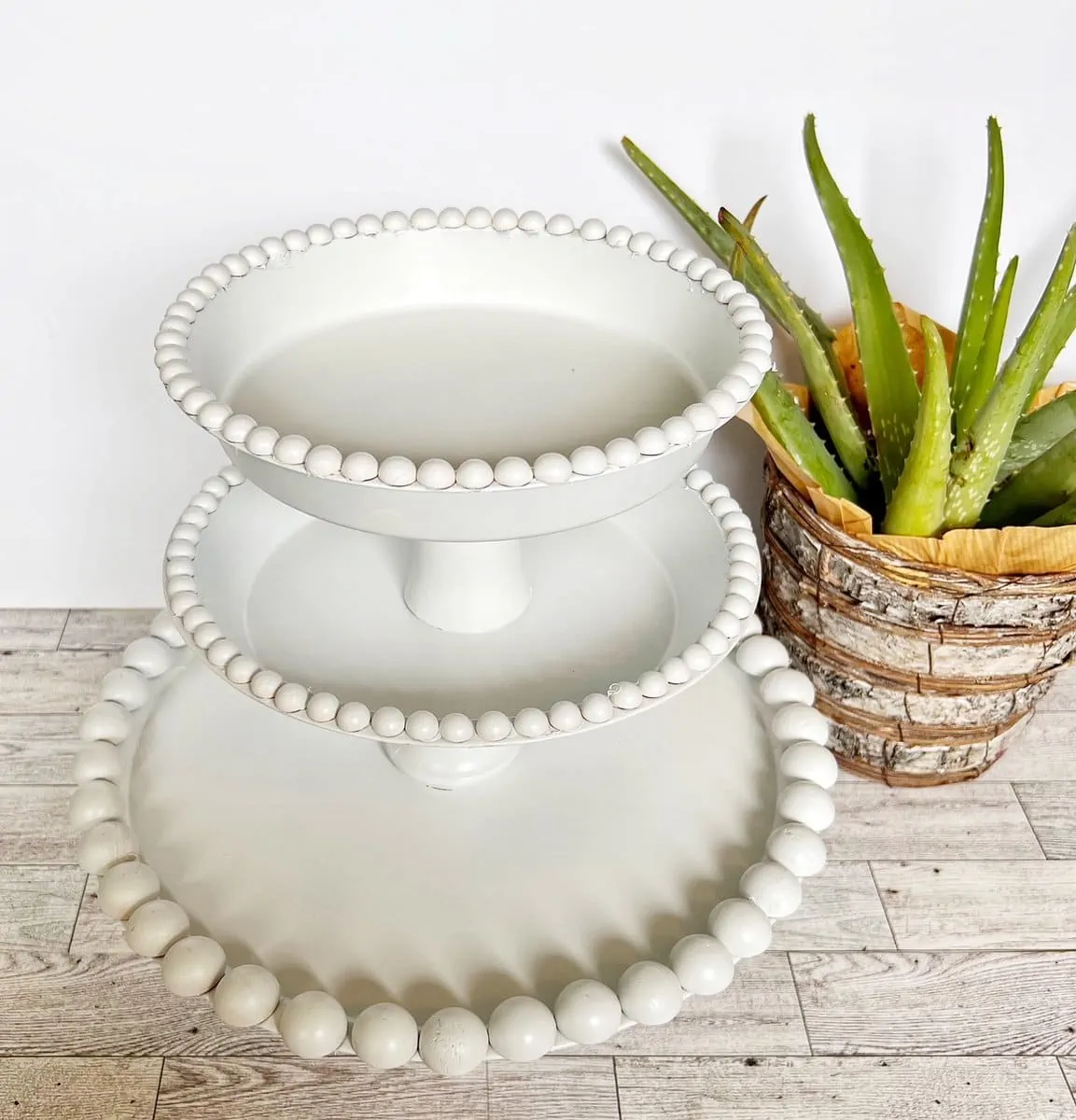 This DIY Tiered Cake Stand is made from Dollar Tree pizza pan, cake pan and pie pan is
This is another really affordable idea for a three tier stand. Grab one pizza pan, on cake pan and one pie pan at the dollar store as well as 2 candle sticks. Paint them all the same color, and assemble!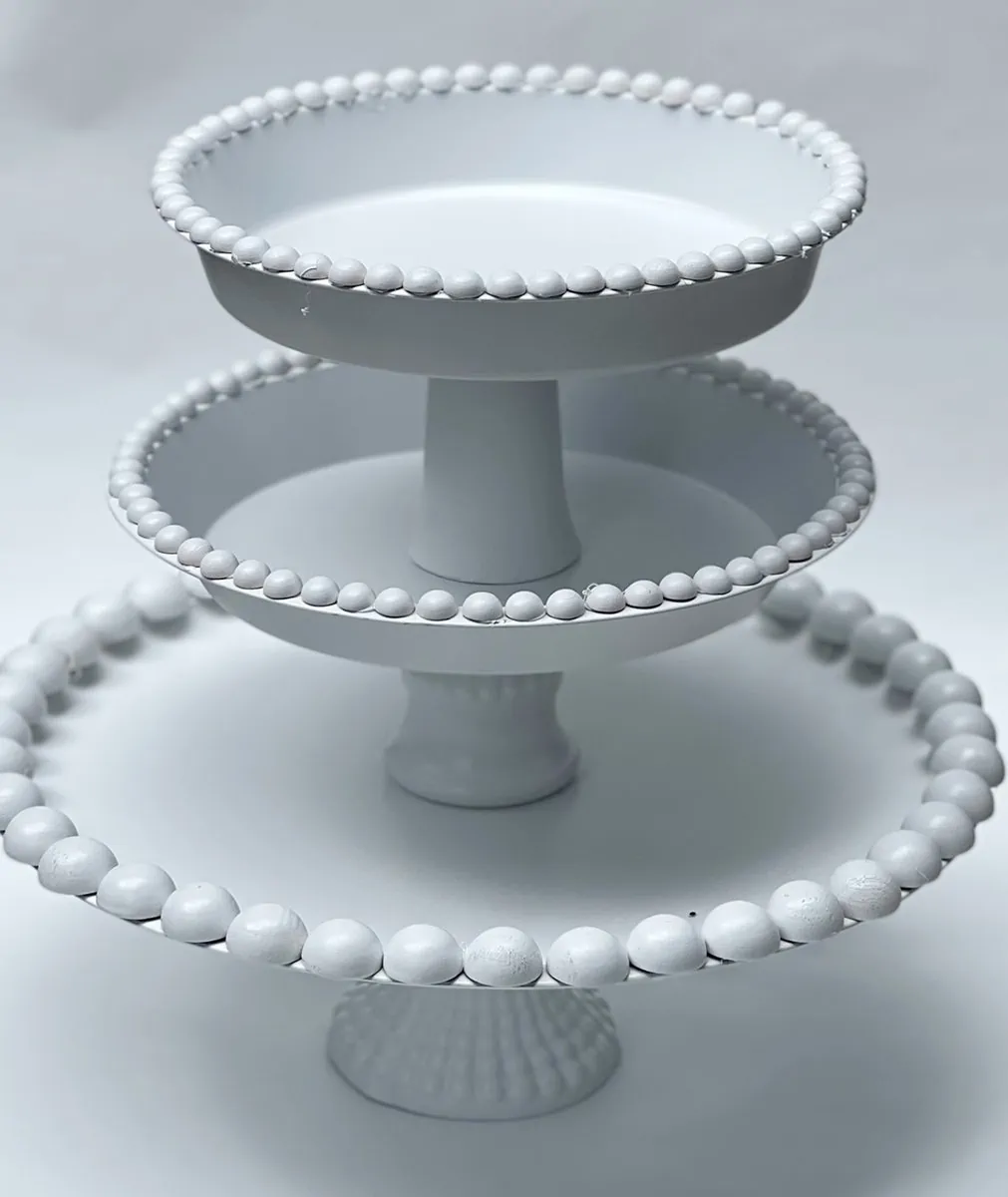 Since this one is painted, it is best suited to be used for non food items.
Wood Cake Stand Ideas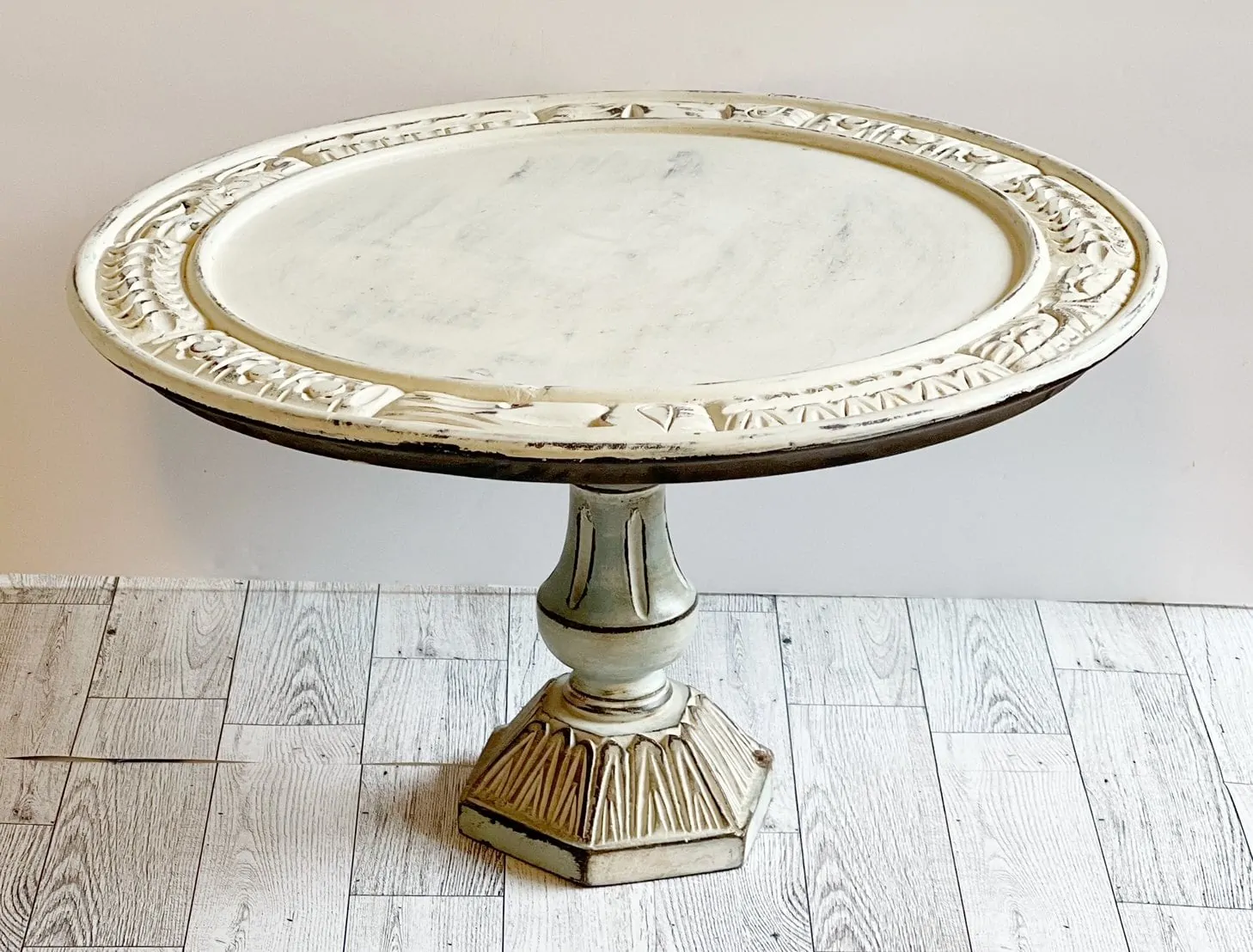 I have these wood cake stands that we cut from downed trees on a family members property. They are popular these days though, so you can easily find them in craft stores too. These make fun rustic cake stands. We did a wedding with multiple sizes of these one year, and added cupcakes to the top, and they were a huge hit. Nobody had any idea how easy they were to make!
Colorful Cake Stand
I collect Talavera dishes from Mexico, so I have lots of these on hand. I had a couple that were knock off plates, so I turned those into colorful cake stands. You could use anything you like the colors of or design of.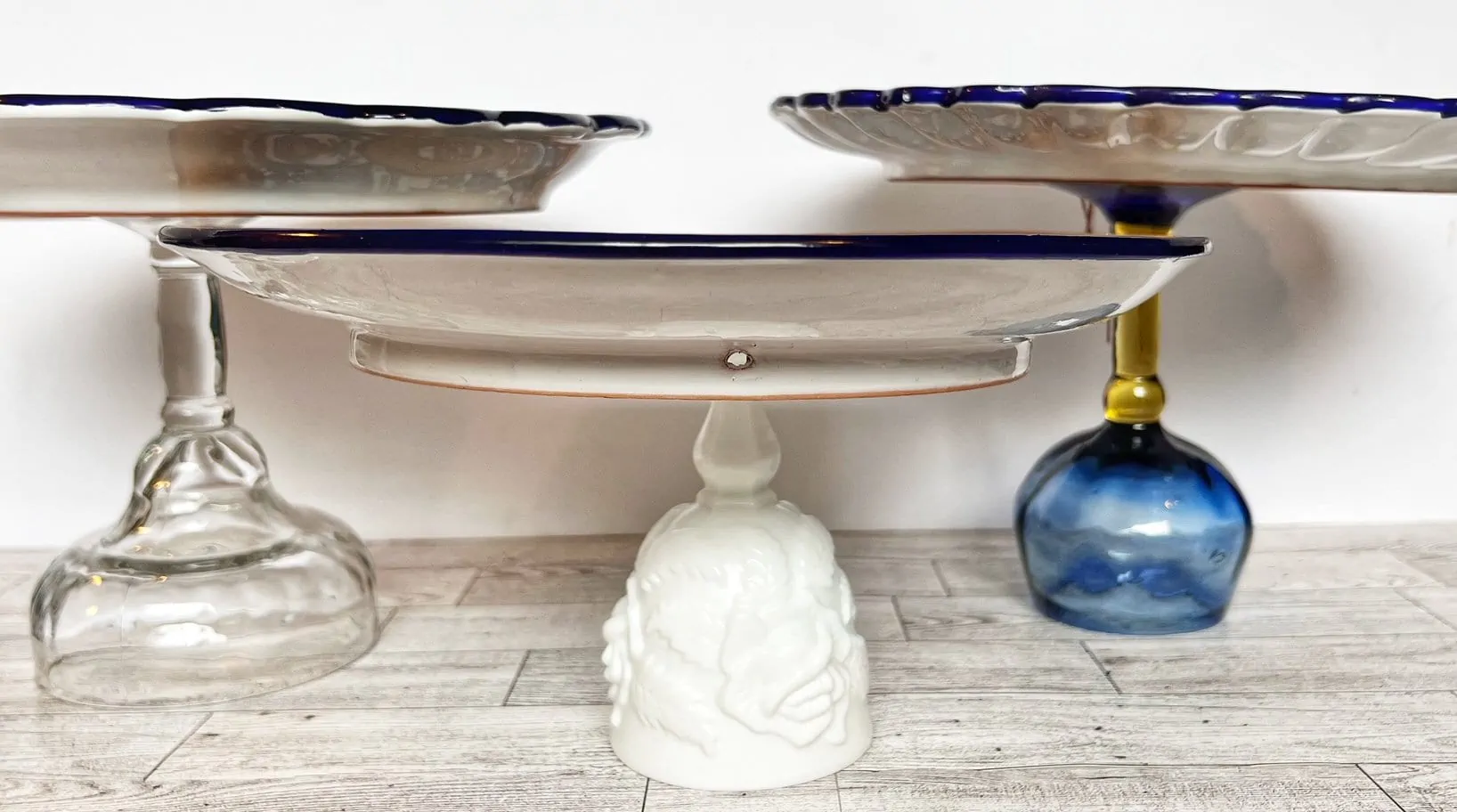 For these stands I used margarita glasses and wine glasses that I turned upside down, and just added one of the colorful plates to the top. Secure with one of the glue options we list below, and you are ready to serve!
Ideas for the top part of your stand
Clear plates
Beautifully painted ceramic plates
Tin or glass pie plates
Chargers
Wood rounds
Ideas for the pillar in the stand:
Candle Sticks
Vases
Small Bowls that you can turn upside down
Ice cream bowls that may have a stem on them already
Margarita or Wine glasses turned upside down
Glues to Use to Attach Them:
Tips on where to find items for the best deal:
Dollar Store
Thrift Stores
Garage Sales
Ikea
Craft Stores (like Michaels and Hobby Lobby)
Repurpose Items You Already Have Around Your House