Simple & Delicious Snickers Apple Salad Recipe!
This post may contain affiliate links and I may be compensated for this post. Please read our disclosure policy here.

Simple & Delicious Snickers Apple Salad Recipe!
This Snickers Apple Salad recipe is so simple to make, and can be put together in just a few minutes. It can be served as a side dish like you would a fruit salad, but more often it is used as a dessert dish. You can put the entire
This recipe is perfect to make year round, but works especially well for fall or Thanksgiving meals when Granny Smith apples are often at their peak, in terms of being in season.
You can really use any apple, but the Granny Smith or other tarter ones hold up well against the other sweet ingredients in this recipe. A crispier apple is also going to hold up better with the whip cream, vs softer kinds.
You can also serve it in individual sized mason jars, to make it feel a little more special. This is a great option if you are having company over, and you want them to feel like it is a special dessert you have served up.
Ingredients To Make This Apple Snickers Salad Recipe –
There are only a few ingredients needed to make this Apple Snickers Salad recipe, making it not only easy but generally an affordable recipe to put together too.
1 3.4 oz box of Instant Vanilla pudding – make sure it is the instant version

1/2 c milk

8 oz whipped cream (you can use store bought, or make your own homemade whip cream recipe)

4 granny smith apples, cored and diced into bite sized pieces

5 to 10 fun sized snickers, cut into bite sized pieces (depending on how sweet you want your apple salad)
How To Make This Snickers Apple Salad Recipe –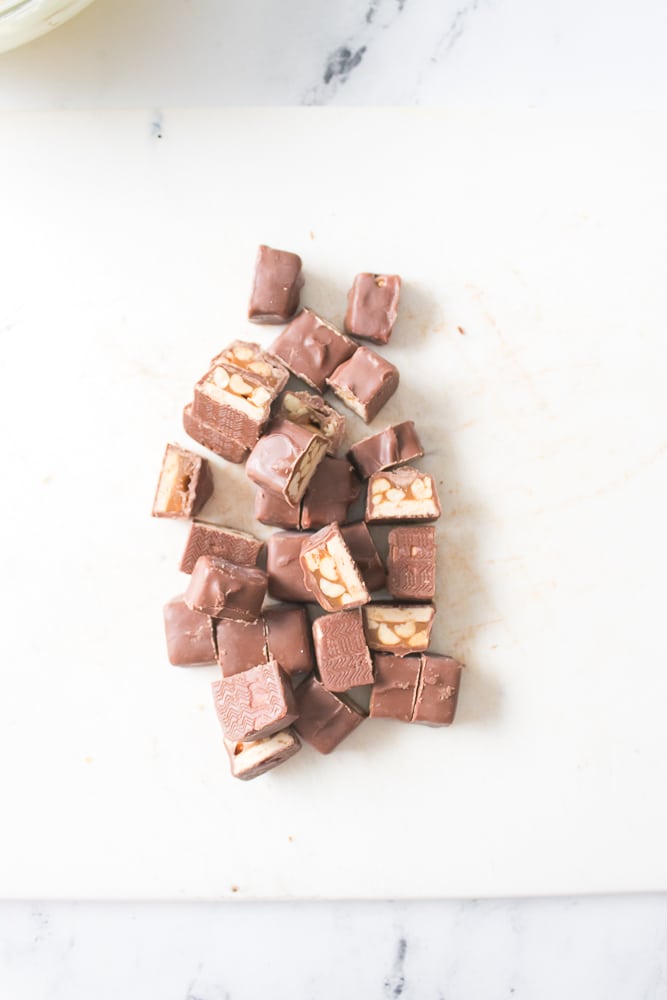 Chop your Snickers bars into bite sized pieces.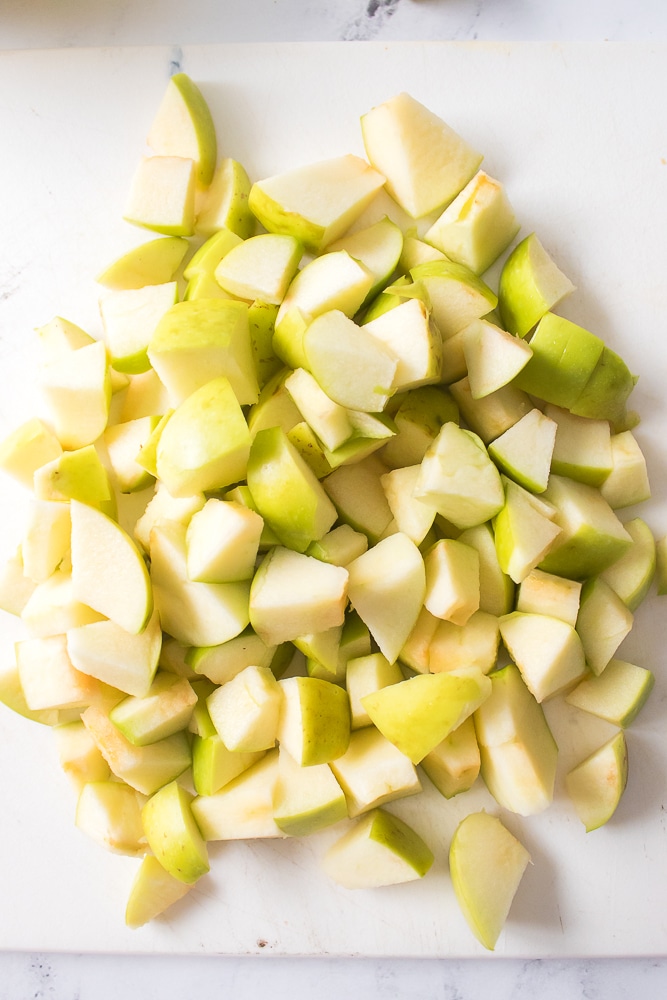 Core and dice up your green apples into bite sized pieces.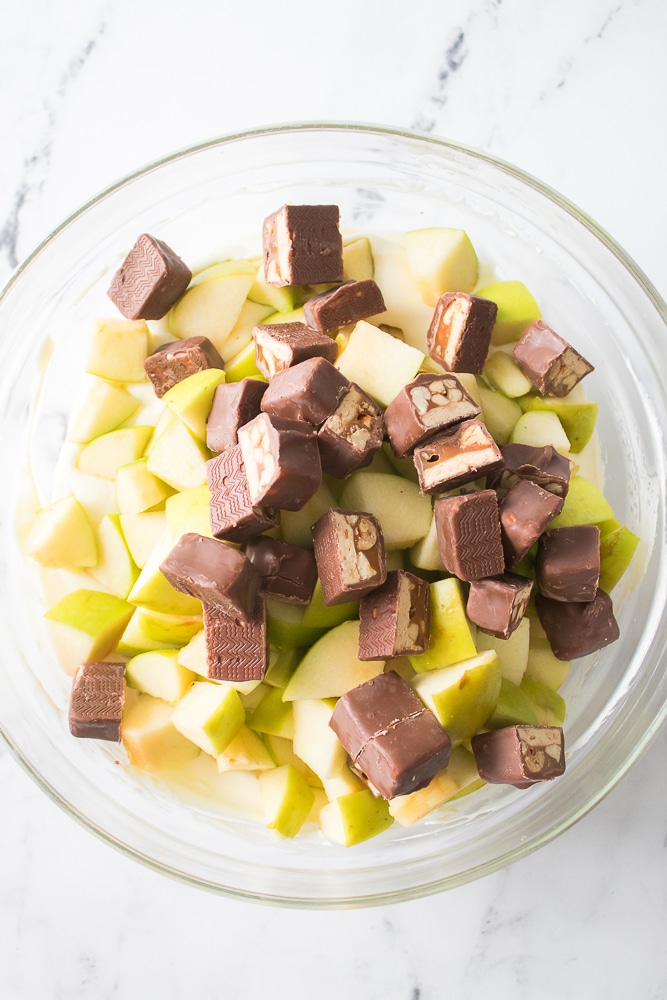 Toss them together in a bowl.
In another medium bowl, whisk together the pudding and milk until thick. Add in whipped cream and combine.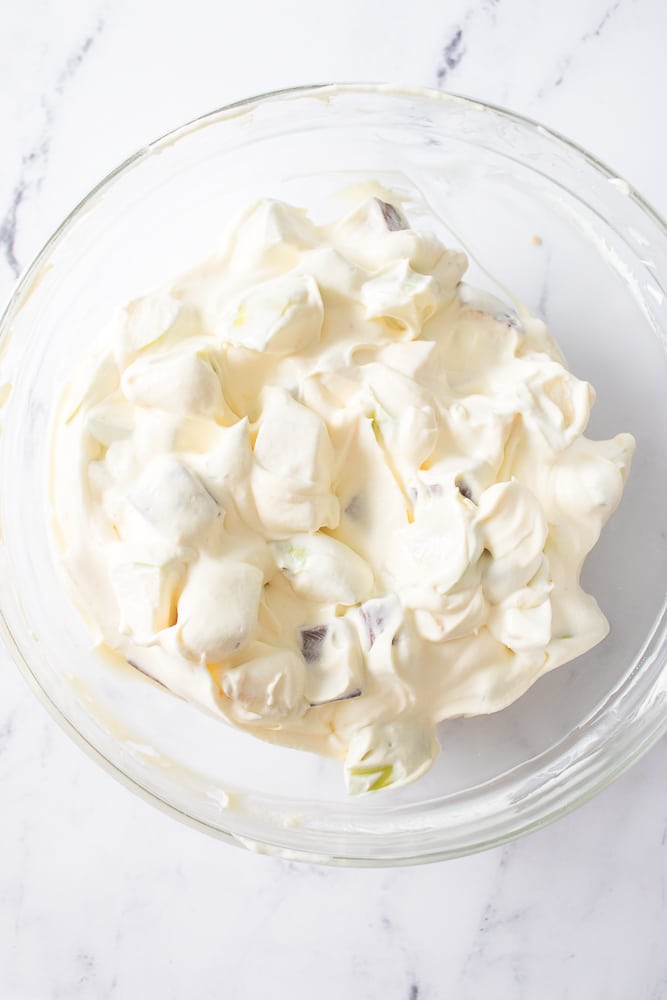 Next, pour this mixture over your apples and snickers mix. Fold to combine until thoroughly mixed.
You can serve immediately or chill before serving a bit to let all the flavors meld together a bit more.
More Options To Add To the Snickers Apple Salad Recipe –
Here are a couple of optional mix ins that you can add, if you want there to be more in your apple salad.
Note, if you want to make a version of this with no nuts, use a Milky Way bar instead.
Sprinkle some more chopped Snickers or shaved chocolate to the top if you are serving as a dessert.
Turn it into a Snickers Caramel Apple Salad by drizzling a little extra homemade caramel sauce over it too.
Stir in some chopped nuts to add more crunch. There are peanuts in snickers, so it already is not a nut free salad. You can add more salted peanuts if you want more of that flavor, or chopped walnuts would go well too.
Mini Chocolate chips, would add additional chocolate flavor if you are serving it as a dessert.