Santa HQ Experience at Washington Square Mall in Portland Oregon
This post may contain affiliate links and I may be compensated for this post. Please read our disclosure policy here.
Disclosure: This is a sponsored post; while the views expressed here are all mine,  consideration was paid to me by Macerich/HGTV's Santa HQ.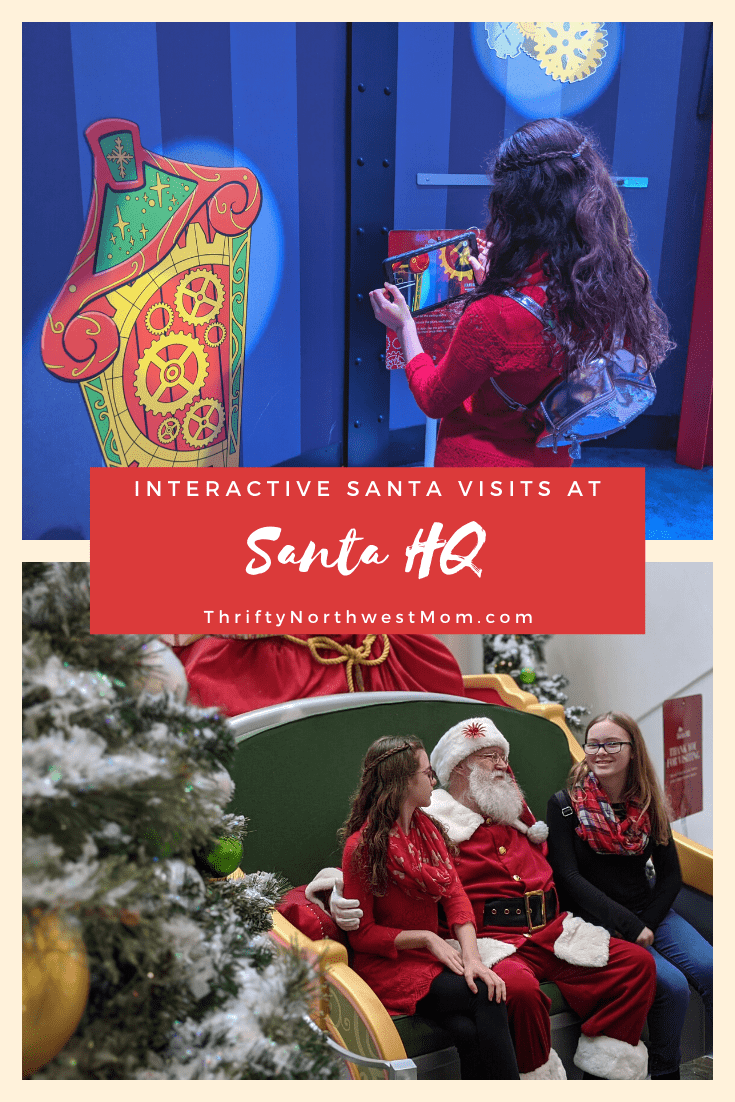 Santa HQ Experience at Washington Square Mall in Oregon
Santa pictures with your kids is definitely the classic holiday tradition that many of us participate in with our kids as it's such a wonderful memory to have years of Santa pictures to look back on as your kids get older. Especially those crying pictures of your baby or toddler with Santa – it definitely gives all of us laughs to look back at those pictures from when our girls were tiny.
However, now that we officially have a teen & tween in our home, it can definitely be more challenging to get Santa pictures as the wait times can be long, tiring, and boring, which quickly dampens their enthusiasm for pictures. And this is true of any age –  kids are so excited to meet Santa, but if they are standing in long lines, there could definitely be some meltdowns happening before you make it up to see Santa, which can put a damper on the whole experience.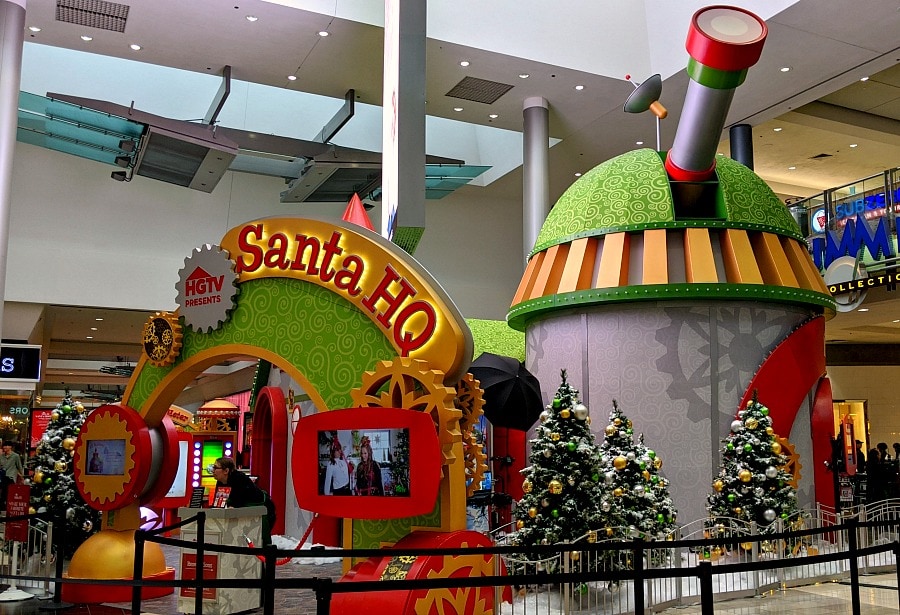 That's why I love the HGTV Santa HQ experience that they offer at the Washington Square Mall in Portland, OR, and at many malls around the country.  Santa HQ is a completely different experience as it makes the wait for Santa fun & enjoyable for kids!  There are locations in California, Arizona, Chicago, New York City, Washington DC & more.
HGTV's Santa IQ is an immersive and interactive experience for kids unlike anything you've seen as they use digital technology that kids are loving right now to make it a unique experience for your kids!
Santa HQ incorporates mobile apps you can use as you wait to enter and during the experience, social media opps that are perfect for sharing and even augmented reality. These special activities while you wait for Santa definitely make the whole experience one to remember for kids!
And you will still have your traditional Santa picture to bring home with a variety of options for photos and you choose which pictures you like best to be printed to take home.
Check out the video to see our experience at Santa HQ:
Check out the video on YouTube to see our experience at Santa HQ!
Santa HQ Features: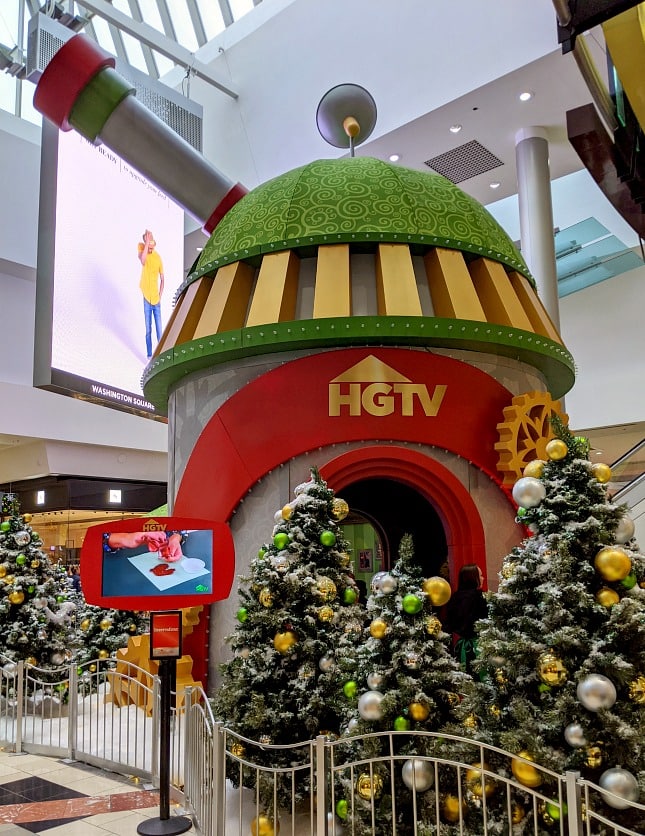 We headed down to the Portland, Oregon area for Thanksgiving weekend as it's just a short trip down from the Seattle area (3 hours or less) for a day trip or overnight trip and we love to take advantage of the tax -free shopping for our Christmas shopping for extra savings on top of all the sales happening in the stores this holiday season.
The HGTV Santa HQ we visited is located at the Washington Square Mall in Portland, Oregon, and it is definitely a grand setup right in the center of the mall. This mall features so many of the popular retailers & big department stores that it's a one-stop shop for most of your shopping needs which I love.  The last few years we have headed down to Portland & first stop is to see Santa at the Santa HQ spot & then we spend the rest of the day doing our Christmas shopping.
We have been very pleased with this experience as it's been very relaxing & enjoyable, unlike other Santa pictures at malls in the past. We never felt rushed as my kids checked out all the activities & they were entertained & enjoyed visiting the Elf Academy before getting pictures with Santa.
HGTV's Santa HQ is definitely the perfect blend of interactive & immersive tech activities paired with the traditional photos  to make this a very special visit with Santa!
Elf Academy:
The Elf Academy building is right in the center of the mall and it is the center for fun for this interactive Santa experience. They have a variety of activities both on the outside of the building & inside & once you walk all the way through all the activities, you will arrive at Santa's chair for your traditional photos & visit with Santa.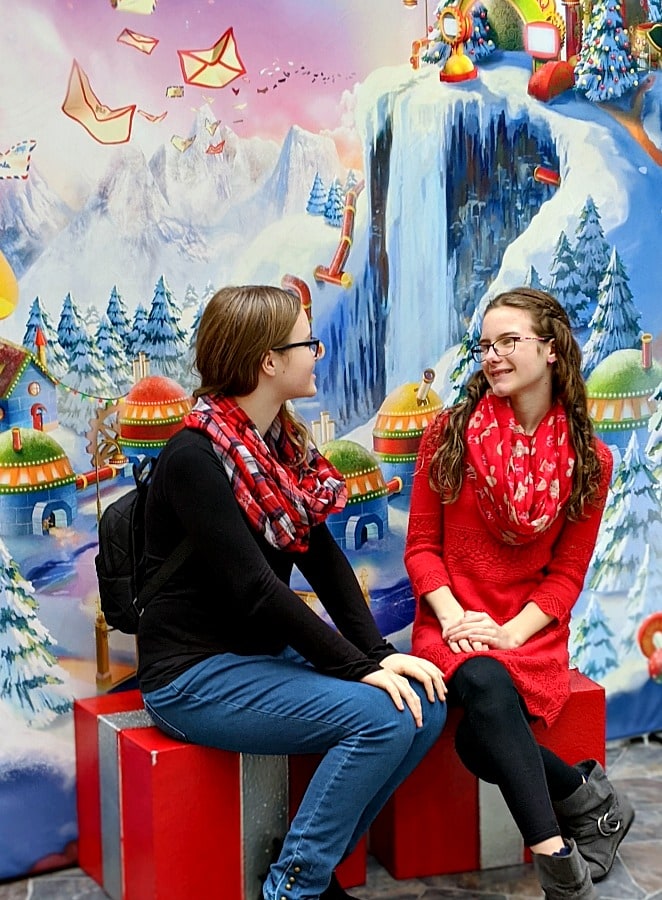 First stop when you arrive at the Elf Academy is a fun photo opp outside just to give you some variety in the photos you can choose for your final photo package! It's nice to have some extra options especially if your kids are all dressed up in their holiday outfits.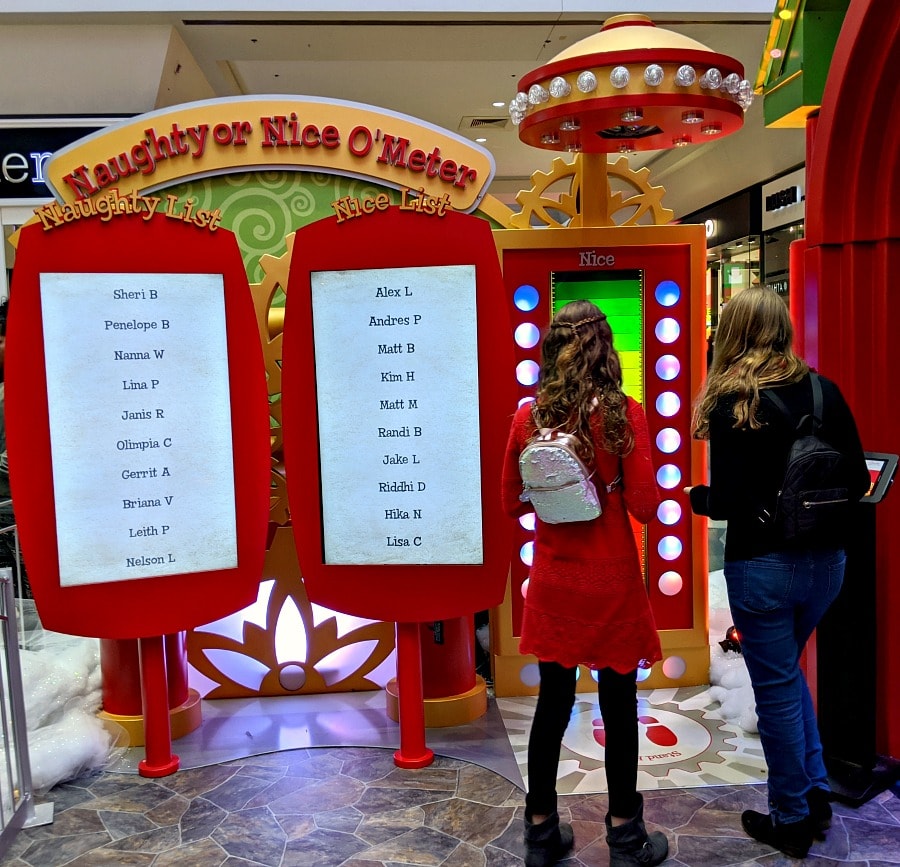 Head to the Naughty & Nice Meter next where each member of the family can take a turn to see which list they made this year! Kids have fun watching the board to see where their name will end up!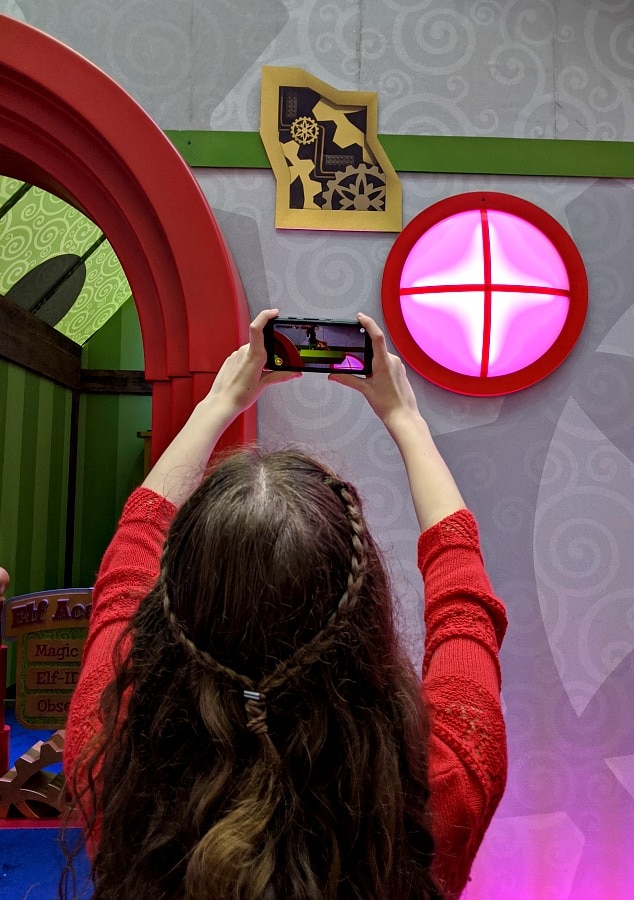 While waiting to take your turn inside the Elf Academy, you can take advantage of the Augmented Reality features on the outside of the building. Make sure you download the Santa HQ app when you arrive & they will have instructions on doing this as you enter the line.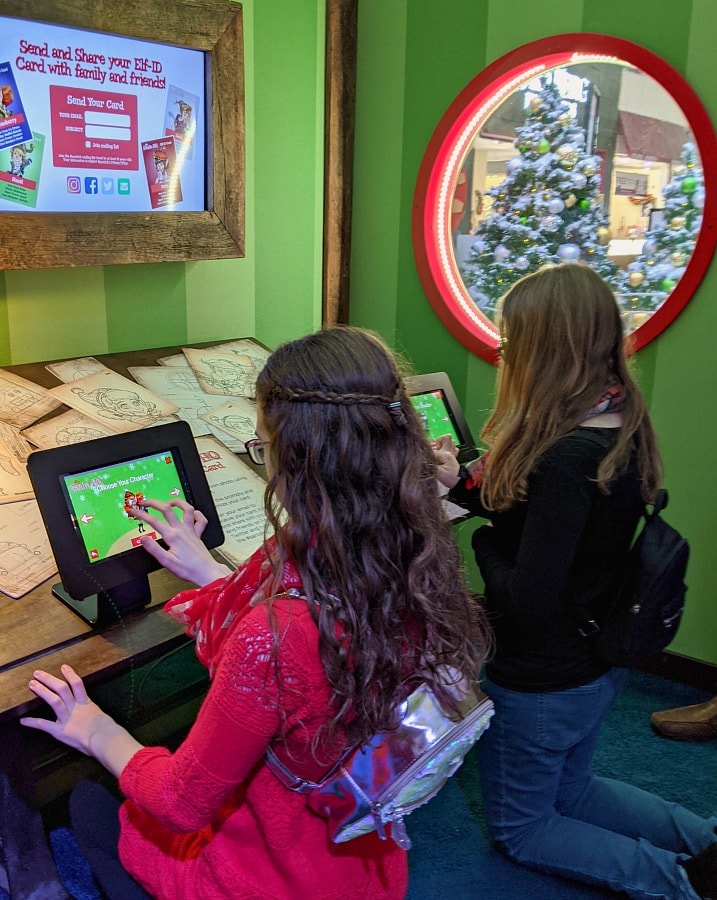 Once inside the Elf Academy, kids can try their hand at different interactive activities. They'll enjoy making a customized Elf ID Card, taking a selfie with tablets stationed inside. They can fill out information about their favorite foods, favorite reindeer, etc & then send the card to your email address.
My girls always enjoy being silly with the Magic Mirror or watching Dad be goofy transforming into one of Santa's Elves. Try on different elf outfits & decide which one they like best! They can then send the picture to a mobile number or email address to have a keepsake picture of their silly elf adventures!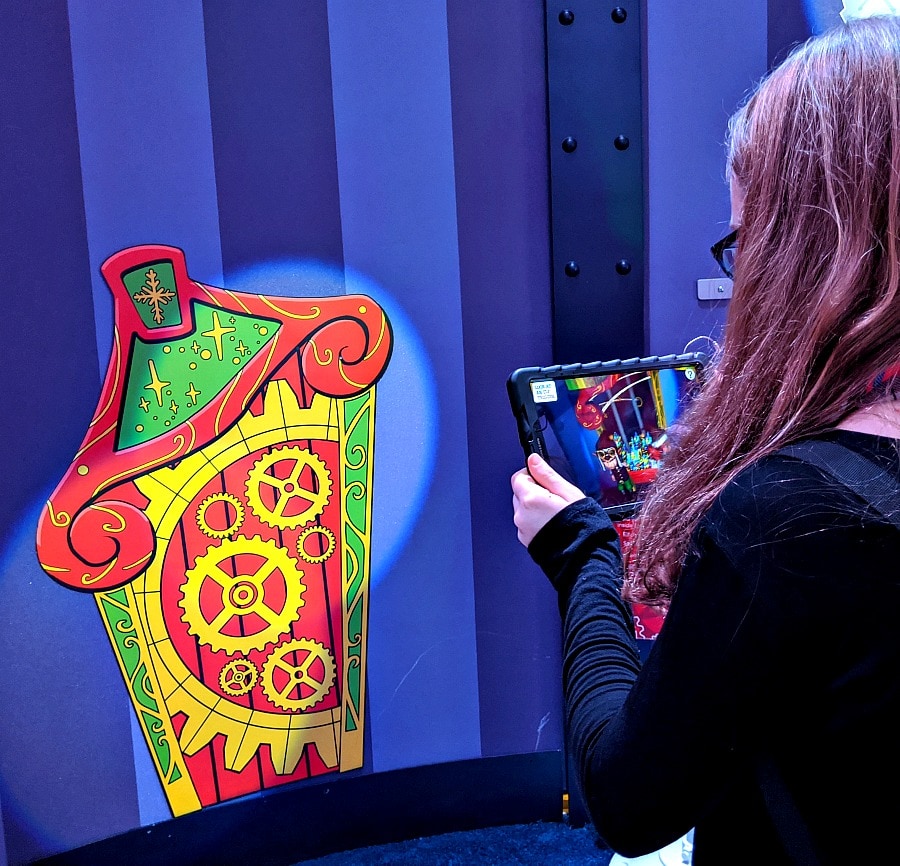 Santa's Observatory is definitely the room where any age child will be transfixed by the augmented reality experience. There are several tablets in the room or you can download the Santa HQ app ahead of time so that kids can be transported into Santa's workshop & watch the elves getting ready for Christmas! It's so fun to see a look that feels "behind the scenes" of what's really happening in Santa's workshop.
I love that they are very careful to keep the numbers of kids in each of these areas low so that it never feels overwhelming or crowded & they give each child plenty of time to explore each area. Definitely quite a different experience than many Christmas activities during this busy season!
Kids will leave the Elf Academy with a smile on their face after such fun interactive tech activities & then they'll be ready to greet the Big Man himself right outside the doors! They will get their first peek at Santa as they come out on the other side after seeing all the work the elves have been doing to get ready for Christmas inside.
Santa was engaging & personable with my girls & asked them questions & even got them laughing, which can be tricky with teens, right? The photographer snapped quite a few pictures, so once they were done visiting with Santa, we headed to a kiosk where we could look thru the pictures on our own & decide on the pictures we liked the best. You can pay for your package ahead of time if you'd like, when you book your Fast Pass, too, to save time!
Fast Pass – Skip the Lines 
Who has extra time during this busy holiday season? Not me! I love that you can schedule a time to visit Santa within a 30 minute window of time using a Fast Pass, so that you don't have to take extra time by waiting in long lines & can keep it an enjoyable, fun experience for the whole family.
This Fast Pass is totally free, but makes it so convenient when you have a limited time to visit Santa & want to keep your kids happy & entertained when they are ready to see Santa. Just pick the date, a 30 minute window of time to use your Fast Pass, pre-pay online & you can upgrade your package if you'd like. You can opt to receive text reminders, too, as I know I always need a little reminder during such a busy time.
Visit the Washington Square Mall website to secure a Fast Pass & pre-purchase photo package to save time!
Events at Washington Square HGTV's Santa HQ:
Sensory Santa  – December 15th, 2019 8am – 10am – this is a time for families with special needs to visit Santa before the mall is open so that it's less people & more comforting of an environment. Accommodations are made to suppoort the sensory, physical, & developmental needs of families.
Mrs Claus Story time – December 12th & 13th, 2019 – 11am – 12pm
HGTV's Help through Holiday Giving:
This is a program where you can donate toys to children in need in the community. Visit the Nordstrom Wing at Washington Square Mall thru December 20, 2019, & select a heart-shaped ornament. This will have an item listed which you can purchase for children in need in the area. Make sure unwrapped gifts are returned by Dec 20th so they can be delivered in time for Christmas.