REI Outlet / REI Garage Deal Of The Day
REI Garage Deals (REI Outlet Daily Sales) –
The REI Outlet online is now referred to as the REI Garage. This is different then the REI Garage Sales which happen in stores. This is a way to get some great deals on quality products, and the daily deals are generall 50% off, so a nice savings!
And on top of the general savings that you will find shopping at the REI Outlet online, they also offer daily deals which often include big discounts! We love to shop these daily deals, as it is a great way to get savings on quality name brand products that usually cost a lot more.
The REI Garage is an online only store (they do not have a physical outlet store), but you are able to make any returns in person to your local REI store if that is more convenient for you.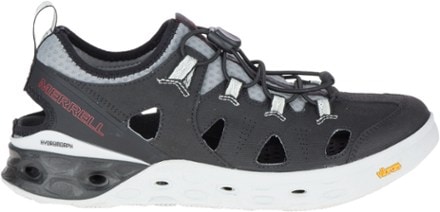 Todays Deal at the REI Garage Outlet Online::
Check out the REI Garage Deal Of The Day today here. Today these Mens Merrell Water Shoes are 50% off, making them just $49.73 (reg. $100)!
There are also a number of other Northface coats and outerwear items on sale (starting at under $20) on the REI Garage page here. 
They do offer FREE shipping on orders of $50 or more. Or you can also have it shipped to your local REI store for FREE.
What is the REI Garage Sale?
REI has an online site that they used to call REI Garage, but it now looks like it is referred to as the REI Outlet. It is where you can get great deals on overstocked items, or seasonal inventory etc. They do also offer REI Garage Sales, which is an REI Co-op member only sales event, that happens at certain in store locations, at different times throughout the year. No need to wait just for those events though, as the REI Outlet runs great daily deals too.