Our Generation Dolls at Target – As low as $12.90 ea! (Nice Alternative to American Girl Dolls)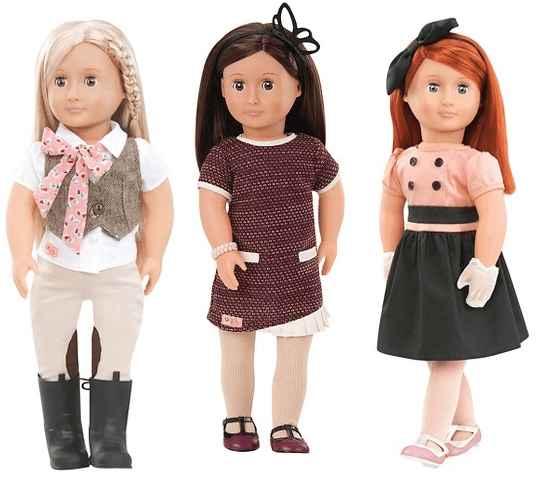 Our Generation Dolls
Target is having a sale on Our Generation dolls, clothes, furniture and accessories with some dolls and accessories on sale, plus, you can stack the sale prices with the toy coupon for 25% off one toy (text offer – see below for details)! You can find Our Generation dolls, for as low as $19.99 on sale right now, and when you use the 25% off coupon, it will bring the price of the doll down to $14.99! Stack this with the Circle coupon mentioned below, and get select dolls for as low as $12.90 each! Remember that Our Generation clothes and accessories fit American Girl dolls, too!
PLUS, through November 23rd you can use these Target Circle Coupons to save even more:
Here is how this deal works:
(note – we found Joy on sale for $19.99 – so she would be under $12 – then there are a few more dolls in the $21.49 range, and they should be $12.90 with the discounts)
Sia's girls had the Our Generation Dolls, and she likes them better then many of the other 18″ inch dolls available.  There is even a doll named Sia now! While they are not American Girl dolls, she thinks that they are one of the better alternatives to the AG dolls in this lower price range (her kids have had less issues with the hair for the OG dolls then some of the other lower cost options, etc). What are your experiences with alternatives to American Girl Dolls (which ones are your favorites)?
If you are looking for deals on the American Girl Dolls, you can find a few of them out at Costco for a discounted price right now too.
Here are some of the deals we found::
(remember that  you can only use the coupon on one item though)

Our Generation Regular 18″ Doll – As low as $12.90 after coupon (when you buy the ones priced at $21.99). These are the same size as American Girl dolls.
Our Generation Deluxe Doll Sets – As low as $21.26 after discounts (reg $29.99) -these come with the doll + some accessories show in the pictures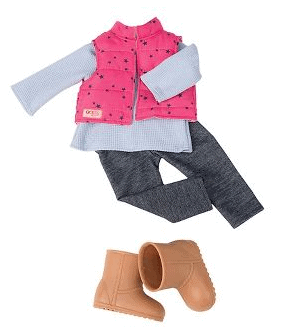 Our Generation Clothes – As low as $7.31 after both 25% off coupons (Reg. $12.99)
Other posts you might be interested in: