Oregon Garden Resort Review
This post may contain affiliate links and I may be compensated for this post. Please read our disclosure policy here.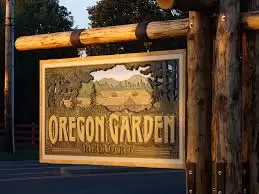 The Oregon Garden Resort getaway that becomes available from time to time, was one of our favorite getaways (in terms of value for the price). They often offer getaway specials, where it includes the room, a meal and tickets into the Oregon Garden.  We found our deal on one of the deals sites. It was $79/nt then, but the price will fluctuate some with each seasons deal.  It was more then worth $79 in our opinion!
For the price, this getaway stands out to me as a personal fave! I have an aunt that visited recently, and she was telling the entire family how much they loved their visits. She highly recommended this spot to everyone. We have also heard from readers in the past who enjoyed their stay as well, so if you are looking for the best value in a NW getaway, this is definitely one to consider!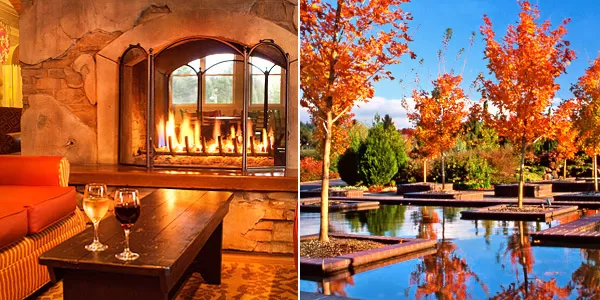 We left after work on Friday (left Federal Way at 4:30pm).  We arrived around 8:15 pm, so its approx. 3 hours and 45 minutes with traffic from the South Seattle area (you could make it in less time if you left during an off peak time).  The restaurant closes at 9pm, and we did not want to miss our free meal so we headed there first.
Our deal came with dinner and a bottle of their house wine (local winery) and we enjoyed it! We thought the dinner was great.  I was concerned the quality wouldn't be good for the price (free!) but it was very good.  We started with a fresh loaf of pumpernickel bread and bottle of the Pinot Noir.  My husband ordered rib eye topped with gorgonzola cheese and fried onions.  It was so good.  I got the grilled salmon in a sweet reduction and really enjoyed that as well.  You could choose your potatoe side (the garlic mashed potatoes are ridiculously good) and it came with a side of steamed broccoli.  There is no need to order anything extra, but your free to do so (at an additional charge).  The food that was free was more then filling.  The cost of dinner alone would have been about what we paid for the entire package (but don't forget to tip on the real value of your meal).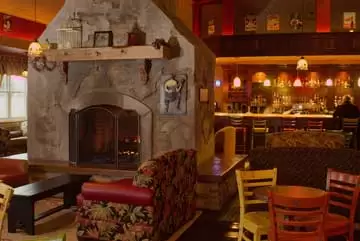 We still had half a bottle of wine left after dinner, so we took it with us down the hall to the lounge area. The lodge itself was very cozy.  After dinner we went to the lounge for live music and to finish our bottle of wine that was included with our package.  There is a nice fireplace and cozy couch seating in there to relax to live entertainment.  No additional cost for this part of the night, if you use your wine from dinner (that is the two way fireplace in the photo above, that is in the lounge).
The rooms were also very nice.  Each room has a fireplace and your own private patio area.  Most rooms are ground level so you get a little fenced in yard out your back door.  Our room had a flat screen TV, and nice bathroom stocked with all of the essential products.  The bed was one of the more comfortable I have slept in, slept like a baby (that could have been because we had no kids with us though). The rooms are all located in separate buildings behind the main lodge area (walking distance). It seemed to me like a condo, or timeshare that had been renovated into a resort (not sure if thats true, just the feeling I got).
In the morning we headed over for our free buffet breakfast.  It was pretty typical of a hotel buffet, not the best food, but for free – worth it.  My best breakfast tip is to ask for a to-go cup, and fill it with free coffee to take out on your garden walk.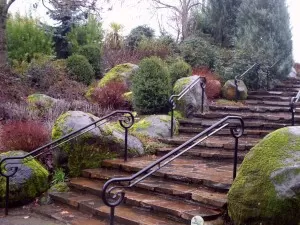 Photo credit: wikipedia
You can use your room key to access the gardens directly behind the lodge.  We loved the garden walk in the fall.  This time of year made for a beautiful drive home as well as walk through the gardens.  If you want to take kids with you there is a kids area in the garden that looked like fun.  There were kids on a school trip when we were there and they sounded like they were having fun.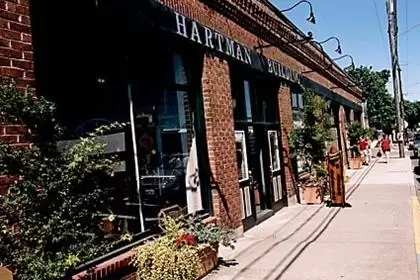 Photo credit: Silverton.or.us
There are also things to spend your money on if you are itching to pull your wallet out.  There is a spa, and a little town called Silverton right down the street.  The town was very quaint and was fun to visit. We did not have to spend any extra money (but we did splurge on a bottle of chocolate wine, in a little chocolate shop in Silverton – Yum, it was so good. We have family members who still beg us to get more!). There are also plenty of day trips you can take in the area (like visit waterfalls and more)! Check out the Silverton website here to plan that part of your visit.
There is a pool area (including hot tub) that is advertised as heated year round, but it was closed while we were there, so I cannot comment on it, but look forward to trying it out on a future visit.
Check out time is 11 am, but you can still enjoy the gardens after that time. Overall, if you are looking for a quiet, romantic and affordable get away then this is the deal to snag.