Old Fashioned Skillet Corn Bread Recipe
This post may contain affiliate links and I may be compensated for this post. Please read our disclosure policy here.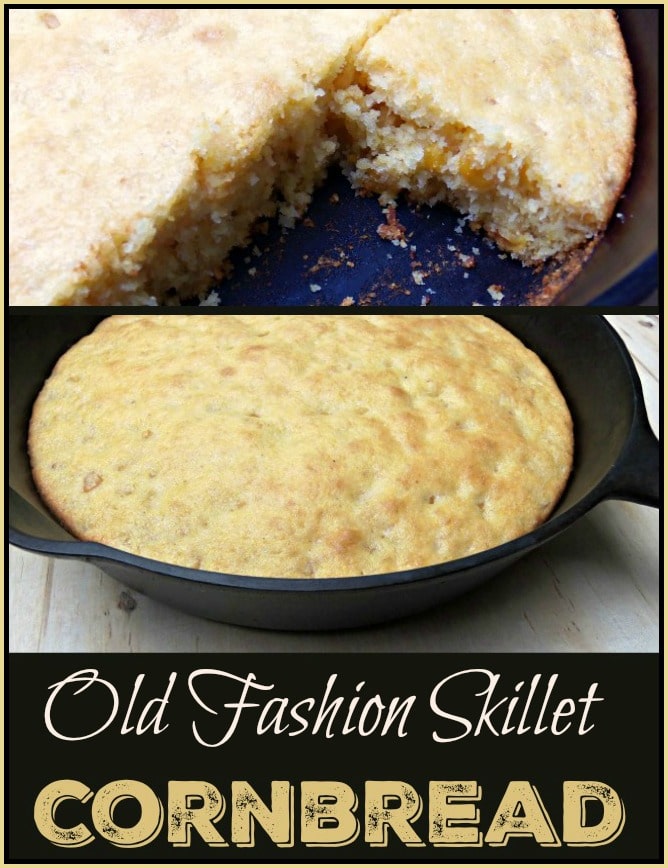 Pin it to your Thanksgiving Recipes Board here!
With Thanksgiving around the corner, we wanted to share our Old Fashioned Skillet Corn Bread recipe with you. Why? Well, besides the obvious fact that its delicious, it is also affordable and easy to put together. Serve it right in the skillet you baked it in, and it presents beautifully (plus fewer dishes to do after the meal).  The smell that it fills my kitchen with when I am baking this recipe is so comforting too. Its a great smell to welcome guests into your house with, and perfect to serve up for Thanksgiving or any night of the week.
My favorite thing about this Old Fashioned Skillet Corn Bread recipe is that if you cook it in the cast iron pan, you end up with a nice crunchy crust. I love that little bit of crunch with a great moist inside on my corn bread. It is a pretty simple recipe to make, but always makes me feel like I am doing some real home cooking when I bake up a batch.
This is also a great recipe to get the kids to help with. My girls are always asking me to cook, but on a holiday like Thanksgiving it can be tricky to get them into the kitchen with so much going on. This is a recipe I can put all the ingredients out for, and walk the kids through making it with just a little supervision. There is something about dumping a can of Libby's® Whole Kernel Sweet Corn into the mix that they love too!
In my family we keep this recipe simple most days, and then I serve honey butter along side of it. Its our favorite traditional way to eat this cornbread, but there are many other items you could add if you prefer a more savory or hearty cornbread.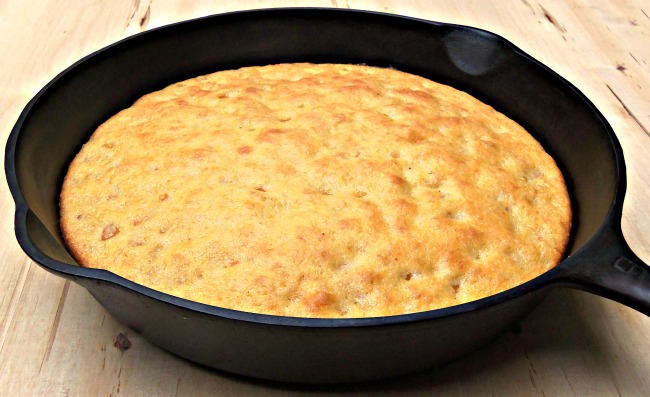 Some ideas of additional toppings you can mix in before cooking with this recipe:
1/2 cup of grated cheddar cheese
1/4 cup of bacon bits or 1/2 cup of chopped ham
1/4 cup of thinly sliced green onions
One more idea we enjoy is to substitute 1/4 cup of real maple syrup for the sugar in the recipe above. Then mix in 1 cup of cooked and crumbled breakfast sausage. Yum!
One last fun way we like to use this cornbread recipe is to add our favorite chili recipe to the skillet, then top the chili with the cornbread mixture, and bake per the instructions below. Its a one pot chili and cornbread dish!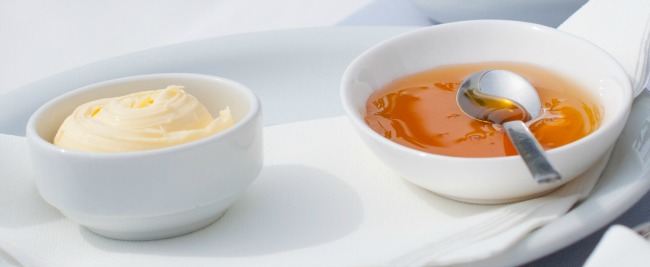 I mentioned above that I love to serve it with a batch of homemade honey butter. This is another recipe that is really easy to make, but will impress your guests. Simply mix one cup of softened butter (you will need real butter for this recipe!) and 1/2 cup of honey. If you prefer it really sweet you can add more honey, less sweet back down to 1/4 cup of honey. Some people add other things like nutmeg. powder sugar or vanilla – but I like my honey butter simple: honey + butter!
Here is how simple it is to make this Skillet Cornbread:
Mix the dry ingredients in a bowl first. Then add the wet ingredients on top and gently fold them together.
Pour it into a cast iron skillet to cook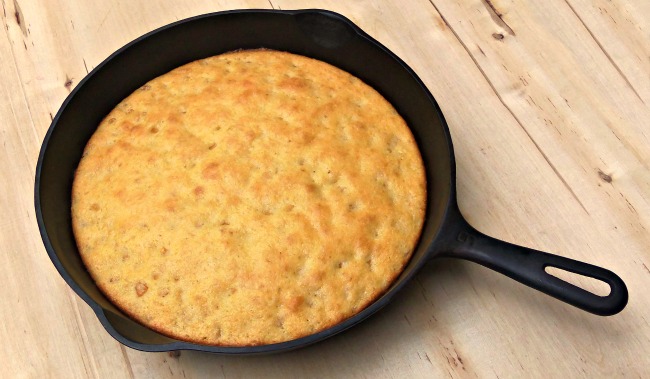 Let it cool for a few minutes, and it's ready to serve!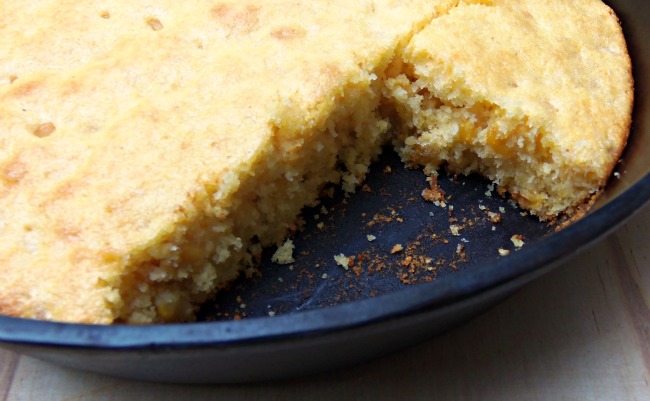 A couple of things I love about this recipe include: The crisp brown crust, yet a moist (and not completely crumbling) inside. And look at that Libby's® Sweet Corn showing above – yum!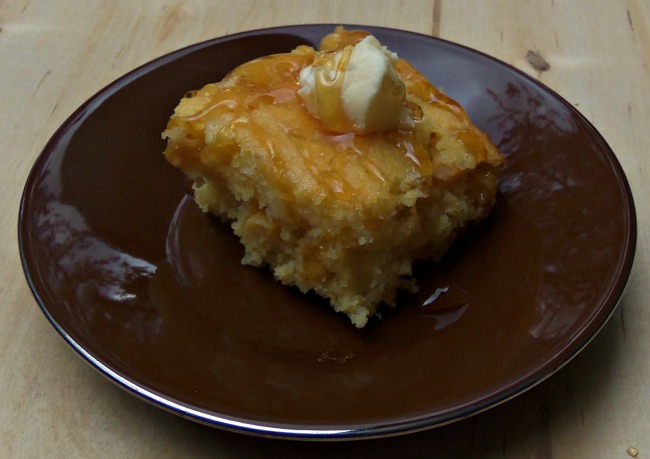 Enjoying it with some butter and drizzled honey is another one of my favorite ways to serve it up.
Print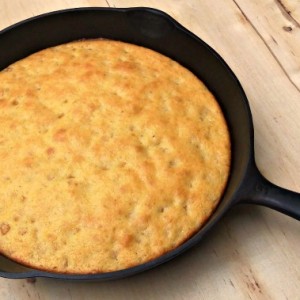 Old Fashioned Skillet Corn Bread Recipe
---
1

can of Libby's® Whole Kernel Sweet Corn (reserve liquid for next step)

1/2 cup

of liquid from the can of Libby's® Whole Kernel Sweet Corn

1 cup

all-purpose flour

1 cup

yellow cornmeal

1 tablespoon

baking powder

1/2 teaspoon

salt

1/4 cup

granulated sugar

1/2 cup

milk

1/3 cup

butter melted

1

egg
---
Instructions
Preheat oven to 400 degrees
Prepare a cast iron skillet pan, but brushing with melted butter or oil
Mix together flour, cornmeal, baking powder and salt in one bowl
Add in the sugar
Add the Libby's® Whole Kernel Sweet Corn, liquid from the Libby's® Whole Kernel Sweet Corn can, milk, butter and egg to the bowl
Mix together until just combined
Pour into prepared cast iron skillet and bake for 20-25 minutes, or until a toothpick inserted in the center comes out clean
 
Win $350 in gift cards to purchase your Thanksgiving Feast!
The Libby's "Cansgiving" sweepstakes, is giving away $350 in electronic gift cards to help you with your Thanksgiving Feast costs!. The sweeps will run from Nov. 2 – Nov. 19, and encourages you to submit photos via social media that illustrate what you are thankful for this holiday season.
All entries tagged with the hashtag #Cansgiving will be entered to win a $350 electronic gift card to put towards their Thanksgiving feast, plus an assortment of Libby's fruit and vegetable products to help prepare the big meal . Ten winners will be selected at random at the end of the sweepstakes.
Head over to the Libby's Get Back To The Table page, and find all of the details on this sweeps there!
Disclosure: This is a sponsored post by Libby's. All opinions are 100% my own. Please see our disclosure policy here for more details.