#NewSchoolLaundry Ideas – Free Samples, Coupons & Laundry Organizing Hacks!
This post may contain affiliate links and I may be compensated for this post. Please read our disclosure policy here.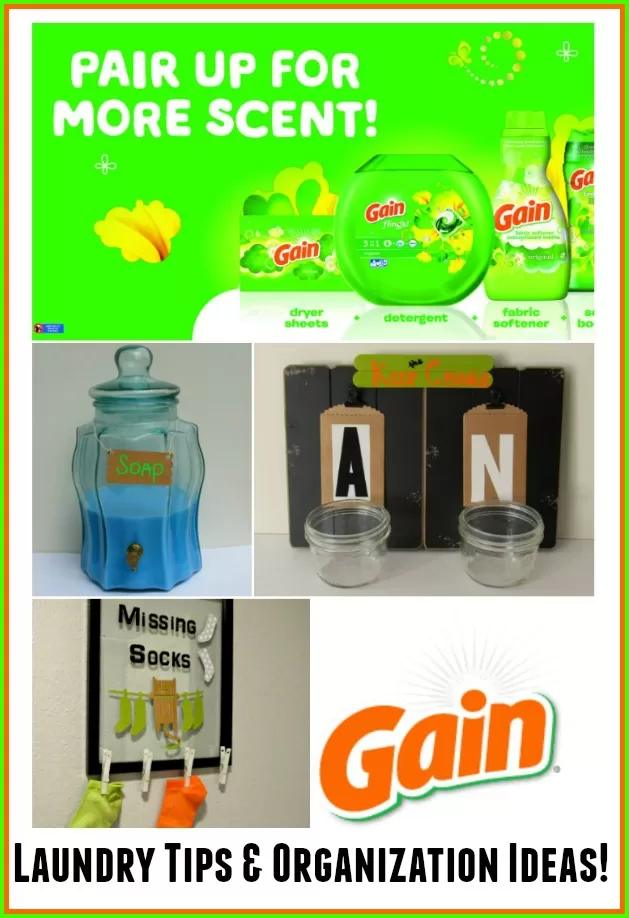 #NewSchoolLaundry Ideas – Save & Organize!
Summer time is creeping up on us and in my house that means more laundry. When the kids are home from school, they change clothes more often, so I am always looking for ways to make laundry more efficient and more convenient, while saving money too. This year, that means trying some New School Laundry products from Gain as well as organizing my laundry room (and getting the kids more involved in doing laundry too)!
Below we have some tips on how to do laundry more efficiently, with new products on the market, how to organize better, and even how to give your kids an incentive to help out more so laundry does not overtake your summer plans.
There will be a great New School Laundry event coming up this Saturday at many local Walmart stores too, where you can meet Jen, and get free product samples and coupons to help you save more on your laundry costs this summer too. We have all the details on that below as well.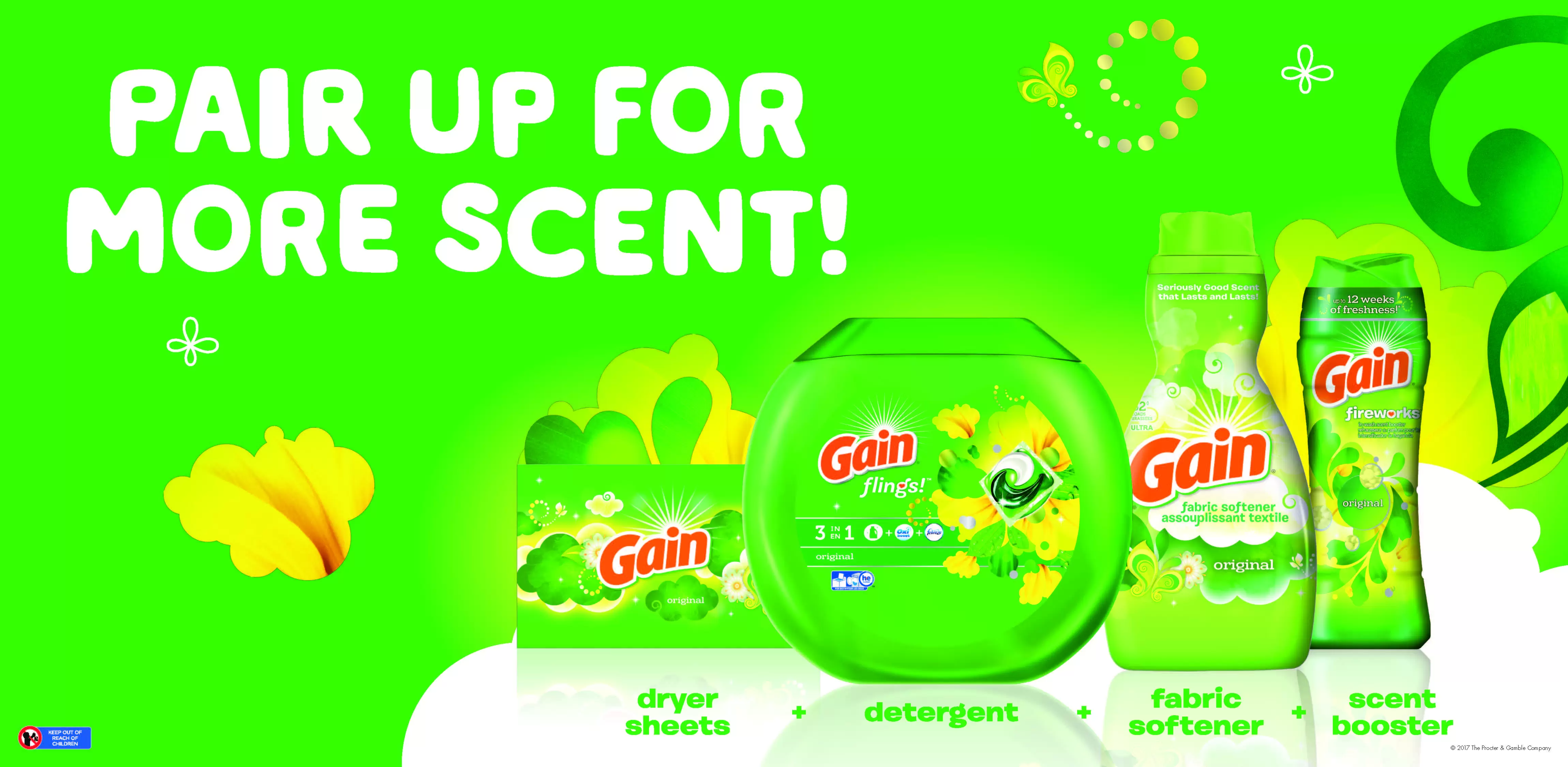 Tips to make laundry easier for you:
It's a misconception that laundry pods are more expensive. If you use more than one product, then they are a great way to save. For example, the GAIN One easy-to- use Fling Pods contain detergent, Oxi Boost and Febreze freshness all in one. So you only have to buy one product to get all three, verses three separate products.
The other issue we run into in my house is how much detergent to add in. For some reason, my husband and kids think the more the better. That means that we never get as many loads out of a container of liquid or powder detergent as we should. The solution -use Gain Flings – which are already pre-measured, so there is no need to measure or pour. That means I do not have to worry about my kids using twice as much detergent as is needed for each load.
The New School Laundry Regimen: How It Works
We've already talked about Gain Flings. Simply toss the one of the pacs into your washer drum before adding your laundry, not in the detergent drawer. This will help distribute the detergent more evenly throughout the cycle. This should also help if you run into the issue of finding white laundry soap marks on your clothing when you use powder or liquid soaps. Gain Flings are designed to dissolve in any water temperature. This is another way that they help save money, as you can do your loads on cold water, and save money on hot water costs, without sacrificing how clean your clothes get.  One detergent pac will usually do it. If your clothes are particularly dirty, you can toss in a second to clean and freshen even better.
Gain Fireworks In-Wash Scent Booster gives an extra boost of that amazing Gain scent. Just fill up a cap with beads and toss them in the washer drum with your Gain Fling before you add your clothes. Just add your softener to the dispenser before you start the wash cycle.
Gain Fabric Softener makes your clothes fresh-tastically soft, adding softness and protection to your fabrics along with the classic Gain scent. Just add your softener to the dispenser before you start the wash cycle.
Finally, Gain Dryer Sheets complete the laundry regimen by controlling static, preventing wrinkles, softening and freshening clothes in the dryer. Toss one in before you start your dryer.
Products like this have really helped put a new school spin on the age-old task of doing laundry.
Tips to better organize your laundry room and get the kids involved in helping too: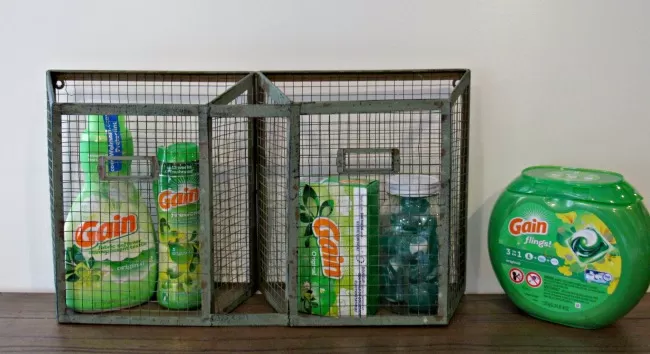 Think outside of the box, for laundry organization. Are you short on cabinet space? Re-purpose containers for easy access to your laundry supplies. We used a magazine organizer we picked up for just a few dollars at a recent garage sale to store our supplies.
This idea can double as decor for your laundry space, too. I love metal and old things put to new uses, so I found something in my style to use. Think of things you love when browsing garage sales and how they might fit in your laundry space.
Tip: carry dimensions of where you might fit extra storage in your laundry space (ie., a countertop, etc) in your phone, so if you come across something you think might work at a garage sale you can double check the measurements and be sure. I also keep a miniature tape measure on my key chain to help with this as well.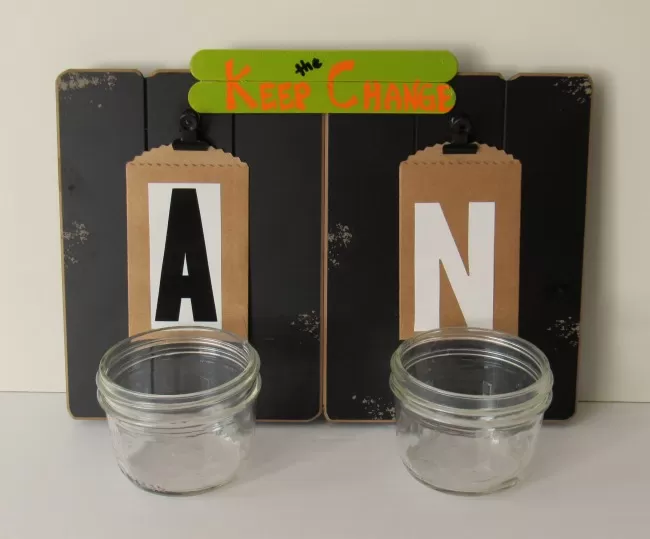 Keep the Change Jars. Use these to motivate the kids to do laundry! If your household is anything like mine, there is money to be made in doing the laundry. Change (and sometimes dollar bills) gets left in pockets of clothing. We have a rule that anyone doing the laundry gets to keep the loose change and any small bills they find in pockets while doing it (it's mainly my husband that leaves change, so the kids see this as opportunity). By creating these "Keep the Change" jars for each of my two girls, they get excited about doing the laundry. Sometimes I will leave a dollar bill in a pair of jeans just to keep them motivated!
I grabbed a couple of frames for a few dollars and clipped small brown envelopes with each of the kids' initials on one. I then set the frames up on the counter in the laundry room and put a mason jar in front of them. When they do the laundry, if they come across any change, they add it to the jar under their initial. If they find a dollar bill or two, they can store them in the paper envelopes.
This one works well at my house. The kids sometimes come to me and ask to do the laundry now.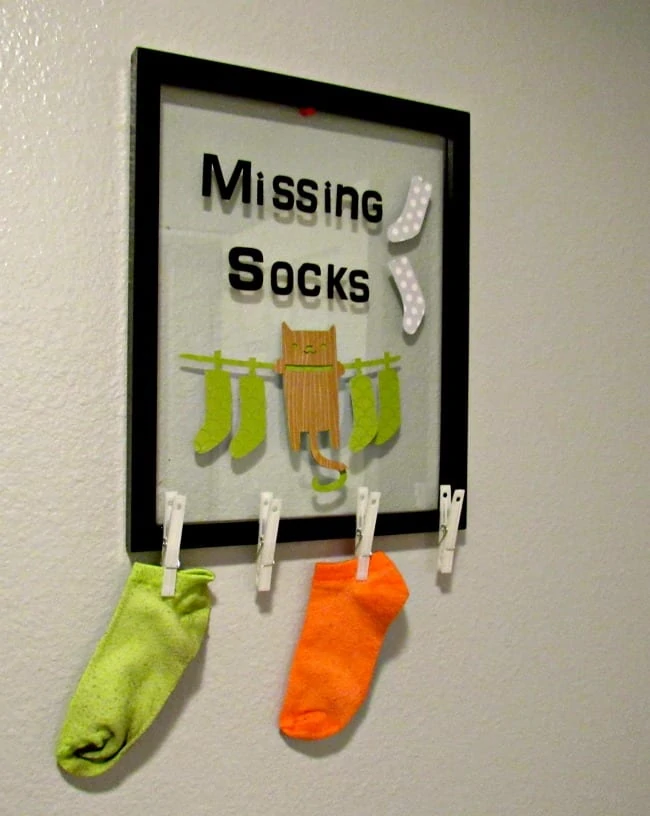 Missing Socks Holder. I have never been able to figure out the mystery behind missing socks, but it continues to plague us at our house. Finding a sock without its match is a sure thing at some point in the laundry process at our house. I used to pile them all in a small basket that everyone could go through to match socks. The problem with that was the basket just filled with socks and rarely did they get matched up.
I recently made this sign where we can hang a single sock when it comes out of the dryer, until we find it's match. Often times the match shows up in the next load or two, and they are easily matched and put away. If a sock sits there for too long without a match popping up, we know it's time to get rid of it. This helps me from ending up with a basket of mis-matched socks that sits around for months.
This was a super affordable project too. We got a frame for a few dollars, and just used the glass and frame. I used my Cricut to cut out the letters and little sock pictures and then hot glued on some clothespins we also picked up for a dollar. You could use a dry erase marker on the glass if you don't have something to cut the letters out with. This sign cost me just a few dollars to make.
Store your laundry fabric Softener in a drink dispenser for easy access. Walmart sells these drink dispensers for a pretty good price this time of the year. Grab one and set it up where you can access it easily in your laundry space. Then pour your fabric softener in it. This is a quick and convenient way to access your fabric softener, but can also be a nice look for your laundry space as well.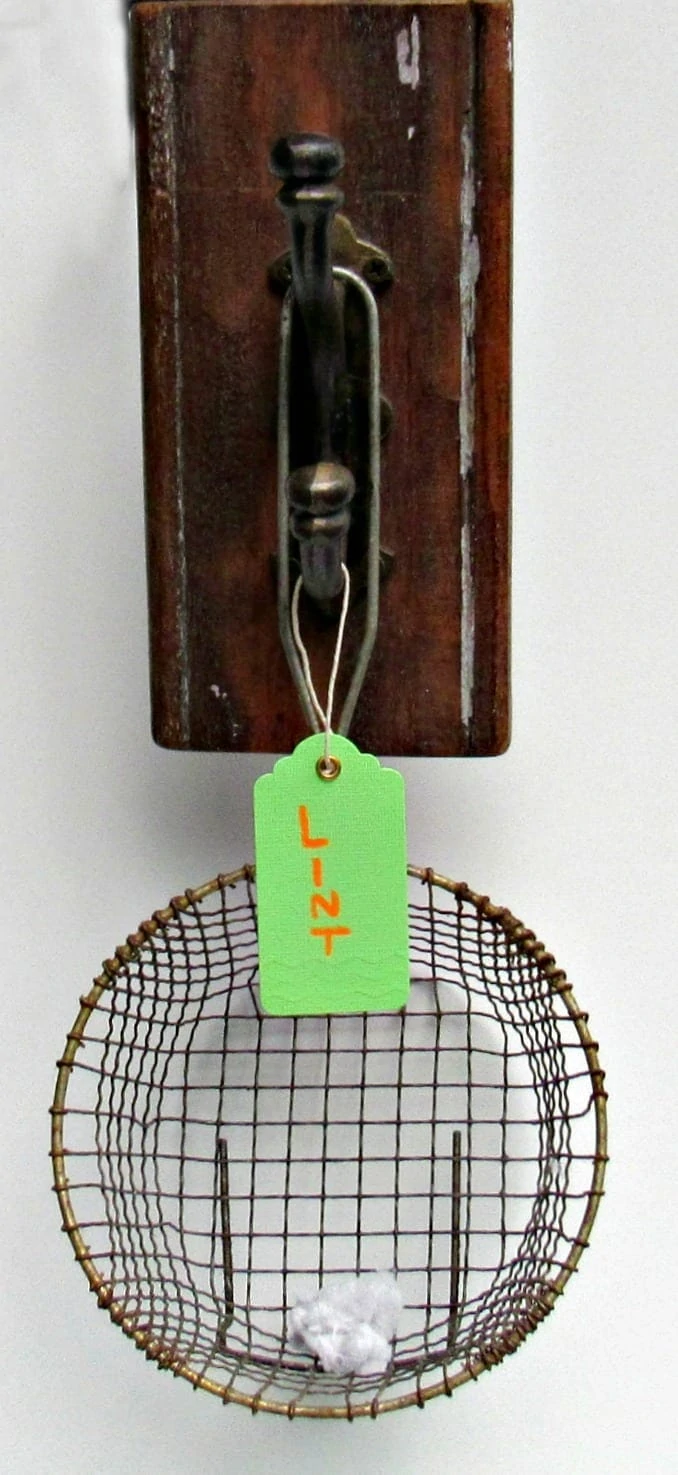 Create a spot for lint. If you do not have room for a garbage can near your dryer, you will want to create a place to put lint while you're in the middle of moving clothes from the washer to the dryer. Before I created a spot for lint, I would just empty it from the dryer and toss it on the nearby counter until a few loads later when it made it out to the garbage. It was a real eyesore. I found this old rustic fry pan for $1 at a local garage sale and hung it from a wood hook I mounted near my dryer. I toss my lint in here now and don't miss a beat when I am doing laundry. I then empty it every so often and now have no more lint eyesore in my laundry space.
I love rustic and metal, but you could add a small container that has a lid so you do not have to see the lint too. Whatever works best for your space and style.
Get the kids putting away their own laundry. One way I have found to make laundry easy on me is to make the kids responsible for putting all of their own stuff away. I used to make piles and they would have to take them up to their room. The only problem with that is that a) I had piles of clothes sitting around my living room until the kids took them up and b) they would drop things on the way up the stairs or forget a pile, etc.
Now I use metal boxes that I picked up for a couple of dollars each. I added letters with their initials on them to the front. It makes it really easy to pile their folded clothes, plus put socks and underwear, all in the same bucket. I then place them on the stairs, so when the kids are running upstairs and see their bucket, they know to grab it on the way up.
I love this system, as it provides me one place to keep adding the kids stuff when I am doing laundry and it's easier for them to get things up to their rooms quickly. It has resulted in less laundry laying around the house for us.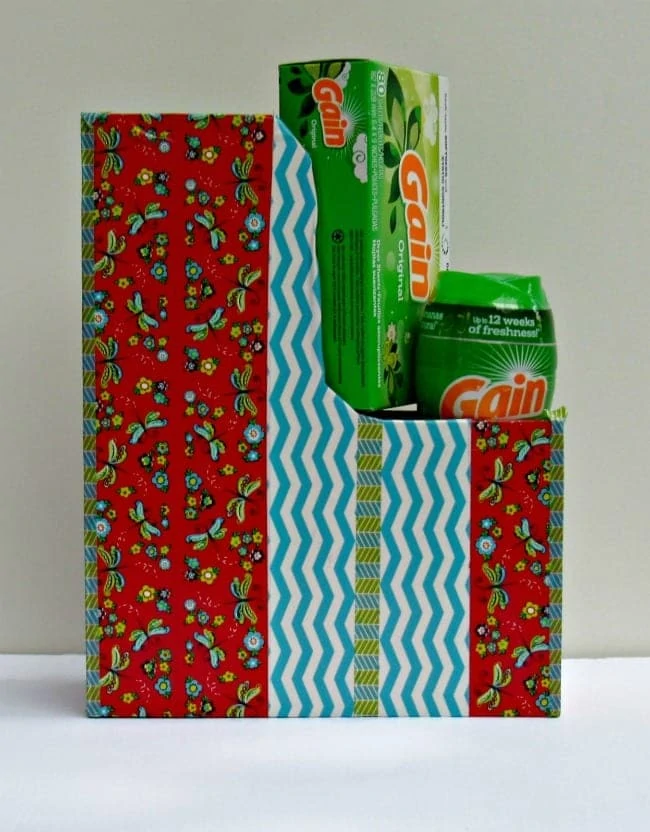 Contain small laundry products in one space. If you use things like dryer sheets, stain boosters or pens, fabric softener etc, all of those smaller products can clutter up shelf space in a laundry room. To keep it organized in an affordable way, I like to buy these magazine organizers (can often find them for just a dollar), and add all of the small items in there. We decorated ours with some decorative duct tape, just to add some color, but you could keep them simple too.
What are your favorite tips for keeping a laundry space organized?
Walmart Gain New School Laundry Event Locations:
Want to save money? Make plans to head out to one of these upcoming New School Laundry events at many local Walmart Supercenters. Free samples of Gain products and high value coupons will be available from 1 – 6 p.m. on Sunday, June 4 at each location! Plus, Jen will be at the Puyallup store (Meridian E.) if you wanted to meet her and get her best tips on saving more on your laundry costs this year.
Walmart Supercenter                       1601 NW Louisiana Ave                    Chehalis
Walmart Supercenter                       34520 16th Ave S                                 Federal Way
Walmart Supercenter                       8713 64th St NE                                   Marysville
Walmart Supercenter                       2301 Freeway Dr                                Mount Vernon
Walmart Supercenter                       1401 Galaxy Dr NE                             Olympia
Walmart Supercenter                       3497 Bethel Rd SE                              Port Orchard
Walmart Supercenter                       21200 Olhava Way NW                     Poulsbo
Walmart Supercenter                       310 31st Ave SE                                    Puyallup
Walmart Supercenter                       16502 Meridan E                                Puyallup
Walmart Supercenter                       17100 State Route 507 SE                Yelm
and June 6th at Walmart Supercenter   20307 Mountain Hwy E                    Spanaway
If you can't visit your local Walmart store today, fear not! You can learn all about great laundry products from @Gain at Walmart.com/NewSchoolLaundry.
Disclosure: This post was sponsored by Gain at Walmart. All opinions are 100% my own. Please see our disclosure policy for more details.
Save