Benefits of Amazon Family – How to Save on Diapers, Baby Items & more! Plus, Create a Child Profile to Get Special Savings!
This post may contain affiliate links and I may be compensated for this post. Please read our disclosure policy here.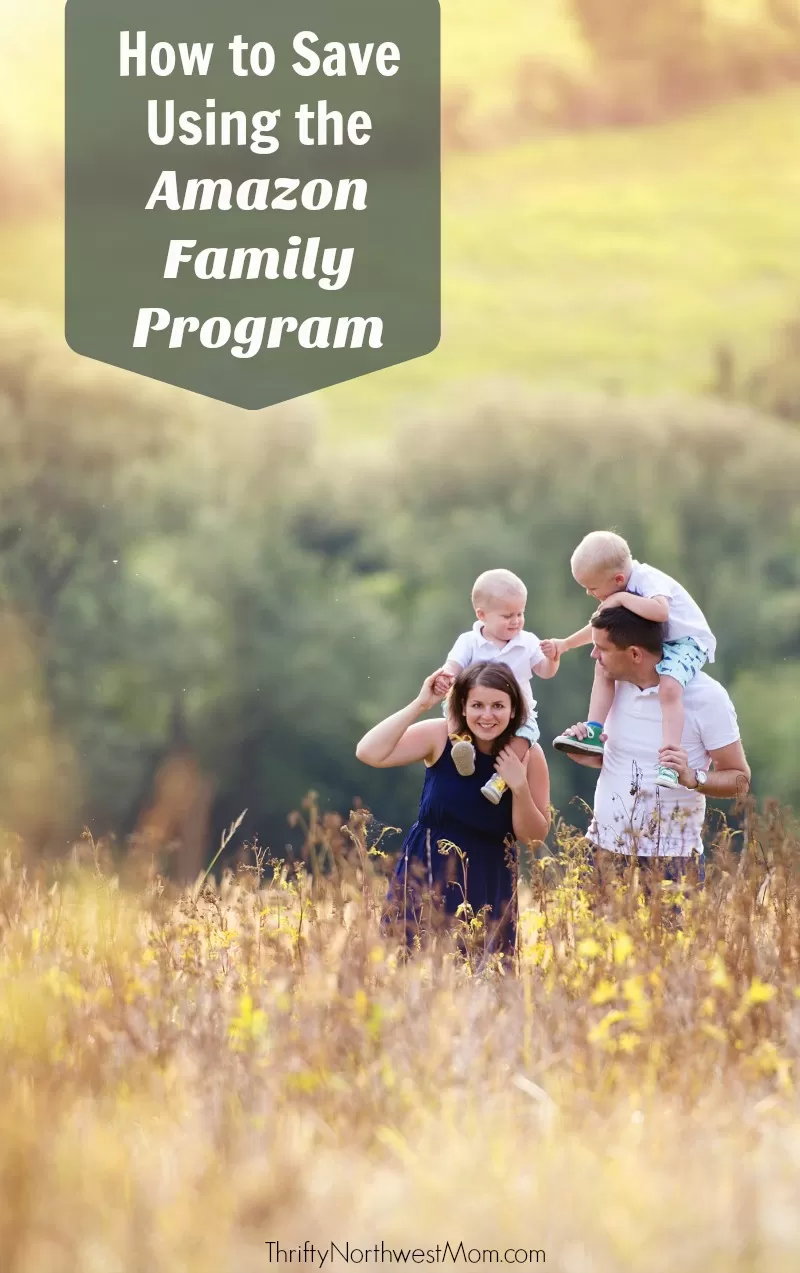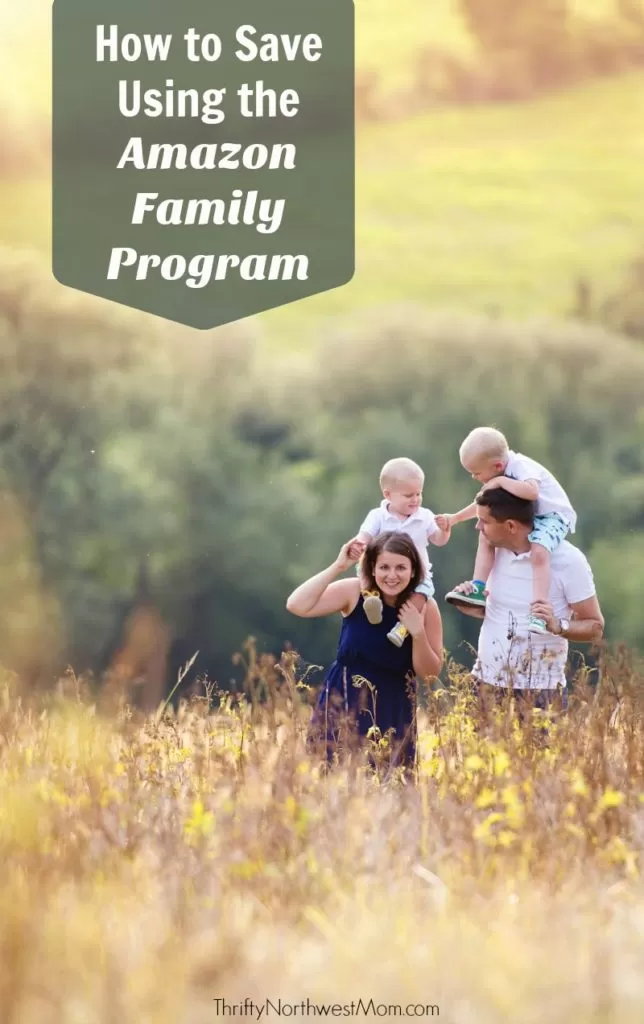 One of the biggest expenses for families of babies & young children is diapers. Disposable diapers really start to add up so we are always on the hunt for ways to save on diapers. One of the best savings for diapers that we have found is through the Amazon Family program (formerly named Amazon Mom) program. This is a program that is free for all Amazon Prime members and it offers some great benefits for families with u to 20% off diapers using the Subscribe & Save monthly service. Not only are you saving on your diaper purchases, but you are also saving yourself a trip to the store, by using this monthly subscription service to schedule regular deliveries so you never run out.
In addition to the discount on diapers, Amazon Family also offers special E-Coupons & discounts for products geared towards families, as well as additional discounts and rewards if you sign up for an Amazon Baby Registry.
In order to take part in the Amazon Family program, you just need to sign up for Amazon Prime (or already be a Prime member) and then make sure your profile is complete for all of your children on the Amazon Family page. It's really just as simple as that! By completing the profiles for your children, it will also unlock additional offers & discounts, as well as recommendations of products for your family.
Check out all of these benefits & ways to save using the Amazon Family Program as part of the Amazon Prime program. The Amazon Prime program is $99 for the year and you'll receive all of the benefits we've listed below.  You can try it all out by signing up for the Amazon Family 30 Day Free Trial program to see if you think it's worth it for your family.


Up To 20% Off All Diapers
Subscribing to diapers saves you 20% and a trip to the store.
Amazon Family
automatically provides Prime members up to a 20% discount on diapers when ordered with Subscribe and Save, which is a subscription based monthly service.  You can set the frequency of how often you receive the diapers, too (from every month to every 3 months & more). You can cancel at any time, but it's so nice to have it set up on a regular basis so you don't have to worry about running out of diapers.

Exclusive Baby Registry Benefits
Prime members with a Baby Registry get additional discounts and rewards including a 15% Baby Registry completion discount and access to limited time offers such as a free Welcome Box, compliments of Amazon Family.

Exclusive Coupons and Deals From Amazon Family
Save on the products your family wants and needs. Prime members are eligible for Amazon Family coupons on products from laundry detergent to granola bars, as well as limited-time deals on everyday essentials like diapers and baby formula. You can stack these Amazon coupons with the 20% off diaper Subscribe & Save options for Amazon Family members for maximum savings, which can often make Amazon one of the best places to save on diapers (even better than Costco sometimes).
Additional benefits you'll receive from Amazon Prime:

Share Your Prime Membership With Family
Create an Amazon Household and share certain Amazon Prime benefits, including FREE Prime Shipping, Prime Video streaming, Amazon Family discounts, unlimited storage space for photos with Prime Photos, and more.

Amazon FreeTime Unlimited. Endless kid stuff. No grownup stuff.
Amazon FreeTime Unlimited is an all-in-one subscription for kids that offers unlimited access to thousands of kid-friendly books, movies, TV shows, educational apps, and games. Kids get access to thousands of titles for a low price. Also, because there are no ads and no in-app purchases, there are no surprises and no extra charges. This includes hits kids love from PBS, Nickelodeon, Disney, and lots more!


Stream Movies For the Whole Family
Instantly stream thousands of blockbuster movies and popular TV shows, including award-winning original children's series such as Tumble Leaf and Creative Galaxy. You can watch at home or on the go with Fire TV, Fire TV Stick, iPad, iPhone, Android phones, Roku, Xbox, PlayStation, Samsung, Sony and many other devices.


Unlimited Music Streaming- Over A Million Songs To Choose From
Prime Music gives you unlimited, ad-free access to over a million songs, thousands of playlists and stations, and exclusive albums. Listen to music anytime and anywhere and all music that fits your tastes! With over a million songs there a tons of playlists to choose from!

FREE 2- Day Shipping For Amazon Prime
With FREE Two-Day Shipping from Amazon Prime. With Prime, there are no limits on deliveries or order size with over 20 million eligible items.  Prime members also get FREE Same-Day Delivery on over a million items when shipping to select metro areas and FREE Release-Date Delivery on eligible pre-order items within the continental U.S.

FREE Unlimited Photo Storage
Your Prime membership comes with free unlimited photo storage through Prime Photos, which lets you securely save as many photos as you like and see them on your phone, computer, or tablet. You can share this Prime benefit and give free photo storage to up to five family members or friends. Collect photos together with your invited family and friends in the Family Vault and store memories from everyone in one safe place.

Early Access To Amazon Lightening Deals
Be among the first to decide what's hot and what's not. Get early access to Lightning Deals on Amazon.com 30 minutes before other customers can access these deals.


Over 800,000 FREE ebooks
Choose from fiction or non-fiction, New York Times best sellers or lost classics in over 800,000 titles. You can check them out for a day or even a month. There are no due dates!
As you can see, with the Amazon Family program & additional benefits you receive from Amazon Prime, there are so many ways to save for your family. It is $99/year to sign up for Amazon Prime, which includes the Amazon Family program, but the benefits can really save you so much more! Try it out with the
FREE 30 Day Trial of Amazon Family
.
Save
Save