Leavenworth Wa. Lighting Festival Trip & Sleigh Ride – 50% Off!
This post may contain affiliate links and I may be compensated for this post. Please read our disclosure policy here.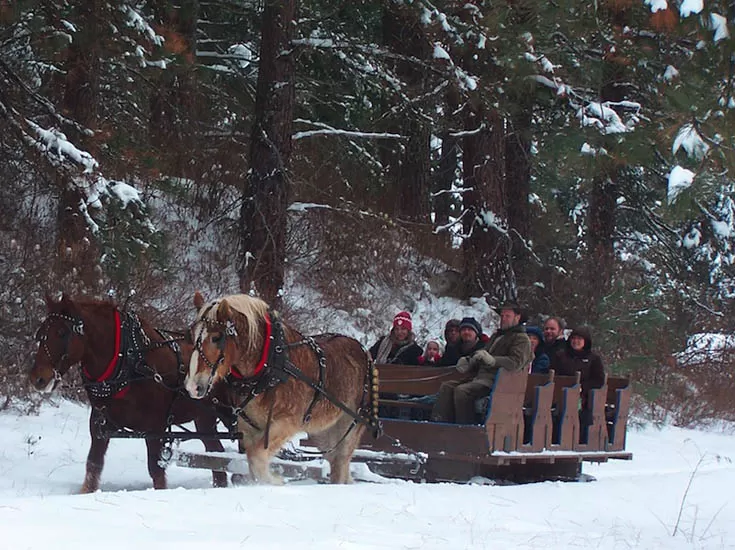 Leavenworth Wa. Lighting Festival Trip & Sleigh Ride – 50% Off!
If the Leavenworth Lighting Festival is on your to do list, but you don't want to hassle with the drive, you can book a trip there through Goldstar right now for half off. Tickets are currently selling for $100 (plus $13 service fee). Its a $200 value, so although its a splurge, it will help you save a bunch if this is something you have wanted to do.
This sounds like a magical Winter trip, that includes the trip over to Leavenworth and a sleigh ride. It could be a really fun trip to talk some friends into doing with you, and start your own special holiday tradition. Leavenworth is really beautiful that time of the year, and it will be a trip to remember. If it is something your interested in, you may want to plan for it now. This is a popular event this time of the year, and half of the current dates available have already started to sell out, so check it out soon if it is something you are interested in.
Itinerary for the sleigh ride & Leavenworth Winter Day Trip looks like this:
7:00am – Departure
11:00am – Arrival at Red Tail Farm
11:00am to 12:00pm – Sleigh Ride and Hot Cocoa
12:30pm – Depart Red Tail Farm for Leavenworth
12:45pm – Arrive in Leavenworth
4:45pm to 5:30pm – Depart Leavenworth for Seattle
8:30pm – Approximate Arrival in Seattle
Please note: When there is not enough snow for the sleigh, wagons are used instead.
Here is Goldstar's description of the Leavenworth Wa. Christmas Lighting and Sleigh Ride Event:
Leavenworth Sleigh Ride and Christmas Lights Festival, Leavenworth WA- 
If you're searching for a perfectly picturesque and authentic Christmastime experience, congratulations — you've just hit the jackpot. This journey begins at 7:00am, where you will enjoy complimentary breakfast snacks as you're ferried through the gorgeous Cascade Mountains to Red Tail Farm. There, you'll snuggle up under warm wool blankets as a winter wonderland unfolds before your very eyes in a custom-built sleigh pulled by Belgian and Suffolk Draft horses, as it carries you through woods, trails, fields and snow-covered canyons. At the ride's conclusion, you can warm yourself by the fire, enjoy a hot cup of cocoa and pose for pictures with the horses, and then it's off to the nearby town of Leavenworth. In this quaint, old-world town, you're free to browse, shop and enjoy live outdoor entertainment and authentic German food purchased at street stands and local eateries. At dusk, the town promenade becomes home to the Christmas Lights ceremony (on Saturdays and Sundays only), as hundreds of thousands of twinkling lights come alive in a magical moment. Then just relax on your comfortable journey home and treasure the memories made over the course of your 13-hour Christmas expedition.
There are these dates available at this rate through Goldstar currently (note, they are already selling out):
Friday, Dec 6, 2019 / 7:00am (Boarding Begins at 6:45am) | $100
Sunday, Dec 8, 2019 / 7:00am (Boarding Begins at 6:45am) | $100
Friday, Dec 13, 2019 / 7:00am (Boarding Begins at 6:45am) | $100
Sunday, Dec 15, 2019 / 7:00am (Boarding Begins at 6:45am) | $100
Friday, Dec 20, 2019 / 7:00am (Boarding Begins at 6:45am) | $100
Sunday, Dec 22, 2019 / 7:00am (Boarding Begins at 6:45am) | $100