Verizon Phones – Up to $200 Off, 50% off Activation + $500 in Gift Cards for Giveaway!
This post may contain affiliate links and I may be compensated for this post. Please read our disclosure policy here.
Disclosure: This post is sponsored by Savings.com. See our disclosure policy for more details.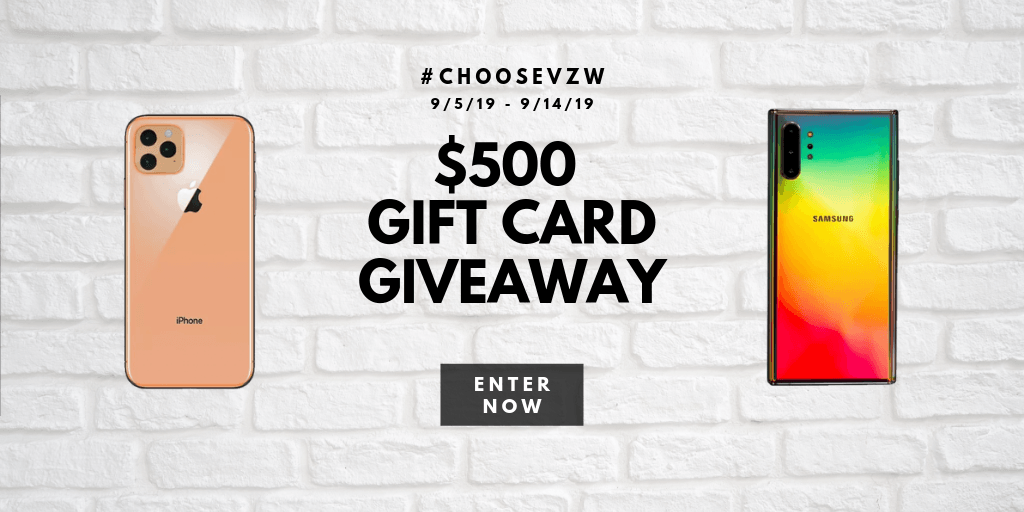 New Verizon Phones + $500 in Gift Cards for Giveaway
Is it time for you to think about an upgrade for your phone? If you're a Verizon Wireless customer, this is the month to upgrade thanks to some awesome promos they are offering in honor of new phones they have released (Samsung Galaxy Note 10 and the iPhone 11).
Head over to Verizon.com this month & you will save up to $200 + 50% off activation when you purchase your smartphones online at Verizon Wireless (this offer is available thru 9/30/19).
If you are not a Verizon Wireless customer yet, but have been debating switching, this is a great time to switch with these savings. Sia actually just switched to Verizon last week thanks to the great savings they are offering this month & she has been watching the sales for a few months & finally grabbed the deals this month.  The best time to make a switch between carriers is when you have done your research to compare plans & you take advantage of multiple promos like they have going on now.
I've been a Verizon Wireless customer for about 5 years now & honestly it is the best service I've had in the Northwest for coverage. My husband and I had 2 different carriers one year just to compare & my Verizon coverage constantly beat out the other carrier for significant coverage in the mountains, on country back roads and out at the beach here in the NW. Our house is at the very bottom of a hill surrounded by tall trees and Verizon is the only carrier that gets consistent service in our home – we know that because friends get frustrated when they are at our house & can't get much service.
New Verizon Phones:
There are several new phones available now at Verizon Wireless. The Samsung Galaxy Note 10 was released this summer and is available now for purchase. And the iPhone 11 will be available for pre-order on Friday September 13, 2019. I have actually had several iPhones as well as a Samsung Galaxy phone in the past & honestly, I think they are both excellent phones, especially with the latest technology as these phones offer. It was a tough decision for me to move to my current phone, a Google Pixel, after having my iPhone as it's such an easy phone to use & sync with my Macbook too.
But as much as I miss the iPhone features, if I was getting a new phone this year, I honestly would choose the Samsung Galaxy Note 10, just based on the incredible camera it has that I've heard so much about. The phone has 4 total cameras so it provides such a high-level of clarity & depth and the video capabilities look amazing! But, it would definitely be a tough choice as the new camera & video options on the iPhone 11 look incredible too. Plus, the iPhone 11 has an even longer battery life, which is always my issue with cell phones – draining my battery too quickly.
Which phone would you choose if you were choosing between the Samsung Galaxy Note 10 & the iPhone 11? 
Available for purchase now
It has a 30 minute wireless power-up 2.0 with long-lasting battery life
512GB internal storage and expandable to an extra 1TB with an external microSD card
Wireless PowerShare lets you pay it forward with no cables necessary
You can stream, play games or download at fast speeds
The Note 10 has 4 cameras – 1 in the front & 3 in the rear to provide professional level camera quality
Video effects include Bokeh & Live Focus for cinematic depth of field when shooting
iPhone 11 launch date: Tuesday September 10, 2019 (yesterday!)

iPhone 11 pre-order date: Friday September 13, 2019

iPhone 11 release date: Friday September 20, 2019

The new iPhone 11 uses Apple's new A13 Bionic chip, which Apple says is their fastest processor ever.
The battery life on the iPhone 11 is one hour longer than the iPhone XS.
The new iPhone 11 camera has wide & ultra-wide lenses which gives you the ability to adjust cropping & zooming after you take the photo. There's also a new night mode which comes on automatically to brighten photos in low-light situations.
There is a new video feature called QuickTake, which makes it easier to take videos by long-pressing on the camera button. You can also do slo-mo, time lapse & expanded dynamic range.
Verizon Wireless Giveaway 
Enter to win one of 5 $100 gift cards to Verizon Wireless from Savings.com. This giveaway is running through Saturday September 14, 2019 at 11:59pm pst. Entering the giveaway is simple – just submit your email address on the form at the top of the page here.
Winners will be chosen by a lottery drawing and notified on Monday September 16 thru the email address that you use to enter the giveaway.
Visit the Twitter party happening on Friday September 13, 2019 at 10am pst with Savings.com to learn more about these new phones available from Verizon Wireless. You'll also have the chance to enter to win $500 in gift card prizes. So, make sure to RSVP to be eligible to win one of the prizes.