Leapfrog Coupons – $5 off 2 Tag or Tag Jr Books & $10 off 2 Leapster Games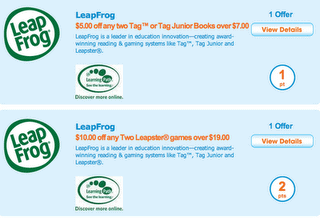 I've been on the hunt for Leapfrog coupons since there's an awesome sale happening this week on Leapfrog Tag books at Target.  Thanks to Amber from Coupon Connections NW, I learned that there are a few Leapfrog coupons from Tropicana Juicy Rewards.  You'll need to redeem 1 or 2 reward points for each coupon (you can find the reward points on the bottom of Tropicana Juice lids).
Here are the available Leapfrog coupons:
These coupons don't expire until April 2011.
Here's how the Leapfrog Tag Coupon will work at Target thru tomorrow:
Leapfrog Tag Books – All books are on sale for Buy 1 Get 1 Free, select books are $9.99
Buy 2 $9.99 Tag Books
Use $5 off 2  printable coupon from Tropicana Juicy Rewards
Final Price: $5 for both or $2.50/ea
The Leapster  game coupons could come in handy on  Black Friday, too, possibly!