Giveaway: World Vision $25 Micro Loan Gift Card
This post may contain affiliate links and I may be compensated for this post. Please read our disclosure policy here.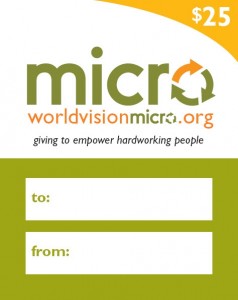 Today is Thanksgiving & it's a special day that we all set aside time to think about the blessings we've been given & all that we have to be thankful for today & all thru the year.  I know for me, it's a time when I really examine my life & realize how much God has given me &  the fact that there are so many people around the world who are struggling to keep a roof over their children's heads, provide a nourishing meal for their family &  keep their families healthy in the desperate circumstances they are facing.  So, I thought this was an appropriate day to host a special giveaway, one in which you can have the chance to give back to a family or individual who's struggling  in another part of the world!  This is a chance to make a difference in someone's life this holiday season!
World Vision has been providing small loans to individuals thru their VisionFund International since 1993. Their goal is to help individuals in these developing countries be able to start up or fund their own business so they can support their families & in turn support their communities.  As the business grows, the small business owner would  then pay the loan back in full & 100% of these funds are then reinvested back into that same community to support another small business owner.  They have found that there is over a 98% re-payal rate by the business owners & often within a year of receiving full funding for the loan.
World Vision now has a new microlending site, worldvisionmicro.org, where you can visit online & choose an individual who's applied for a small business loan & help fund their loan in order to help them start up a business to be able to provide for their family.  When you help fund a loan, you will get updates on the status of that entrepreneur's business & the impact of the loan as well as repayment updates.   When you go on to the World Vision Micro Loan site – you will have the opportunity to choose the entrepreneur you want to support by choosing the type of business, gender – man or woman, the size of the loan they are asking for (you can contribute as much or as little as you can towards that loan), and the country (Mexico, Phillipines & Rwanda).   You will then receive regular updates from World Vision on the impact that your loan is making in the life of this entrepreneur!
Gift Idea: World Vision Micro Loan Gift Card Program
World Vision is offering gift cards for their Micro Loan program which you can buy to give to someone as a special gift this holiday season (see the picture above to see what it looks like).  This would make a very meaningful gift for someone this holiday season – it gives them the opportunity to give back & help an individual in a developing country provide for their family.  This might make a great group gift you could give to your child's teacher, your boss at work, or give to family or friends.
Giveaway:  $25 Gift Card to World Vision's Micro Loan Site
World Vision has offered a $25 Gift Card to their Micro Loan site to one Thrifty NW Mom reader.  You will be sent this gift card by mail & then can give this as a gift this Christmas to someone who would appreciate this meaningful gift. Or keep the gift card yourself, so you can try out this program & pick an entrepreneur you would like to help fund a small business loan so they  can support their family.
This giveaway will end on Monday November 29th at 9pm pst.
The winner will be drawn using Random.org and the winner will have 48 hours to contact me, otherwise a new winner will be drawn. US residents only & you must be 18 yrs or older to enter the giveaway.
Here's how to enter this giveaway::
1st Entry (required entry): First, head over to World Vision's Micro Loan site & enter your email address to be entered to win the $25 gift card. Then leave a comment here on this blog post letting me know you did that– simple as that!
Disclosure: I was given a $25 World Vision gift card as part of this  review.  A  $25 World Vision gift card also will be given to  a winner randomly chosen.  All opinions are 100% mine. See my disclosure statement for more details.