Ibotta – How It Works – Money Saving App
This post may contain affiliate links and I may be compensated for this post. Please read our disclosure policy here.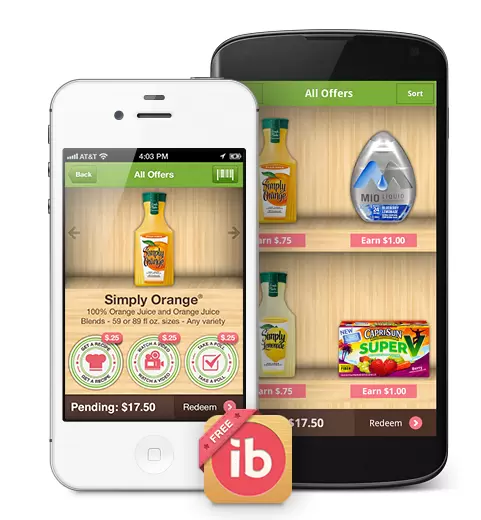 Ibotta: How It Works
We have mentioned Ibotta a few times recently in some of our coupon matchups but we wanted to give you the full scoop on how it works! Ibotta is a FREE smartphone app which is available for iPhone, iPad, iPod Touch and Android users. By using this app, you can earn cash back on specific products you buy at grocery or drugstores or other retailers.   I just started using it and I love how simple it is to do from your phone.  They will have a variety of different products in every category, available to redeem offers and then for each product, you will have different short tasks you can do to earn cash-back.  This will lower your out of pocket even more as this is cash-back after you have gone shopping (you can continue to use manufacturer and store coupons on the items in store).
Ibotta offers a variety of deals when you sign up and successfully use the app.
Once you start using ibotta the cash back offers are deposited into your account, you can then cash out via paypal.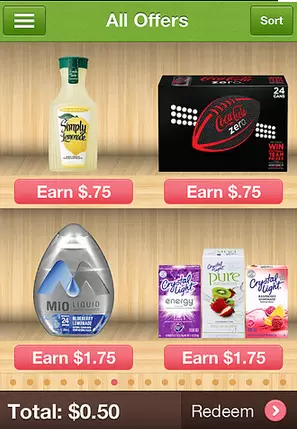 Here are a few ways that you can earn cash-back on the specific products:
Read a quick how-to  or learn a fact about the product (I just did this for Green Apple Chapstick and it was a short sentence about using Chapstick daily to protect your lips & then I earn $.25 when I buy this product)
Quick trivia questions
Watch a short video
Share on Facebook
Take a poll – typically just 1  question about how much you use the product
They typically offer 3 different options you can choose and if you do all 3 tasks,  then you can earn that entire amount of cash-back.  It is important to know that Ibotta offers can vary from user to user, so if we list a deal that we found, there is the chance that the same offer may not be available for you. But, we will list them so that you can at least check to see if it's available!
Here's how it worked for a sample offer I just did with the Chapstick Green Apple product::
I read a quick how-to for $.25 cash-back
Answered a trivia question ($.25)
Watched a short video ($.50)
Doing all 3 tasks earned me $1 in cash-back if I redeem the offer & submit my receipt
This Chapstick Green Apple product is actually found at Target, Winco & Walmart for under $1 (if you buy the single chapstick & they have this variety) – so after the cash-back offers from Ibotta, you could get it for FREE!
How to get Started:
Register for a new Ibotta account (using your iPhone, iPad or Ipod Touch or Android phone) by Friday January 11th at 11:59am pst
Then download the app to your smartphone through your App store (I have an Android phone, so I used the Google Play store and searched for "Ibotta")
Once you have downloaded the app, start looking through the offers (you can look by category or just see all of them together). Pick the items that you know that your family needs or compare to your favorite store's weekly store matchups to see where you can find a great deal by buying the product and matching up a sale, store and/or manufacturer coupons and then also receiving cash-back on the item from Ibotta.
Go thru and complete the offers for any products you plan on buying (I'm not sure how long the offers stay available in your account, but I would recommend doing the offers fairly quickly, just to make sure that the offers don't disappear before you do the tasks).
Once you've completed the tasks, choose which store you will buy this product at (from the list of participating stores) – I wouldn't go to this next step until you are sure you're ready to buy the product.
When at the store, make sure to click "Redeem" on Ibotta for the offers you will be buying .
Purchase the product and take a picture of your receipt using the Ibotta app and their instructions.
You will be credited the cash back for the number of offers you did once Ibotta verifies your purchase (within 24 hours)
Every time you redeem an offer from Ibotta, they will send you a new one in it's place. The more you start using it, then they will send you more personalized deals on products you frequently use, too.
You can cash- out via Paypal every time you reach $5 or more in your account (if you sign up by this Friday 1/11 and do your first offer by 1/17, then you can cash out after your first offer with the extra $5 credit you will earn).
Participating NW Stores:
Safeway
Fred Meyer
QFC
Target
Costco
Walmart
Walgreens
Rite Aid
Winco
Whole Foods
7-11
Military Commissary
and many more grocery & drugstore locations around the country
 If you've been using this app with your shopping, let us know how your experience has been and if you have any tips for those of us who are just starting to use it.