HUGE Book Sale in Kent, WA – Fill A Bag for $10 Sale – Tuesday, Wednesday and Thursday!
This post may contain affiliate links and I may be compensated for this post. Please read our disclosure policy here.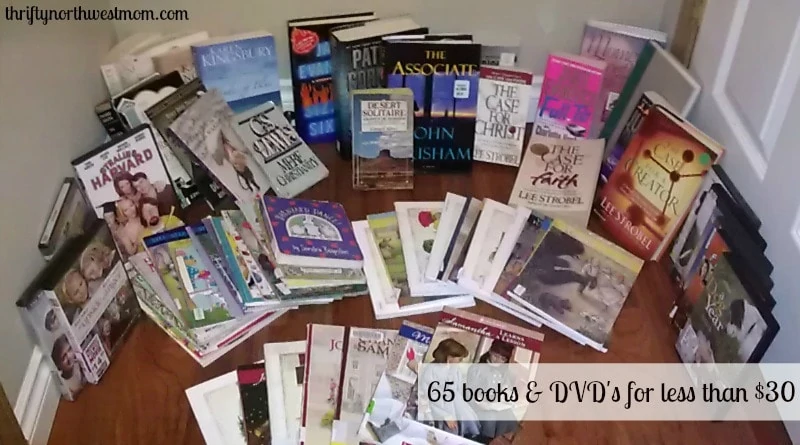 **I just wanted to remind you that the Once Sold Tales bookstore outlet only has a few days left before all of their thousands of books get turned to pulp! Save a book and find an amazing price with their Fill-A-Bag for $10 sale going on this Tuesday, Wednesday and Thursday! You can bring any size bag (as long as you can carry it out) and fill it up with books, DVD's, CD's, records & more for just $10!! Don't forget that the outlet's last day is May 31st! I am hoping to head up there for this $10 book sale – wow!
***********************
I mentioned on Thursday that the Once Sold Tales bookstore outlet is going out of business by next Friday May 31st (their last day) and having an amazing sale on their gently used books, DVD's, CD's, audio books & more!  We had the chance to check out the sale last night for their Midnight Madness sale and oh boy, it was AWESOME if you are a book lover!  And it is so convenient as it was literally 5 minutes off of Hwy 167 in Kent (Central Ave exit). We bought 10 DVD's for $.50/ea – 50% cheaper than Redbox & we get to keep them! :)  . Find more pictures of the warehouse of books on this website and you can find more details on the sale on this Facebook page as well.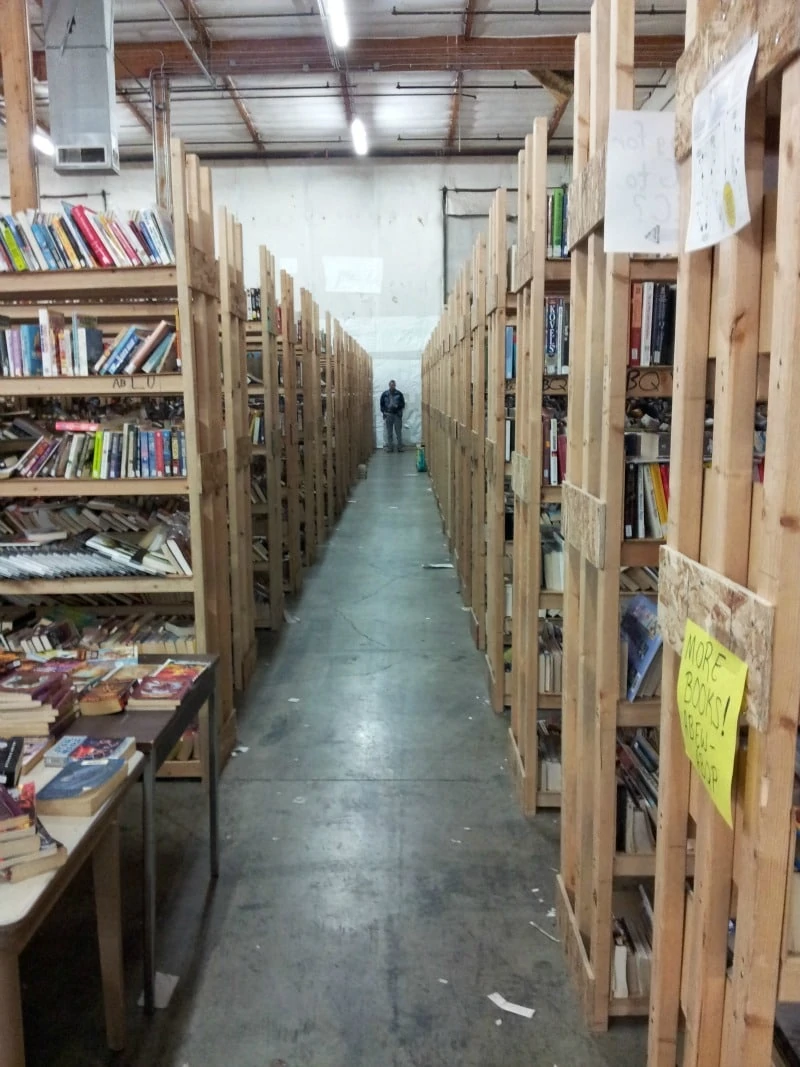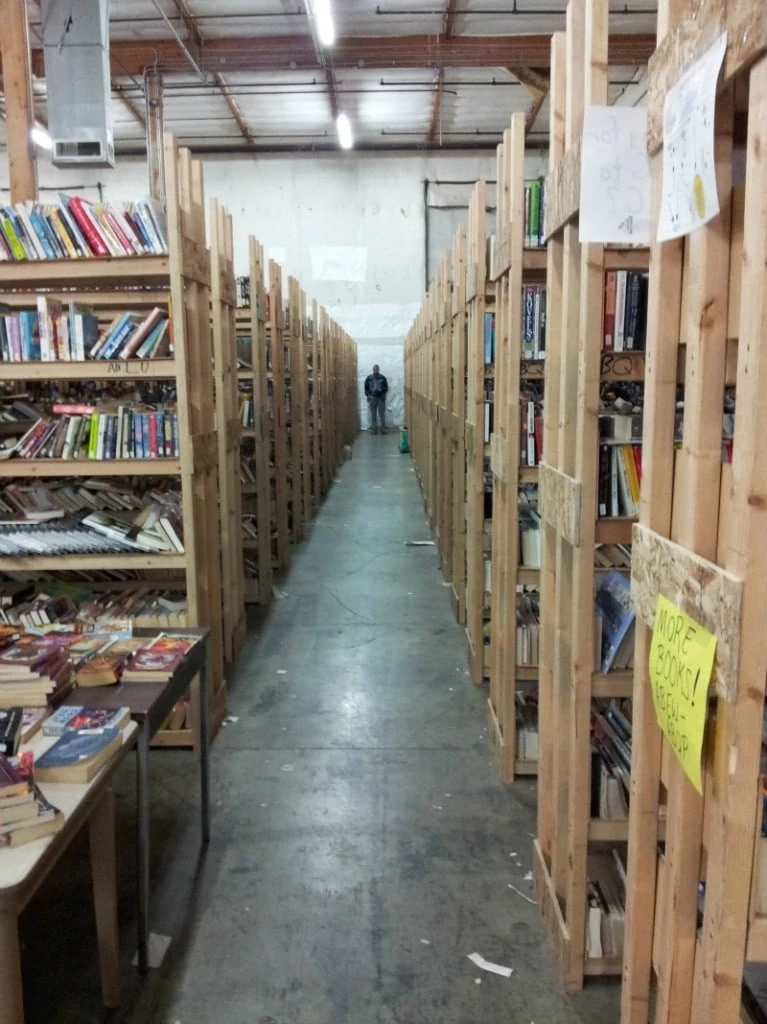 This is just one aisle of the many, many aisles of books!
Sadly, this online store & bookstore outlet is going out of business on May 31st and they need to sell as much as they can and there are still over HALF a MILLION books, etc left. These are several huge warehouses FILLED with books (30,000 square feet of books!) and unfortunately, the owner, Carrie who is a single mom with 5 kids, will have to recycle/ pulp these books if they are not sold by next Friday, May 31st as her costs & debt are too great to continue to keep it open. She is such a sweet lady & truly loves to see families find their favorite books to take home & share together, but due to the age of Kindle & Nook books, people are just not buying as many books anymore.  I know we have an awesome community here at Thrifty NW Mom, though, & I'd love to see how you can all spread the word & share about this sale so we can help support this mom by buying these books. So, pass on these amazing bargains to anyone you know who loves books!
Here are the prices of the books on sale right now (unless you hit a special sale time):
$1 – Paperbacks
$2 – Hardcovers
$1.50/lb – Children's Books
Bookstore Outlet Sales:
5 FREE books per each child: 
This is so cool that they offer this as it gets kids so excited about finding a new favorite book – each of your kids can pick out 5 FREE books to take home! My daughter was thrilled to find a large selection of American Girl books (some of them looked brand-new) and she got to pick 5 to take home for free (The 6 set of books for each American Girl run from $30 & up online – so this is an amazing bargain!)
Bag Sale – Starting Tuesday 5/28 – $10/bag (any size)::
Starting on Tuesday, she will be having a Bag Sale in the bookstore outlet – so, you can fill a bag (any size as long as you can carry it) for just $10/bag with books, CD's, DVD's & more. However, if you're looking for children's books, I honestly would not wait till then as I am sure people will be buying up the books again tonight as it was popular last night and $1.50/lb is an awesome price already!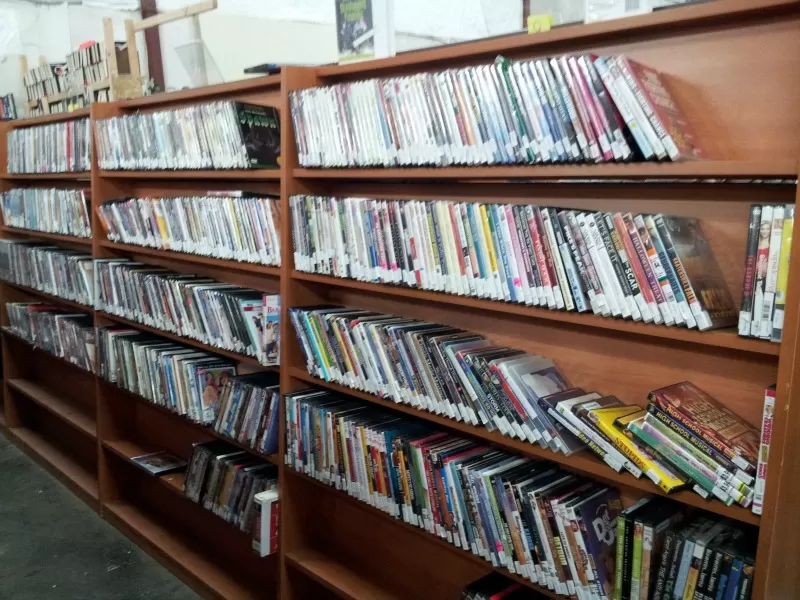 DVD's at Once Sold Tales
Tips for Shopping the Sale::
So, if you're heading to the outlet, there are some tips you'll need before you go. I will tell you that you are getting an amazing bargain, but it will not be the easiest to find some of the books, so the more you can be prepared ahead of time, will help you find everything you need. They do have a lot of volunteers that are helping people to find books, too, though – but just be prepared that if you can go without your kids, that would be easiest so you can navigate the many aisles of books.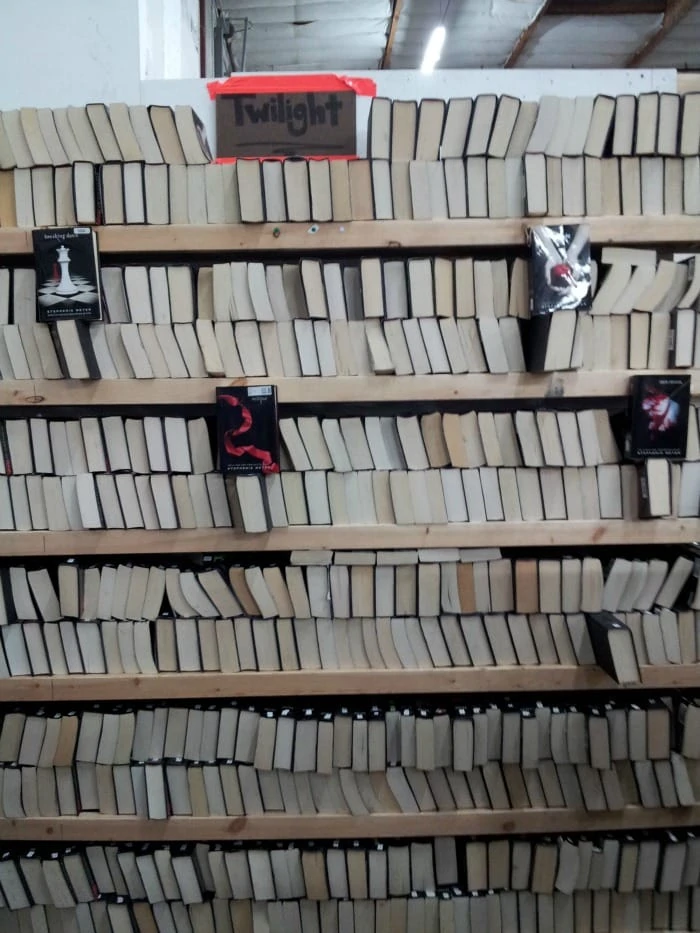 These are all their Twilight series books!
They do have a front section of all children's books in one room and the next room has a lot of Christian fiction, parenting books, etc – so the front rooms definitely have areas that are arranged by subject/genre. The volunteers are also working very hard to group books together by author, subject, etc – so there is plenty to look at which are grouped together, but there is still so much that is out in the main warehouse bookshelves that it will help if you have a plan.
Bring a resuable bag or rolling cart:  If you have your own bag, rolling cart, etc to use to carry around your books, this would be ideal! They do have milk crates, a few shopping carts or rolling carts, but the more people that are there, then those will be taken, so I definitely recommend bringing your own  -especially when you leave, they don't have bags for you, so you will need to carry your items out. It also would be easier to put your books into a bag as you walk thru the tons of aisles of bookshelves.
Look for specific book titles online before you head to outlet: This is the most important suggestion – all of the books on bookshelves are arranged by SKU number (since she was an online retailer) – so they are not arranged by genre, author, etc.  In order to find the books you want, head to the Once Sold Tales website &  here's how it works::
Search for any books/authors you're interested in
Add those books to your online "cart"
Print off  your "cart" list which will include the books SKU number.
Head to outlet & they have maps & labels to help you find the right aisle for your SKU number
**Important : Due to the busyness & last days of the sale, the website is not updated anymore with books that have been sold for about a week – this means that you may not find all of the books that you were looking for as they could have sold, but I did print off a list ahead of time & found most of the books I wanted.  Also, the online prices will be higher – just know that everything will be the same price at the outlet based on the sale of that day!
**Update: It looks like you may even be able to check out the books online that you're interested in & email them your list and they might be able to pull the books for you ahead of time (if they're not too busy) in case you don't have time to search – I found these details on their Craigslist ad!
They also have computers available at the outlet where you can sit down and search for authors, subjects, books, that you're interested in and then you write down the SKU number & go find it. That's what we did frequently as I realized there were SO many more books I was interested in. For example, my daughter wanted to find books about macaws (parrots) so we searched "Macaws" & got a list of books &  found several fun books for her to take home on her favorite subject. It was a fun hunt for my girls to find the book they wanted (although like I said, all the regular kids books are in the main front room).
Here's the address:
Once Sold Tales Bookstore Outlet
22442 72nd Ave S
Kent, WA
As you can see above, we had an awesome time shopping – 65 books or DVD's for less than $30! We are supposed to be cleaning out our house/garage this weekend, but ended up with so many cool books! Just means that I need to clear out more to make room for these. My hubby & I were going to rent a movie, though and we figured for $.50/DVD, we could save quite a bit more by buying the movies to keep! Great deal for our weekend plans! They have so many awesome authors, so I'm sure you'll find tons of books you're interested in!