Home Chef Meals – Get 18 FREE Meals + My Review!
This post may contain affiliate links and I may be compensated for this post. Please read our disclosure policy here.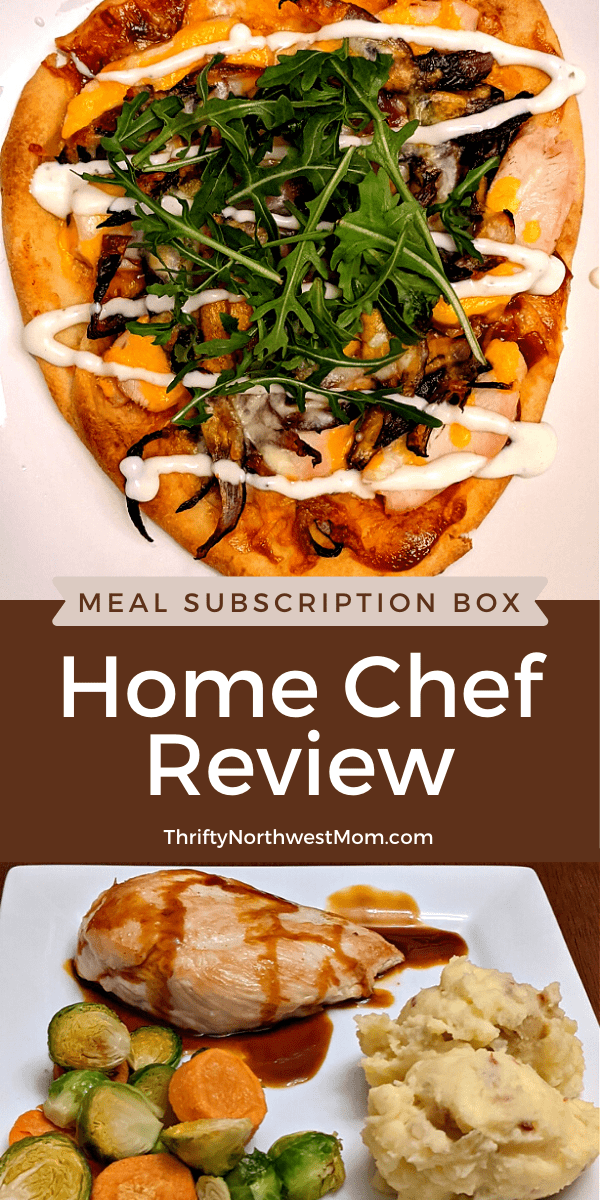 Home Chef Meals – Get 18 FREE Meals + My Review!
It's hard to believe, but we have never tried out a meal delivery / cooking subscription box before – Sia has tried out Hello Fresh (check out her review here)  and I have been very curious about trying out one of these subscription boxes, just to see how the meals turned out. So, when I saw that Home Chef had a special promo going on, we decided to try it out.
If you are in need of some easier meals for busier nights, without resorting to takeout or fast food, meal subscription services definitely are a great option for eating healthier, home-cooked meals, but without all the of the work. They do all the grocery shopping for you, with all of the food you will need for your meal all included & portioned out for you, so it's easy to throw it all together.
Home Chef meal options
Home Chef says all you need is salt & pepper. Everything else was included, which was a big bonus for us, especially during this year when we are relying on grocery pickup once a week. We have cut out all those little trips to the store & only do grocery pickup once a week, so this was perfect to have all of the ingredients included in the meal with very clear & concise directions to follow to make a healthy meal for our family.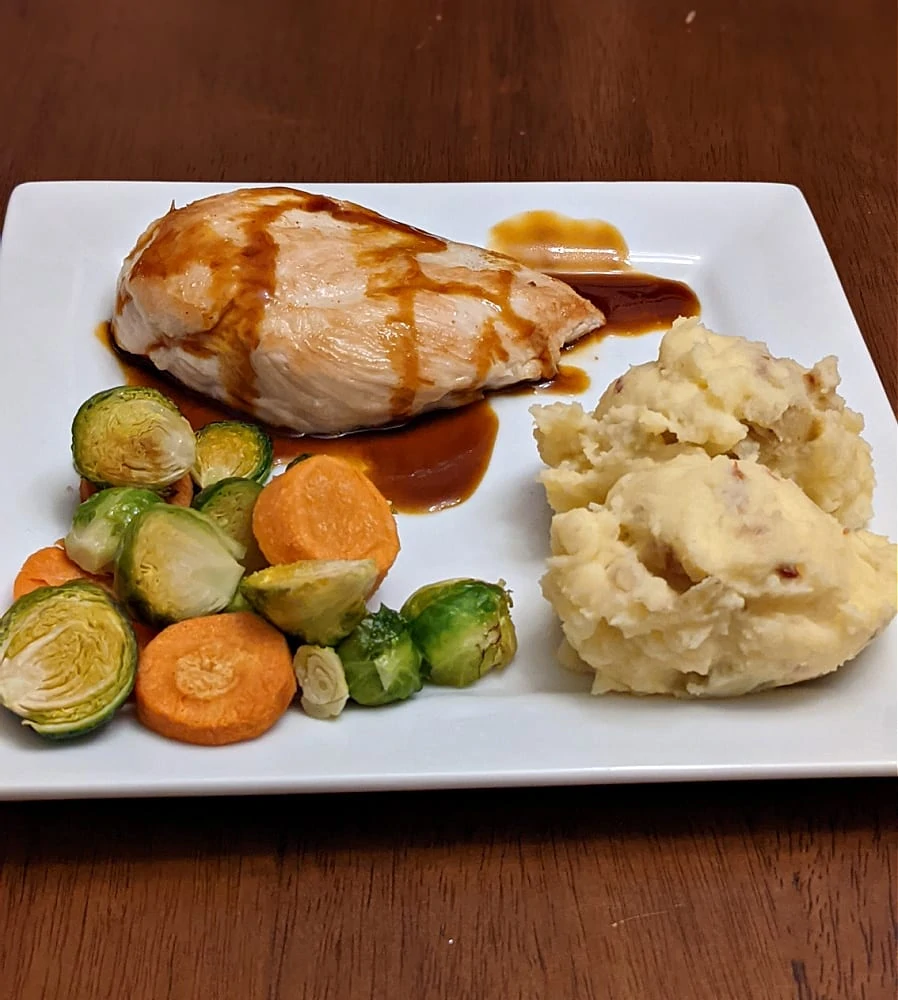 Home Chef Promo Codes & Coupon Offers:
Home Chef has a few special Home Chef coupon code available right now – here's how it works::
18 free meals (50% off each of your first 4 boxes) – Best Deal Available!

the promotion should apply automatically for you on this page here, but if it does not use Home Chef promo code AFF50OFF

You can also purchase SkinnyTaste meals if you want to try those out as a healthier option for the New Year!
Head here to take advantage of this special Home Chef promo code offer.
Home Chef Pricing
Home Chef Pricing is going to vary, based on what offer you use and how many meals you offer. The offer is going to be the best, for the 18 free meals (50% off your first 4 boxes). It will work out to just over $6 per serving in this scenario. Here is how the breakdown in pricing might work with this offer.
The 2 meal delivery box (for 4 people) is $79.92
– 50% off from promotion
Shipping is $10.99
Final price for your box is $50.95 pr just $6.37 per serving!
Plus, you will also get 50% off the next three boxes too.
Note that the maximum discount per box is $45.18 and the 18 free meals does not apply to orders of fewer than 10 servings per week.
If you want more meals or servings (like 3 servings  for a family of 3) you can add servings & they will still take the 50% off your first four boxes, up to the maximum discount.
At times, you will need a specific Home Chef promo code, but this special coupon offer does not require a promo code at all – it should show in checkout for you with the discount when you go thru our specific link.
If you decide at any time, that you want to cancel, you can cancel at any time. So, if you got your 2 boxes for the first time & decide that you don't want to continue, you can cancel then (& don't need to do the 3rd & 4th boxes)
Home Chef Reviews:
Wondering what Home Chef Recipes you might find with this program, and how they will taste. Here is our review of the Home Chef recipes after ordering for our house.
We just tried out 2 Home Chef meals this week & they were delicious. We just started with the meals for 2 people (as our girls can be picky, so thought we'd try it out ourselves at first). My husband is the best cook in our house, so he cooked up the meals & they honestly were absolutely delicious & so fresh.
When you sign up, the questionnaire will ask you different questions to find out what kind of meal options to give you – such as whether you are a vegetarian, any categories of food to avoid because of dislikes or allergies, and whether you are carb conscious or calorie conscious.  You will choose how many servings you want & how many meals to be sent to you first, as well as when to start.

Once you make your purchase based on how many meals, then they will give you the meal options to choose from. These are the two options we chose – Chicken Breast & Garlic Demi Sauce & Wood-Fired BBQ Chicken Pizza. You can see they had two different price points, but for the first meal, my total was the set $20 total for both of those meals shipped with the special Home Chef coupon offer.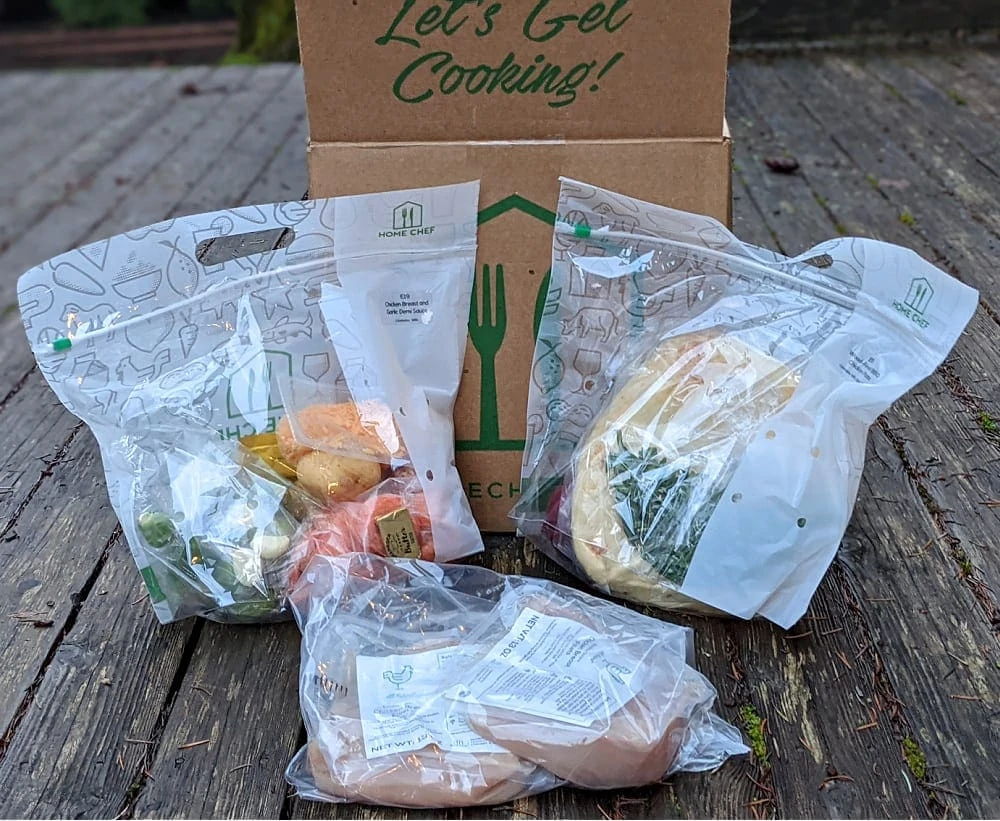 The meals came in one box all together, but they were separated into separate bags for all of the ingredients. The chicken was placed in a 3rd separate bag, so it was well separated from all of the other ingredients. There was a cold pack in the box as well to make sure the chicken stayed cold & fresh. Once it arrives, you could put the whole box in your fridge, but most people may not have room, so you could just put the meal ingredient bags in the fridge & pull it out when you are ready.
They had direction sheets that were easy to follow & color pictures, so that is definitely a big help for someone who is not as fond of cooking & needs everything spelled out as to how to cook it.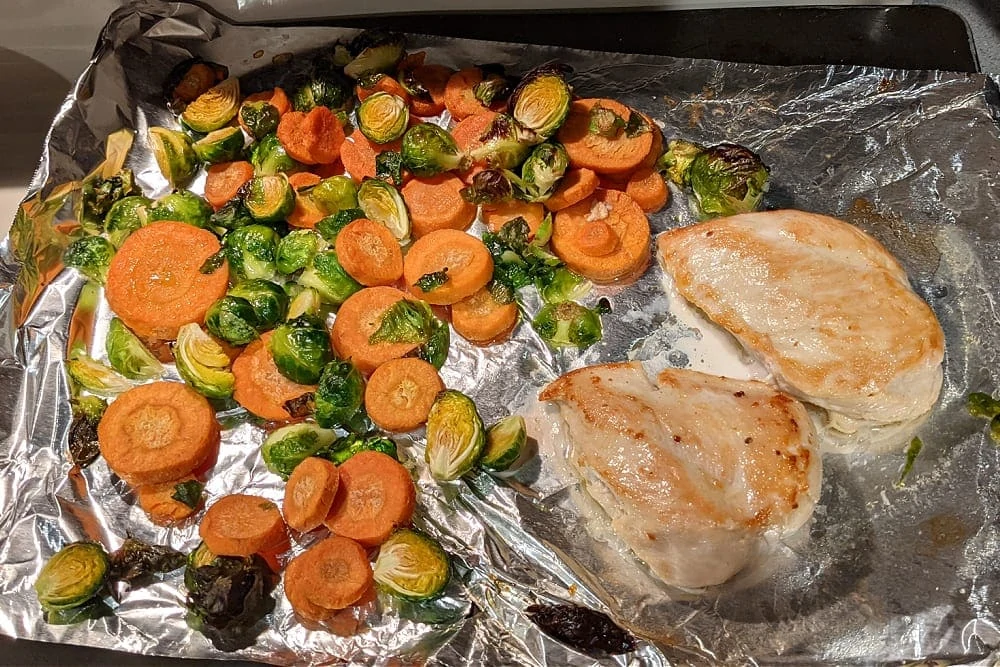 The chicken breast & demi sauce was a sheet pan meal with brussel sprouts & carrots, along with mashed potatoes. The sauce was so flavorful & the way they told you to cook the chicken was seriously the best, moist chicken.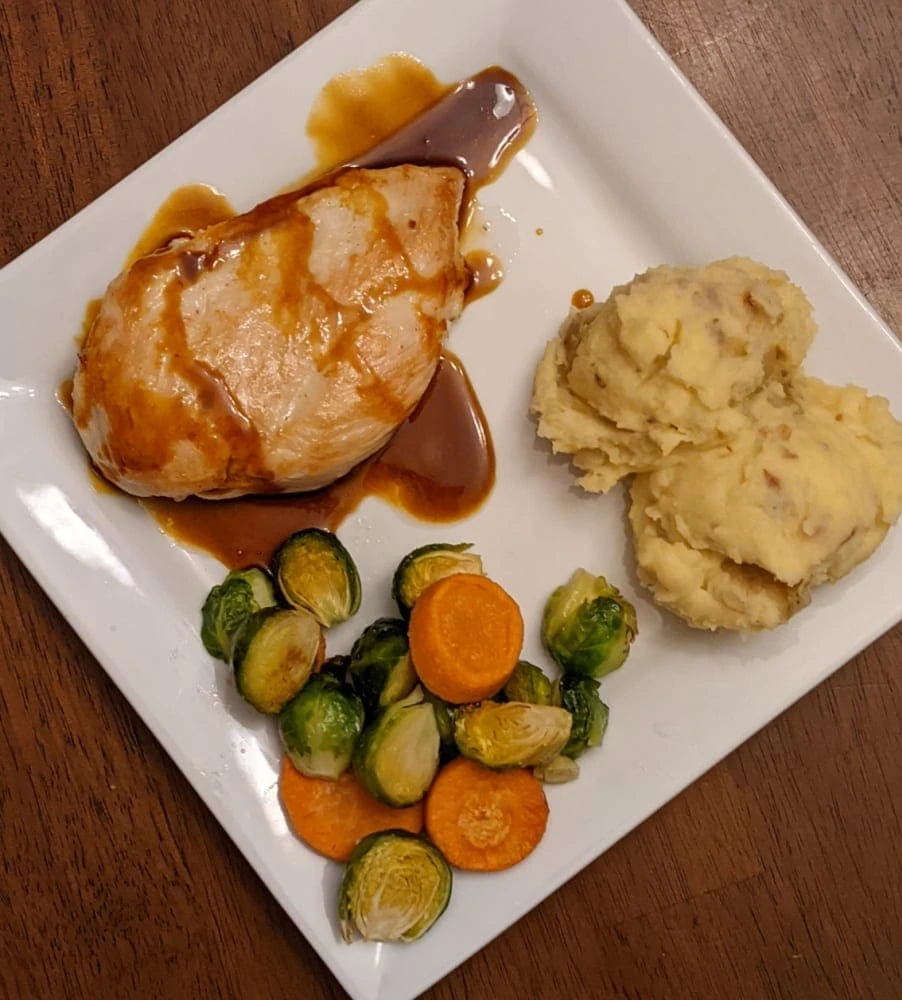 I told my husband we are definitely cooking our chicken that way from now on. They had us sear just one side of the chicken & then put it on the sheet pan & cook the rest of the time in the oven. I am all about sheet pan meals, too, it really is convenient to cook everything together.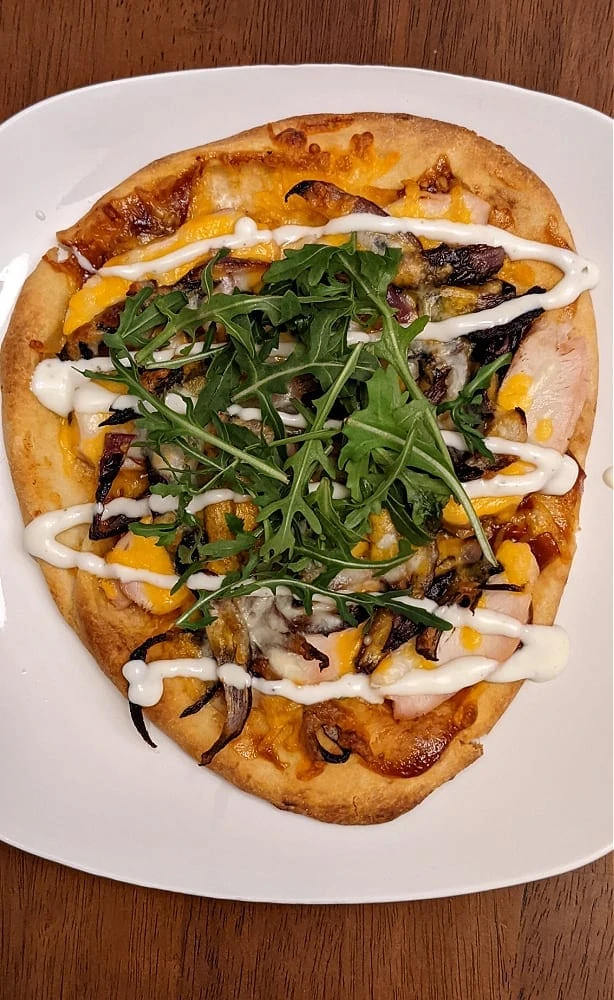 The second meal was a BBQ chicken pizza using pita bread. It was definitely a great combination (BBQ sauce & then a topping of ranch sauce, which I would have not thought of). And love the idea of using the pita bread to keep it easier for a busy weeknight. Both of these meals were ones that would be very easy to replicate on our own & add these meals to our menu planning rotation. So, that was an added bonus to trying out the meal subscription box, to add new recipes to our recipe database.
SIGN UP To try it out yourself now, here!
Home Chef Vs Hello Fresh –
Are you wondering how Home Chef compares to Hello Fresh? If so we have another review of Hello Fresh over here to check out. We do not do a Home Chef vs Hello Fresh comparison directly, but by reading both reviews you can get a feel for the two different programs.
Have you tried a meal subscription service yet? Let us know what you think!
More Food Subscription Boxes:
Check out Sia's review of Hello Fresh – another meal subscription service to try out!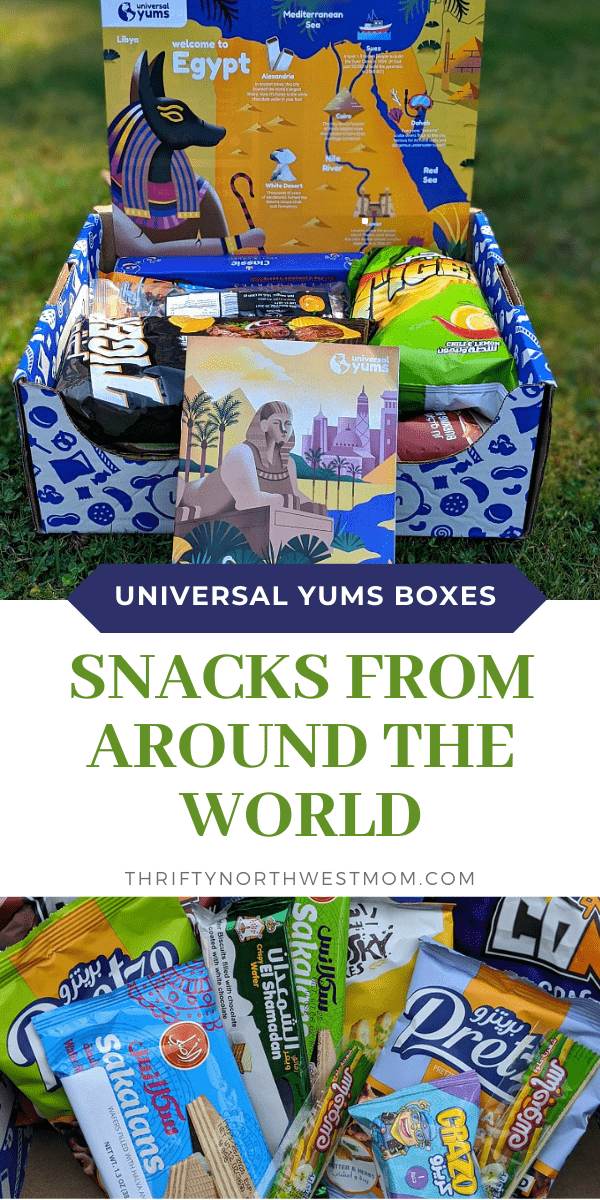 Universal Yums – this is a fun snack subscription box featuring snacks from different countries