Historic Stewart Farm in Surrey BC – Free Activities for the Family Just Across the Border!
This post may contain affiliate links and I may be compensated for this post. Please read our disclosure policy here.

Historic Stewart Farm – Surrey, British Columbia
We have a cool historic site to share with you that is just across the border in British Columbia and would make for a fun yet educational family destination if you live up in the North Puget Sound or Bellingham area or are headed through that area on your way to Vancouver, Whistler & more! The Historic Stewart Farm in Surrey, BC, just 10 minutes from the US/Canada border crossing, is a place that will take you back in time so you can experience what life was like for early pioneer families. So many kids are studying about the pioneer life in elementary school, so it really helps them to actually see what life was like by visiting places like a historic house or farm & see up close how they lived back in those days.
This would definitely be a fun stop if you're headed up for the day to British Columbia or passing through on a weekend trip! As I mentioned in my tips on why to visit Whistler, British Columbia, this is the perfect time for us in the US to visit Canada as the Canadian dollar is not very strong compared to the US dollar. It's basically around a 25% discount off Canadian prices for those in the US, with the current exchange rate, so this makes it very affordable to head to Canada for a day or weekend of family fun.
The Historic Stewart Farm is in Surrey, which is literally right across the border and a town that you will pass through or right next to on your way to Vancouver, Whistler & more. When we headed to Whistler a few weeks ago, we drove right thru Surrey, just a few minutes on the other side of the border. So, it's very easy to get to & close for those in Western Washington.
History of the Historic Stewart Farm: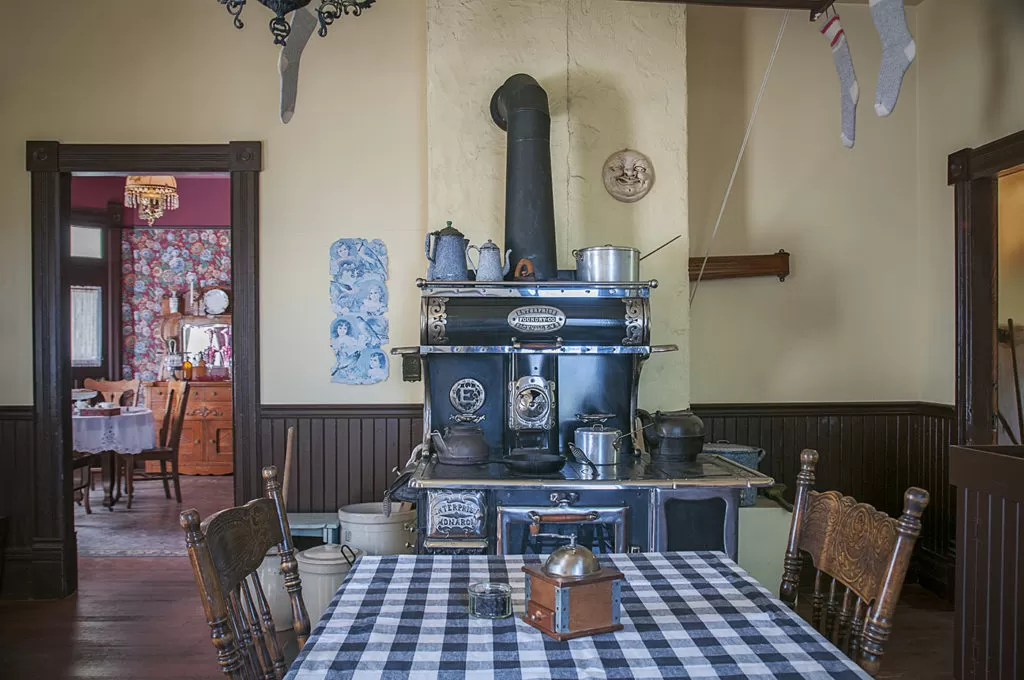 The Historic Stewart Farm is a beautiful farm that an early Surrey pioneer family lived on from 1880 – 1944.  The farm has been restored to show what life was like as an early pioneer family with a large Victorian farmhouse, farm grounds and other outbuildings that were all used during the pioneer years. At one time, they owned about 600 acres, but now the city of Surrey owns the 54 acre property. The home features a large garden, with organic heirloom plants and a cottage garden like setting, with gorgeous flowers blooming from late May to September. They also have an orchard with 30+ apple varieties, 2 pears & a plum tree. The grounds include outbuildings such as a pole barn, root cellar (for storing produce), wood shed, & more.
What to Do on your Visit: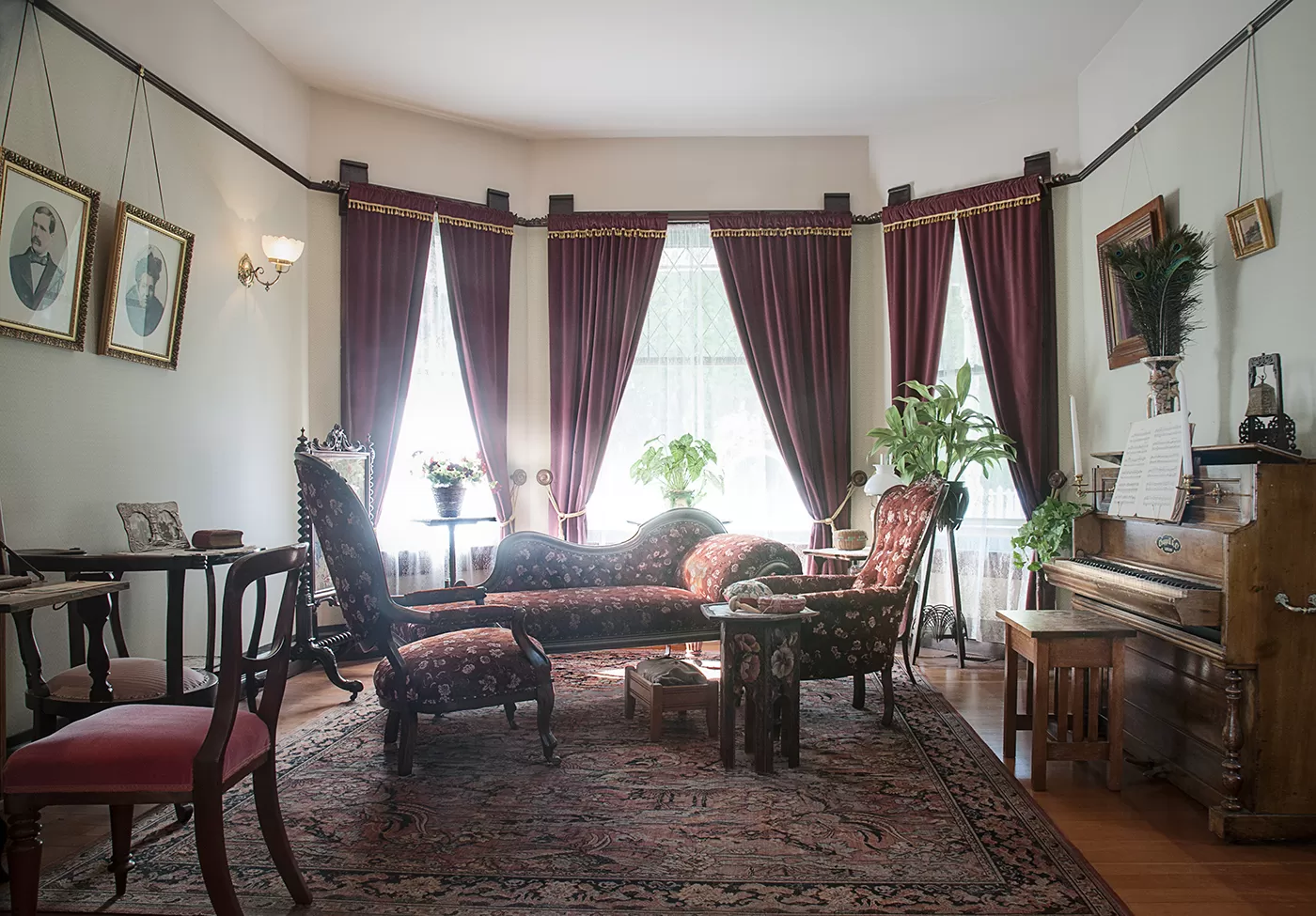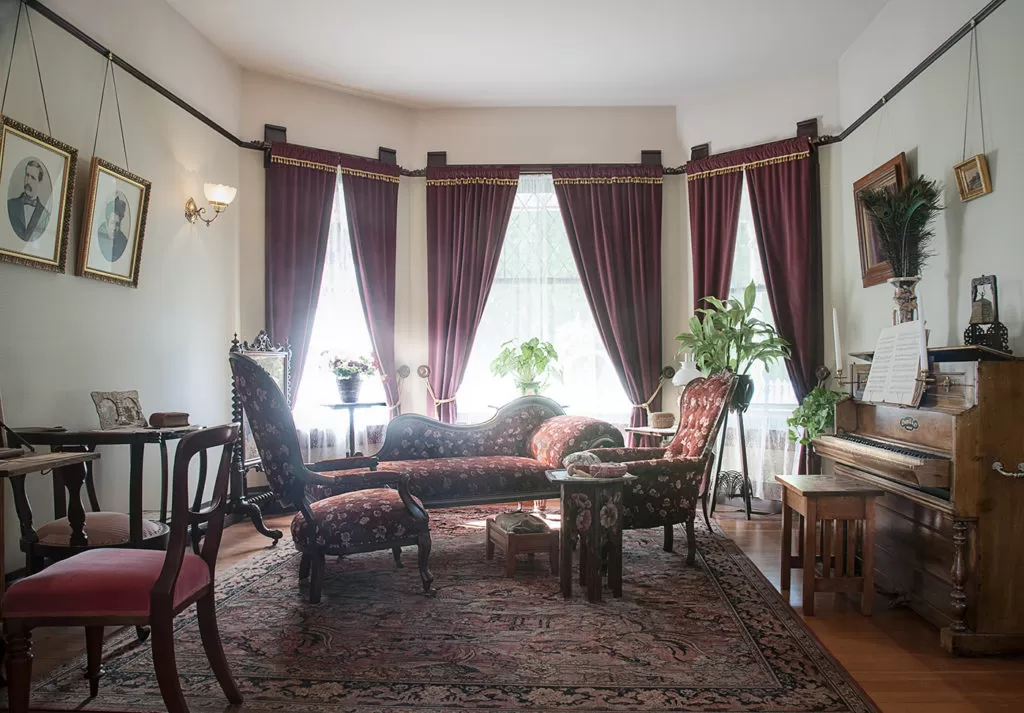 When you arrive at the Historic Stewart farm, you will be greeted by staff in costume from the pioneer times and you'll have the opportunity to have a guided tour or you can tour the house & the grounds on your own. All of the furniture & decor are in the classic pioneer times, so you will feel you have stepped back in time.  Many days, there will be crafts and a dress-up station upstairs for kids to get a hands-on experience of life as a pioneer farmer. They can also try their hand at the antique water pump outside.
Most people come & visit for at least an hour with their tour of the home & the gardens and outbuildings area. You'll find a very picturesque setting where kids can be unplugged and have some good old-fashioned fun exploring this historic farm & home. Even though it is a historic setting, though, this is not a place where kids have to be careful & quiet on a tour of the house, but instead they can be relaxed and explore all the home & grounds have to offer. The grounds are open every day, even if the museum is not open, so you can come & explore the grounds for photo ops or just enjoying the beautiful views of the water from this picturesque setting, while you let the kids run around & explore. Bring a picnic lunch and enjoy the beautiful grounds and gardens!
Where the Farm is Located:
13723 Crescent Road
Surrey, British Columbia, Canada V4P 1J4
Phone: 604-592-6956 Fax: 604-591-4789
Historic Stewart Farm Facebook page – stay up to date on all the latest events & info about the farm
You can reach the farm at [email protected] if you have any questions or want to find out more about it.
Hours of Operation::
Tuesday to Friday: 10am to 4pm 
Saturday and Sunday: 12noon to 4pm
Closed Mondays and Statutory Holidays (July 1st & November 11th)
Upcoming Family Events at the Historic Stewart Farm::
All of these events are free & drop-in.
Father's Day Open House – June 19, 2016 from 12 – 3pm – Not only will you get tours of the historic Stewart home & grounds, but it will be a day filled with train fun. There will be train rides from Pacific Trackless Trains, model trains on display, "choo choo" crafts to make a special Father's Day card, conductor style dress-up, sack races on the lawn with dad, yummy baked treats, lemonade & coffee and more.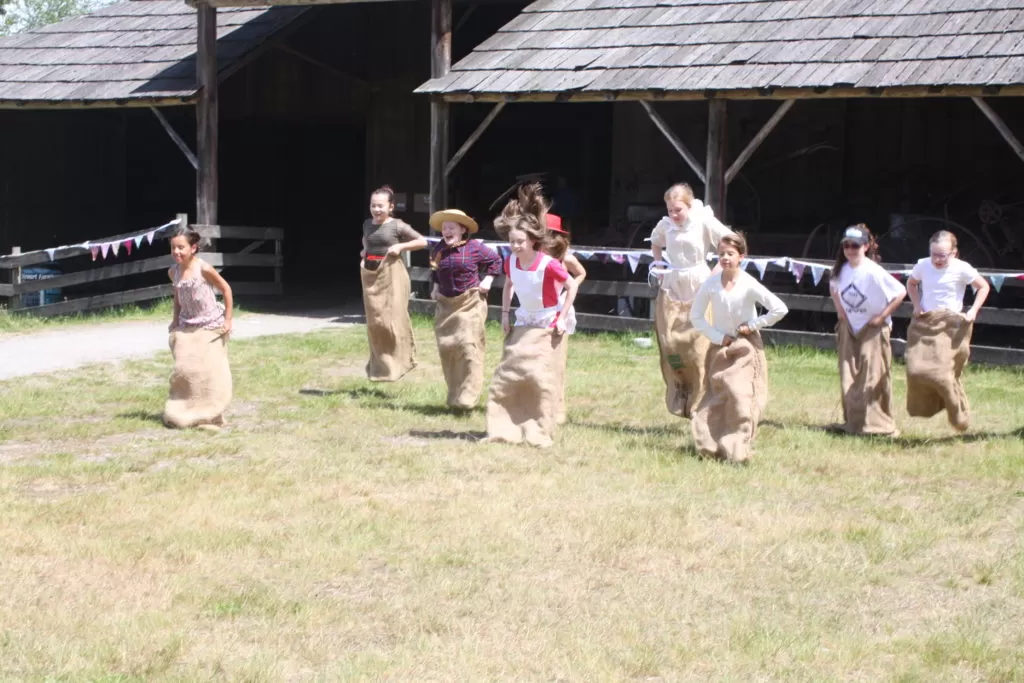 Pioneer Fair – July 2nd, 2016 from 11am – 3pm. This is a day filled with good, old-fashioned fun, featuring a re-enactment troup that will re-enact the early pioneer years in Surrey.
Here are a few more activities taking place at the Pioneer  Fair:
Dance performances by Highland dancers
Interactive bee workshop
Old-time moustache painting & family portrait photo ops
Pioneer crafts & spinning demonstrations
Pioneer dress-up with period costumes
Food truck, hand-churned ice cream, popcorn & lemonade
And much more….
Amazing Farm Scavenger Hunt – August 13, 12pm – 3pm. Team up with your family and friends to test your knowledge of the town of Surrey's past & show off your settler skills in a race around the farm to find different items.
Old Harvest Fair – September 24 from 12 – 3pm. There will be traditional harvest festival games & activities such as sack races, "Scarecrow" relay", re-enactment performances of pioneer times, watch cider press & butter making demonstrations, create a barn animal toy, face painting, and more.
Things to Do around the Area::
Crescent Beach, BC – the Stewart farm is just down the road from Crescent Beach, a popular beach especially in the summertime, with a roped off swimming area for families with lifeguards on duty, the Crescent Beach pier, sand & beach volleyball, waterfront trails & much more. This would be a great place to come & cool down after your trip to the farm. It's also a popular spot to head to for fish & chips, ice cream by the water, and just a fun, relaxing place for families.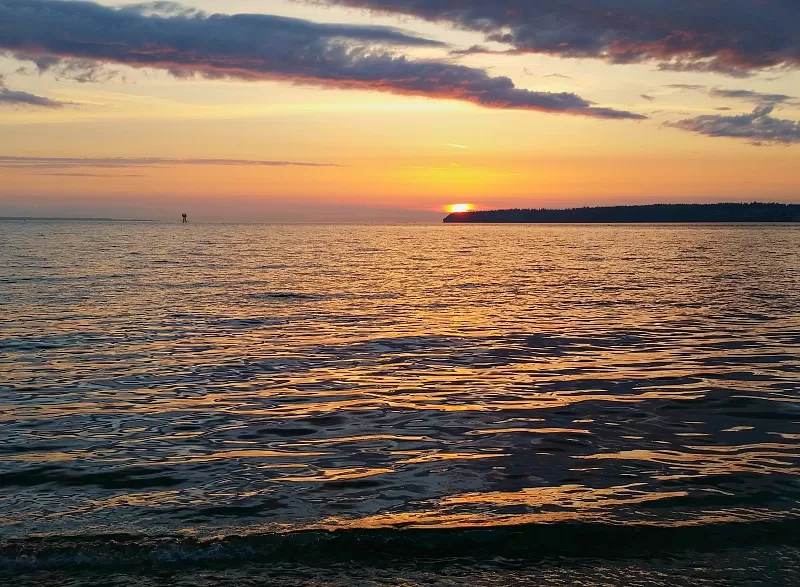 View of the sunset on Semiahmoo Bay (this view is from the Blaine side, but it will be very similar from White Rock just across the bay)
White Rock BC – Surrey (& the Historic Stewart Farm) is also just north of White Rock, BC, a very popular coastal town that is directly across the Semiahmoo bay from Blaine, WA.  This place cannot be beat for amazing sunsets over the water & islands.  It's also a bustling oceanfront town, with a oceanfront promenade that is fun to walk along with your family, yummy cafes & restaurants, a variety of fun shops & boutiques, seaside live entertainment often in the summer & so much more. This is one of our favorite places to go in BC, as it's so close, literally right across the border, but such a fun oceanfront town.
Blaine & Birch Bay, WA – If you're staying in Blaine at the Semiahmoo resort or in Birch Bay at their popular state park campgrounds, then you'll be close to head up over the border for a day of fun in Surrey and the historic Stewart Farm, with stops at Crescent Beach & White Rock to complete your day trip.
Vancouver, BC – If you're headed to Vancouver for the day, it's just 45 minutes from the historic Stewart Farm and the farm is just right off Highway 99, so it makes a great stop on your way to or from Vancouver
Whistler, BC – Whistler is just 2 hours away from the historic Stewart Farm and right off the highway on the way there, so again, this is a great stop on your way up to Whistler for a vacation.
Crossing the Border into Canada:
Identification for Canada – You will need either a Passport or an Enhanced Driver's License.  If you have a passport, that's great, bring it along. But no worries if you don't have a passport – you can just use an Enhanced Driver's License which you can get at the DMV. If you already have a Driver's License, you will just pay $3/year until your driver's license is renewed to update it.
Kids Identification for Canada – Kids will need their birth certificate. At this time, Canada does not require passports for kids, but they do need their birth certificate, so make sure to bring that along with you to show at Customs at the Border Crossing both going into Canada & entering the US from Canada.
Disclosure: This post is sponsored by the Historic Stewart Farm in Surrey. All thoughts and opinions are our own. Please see disclosure policy for more details.