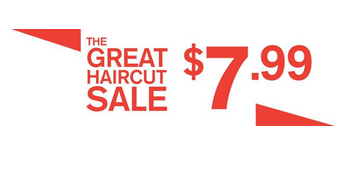 Great Clips Haircut Sale $7.99 – 2016
Great Clips is currently running a promotion at Greater Western Washington area salons. Get a haircut for $7.99 right now! This is a great price for a hair cut! Its available at participating salons in the Seattle area right now, so you will want to call ahead to confirm your store is participating (find locations here). I have heard that the sale runs through 4/28 for the Western Washington stores (what they are sharing on Social Media), but it will vary by market and store, so be sure to check your local salon before heading in for the promotion, to make sure they are participating, and confirm the dates they will participate. Comment below if you can confirm participating at a specific location so others will know! I just saw the offer run on a local commercial last night, so hoping its most of their stores.
Haircuts can be pricey, and this is a great price, even for kids, if your family is needing a few trims!
No Coupon Necessary
Not valid with any other offers. Please visit your preferred Great Clips salon for specific details on this limited time offer. Great Clips salons are open 7 days a week with convenient evening and weekend hours. No appointments necessary.