Brandless – 300+ Items for $3 or Less (Get $40 to Spend for $20 – 50% Off)!
This post may contain affiliate links and I may be compensated for this post. Please read our disclosure policy here.
Brandless – 300+ Items for $3 or Less (Coconut Oil, Real Maple Syrup & More)!
Have you heard of Brandless yet? Brandless is an online retailer that offers 300+ everyday essentials for $3 or less. Their assortment includes non-GMO and organic food, clean beauty and cruelty-free personal care products, and non-toxic cleaning supplies.  That will go along ways!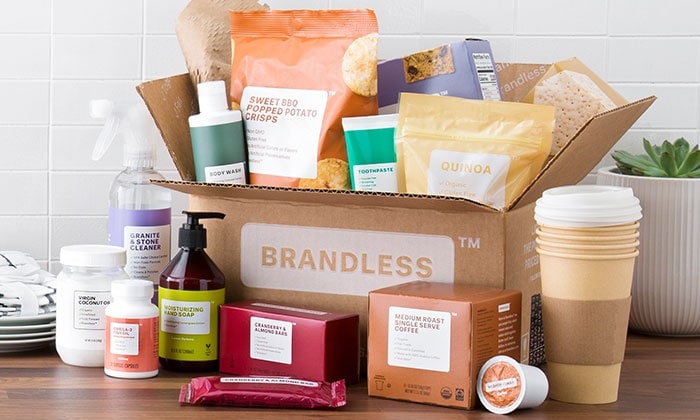 Deal for Brandless ::
Right now there is a deal on Groupon for Brandless vouchers. This is a great way to really save, because you will get 50% off of already affordable prices! The offer is for two $20 vouchers (so a total of $40 to spend) for $20.
Fine Print – 
Promotional value expires 30 days after purchase. Amount paid never expires. Limit 1 voucher code per transaction; each voucher must be redeemed in a separate order and cannot be combined with any additional vouchers, offers, or promotions, including additional promo codes. For each Voucher, the minimum purchase must be equal to the full value of the Voucher. Sales tax not included and will be collected at time of purchase. Valid only in the continental US and excludes AK/HI/Puerto Rico. Limit 1 per person. Not valid with other offers or promotions. Merchant is solely responsible to purchasers for the care and quality of the advertised goods and services. Offer is not eligible for our promo codes or other discounts.
Get the offer here. 
Here Brandless Works:
Brandless offers lots of different kinds of items, with many items selling for just $3 each.  It is great for stocking up your pantry, or buying gift items, and more. I like to buy specialty items, and I love to put together gift baskets on here too. I made coffee gift baskets for the kids teachers at the end of the school year last year, with many of these items! I have also done beauty bags for kids parties, and make sure I had things like coconut oil and maple syrup in the pantry by shopping Brandless.
Here is how you can save the most at Brandless right now, by combining offers:
Check out Brandless here, for many items that are $3!
Use promo code WELCOMEBOX at checkout on your first order, and save 10% off, plus get free shipping
Once you sign up for a Brandless account you can share your referal link with friends and they will get $6 off their orders, and you will earn $6 on their orders (in credits to use on Brandless).
They have food, household products, beauty products, office products and more, so it is a great spot to shop for gifts, household items, food and more. I like to buy some of those specialty items that would normally cost me much more then $3 each.
Review of Ordering through Brandless: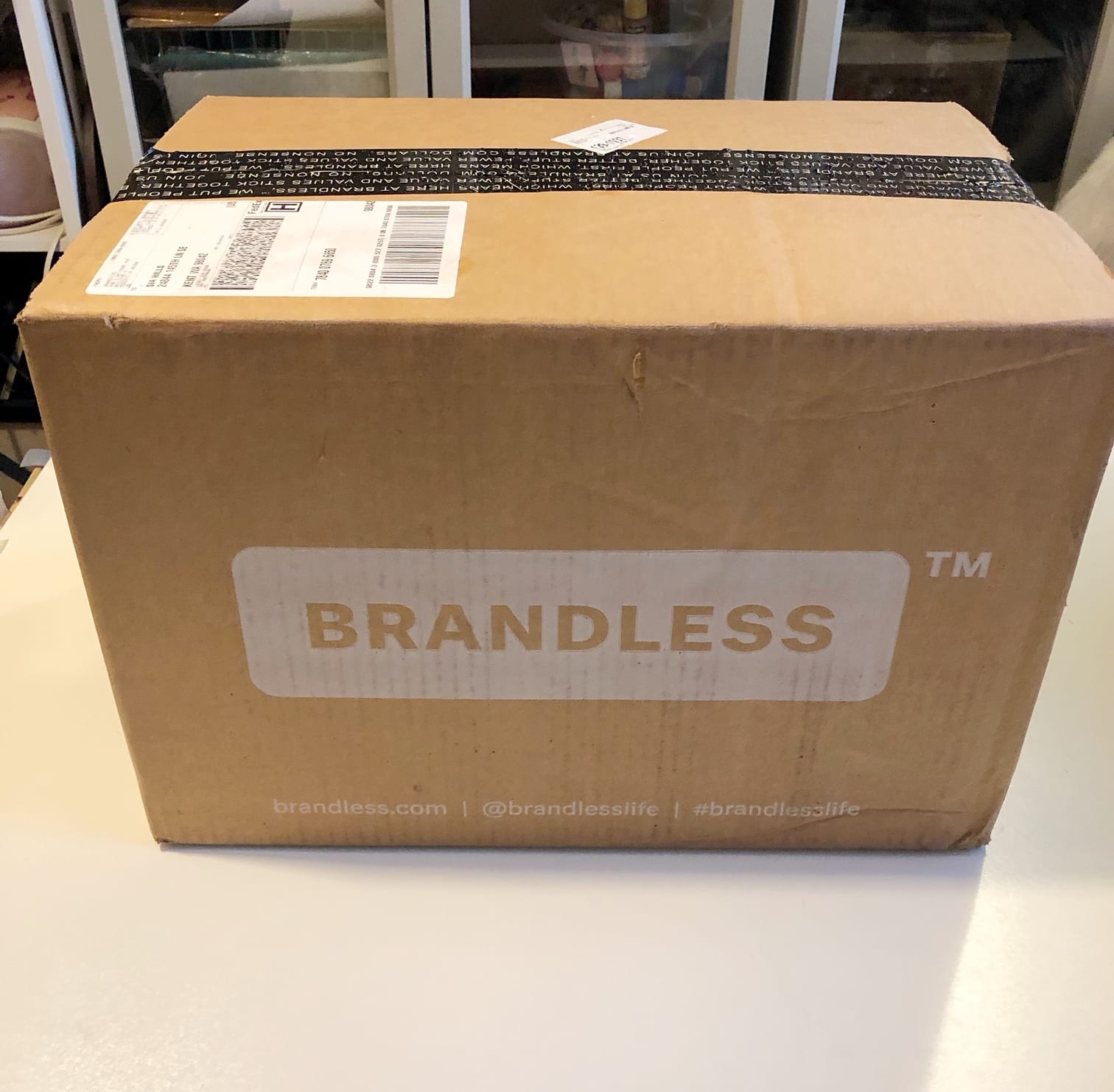 I thought this offer was too good to pass up, so tried it out myself, and just got my first box delivered recently, and was really pleased with all I got! This is about the size of the box that I got for my $56 (but it will really depend on the items you ordered, I ordered some smaller to pack things.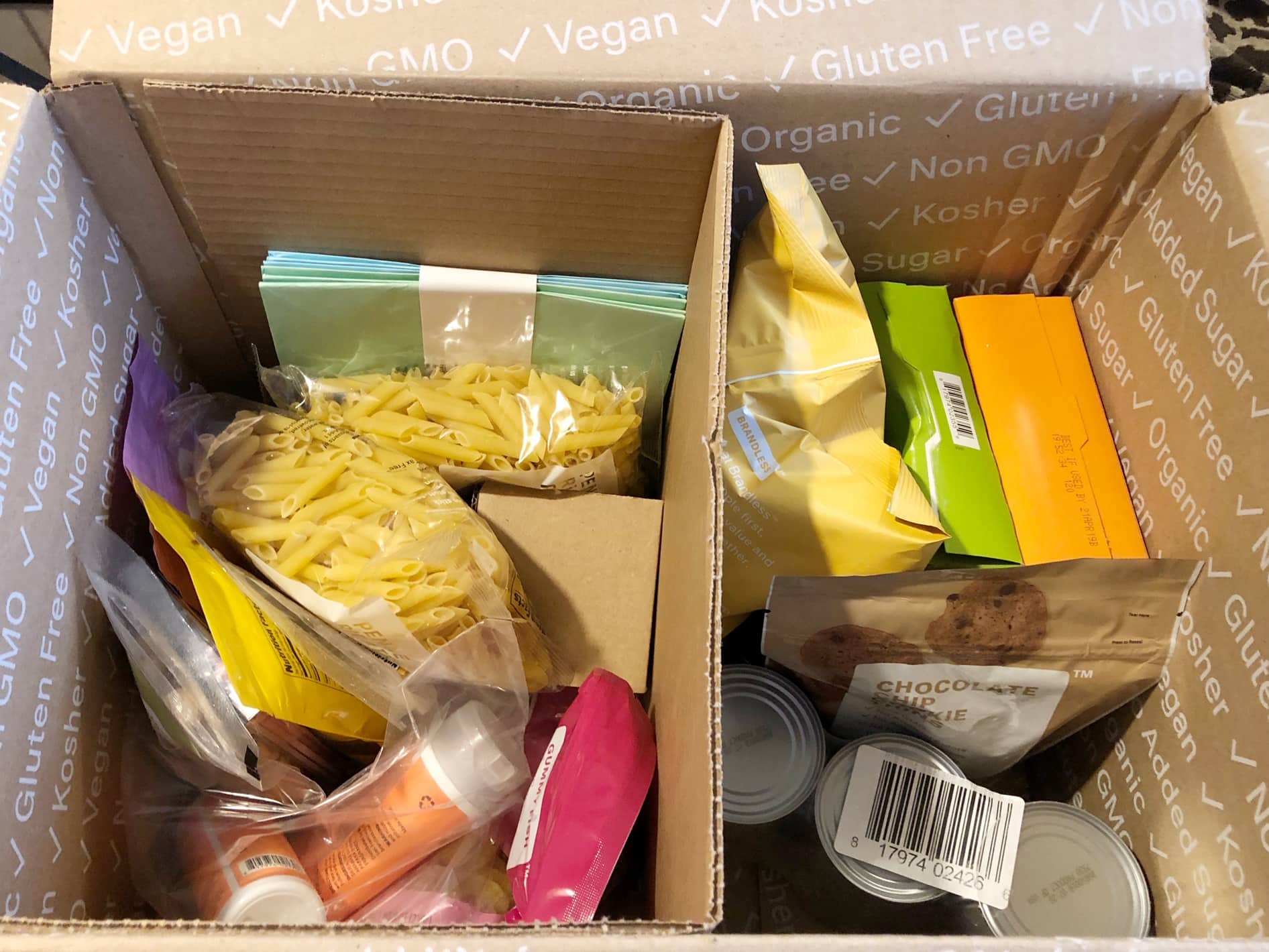 I ordered a mix of some food items I wanted to try out, as well as some items I planned to use for stocking stuffers. I grabbed some bags that I needed for a birthday party as well, and then mostly pantry staples we use around our house.
Brandless markets itself as everything being $3, but some of those $3 items come in multiples. For example, I got two bags of the pasta for $3, and three cans of the black beans for $3. These are close to the target prices I try to pay in store, but when you factor in all of the savings we list out above, you end up averaging just over $1 per item (so more like $0.50 per bag of pasta, or $0.34 per can of beans – so super prices)! I also got some gel pens, and apricot face wash and scrub to use for stocking stuffers for my kids.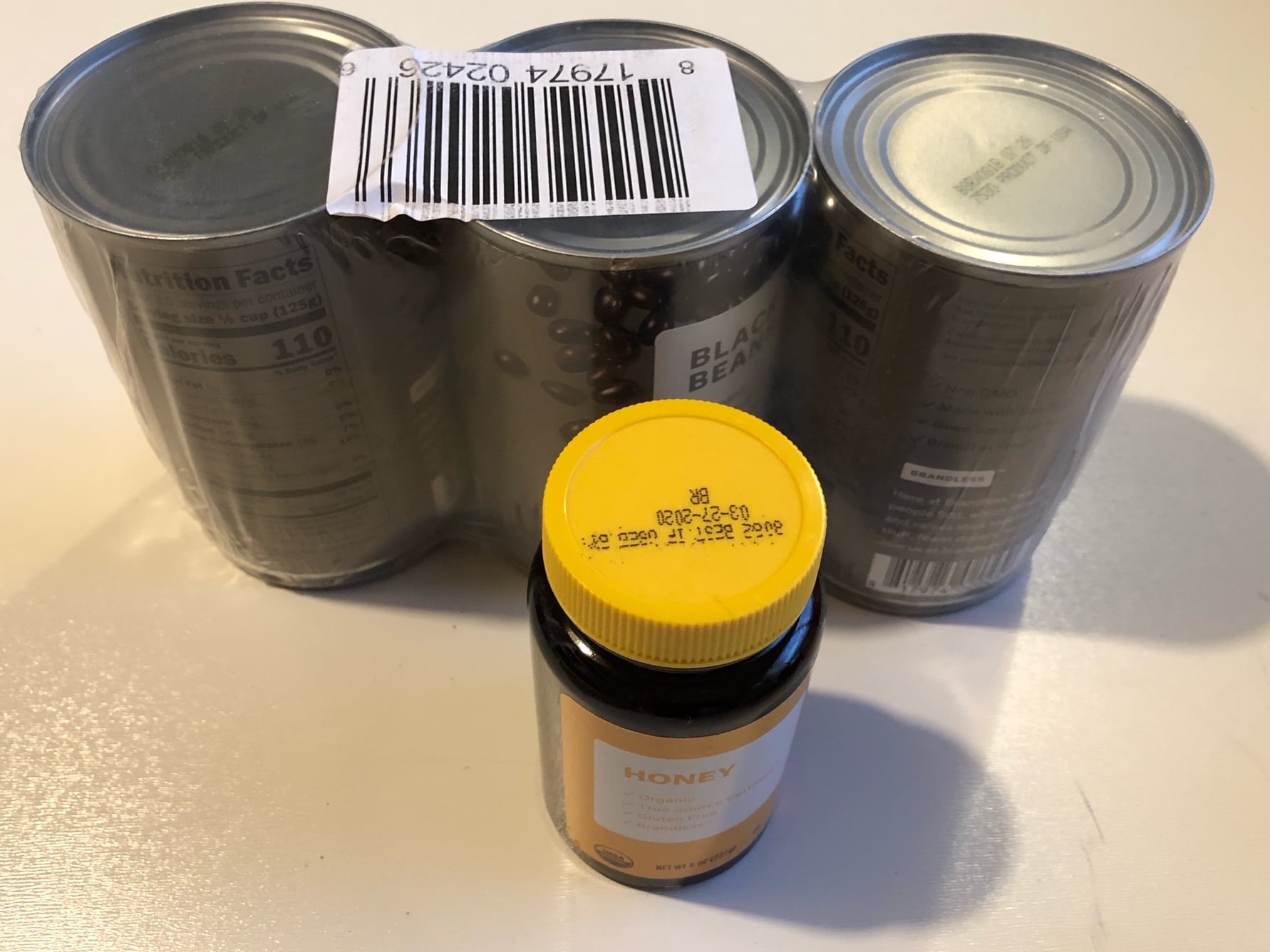 This jar of honey was $3 (but again, more like just over $1 with all the savings in this offer). There is also coconut oil, olive oil and more items that can be pricey in the store, but are available at great savings when you stack all these offers!
Here are some examples of items we found for $3!
(Be sure to pay attention to the sizes – as not everything is quite a good of a deal as it first appears to be once you take the size into consideration).
Organic Coconut Oil – $3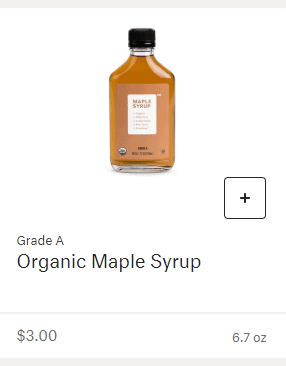 Organic Maple Syrup for $3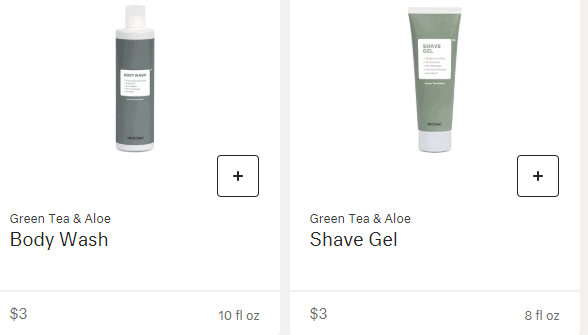 Lots of Beauty Products for $3!
And so much more! Sign up for your account here.