Fourth Of July Marshmallow Flag – Easy Holiday Dessert or Decoration!
This post may contain affiliate links and I may be compensated for this post. Please read our disclosure policy here.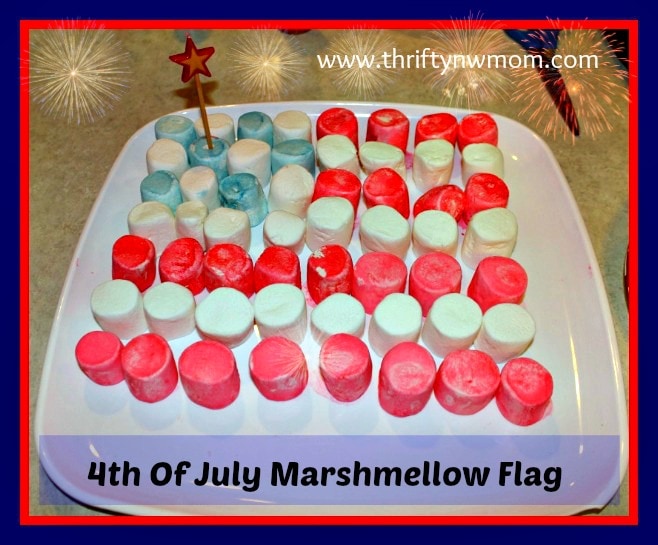 How cute is this simple idea that Jens husband Ben came up with last year, to do with their girls for 4th of July (they also threw a fun Red, White and Blue Smores party in their backyard that you can read about here).
A couple of ideas on how to use the Marshmallow Flag:
Its so simple, that if you are short on time its a great way to put together a centerpiece for a picnic or potluck event. 

Build a bonfire in the back yard and let folks grab a marshmallow from the flag to roast for smores.

Use the marshmallow flag for a dessert station if you are BBQ'ing on the fourth. Put out some popsicle sticks (get a pack at the Dollar Store), and a few bowls of icing and sprinkles. Let kids insert a popsicle stick into the bottom of a marshmallow and then frost the top, and dip in their favorite color of sprinkles – then eat away!
How to make the Fourth Of July Marshmallow Flag:
Ingredients – 
One bag of regular sized marshmallows (you could buy a bag of the red, white and blue marshmallows they sell this time of the year as a shortcut – but you may need two to make sure you have enough of each color).

Red and blue food coloring

A platter to display the flag on
Directions –
The flag pictured above uses 56 marshmallows.
6- Blue
24- Red
26 – White
To color the marshmallows you will want to use a bowl for the blue and a seperate bowl for the red. 

Next fill the bowls with enough water to submerge your marshmallows in (you can do this one at a time, like eggs at easter, or in batches if you have some disposable gloves you can use to make sure they all get submerged. 

Add Food coloring (the more you add the darker the color will be, so you can eye ball this part. Rule of thumb is one drop per tablespoon).

Dip your marshmallow in the colored water and make sure to get it completely submerged using gloves or a spoon.

Remove and let it dry on a cookie sheet (you can pat dry with paper towels too). 

Once they are dry arrange marshmallows on a platter in a design pattern as shown in photo above!
(note – food color can stain to be sure you are working on a covered surface)
You might also like this post on how to make a 4th of July Flag out of hand and footprints of your kids!