Family Outing In The Pacific NW – Visiting Leavenworth
This post may contain affiliate links and I may be compensated for this post. Please read our disclosure policy here.

Leavenworth, Wa.
Taking a family getaway on a budget can be a challenge. Thankfully, we live in an area of the country that offers many beautiful options that you can access on a tank of gas. Leavenworth is one of those options. Leavenworth is a small Bavarian themed city, with mountains as its backdrop, rivers, and great architecture. Its probably the closest you will get to feeling like you visited Europe, without leaving Washington.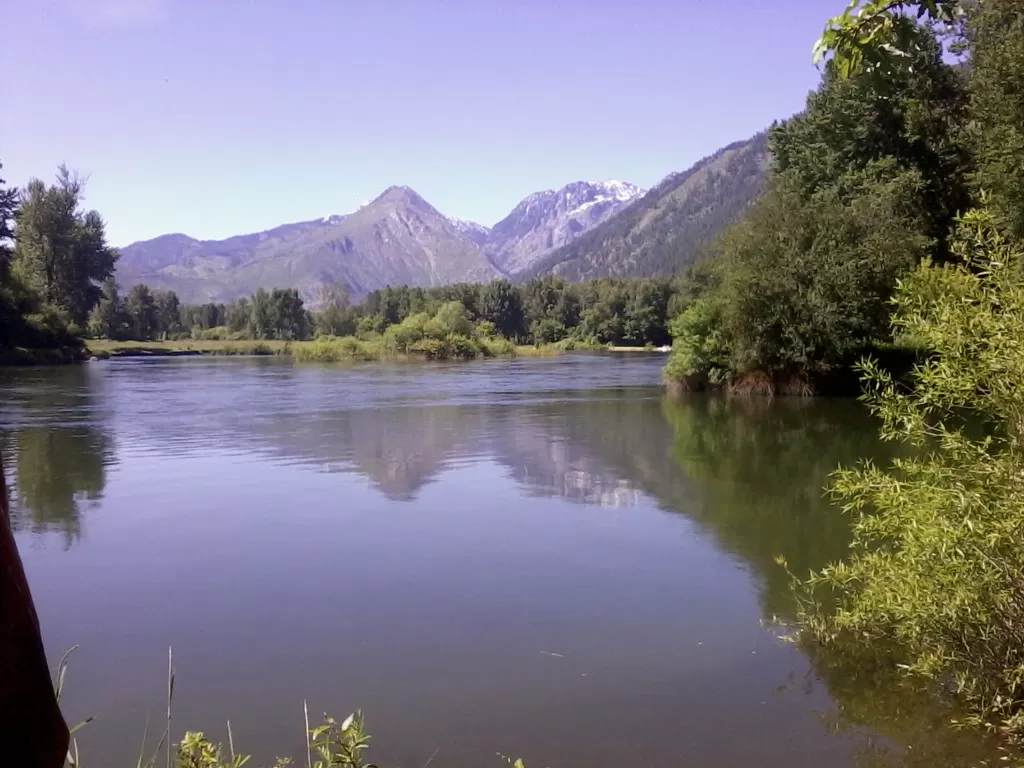 It's a great family getaway option for a couple of reasons:
You can get there and back on a tank of gas (well we did, driving from Kent, Wa.).
There are affordable accommodations (Motels to camping).
It makes a great short trip (can do a day trip or stay a night or two).
Makes a good couples getaway or family breakaway.
My family recently took advantage of a deal we found on
Tippr
(no longer available). We got a one night stay for only $59, and it included breakfast for the whole family too! So here is how we took a mini-vacation for just a few hundred dollars (there were four of us on this getaway, my teenage son had other plans at this time)!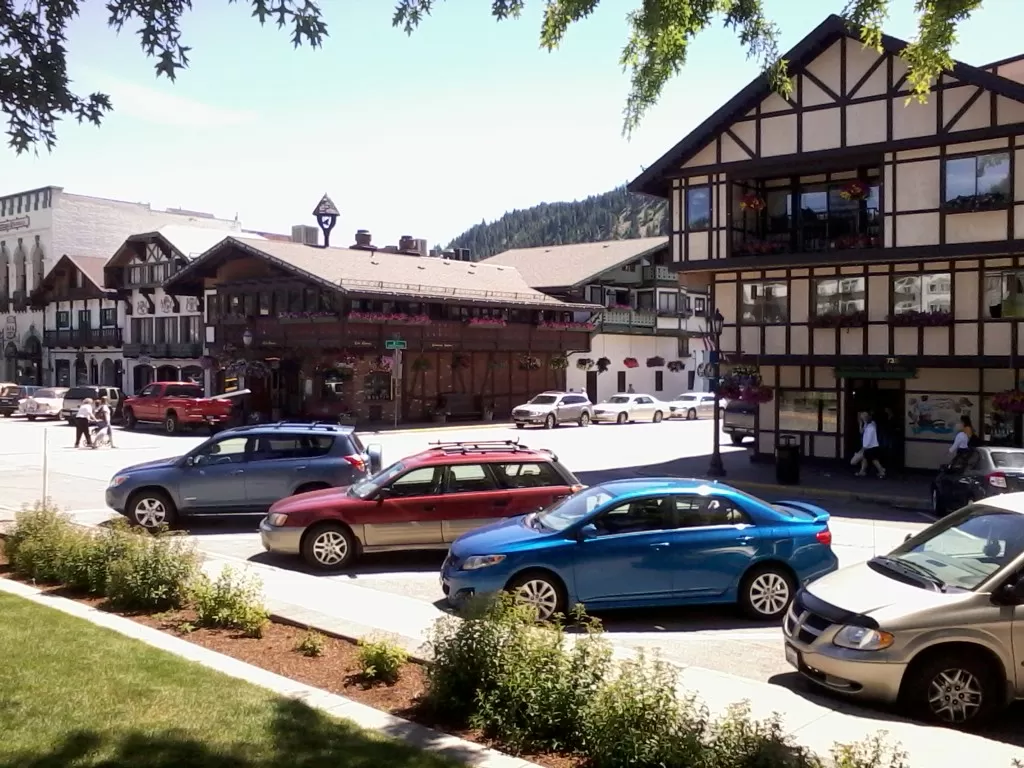 Getting There:
Its approximately a two hour trip from Seattle each way. We filled up before we left, and had a little left in the tank when we got home. We did not do a ton of driving once we got there, but it was a trip we were able to make on one tank of gas (round trip).
We took a route that takes us through the Okanogan-Wenatchee National Forest, so the last part of our drive was beautiful.
There is train service to Leavenworth through Amtrak. You will find both driving directions and information on riding the Amtrak to Leavenworth here.
Where to Stay:
I recommend watching the deal sites for hotel deals. We grabbed a night at the Obertal Inn for $59 for the night, and it included breakfast! This was for off season pricing (had to be used by early June).
Groupon is currently running a deal for this same Inn (The Obertal Inn) for $74/nt when you buy 2 nights or $91 for a single night. This rate includes a standard King room with fireplace (we just had the standard 2 queen bed room, no fireplace), breakfast and mimosas (be sure to read all of the fine print, there are stipulations to use – but we found the Inn pleasant when booking)!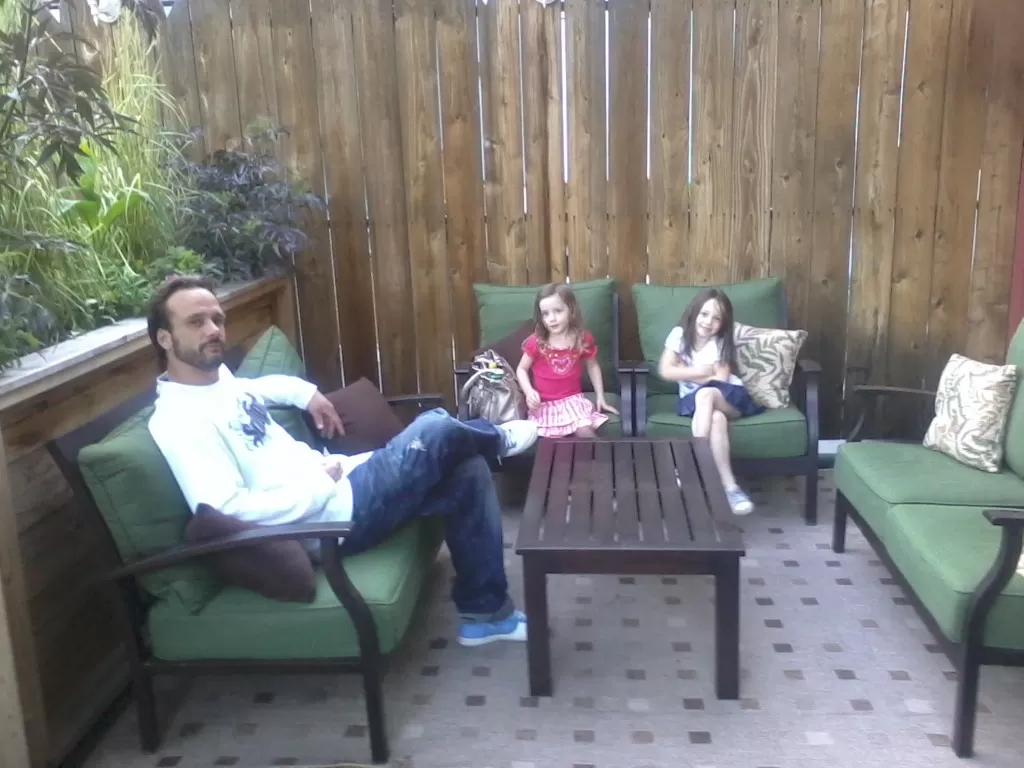 This Inn worked out perfect for us, as it was centrally located (between the main downtown hub and the riverfront park). There was a hot tub that we were allowed to bring the kids in, and this nice outdoor seating area to relax outside of your room.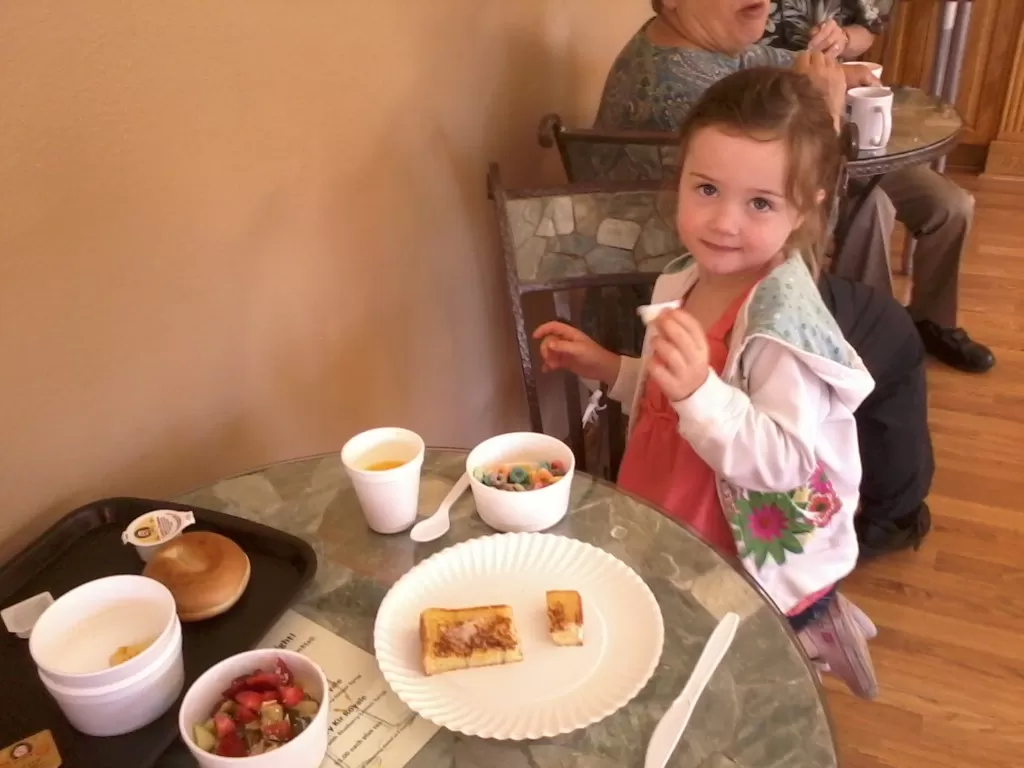 It was a simple but comfortable spot, and we really enjoyed the free breakfast. The lobby area where they serve it is small, but everyone was very nice. There is a waffle station, french toast, cereals, bagels, fruit, eggs, yogurt, coffee, juice and more. After all of the heavy sausage the night before (we ate brawts), it was nice to have a lighter breakfast.
Other budget friendly options include:
The KOA Campground – tent spots will run you around $45 per night after taxes. There are also cabin and RV options. This campground has ammenities like swimming pool, playground, hot tub and more. Its located on the river, right across the street from the Safeway. It is a little walk into town. You can find a list of other Camping Options for Leavenworth here.
If your willing to stay mid-week, you can usually find a room on travel sites like Expedia for around $80 (and often includes breakfast and pool)! I recommend heading over on a Thursday through Friday. That way you will be able to enjoy any festivities they have planned for the weekend, but can miss most of the crowds!
If you are looking to splurge  a little, you can stay at The Best Western Icicle Creek, which has a pool, putt putt golf course, movie theater, arcade and more all on site. You can enjoy the activity center without staying there though (we did).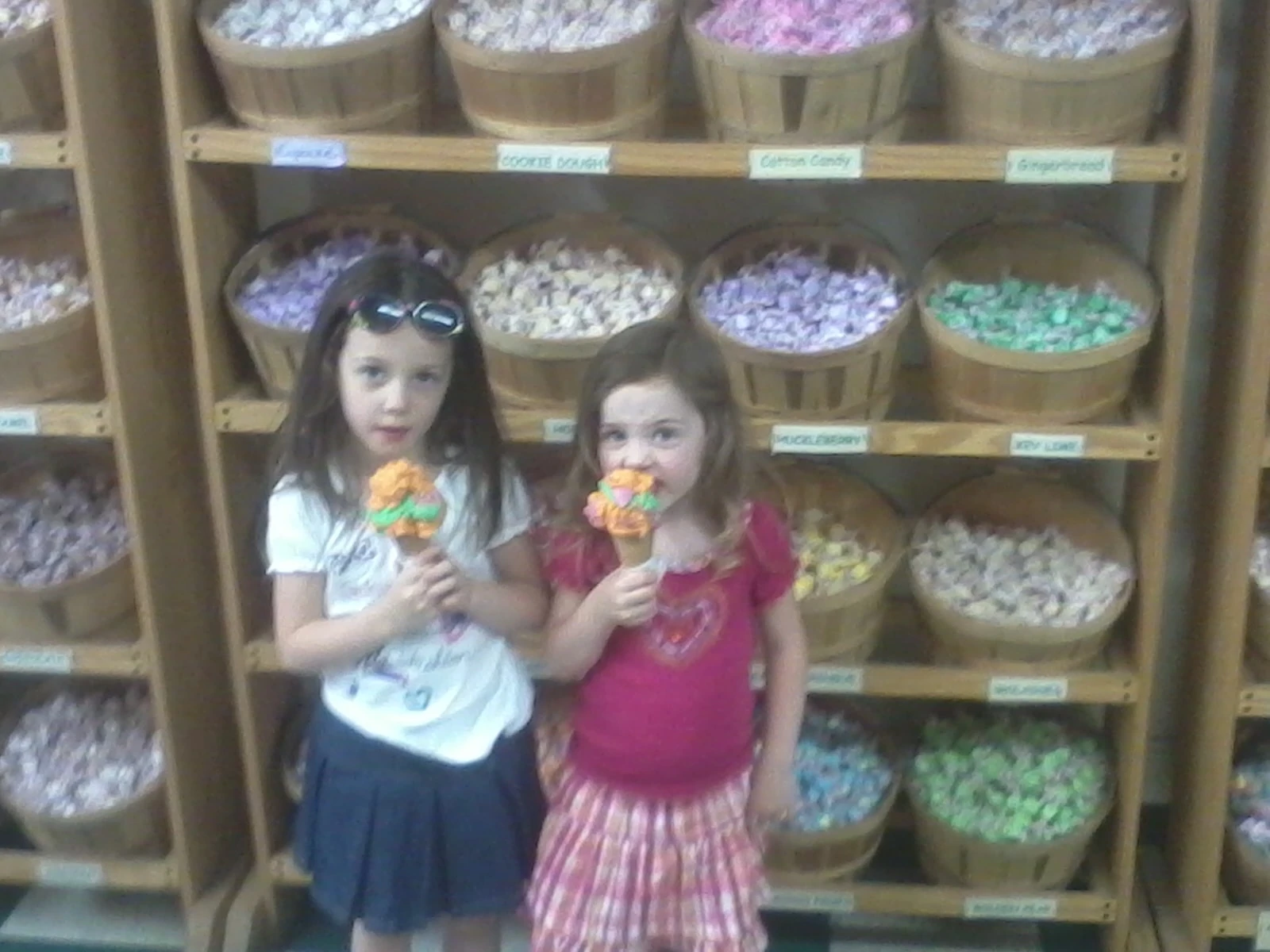 Eating:
We found eating here to be pretty affordable. We are creatures of habit and every time we stop in Leavenworth we eat at the outdoor beer garden called the Munchen Haus (the whole family can eat here).  Its all brawts and chips (a few other sides), but just feels like Leavenworth to us. I also like to eat outdoors, and the price is affordable for a family (came to under $30 for 4 of us).  There are many other dining options from Pizza to Fine Dining. You can find a list of many of them here.
If you are wanting to sit down restaurant style with your family there is a spot over at Icicle Junction called J.J. Hills Fresh Grill and you can download a Kids Eat Free coupon here.
I also found one of the local restaurants on Restaurant.com so you may want to check that out before heading out to see if you can find coupons for when you plan to travel (just search with a Leavenworth zip code).
We ate brawts for dinner, had a free breakfast, and then stopped in at Safeway for some fruit and sandwiches to take down to the Riverfront park the next day for lunch, so food was not a huge expense for us.
Our big splurge was taking the kids into the candy shop for some ice cream (there are a handful of sweets shops in this little town)!
If you have a favorite dining spot in Leavenworth please share with us below. I am sure folks would like more recommendations on great eating spots!
 Activities:
I had visited Leavenworth before as a day trip during festival times. I was not sure what it would be like to stay overnight with kids in tow. I was happy to find plenty for the young ones to do, but not so much that we were exhausted. As far as what there is for teens to do, mine stayed home so I cannot speak from personal experience. I can tell you that there were quite a few pre-teens and teens in the area (bike riding through town, swimming and at that arcade).
Some ideas include:
Icicle Junctions Activity Center (at the edge of town, a short walk on a sidewalk) – they have putt putt golf, a movie theater showing a new release movie, snack bar, pool tables and a small arcade area. Don't forget to print out their coupon of the month if you plan to visit here!
If you walk to Icicle Junction from town be sure to stop and visit with the mountain goats. My kids loved these guys. They live on the hill of some putting greens at the edge of town and they will come right up to the fence and let you pet them.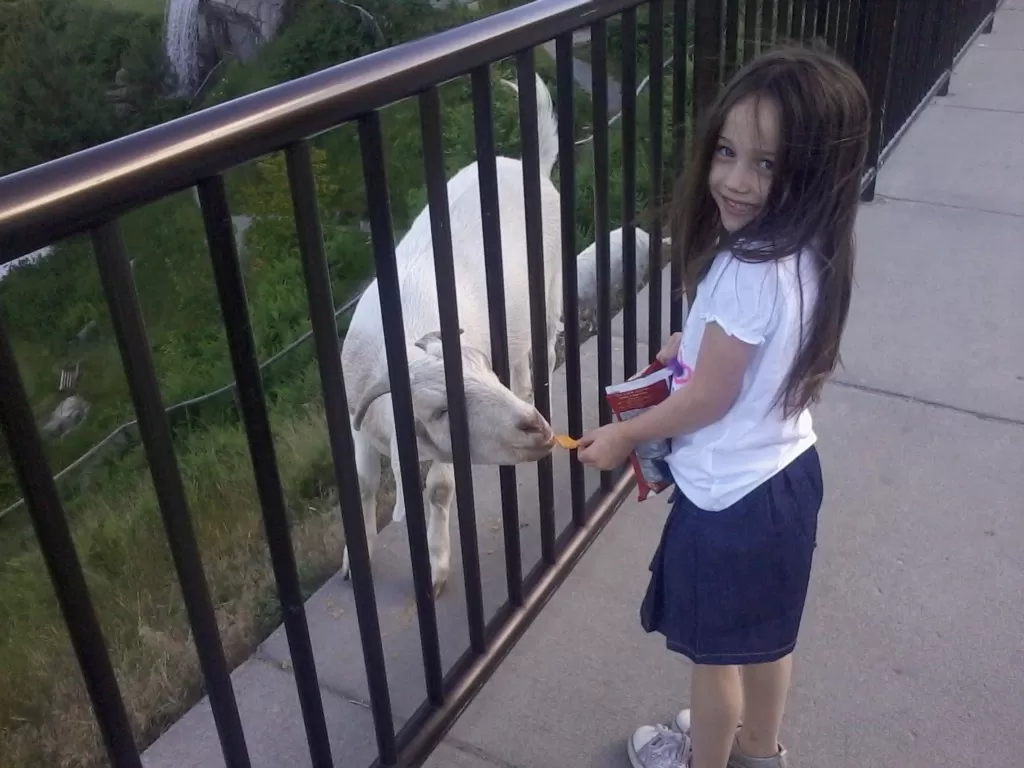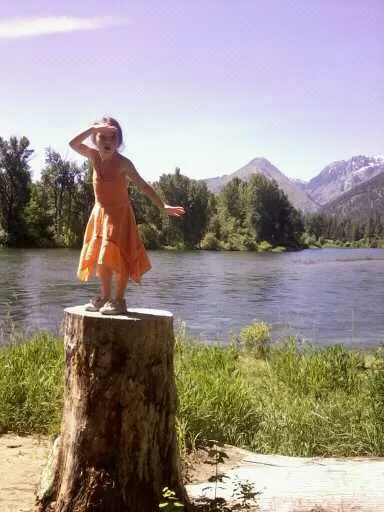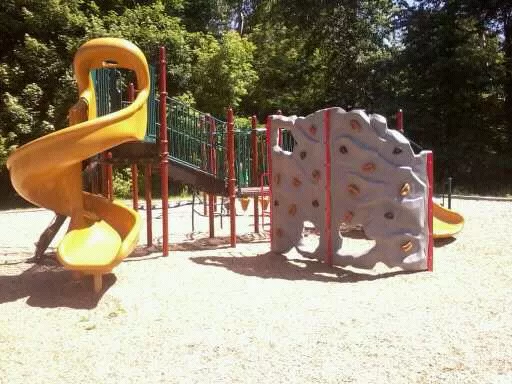 There are nice walking trails that will take you from one end of Leavenworth all the way to the other, but riverside, through Waterfront Park. There are two playgrounds (one at each side), one is much older, and then there is this updated one too. You can drive down and park there, or its an easy walk from town.
Mainstreet Park –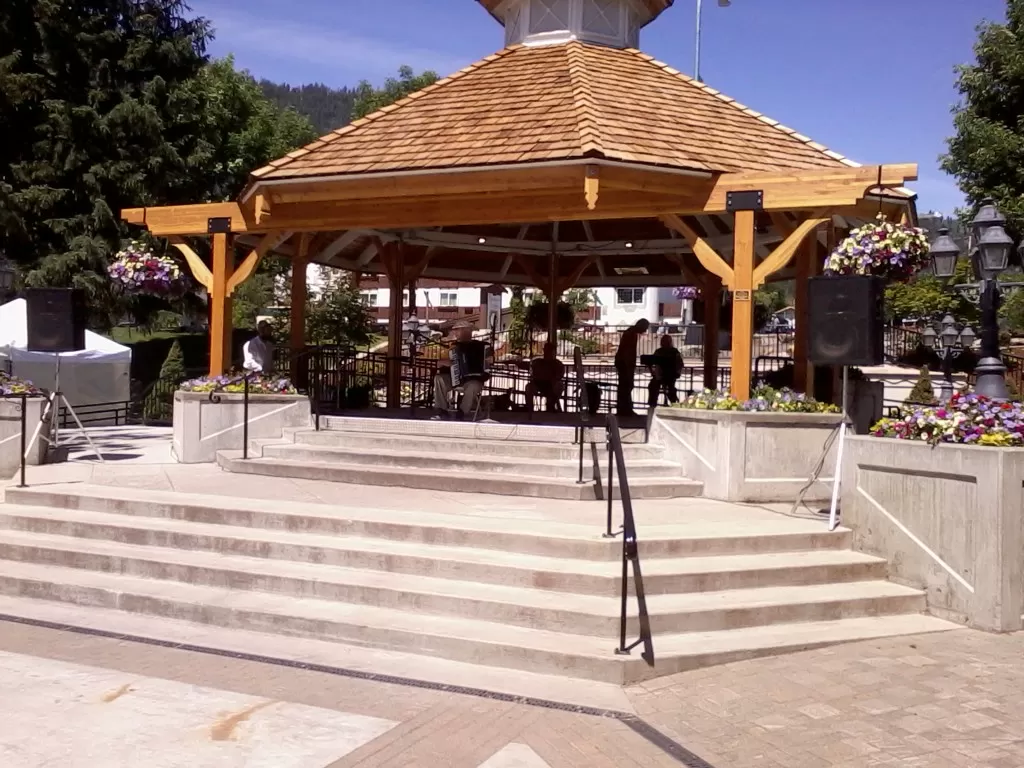 Festivals – Leavenworth hosts a variety of festivals year round. Some of the bigger ones (like Christmas time and Oktoberfest) can get very crowded and its tough to find rooms. We opted to head over the Thursday of the start of the Accordian Festival. This meant there was a little extra in town entertainment, but no huge crowds. They had bouncy houses (for a fee) set up in the center park for the kids too (We paid $3 per kid for a little jump time, and it pays to go when its a little less crowded as they let the kids jump for as long as they wanted, rather then the 15 minute time limit advertised).
Community Pool and Spray Park – If you do not stay at a spot with a pool, there is a community pool that is pretty affordable. You will want to pay close attention to their hours though, as we put off going and then when we tried to take the kids they were not open. It looked fun though. There was the frog pictured above, and then a mushroom that had water spraying out of it. In addition to this area for young kids, there is a large community pool to enjoy.
Smallwoods Harvest Farm – Just a short drive out of town is a spot called Smallwoods Harvest Farm. They offer a petting zoo, cow train, swings, trikes and lots more fun for the kids. There is a nominal fee for some of the activities.
If you want to fork out a little more money there are many outdoor adventures like tubing down the river, river rafting, golfing and more. There are also fishing and hiking opportunities. Find a full list of activities and a recreation guide for the area here.
Near Leavenworth there are many additional activities to enjoy in Lake Chelan and Wenatchee.
Do you vacation in Leavenworth? What are your favorite travel tips for this area? 
Other posts you might be interested in: