Dr. Praegers Products – Grilling Vegetarian Style!
This post may contain affiliate links and I may be compensated for this post. Please read our disclosure policy here.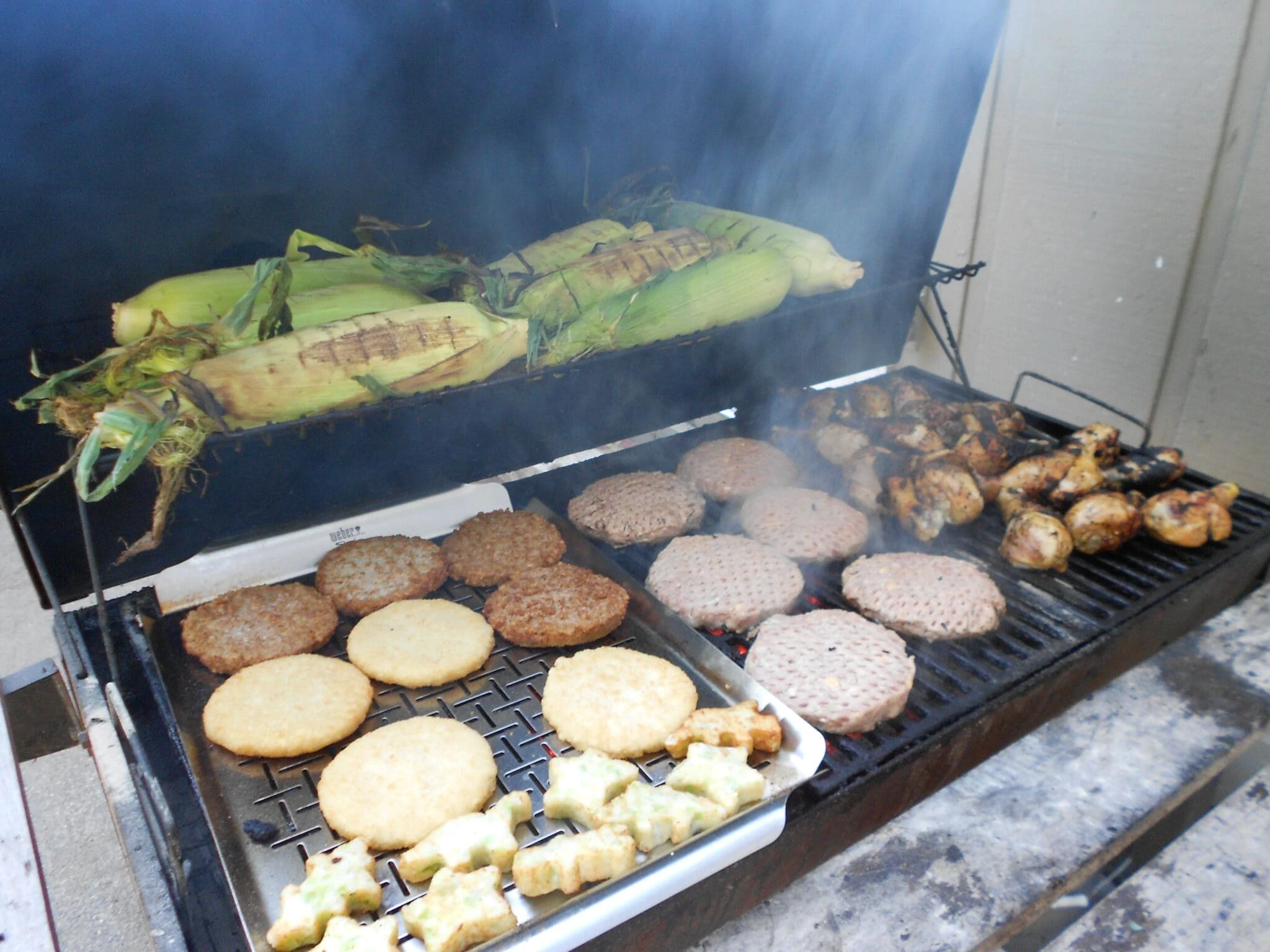 Dr. Praegers Meatless Products are in the grill pan on the left side of the grill. You see the All American Meatless Patties, Chickenless Patties and Little's Broccoli in the grill pan. 
This Labor Day weekend was perfect weather to enjoy some outdoor grilling. My family loves to grill, and usually it includes lots of different meat options. I have some friends who are vegetarians, and I like to eat more vegetable based meals from time to time too, so have been looking for some vegetarian options that I can add to our grilling menu.
If you are interested in vegetarian grill options, I highly recommend the Dr. Praeger's products for grilling!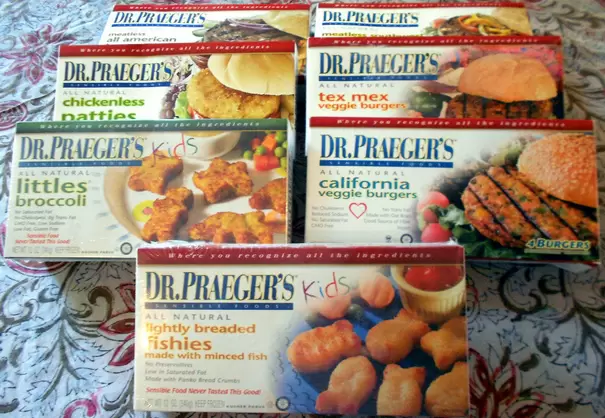 Dr. Praegers was generous enough to send me a whole variety of Dr. Praeger products to try on the grill. They sent us quite a few products to review:
… and a few products from the kids line –
Lightly Breaded Fishies (not vegetarian, but they use higher quality minced polluck, then you will find in the standard variety freezer fish sticks)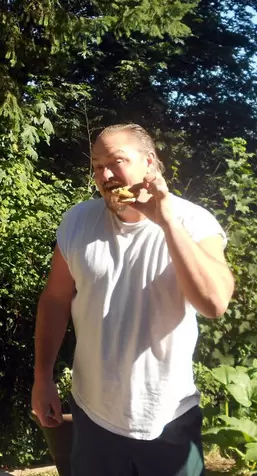 This is *Big Bill*. He likes meat, but that is a meatless burger that you see almost gone in his hands above. He is goofing off for the camera, but he really did enjoy the Dr. Praeger products! In fact he took some home for the next day :)
My husband is exactly what you think of when you think of a meat and potatoes guy. He invited over his buddy (who we will call "Big Bill" who is also a classic meat eater) and his family. Both of our families have kids with special dietary needs. Between our two families we have one child with serious food allergies, and one with diabetes, so we are always looking for healthy options for the kids, that don't make them feel like they are missing out on the 'fun food'. Dr. Praegers kid options were great. You can find all of the dietary information on the Dr. Praegers website (including Gluten Free options!).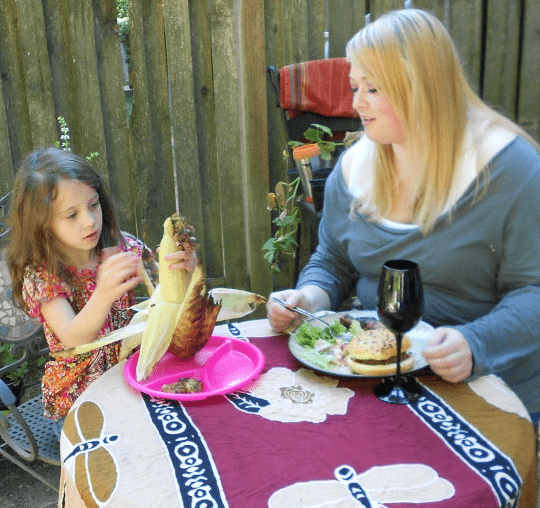 My friend Audry and my daughter enjoying their meatless barbeque food! My daughter asked for "More stars please". The Littles Broccoli product came in stars and other fun shapes. She loved them. 
To be honest with you, I think my family and friends were humoring me by letting me throw the veggie items on the grill (well my hubbie actually did all of the grilling). Everyone was very gracious and tried some of the meatless items, but I am not sure we were expecting much. I think everyone was surprised by the amount of flavor in the Dr. Praegers food items, and the feedback was overwhelmingly positive. The kids gave their feedback via eating all of the Littles Broccolis (not a one left, of course I helped out here too – I really liked these!). Just about all of the adults said that it was hard to tell that the burgers were meatless. In fact if they had not been told, they would not have known. I tried a chickenless patty and had the same reaction, "tastes like a chicken patty"!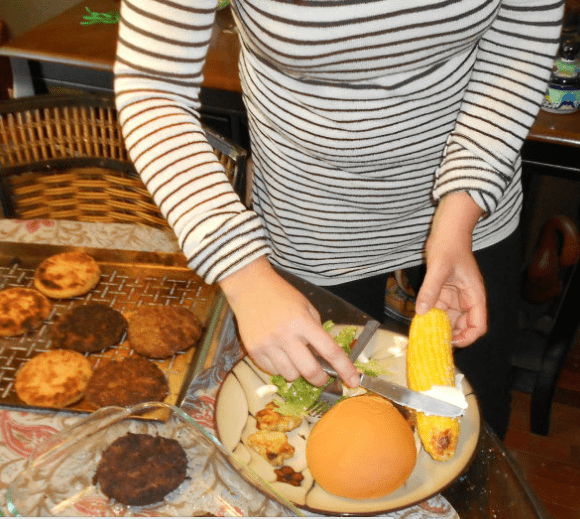 I am loading my plate full of vegetarian options: Salad, Littles Broccoli, Grilled Corn on the Cob and a Chickenless Pattie!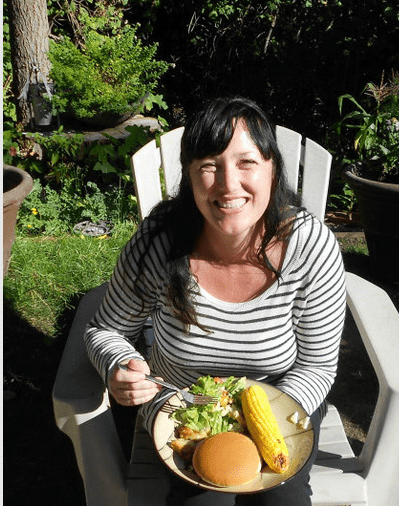 And now I am getting ready to go to town on my meal. Please excuse the puffy face, my allergies were out of control that day. Boy did it feel great to sit down to a nice meal!
You can find out more about Dr. Praegers products on their website, as well as where to purchase them in your area here.
Disclosure: Dr Praeger's provided all of the products mentioned above as well as a grilling pan & gift card for additional BBQ supplies. All opinions are 100% ours. See our disclosure policy  for more details.