Free Bike Helmets At Kohls (Tukwila)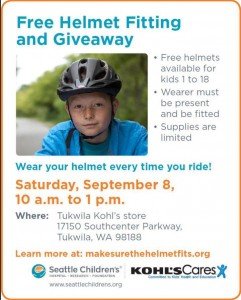 Kohl's in Tukwila is hosting a FREE bike helmets and fitting event today (9/8). The event will take place from 10 am to 1 pm, but I highly recommend getting there early. We went to the same event at the Covington Kohls last year, and am pretty sure there will be a line. The younger kids helmets in particular, go faster. Its a great event, but will likely require some waiting, so just be prepared for that on a hot day like today (hats, drinks, etc.).
The event is hosted by Seattle Children's Hospital, and here are more details:
Free helmets for kids 1 – 18.
The child must be present to receive the helmet & fitting.
If you are not able to make this event, there is a list of 'Low Cost Helmet Resources" at makesurethehelmetfits.com.
I had three kids with me last year, and we had to wait in line for around 30 + minutes, but it was worth it. Save me tons to get three nice quality helmets for free (and they showed me how to properly fit them on the kids)! My husband came home with a little scooter he picked up second hand last night, and we pulled the helmets out and they were still in great shape.
Another possible bonus – Kohls came out to the line last year and handed out 25% off coupons for Kohls. Can't promise this will happen, but the event is co-sponsored by Kohls Cares, so its possible!
Thanks The Coupon Project!