Donate a Coat to Someone in Need at Burlington Stores #CoatNotes
This post may contain affiliate links and I may be compensated for this post. Please read our disclosure policy here.
Disclosure: Burlington Stores sponsored this blog post. The opinions & text are all mine.
Winter is definitely upon us out here in the Northwest and before Christmas break ended, my family made a point to take advantage of the winter weather by going to find some snow in the mountains & do a little sledding. Before we headed out, though, we made sure we were all ready to go with nice, warm coats for the winter weather.
We are blessed to be able to have warm coats for our family to be able to go out into the winter weather for fun or to be prepared when the cold rain comes (which we're in the midst of) or when we get snow or frigid temperatures. But the fact is that there are many out there, including many children, who can't afford to buy warm coats for the winter season.  In fact, there are 45 million people living in poverty in our country, with so many of those children.
Burlington Stores "Warm Coats and Warm Hearts" Coat Drive:
The holiday season is a popular time for people to give back, but with so many families struggling across the US, there are still significant needs, especially during the winter season. So it's important to keep looking for ways we can give back to those in need.
Burlington Stores are making that easy for us with their 8th annual "Warm Coats and Warm Hearts" coat drive.  Their theme this year is "Families helping families", which I love as these are families just like yours & mine who are having a rough time right now & the blessing of a coat or two could really help them out. All of the coats for each store will stay in that community & help your neighbors in need.
*You can donate new or gently worn coats (kids and adults) at any Burlington Stores and those coats will stay right there in your community to help those in need locally.
*Just bring a gently used coat from home for either kids or adults & donate it in the collection box.
*We found the Warm Coats & Warm Hearts Coat Drive box near the registers and mall entrance at our store (the Outlet Collection mall location). But I've heard of other locations having the boxes near the store entrance.
*The Warm Coats and Warm Hearts coat drive is going on through January 19, 2015.
*When you bring in a coat to donate (new or gently used), tell a cashier & they will give you a 10% off entire purchase coupon for Burlington Stores (good through 1/19/15)
*Make sure to donate your coat first, so you can get your 10% off to use on the rest of your shopping trip
We headed in this weekend to Burlington Stores to check out their big selection of coats to find the perfect coat to donate.  With two girls that are a couple years apart, we typically can pass down most clothes as well as coats, but by the time my younger daughter is done with them, they are definitely quite used, so we decided we wanted to buy a new coat for a child instead of donating one of our old coats, as we knew that Burlington Stores have some great prices on coats & clothing. We also wanted to check out coats for my older daughter as she's growing like a weed this year and outgrew last year's coat.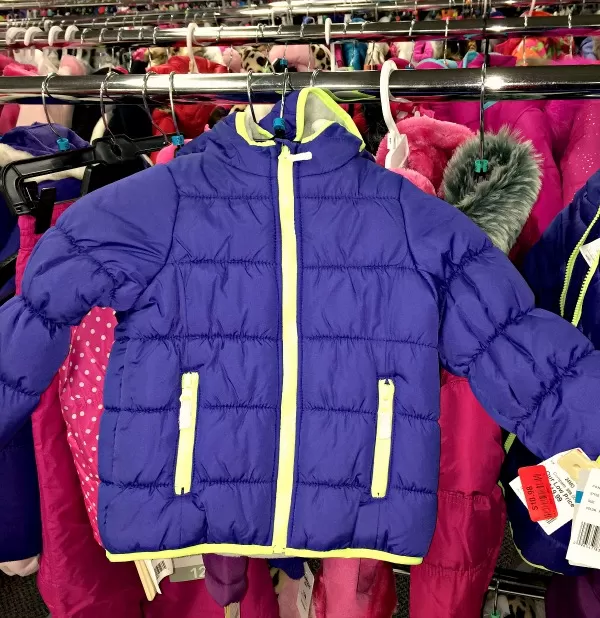 There was a great selection of name-brand coats & the prices were either comparable or better than the prices we found elsewhere in the outlet mall with using coupons & after-Christmas sales. Burlington Stores consistently offer brand-name retailers up to 65% off department store prices.
We had gone in wanting to find one coat to donate for $30 or under.  We ended up finding not one coat but two coats to donate as each coat was just under $11/each on clearance for a 12 month & 3T coat. They were super thick, warm puffer coats as you can see – as the cashier said, we basically got 2 coats for the price of 1! (And a great price for even one coat at $22 total – less than we had budgeted for!)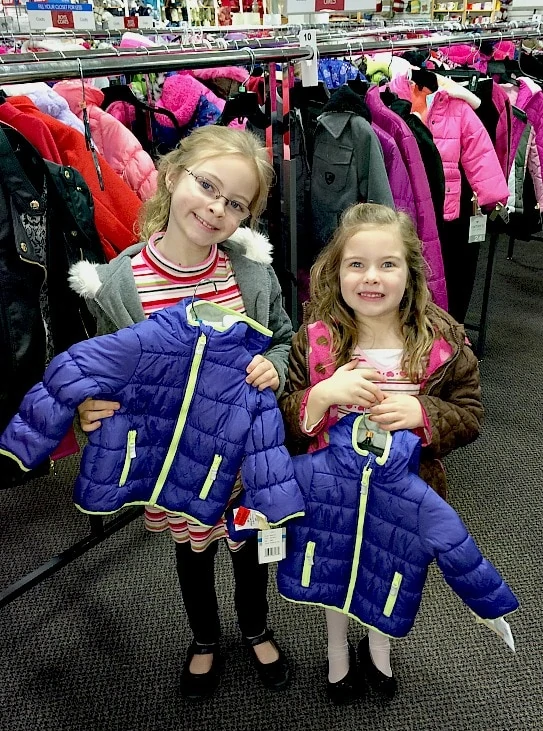 It was important to us to involve our girls in donating the coats so that they could learn the importance of giving back & also to learn not to take their warm coats & everything they've been given for granted. After the Christmas season, it's hard sometimes for kids to not take for granted all the nice things they may receive, so I think January is the perfect month to start back with giving to others, especially kids just like them.  It definitely got my girls thinking, especially as we went out sledding this weekend & thinking about kids who couldn't play in the snow as they'd be too cold without a good winter coat.
January is also a great month to get a fresh start & get reorganizing those closets now that the kids are back in school! I bet if you do some organizing & cleaning out of those closets & dressers, you may end up finding some coats you can donate to the Warm Coats and Warm Hearts Coat Drive at Burlington Stores. Get your kids digging through their closets to see what they can find, too!
Just remember, you only have until Monday, January 19th, 2015 to donate your gently used coats and use your 10% off coupon. I spotted a lot of clearance areas around my store, so it's definitely the time to shop! Add in a coupon & that's even more savings!
Here's more from my girls about why you should donate:
Share your Donation Picture with the #CoatNotes Hashtag:
Burlington Stores would love to hear if you donate and why you donated a coat – make sure to take a picture & tag it on Facebook, Twitter or Instagram using the hashtag #CoatNotes . You could have the chance to have your picture shown on Good Morning America!
Donate a gently-worn coat at your nearby Burlington to help those locally in need. And when you do, receive Burlington's thanks – 10% off your entire purchase.
Burlington, a national off-price retailer offering style for less with up to 65 percent off department store prices every day, continues to help local communities stay warm with their annual Warm Coats and Warm Hearts Coat Drive. Donated coats stay locally within each store community and are given to those most in need. With each coat donation, customers receive 10% off their entire purchase as Burlington's thank you. A great way to give back and save money at the same time! Visit the Coat Drive site to learn more and where you can donate by 1/19/2015.
Burlington Stores sponsored this blog post. The opinions and text are all mine.