Goodful AeroGarden & More Countertop Garden (As Low As $55)!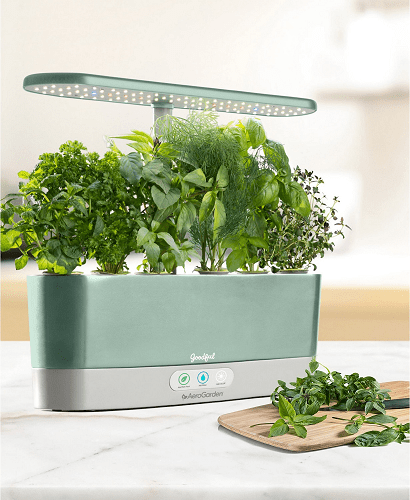 Goodful AeroGarden & More Countertop
Garden & Gourmet Herbs Seed Kit Deals
Are you wanting to get a Countertop Garden? I have a few different Goodful AeroGardens and love them. So nice to have fresh herbs and veggies in the kitchen in the middle of the winter or all year long.
If you have been hesitant to grow herbs or veggies, this is a great way to get started. They make the process so easy. Most have lights that blink to tell you when to water your plants. You buy seed kits (or your AeroGarden comes with them) to start the planting process, and they grow much faster then outdoor gardens. Tomatoes and herbs are a great spot to start, if you are new to them. It is such a wonderful way to bring the outdoors in, as well as have fresh products on hand to cook with!
Here are a couple of spots we found them marked down:
QVC has this Miracle Grow AeroGarden on sale for $69.98 (reg. $99). Plus if you are a new customer use promo code NEW to take $15 off orders of $50 – making it just $54.98 and free shipping! This is the best price we could find currently.
Adding a Goodful AeroGarden, or any good quality one is such a wonderful way to keep access to fresh things in the home. I also find it to be a great way to garden even when the weather gets bad out. They do not take much maintenance, but I find joy in being able to watch the plants grow and fill my kitchen year round. My favorite things to grow in them are herbs, tomatoes and peppers. Lettuce kits are also a fun one to try. If you have a favorite salad (it takes a certain kind of lettuce or tomatoes, etc), then those would be great items to keep in your countertop garden, to have access to fresh ingredients year round.
One of my favorite salads is a caprese, so I love to grow basil and tomatoes to have access to those ingredients all year. It is hard to beat the taste of picking your own herbs and produce to add to your recipes.
They are also a super option for those that may live in an apartment or space where you do not have access to growing a garden outside. These countertop gardens make it so most people can have at least a small garden, even if a little bit of counter space is the only place you have to put it.
If you have a favorite model, or set of ingredients you like to use in your home, we would love to hear what those are.