Baskin-Robbins Teddy Bear Ice Cream Cakes – Fun Way to Celebrate Valentines Day!
This post may contain affiliate links and I may be compensated for this post. Please read our disclosure policy here.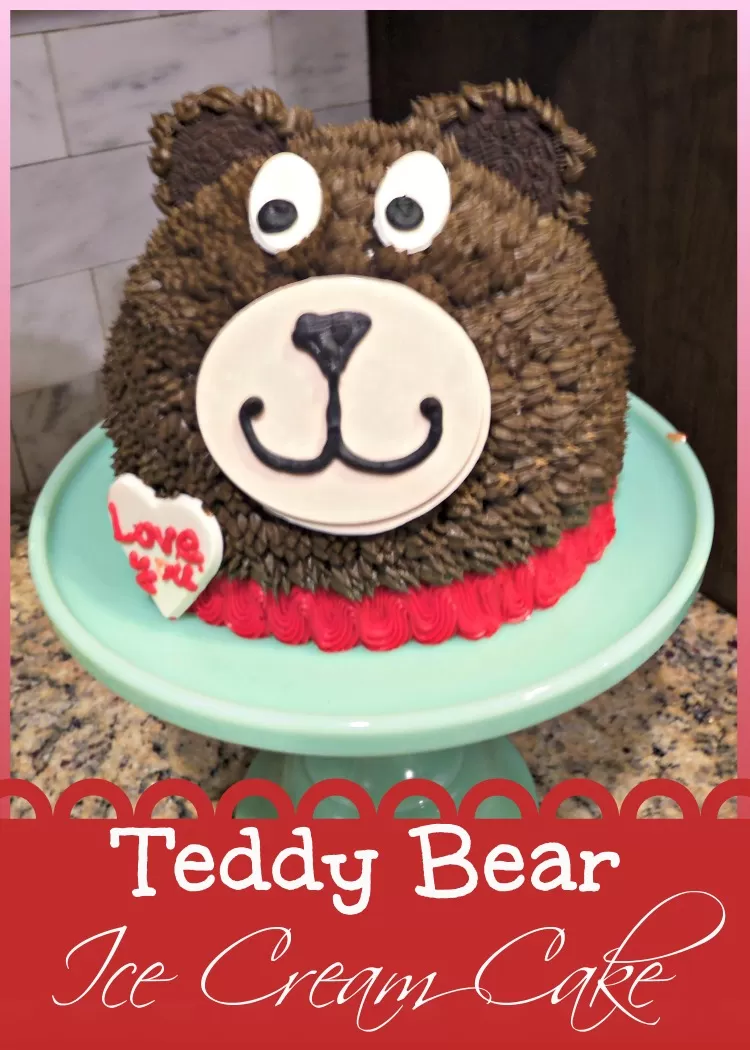 My kids love Valentines Day. This year we were looking for something simple and fun to add a little Valentines Day festivities to the house. We decided to make things easy and order an Ice Cream cake from Baskin-Robbins. Its  a fun treat that we rarely splurge on, and for the price of one cake, there is plenty for my entire family to eat. When I break that cost out, its a pretty affordable (and delicious) way to get a valentines day treat into the house that is not going to take long shopping trips, or require time to put together, etc.
The Ice Cream Cakes will cost anywhere from around $20 on up. We opted for the Teddy Bear Cake (my kids loved that one), and it was $33 at my local store. It should feed between 6-8 ppl so that is around $4 to $5 per person. The new Teddy Bear Cake has a chocolate icing coat; ears made of OREO® Cookies, is accessorized with a romantic red scarf and can be personalized with a special message. Plus, you can save $3 off online orders of $20+ with Baskin-Robbins promo code SAVE3! Details are below on how to use this savings.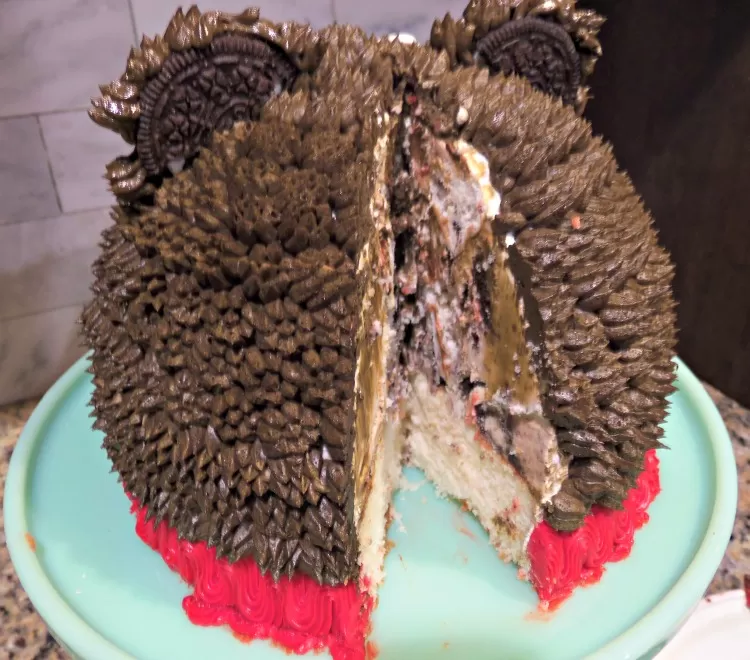 The hardest part for us was deciding the flavor. The minute I entered the store, I saw a sign for the February flavor of the month: Chocolate Hazelnut. Chocolate Hazelnut is made with chocolate ice cream with chocolate-covered hazelnuts and a hazelnut cookie fudge ribbon, and I started salivating at the idea of that flavor! Hazelnut happens to be one of my favorite flavors, so I was hoping to get our cake made with that one, but the kids won out and picked their favorite instead (it was fun sampling a couple of flavors while we were deciding)!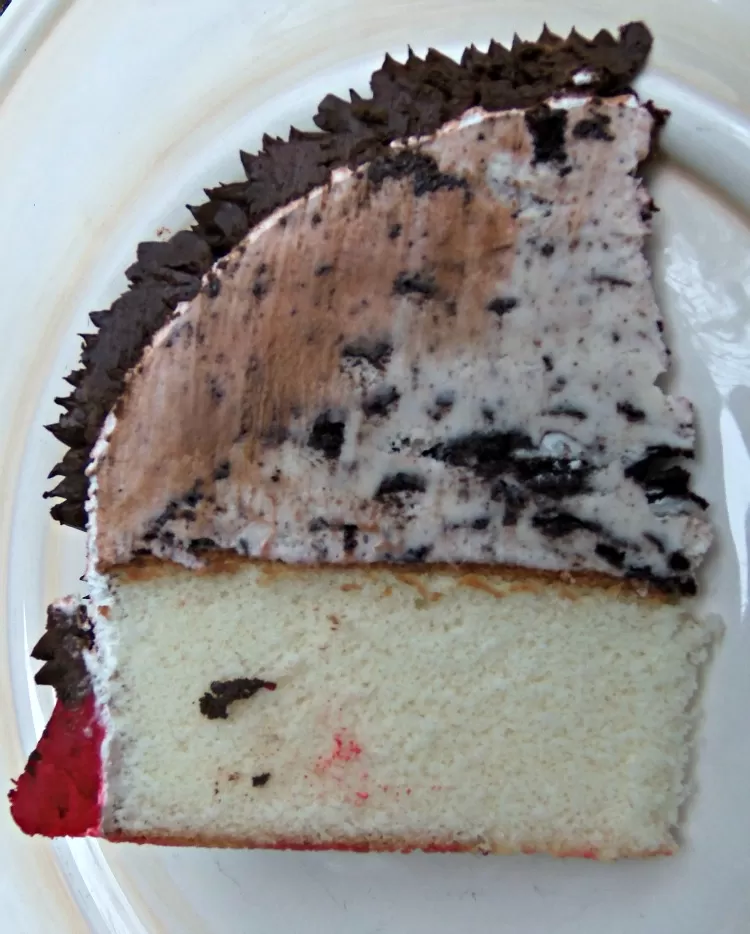 Initially I thought I would save our cake for actual Valentines Day dessert, as the cakes will hold for quite awhile in the freezer. However, involving the kids in the selection and pick up process was a bit much for them. They could not wait to get home and slice up that cake the same evening we picked it up! The Ice Cream Cake was a total hit in our house. It would be perfect for Valentines Day, but it turned a regular evening into a pretty exciting one for my kids too. It was also a great way to get them to eat their dinner. Looking forward to dessert made it a "no complaining" dinner night (rare at our house). We fed 5 people with the Teddy Bear cake last night (3 adults and two kids). My kids went back for seconds, and we still have around half the cake left. The Teddy Bear cake is a rich dessert, so it does not take a huge piece of cake to satisfy you.
My favorite part of the cake, is that it is so easy on me. I plan to grab one next time we have guests, because its an impressive dessert that I do not have to do a lot of work to make happen.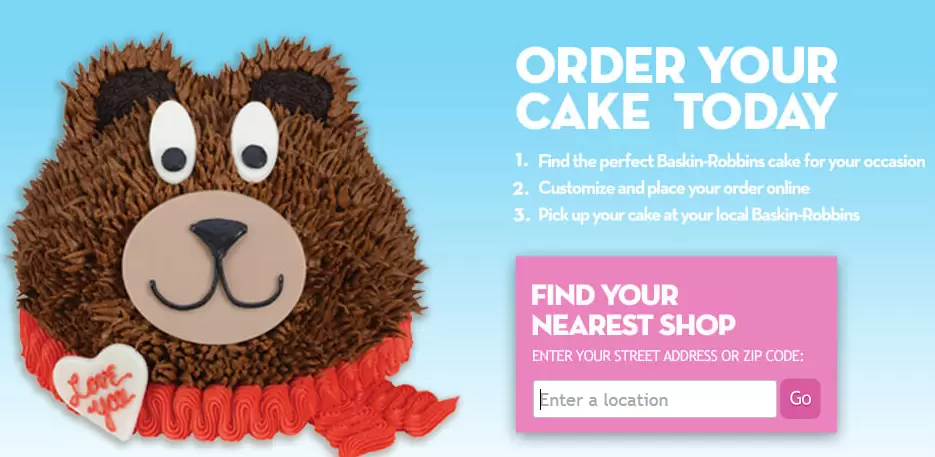 When you order Ice Cream Cakes from Baskin-Robbins there are a few things you will need to know:
Some of the Baskin-Robbins offer online ordering. Since the cakes take a bit to make this is the easiest way to do it. Not all locations have online ordering live yet though, so you may have to make a trip into your local Baskin-Robbins store.
Custom order cakes will need to be ordered 24 to 48 hours in advance. Most of the cakes only need a 24 hour notice, but the Teddy Bear cake, for example, requires special molds etc. and they ask you to order it 2 days before you need it.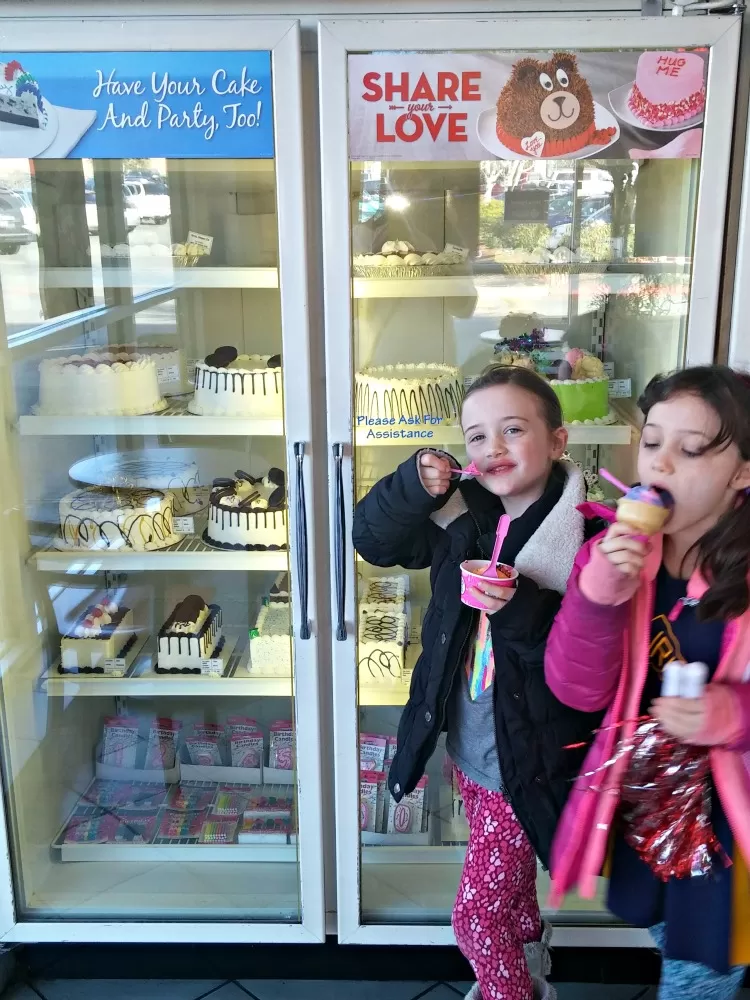 Most Baskin-Robbins stores have some fun Ice Cream cakes already made up in their freezer section if you need one to walk out with right away.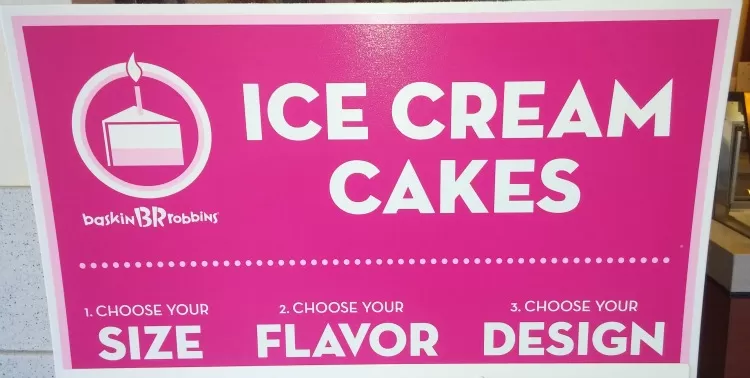 When you order your cake you will get to select: a) what cake design you want, b) what kind of ice cream you want in it (This is when its fun to visit the store to order. My kids sampled a couple of flavors before deciding what they wanted!) and c) what special messages you want added to your cake.
My local Baskin-Robbins store told me that the cakes will hold up to a month or more in your freezer, so if your like me and are tired of running out and fighting with crowds and errands the day before or of a holiday, order your cake early and have it ready for your celebration ahead of time.
About Baskin-Robbins:
Baskin-Robbins was founded in 1945 by two ice cream enthusiasts whose passion led to the creation of more than 1,200 ice cream flavors and a wide variety of delicious treats
Baskin-Robbins is the world's largest chain of ice cream specialty shops
Baskin-Robbins has more than 7,400 retail shops in nearly 50 countries, including nearly 2,500 shops in the United States
Baskin-Robbins offers an extensive library of ice cream flavors, customizable ice cream cakes, frozen beverages and sundaes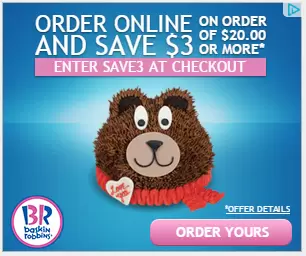 More information on Online Cake Ordering:
Save $3 off online orders of $20 or more with coupon code Save3! This promo code expires 2/15/2016
Baskin-Robbins' online cake ordering makes it even easier to customize and order a delicious ice cream cake.
Guests can visit www.baskinrobbins.com/onlineordering to browse through Baskin-Robbins' gallery of creative and eye-catching ice cream cakes, perfect for any party or celebration, and can create their own customizable cake by choosing their favorite ice cream and cake flavor combination.
Each cake can be customized with one of up to 16 Baskin-Robbins ice cream flavors like Mint Chocolate Chip, Jamoca® Almond Fudge or OREO® Cookies 'n Cream, and one of two cake varieties, Chocolate or Vanilla.
Guests can also choose from a variety of additional items, including birthday candles, to make their get together or celebration even more special.
Online cake orders will be available for pick-up on the date selected by the guest, with cakes available as soon as 24 hours after the order is placed.
This is a sponsored conversation written by me on behalf of Baskin-Robbins. The opinions and text are all mine.