Annie at the Paramount in Seattle – Discount Tickets + Review
This post may contain affiliate links and I may be compensated for this post. Please read our disclosure policy here.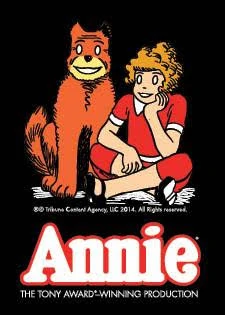 Annie is currently playing at the Paramount Theater and is a fun family friendly show if you have been wanting to take your kids or the whole family out for a special evening of theater. Even better Goldstar has discount tickets available and we have the details below on those discount tickets!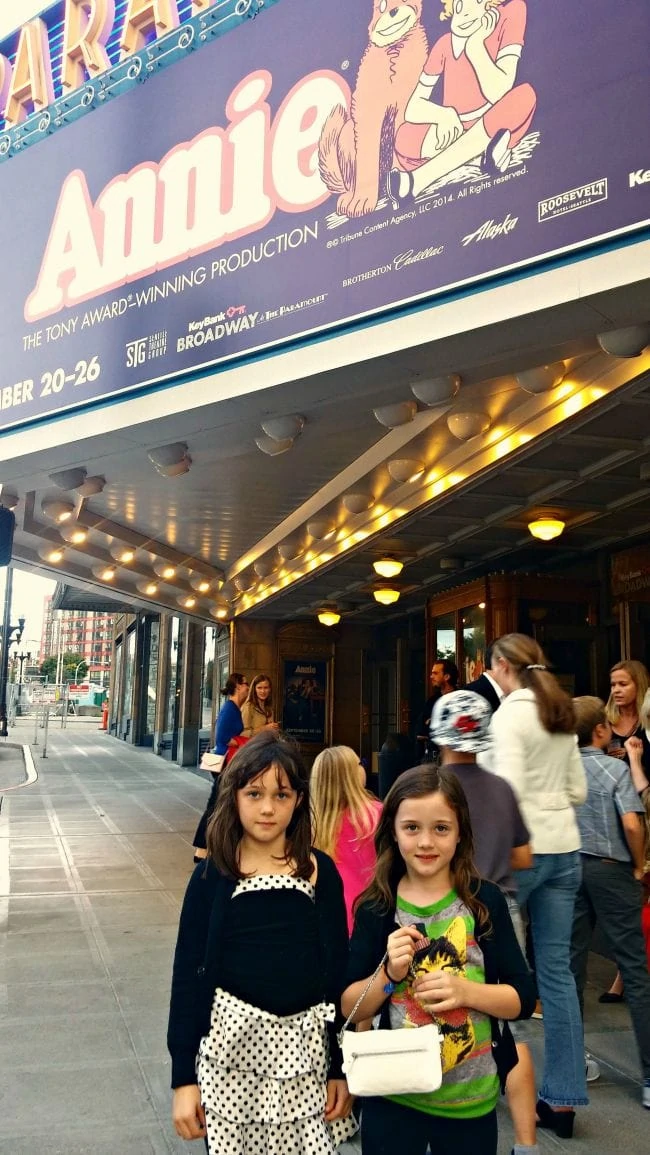 My husband and I took our two youngest kids last night, and they enjoyed the show. The scenery was so cool (my favorite part were all the great backdrops) and the performing was excellent too. I really enjoy opportunities to take my kids to theater where we all get dressed up, they have to sit still and watch real people perform. It always feels special to me (that and the Paramount is such a beautiful theater)! The show lasts for approximately 2 hours and 15 minutes, and there is an intermission at around 8pm ish.
If you are not familiar with the Annie story, Goldstar summarizes it up us:
"The story of a plucky young orphan who never gives up her dreams of finding a family, Annie features all the iconic characters that are known and loved from both the original play and its big-screen adaptation, including the adorable orphan Annie herself with her red dress and curls, the lovable Daddy Warbucks and his faithful assistant Grace, and the wicked Miss Hannigan. Annie also features one of Broadway's most memorable scores, including unforgettable songs like "It's the Hard-Knock Life," "Easy Street," "I Don't Need Anything But You" and the ever-optimistic "Tomorrow." See it in Seattle at the Paramount Theatre."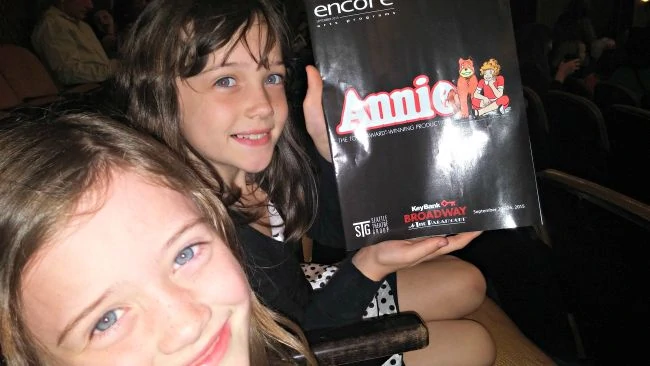 My kids had seen the new version of the Annie movie, which is a bit different then the original, so I wondered how they were going to react to this play. I caught them laughing and clapping often, and both of the them said they liked it as much as the movie, just in a different way. I had trouble getting them to sit through the original Annie movie, but now they are both interested in seeing that too.
The scenery switches from the orphanage, to the streets of NYC and Daddy Warbucks house throughout the play, and they did a great job of transitioning scenes. You are not allowed to take any photos once the play begins, so I cannot show you how great the scenery was, but I really enjoyed the set throughout the play.
I also loved the humor that was threaded throughout the play, while staying authentic to story. I thought that Miss Hannigan (the mean orphanage lady) was so funny in this version! She was one of my favorite characters for sure. All in all, it is a great family event and a special night for all!
If you want to take your family while its in Seattle, it will be playing at the Paramount through September 26th.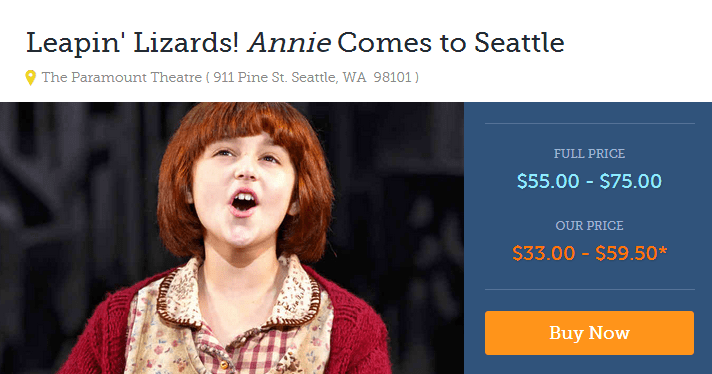 Goldstar has tickets for as low as $33 right now for Annie. This is a great price for theater tickets. The discount tickets range from $33 to $59.50 (Reg. $55 to $75). There will be around $6-$7 in service fees added, but that is pretty standard wherever you get your tickets.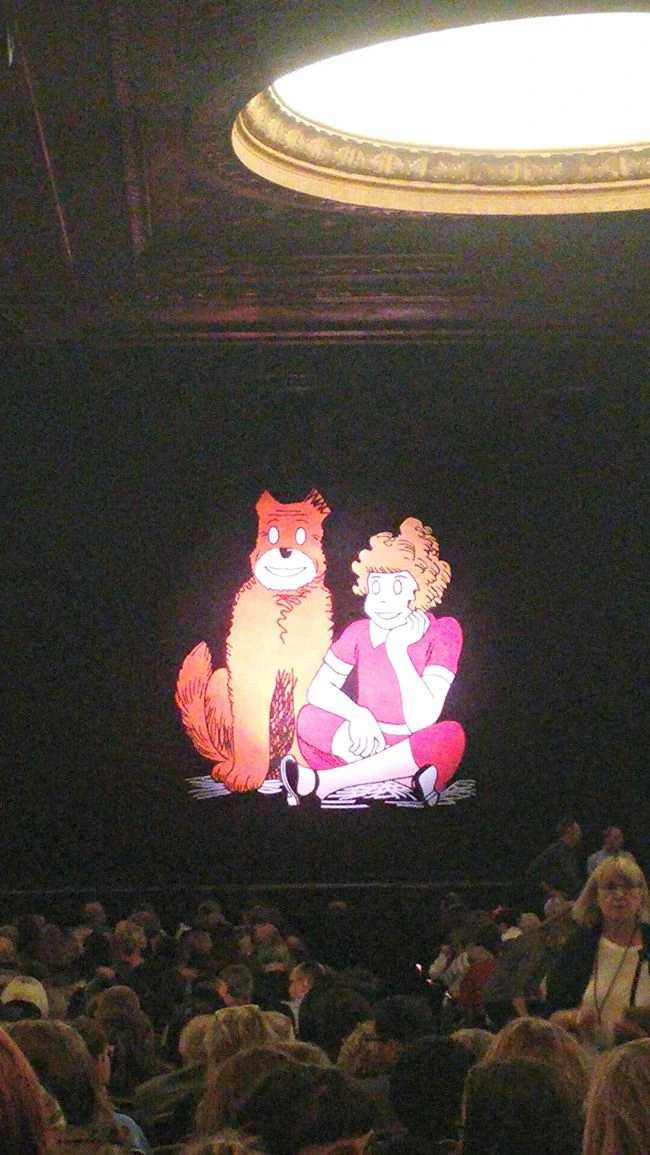 I can tell you that our tickets were in the very back of the first row, and they were still decent tickets (we could see the play fine – just not details like all of their facial expressions etc) in case you want an idea of how the theater is set up. There are certainly seats that are better then others, but you should be able to see the play decently from all seats in the theater. The discount tickets are for the evening shows. so you will want to consider that if you plan to take your kids.
Find all the options for discount tickets to see Annie in Seattle here!
Disclosure: My family was provided tickets to see Annie to review on Thrifty NW Mom. All opinions are 100% my own.